Top-performing night creams for every skin concern 2021
Based on the products we've tried and tested, here are the stand-out, top-performing night creams for all skin concerns.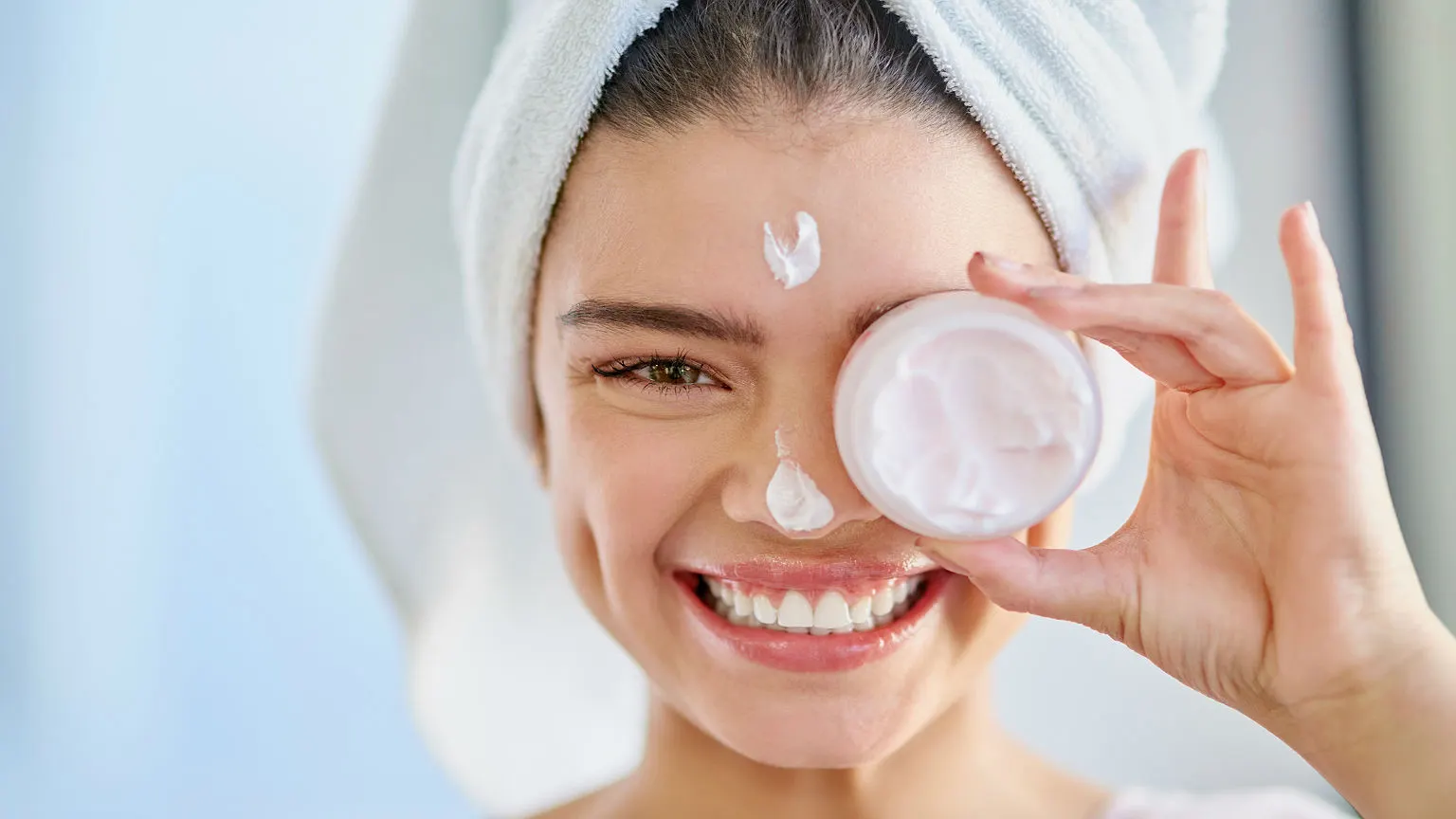 We're reader-supported and may be paid when you visit links to partner sites. We don't compare all products in the market, but we're working on it!
When on the hunt for a night cream, you'll often need to try and test a whole bunch of products in order to find the right one for your skin. And since most night creams aren't cheap, finding the perfect one can be a really expensive task.
So, the team at Finder has decided to put together a list of tried and tested night cream favourites. Based on performance, the target skin concern, ingredients and price, we've rounded up our 10 best night creams.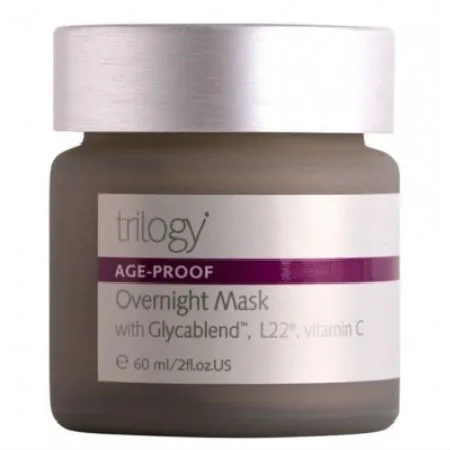 Trilogy Age Proof Overnight Mask
What supposedly makes this product so beneficial is an ingredient called L22, which apparently encourages your skin to mimic the lipid profile of a 22 year old. I was personally a bit sceptical of this claim, but I've seen it deliver some fantastic results. Both my partner and I have tried this product and loved it. I found that it plumped my skin making it look a lot fuller and less tired.
As for my partner, his chronically dry and flaky skin was transformed into a soft and hydrated complexion. Over the last two months it's made a dramatic improvement to the fine lines around the eyes too.
Although this is technically a mask, it's used as a night cream. It's applied at night with no need to wash it off. Given the more affordable price point, I think this is definitely the top pick for a high performance night cream.
Beauty Heaven review: 5/5 stars

Price: $44.99 for 60mL
Where to buy: Priceline, Adore Beauty, Trilogy Online
Best for dry skin, normal skin, combination skin, ageing skin. May be a bit heavy for oily skin.
---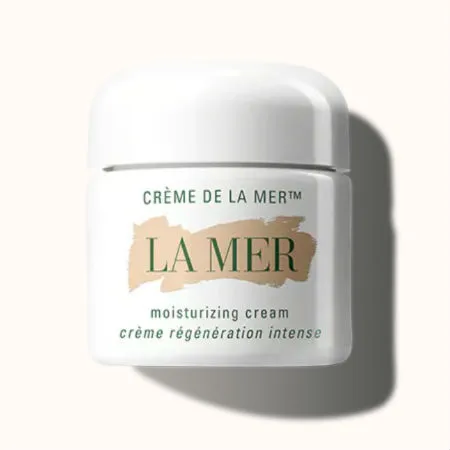 I have to alternate skincare products very frequently in order to source and test products for our Finder beauty guides, but if I could stick to one night cream forever, it would be this one. I always wake up with the skin of a porcelain doll when I use this product. I'm not exactly sure how it works because the technology behind this skincare line is a well-kept secret, but the key ingredient is a type of fermented seaweed that a badly burned scientist used to repair his skin.
I find this cream leaves my skin poreless, bright, plump, hydrated and silky soft. It also tends to calm down any inflammation I might have. It's also worked to help me keep fine lines and expression wrinkles at bay.
This cream is pricey, but I am yet to find another product that offers me the same plump, pore-free, glowy results, so I personally think it's worth the money.
---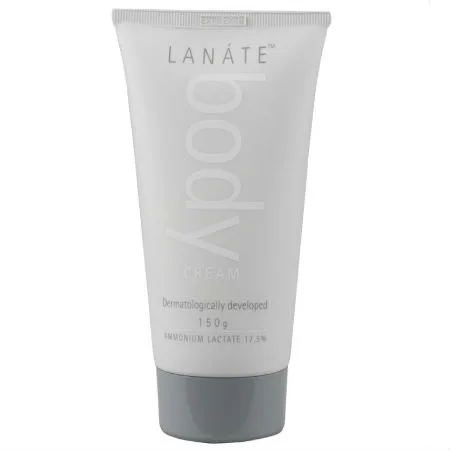 This was such an amazing find that changed my skin. In fact, this is probably my most recommended beauty product. It's a cream made with lactic acid, a chemical exfoliant. So, in addition to nourishing and hydrating like most moisturisers should, this cream also exfoliates off all the dead layers of skin as you sleep. So when you wake up, you're left with nothing but bright, new skin.
What's special about this particular product is that the percentage of acid in the cream is formulated to be suitable for sensitive and reactive skin. Many more aggressive chemical exfoliants are too harsh to be used regularly, but I've used this every second night (sometimes every night) without issue. And regular use is what helps you maintain the glowy skin. I call this my microdermabrasion in a bottle. I was previously using a similar glycolic acid-based product that costs over $200, but I switched over to this one because it was so much better. And it costs less than $30.
Chemist Warehouse rating: 4.7/5 stars

Price: $26.49 for 150g
Where to buy: Chemist Warehouse
Best for most skin types. Those with problematic skin or acne-prone skin should speak to a healthcare professional first.
---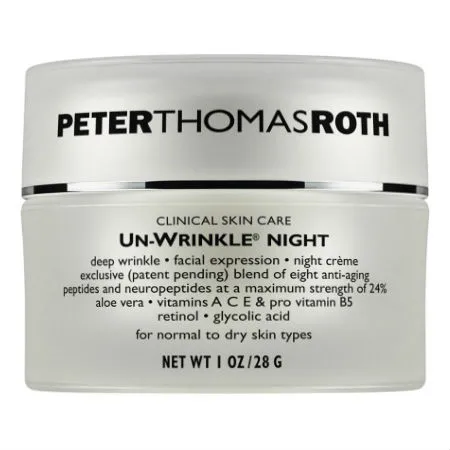 Just from reading the packaging, you know this product is going to be a good one. It includes most of the key anti-ageing ingredients proven to work, namely retinol, vitamins A, C and E, peptides and resurfacing acids. These ingredients and their percentages are displayed on the front of the tub, which is an indicator of skincare that does what it says in my opinion. If your product is good, there's no need to hide what's in it.
The key point of difference with this product is the type and particular blend of peptides used. According to the brand, the formula currently has a patent pending and is exclusive to Peter Thomas Roth. It claims to reduce the appearance of lines and wrinkles and user reviews on Influenster and peterthomasroth.com show that many people have had success with this product. I found that (like many PTR products) this one is a bit too heavy for my oily skin. But this is a great all-bases-covered anti-ageing cream for normal or dry skin types.
---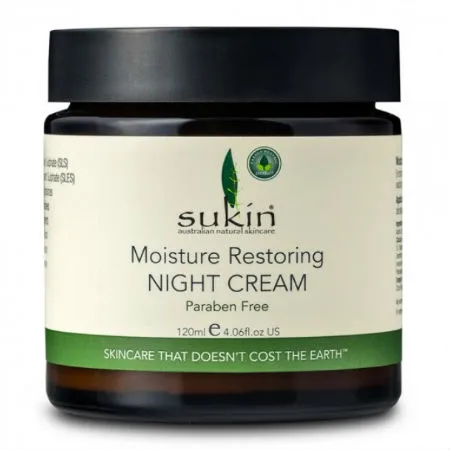 This is an excellent option for those looking to repair dry skin. The members of the Finder beauty team with dry skin have ranked this as one of the best soothing, nourishing, replenishing and hydrating night creams for dry and thirsty skin.
It contains Rosehip, which nourishes and helps your skin repair itself, Evening Primrose oil to help minimise sensitivity and balance your complexion and Jojoba Oils which are full of age-preventing anti-oxidants and fatty acids to lock moisture into the skin.
Two key features that make this cream stand out from the rest are the price – it's just $20.99 – and the fact that Sukin is an all-natural brand. It can be a challenge to find hard-working products that are formulated naturally and inexpensively. But this one really does tick all the boxes
Priceline rating: 4/5 stars
Price: $20.99 for 120mL
Where to buy: Amazon, Priceline, Chemist Warehouse, Sukin
Best for dry skin and normal skin.
---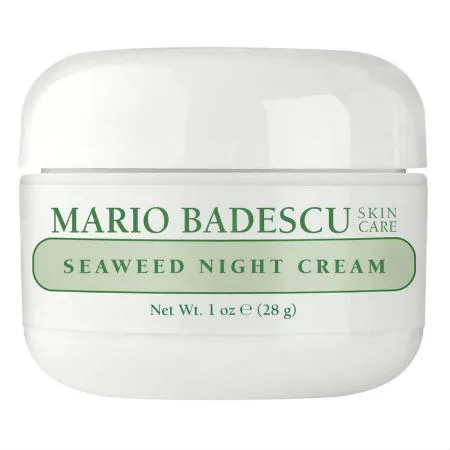 Mario Badescu's Seaweed Night Cream is a standout to me because it's a deeply nourishing cream that doesn't clog pores. If you have oily skin or sensitive skin, you might find that the thick and rich night creams that offer the best protection and skin restoring benefits will trigger massive breakouts. But not this one.
This cream is entirely oil-free. So if you're one of those people that gets breakouts from oils as mild as jojoba just like me, this might be perfect for you. Instead of oils, the cream gets its nourishing properties from seaweed, which has been shown to soften rough skin and help encourage collagen production. It also contains a tonne of hyaluronic acid, which we know is great for pulling water into the skin and keeping it plump and hydrated. My skin always feels softer and just looks healthier after using this cream and it truly doesn't trigger any breakouts for me.
While there are a lot of seaweed creams out there, this particular one makes our list because is it friendly to oily skin and because it's affordable. Other seaweed-based creams from brands like Lancer, Innisfree and La Mer can cost hundreds, but this one is just $32.
MECCA rating: 4.4/5 stars
Price: $32 for 30mL
Where to buy: eBay, Mario Badescu
Best for all skin types, particularly oily or breakout-prone skin.
---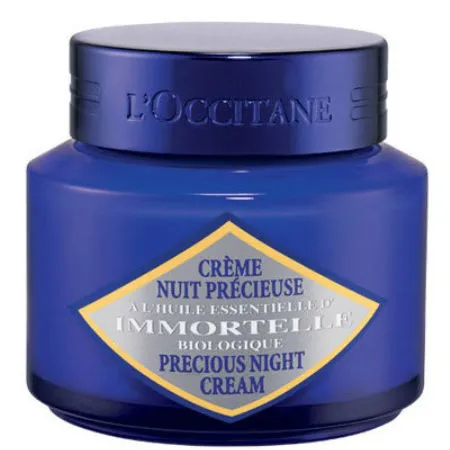 L'Occitane's Precious Night Cream is a winner for those looking for a cream that promotes smoothness and delivers a plumped complexion. This particular cream is one that I'd read about but avoided for a while because the active ingredient – the immortelle flower – was not one that I'd seen in any clinical trials. Nor had I read any concrete research confirming the positive effects. According to L'Occitane, the immortelle flower has "unique anti-ageing properties". The brand uses the Corsican immortelle, which "contains an incredibly high concentration of active ingredients".
Regardless, I decided to try it and I really like it. The results are similar to those I see after using La Mer, but less glassy and poreless. It makes your complexion very smooth and bright and very full and plump. I think of it a bit like a week of sleep and 10 litres of water in a container. I swap my creams around all the time and this is the one I use during big weeks where I have no time to rest or properly take care of myself. I find it breathes life back into my face.
It's not cheap, but if you have ageing skin and you're concerned about a loss of fullness in the skin, this would be a great option.
Adore Beauty rating: 4/5 stars
Price: $89 for 50mL
Where to buy: Amazon, Adore Beauty, L'Occitane
Best for ageing skin, dry skin, combination skin, normal skin. May not be suitable for very oily or sensitive skin.
---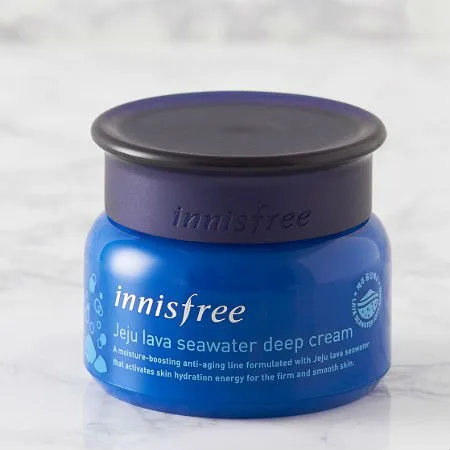 Innisfree is a brand not too well known outside of the Korean beauty market. But it's not just a great K-beauty brand, it's definitely one of my favourite skincare brands, full stop. You can read more about the brand here, which I recommend because it really does have such high-performing, eco-friendly products.
All Innisfree skincare is made using botanicals and ingredient from the untouched island of Jeju in South Korea. This particular cream is infused with the seawater from the lava deposits near the Jeju volcano. Volcanic water and volcanic soil are both known for being highly rich in minerals and nutrients, and this is part of the secret to the cream's success. It's also full of ceramides, which restore the fats in the top layers of your skin that prevent moisture loss. Essentially, this moisturiser is all about adding water and minerals into the skin and then sealing them all in.
When used in conjunction with a proper exfoliant, this cream gets my skin as close to "glass skin" as it can get. It plumps, smooths, brightens and just makes my complexion look really healthy, as if I've been living on an all-vegetable diet. Water creams often make great day creams, but I like this one for night so that your skin gets to really absorb all the ceramides. This one won't help repair skin damage or wrinkles, but it will make tired, dead skin look alive again.
Amazon rating: 5/5 stars
Price: US$50 for 50mL
Where to buy: Innisfree, Amazon Australia
Best for dry skin, oily skin, normal skin, sensitive skin, combination skin. Those concerned about ageing may want to choose something else.
---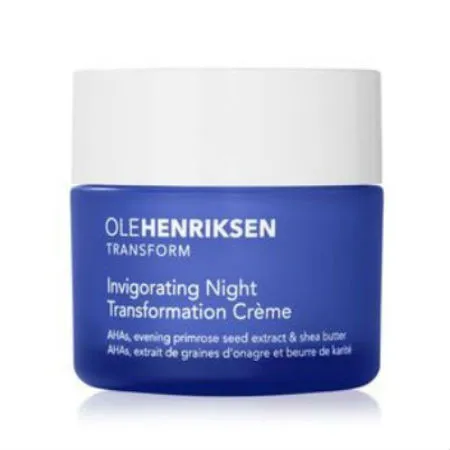 This cream is essentially a resurfacer, a bit like the Lanate cream also featured in this list. What makes it different is that it contains glycolic acid as well as lactic acid, making its exfoliation properties more intense. These peeling acids, known as Alpha Hydroxy Acids or AHA, help your skin shed the dead top layer of skin, revealing new skin beneath. When used regularly, AHAs encourage your skin to make new skin more quickly, which leads to a reduction in the appearance of fine lines, a reduction in the appearance of scarring and clear, bright congestion-free skin.
The particular blend of AHAs in this cream make its exfoliation properties effective and intense. It complements these with evening primrose oil, which balances and reduces inflammation, and shea butter, which nourishes and protects the new and fresh skin. If you have very congested skin or scaring, this is a fantastic and relatively affordable option. It really does make your skin look like new. The one downside for me is that it makes my face much paler than my dark-olive skinned body. So I generally only use this product in winter. But if you're not someone that likes to tan, this a cream that will give you fresh, baby-soft skin.
Ole Henriksen store rating: 4.8/5 stars
Price: $48 (29ml)
Where to buy: Ole Henriksen online, Sephora
Best for all skin types except very sensitive skin.
---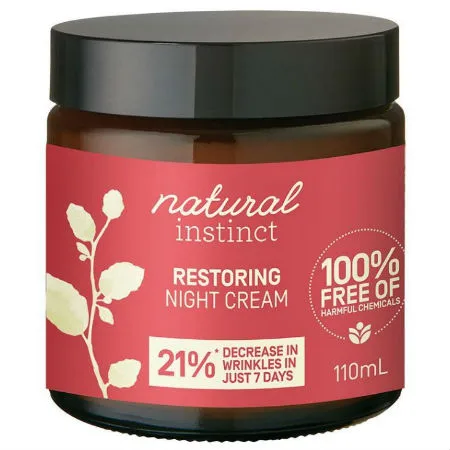 This cream promises "12 hours of continuous hydration" and says that it is "antioxidant enriched to deeply nourish and rehydrate the skin, promoting healthy skin elasticity". But that's not why I like it. This cream is a winner for me because the ingredients are simple, effective and they don't exacerbate my breakouts. As someone with oily skin, sometimes my skin just decides to be clogged, red and inflamed for no reason. And during these times I find that the glycolic acids, retinols, ceramides and peptides found in all the other high-performance creams just make my skin look worse.
This cream, on the other hand, is calming and balancing. When I wake up in the morning after using this, my face still feels moisturised, firm and plump, but with lessened irritation. Maybe it's because it's a natural and chemical-free product? Regardless, the moment I start developing bad skin, I will immediately make the switch to this night cream. I always have a jar stashed in the cupboard for emergencies.
Priceline rating: 4/5 stars
Price: $17.49 for 110mL
Where to buy: Amazon, Priceline, Chemist Warehouse, Woolworths
Best for all skin types.
---
Real life favourites
"This cream provides 72 hours of hydration, so even if I accidentally forget to use it one night, I know my skin is still hydrated from the last time I did."
— Natalia
"I like that it's thick without leaving an oily residue and is moisturising and gentle for sensitive skin."
— Chloe
"I love the ART line from Young Living. It uses essential oils and no synthetic fragrances!"
— Alana
---
What is a night cream?
A night cream is simply a moisturising cream that you use during the evening. During the night hours, when you sleep, your skin goes to work restoring and repairing itself. Night creams are designed to work in tandem with the skin's natural restoration processes and keep your skin healthy.
---
Do you need night cream?
Whether or not you need a night cream is dependent on you. Do you have any issues with your skin like dryness, irritation, signs of ageing, oiliness or sensitivity? Night creams can be targeted to fix these issues and more.
Night creams can be more effective than day moisturisers because your skin has more of a chance to repair itself at night. During the day your skin is exposed to environmental aggressors like sunlight, exhaust fumes, air-conditioning and more. But during the evening, your skin is at rest and any targeted products have a better chance of working their magic.
If you have any skin concerns, using a night cream is one way to help your skin. But if you have no real concerns, night creams are not essential.
---
Image source: Getty
---
Sales, deals and discounts:
Popular Health & Beauty coupon codes
| Last checked | Code description | Code |
| --- | --- | --- |
| 19 Jan 2021 | 15% off when you spend $100 | FIN**** |
| 18 Jan 2021 | 30% off site-wide | 30O**** |
| 5 Oct 2020 | 10% off orders over $75 | FIN**** |
| 24 Feb 2020 | 5% off your orders | FIN**** |
| 15 Jan 2021 | Up to 30% off site-wide | CUR**** |
More guides on Finder
Even more shopping deals