15 medical dramas you won't get sick of
Life or death situations typically make for compelling television.
We're reader-supported and may be paid when you visit links to partner sites. We don't compare all products in the market, but we're working on it!
In this world, nothing is certain, except for death, taxes and the fact that medical dramas will never go out of style. It's easy to figure out why, as the medical profession lends itself to drama due to the high stakes involved. Not to mention the fact that the medical stuff is usually a placeholder or metaphor for more interesting and emotional arcs concerning the doctors, which creates engaging storylines. As much as we would like to avoid ever visiting a physical hospital, we're okay with spending time inside a fictional one.
According to the Internet, the oldest medical drama is considered to be City Hospital, which started airing on CBS in the US back in 1951. We've come a long way since then, with the genre developing a wide range of clichés that one can count on when tuning in, including steamy hook-ups on hospital grounds, one of the doctors getting sick, an old yet charming patient dying, treating someone without insurance, a genius doctor who also happens to be a jerk, and so on.
The weird thing is that, despite being predictable, these tropes will pull in any fan of the genre every time. You just can't help getting another dose of your irresistible drama with a side of blood and guts and crying relatives. So we're going to prescribe you some more. Side effects include never leaving your house again. You've been warned.
---
1. New Amsterdam
---
Year: 2018
Cast: Ryan Eggold, Freema Agyeman, Janet Montgomery, Anupam Kher
---
This charming medical drama revolves around Dr Max Goodwin, the brilliant new medical director at America's oldest public hospital, New Amsterdam. While he's set on tearing down the bureaucracy to provide exceptional care, the doctors and staff are not so sure. Max is also dealing with some health issues of his own, complicating matters further.
Fans of the genre will revel in the show's familiar beats, while also appreciating the timeliness of the storylines. Besides, New Amsterdam benefits from a tremendous cast that works well together. As far as medical dramas go, that's always a plus.
---
2. Grey's Anatomy
---
Year: 2005
Cast: Ellen Pompeo, Chandra Wilson, James Pickens Jr., Justin Chambers
---
At this point, Grey's Anatomy is a veteran as far as medical dramas are concerned. The series revolves around a bunch of doctors (as you might imagine) and has tackled everything from affairs to ghost sex to love triangles to catastrophes, yet still somehow manages to feel fresh all these seasons in.
If you need a recap, it centres on Meredith Grey, who starts as an intern at a Seattle hospital and slowly works her way up to becoming an overall amazing professional/human, while surrounded by an ever-changing cast of diverse and engaging colleagues, each carrying around their own emotional baggage. It's a fascinating series, especially when the creators manage to tell important stories about domestic violence, transgender rights and health care for women of colour. If you're looking for a serious binge, you better start with this one.
---
3. The Good Doctor
---
Year: 2017
Cast: Freddie Highmore, Antonia Thomas, Hill Harper, Christina Chang, Richard Schiff
---
The Good Doctor follows Shaun Murphy, a brilliant young surgeon who is also autistic. His mentor arranges for him to get a job at a prestigious hospital, which comes with all sorts of new challenges for Shaun. However, despite the fact that he finds it hard to connect with other humans, his abilities help him save lives and he quickly becomes part of the team.
Although a more recent entry into the genre, The Good Doctor is already a hit, thanks to intelligent storylines, enough emotion to keep viewers engaged and a topnotch performance from Freddie Highmore in the lead role. Not to mention the fact that the show does a great job of explaining how autistic people may not process the world the same way as neurotypical individuals.
---
4. ER
---
Year: 1994
Cast: Anthony Edwards, George Clooney, Sherry Stringfield
---
Before we had Grey's Anatomy, there was ER, a show with a similar premise but a different setting. This time, all the action takes place in the emergency room, as doctors deal with crisis after crisis and have to make difficult decisions on a regular basis. A landmark medical drama, ER is timeless, and when it became available to stream on Hulu in the US, it caused a lot of excitement.
It's easy to figure out why. Besides intriguing storylines and captivating characters, the series also broke new ground in production design and direction. It felt more like you were watching a movie than a TV show. That's expected for television nowadays, but back in the 90s, it was a huge deal. Oh, it also has George Clooney in it.
WATCH NOW

SUBSCRIBE

Sorry, we've found no streaming options for this title.

CURRENT OFFERS
---
5. Chicago Med
---
Year: 2015
Cast: Nick Gehlfuss, Yaya DaCosta, Torrey DeVitto, Rachel DiPillo
---
There's no shortage of shows in Dick Wolfe's Chicago franchise. Chicago Med is the third instalment in the series, after Fire and PD. It follows the doctors and nurses working at the emergency department of a Chicago hospital (this is the last time we're going to write the word "Chicago", honest).
Despite not bringing anything particularly new to the table for the medical genre, the series is compulsively watchable, perfectly balancing human drama with interesting medical cases. Also, you don't need to watch the other shows in the franchise to understand what's going on. There are crossover episodes, but you'll get the gist without being caught up on what the firemen and policemen are up to.
---
6. House M.D.
---
Year: 2004
Cast: Hugh Laurie, Lisa Edelstein, Robert Sean Leonard
---
Dr House is the type of TV character you either love or hate. Brilliantly portrayed by Hugh Laurie, he is brutally honest, ridiculously smart and incredibly antisocial, which makes the show so compelling to watch. House M.D. revolves around the brilliant doctor as he solves medical puzzles with the help of his usually baffled team. House has no bedside manner, but he gets away with it because he's able to diagnose patients that others can't. As a result, his supervisors and underlings tolerate his wild ways.
House M.D. was a successful and highly influential medical drama during its original run, proving that doctors don't have to be these saint-like figures to be appreciated by viewers. All they need is a whole lot of depth.
---
7. Private Practice
---
Year: 2007
Cast: Kate Walsh, Paul Adelstein, KaDee Strickland, Taye Diggs
---
A Grey's Anatomy spin-off, Private Practice follows Dr Addison Montgomery as she relocates to LA and joins a trendy clinic run by some of her friends. Here, she works alongside a fertility doctor, a paediatrician and a psychologist, as well as alternative-medicine specialists.
While the series is more about the drama surrounding the doctors than the medicine itself, it provides some fun insights into alternative treatments and gives Addison room to grow as a character after escaping a toxic love triangle. Plus, the talented cast often compensates for the overly wacky storylines and the show doesn't shy away from tackling important subjects like rape, mental health and motherhood.
---
8. The Resident
---
Year: 2018
Cast: Matt Czuchry, Emily VanCamp, Manish Dayal
---
A more recent addition to the roster of quality medical dramas, The Resident centres on an idealistic young doctor who starts working at a hospital under the tutelage of a more pragmatic mentor who believes that it's important to shatter the romantic illusions of the first-year residents to help them survive on the job.
It's a fun series for viewers disenchanted with medical care, as it focuses on the behind-the-scenes politics going on at a major hospital. There's plenty of witty dialogue to keep you entertained, and the fact that it raises questions about the code of ethics that doctors are expected to follow provides a refreshing approach to the medical genre.
---
9. Code Black
---
Year: 2015
Cast: Marcia Gay Harden, Harry Ford, Benjamin Hollingsworth, Luis Guzmán
---
Code Black follows the staff members of a busy emergency room as they deal with a staggering influx of patients. They race to save lives under a lot of pressure, since the number of patients they have is often too overwhelming for their limited resources.
That makes for riveting medical television, as the show puts more emphasis on the cases than the personal lives of the doctors. Don't worry, though, there's plenty of drama to go around. It's the ideal show for those who religiously watched ER back when it was on the air and feel like Grey's Anatomy features too much melodrama.
WATCH NOW

SUBSCRIBE

Sorry, we've found no streaming options for this title.

CURRENT OFFERS
---
10. The Knick
---
Year: 2014
Cast: Clive Owen, André Holland, Jeremy Bobb, Juliet Rylance
---
Interested in the history of healthcare? You're in luck. The Knick takes place in the early 1900s, following a doctor who pushes the boundaries of medicine and pioneers important procedures, despite battling a painful past and severe cocaine addiction.
The doctors in The Knick struggle to provide quality care for their patients in a hospital where keeping the doors open for new cases is difficult, which adds another level of drama to the proceedings. Thanks to stunning visuals and great performances, this period medical drama is both addictive and historically interesting.
---
11. The Mob Doctor
---
Year: 2012
Cast: Jordana Spiro, William Forsythe, James Carpinello
---
A completely different breed of medical drama, The Mob Doctor centres on a surgeon who puts her future on the line in order to help a family member. She agrees to work for the mob to pay off her brother's debts and has to learn how to juggle the demands of her day job with her extracurricular activities.
This is not prestige television, but it's the perfect series for viewers who like medical shows and appreciate a new spin on the genre. A clumsy combination of gangster shenanigans and medical drama, The Mob Doctor never fails to entertain, mainly thanks to the absurd situations the main character is put in. You might not be moved to tears, but you'll definitely be dazzled by the doctor's swagger.
WATCH NOW

SUBSCRIBE

Sorry, we've found no streaming options for this title.

CURRENT OFFERS
---
12. A Young Doctor's Notebook
---
Year: 2012
Cast: Jon Hamm, Daniel Radcliffe
---
Similar to The Knick, A Young Doctor's Notebook takes a period approach to medicine. This time, we follow a young physician in a small village at the dawn of the Russian Revolution. The twist? The show features humorous conversations between the older version of the doctor, portrayed by Jon Hamm, as he mocks his younger self, played by Daniel Radcliffe.
A dark comedy based on short stories by Mikhail Bulgakov, this limited series gets the balance between tragedy and comedy right, featuring just enough gore to make you dizzy. Enjoy the demented storytelling, as well as the amazing performances from the two leads.
WATCH NOW

SUBSCRIBE

Sorry, we've found no streaming options for this title.

CURRENT OFFERS
---
13. Saving Hope
---
Year: 2012
Cast: Erica Durance, Michael Shanks, Daniel Gillies
---
A common complaint among people who don't watch medical dramas is that they're too cheesy. That's not always the case… except for when it is. Saving Hope follows chief of surgery Charlie Harris, who ends up in a coma. He leaves his body and starts to wander around the hospital in spirit form, while his fiancée and the other doctors in the facility go about their lives, dealing with difficult medical decisions on a regular basis.
It's a wacky premise, sure, and the show isn't afraid to veer into cheesy territory. However, the characters are so appealing that you'll quickly forget about the weirdness and just enjoy the ride. All in all, the series is pure comfort. You can purchase Saving Hope from digital retailers. The show is also available on iTunes, Google Play, Microsoft Store and Playstation Store.
WATCH NOW

SUBSCRIBE

Sorry, we've found no streaming options for this title.

CURRENT OFFERS
---
14. Nurse Jackie
---
Year: 2009
Cast: Edie Falco, Merritt Wever, Paul Schulze
---
For some reason, Nurse Jackie is classified as a comedy, despite the serious issues it tackles, often with a lot of tact and grace. The show centres on an emergency room nurse who cares for her patients deeply, but also struggles with pill addiction on the side, a problem that affects all the areas of her life.
While the series does boast some comedic undertones, it's more dramatic than one might expect, with Jackie's slow descent into addiction as compelling as it is horrifying. Edie Falco gives a brilliant performance in the lead role, with a talented supporting cast backing her up along the way.
WATCH NOW

SUBSCRIBE

Sorry, we've found no streaming options for this title.

CURRENT OFFERS
---
15. The Night Shift
---
Year: 2014
Cast: Eoin Macken, Jill Flint, Ken Leung, Brendan Fehr
---
The Night Shift follows a group of emergency room doctors as they struggle to get things done during the odd night hours at a financially struggling hospital. The hospital is surrounded by military bases, so several of its employees are veterans, led by bad boy TC Callahan, a brilliant doctor who doesn't care much for rules.
At its core, this is a pretty formulaic medical drama that wins bonus points for its fast pace and engaging characters. We wouldn't recommend the series if you're new to the genre, but if you've already binged the giants, it's a fun show to relax with.
---
This week's streaming deals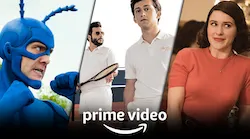 FREE TRIAL: 30 days of Prime Video's premium TV shows and movies for free
from Prime Video
Prime Video's free 30-day trial will give you instant access to thousands of premium TV shows and movies.
View details
More guides on Finder
Stream the best and save