Your ultimate guide to picking the best kombucha
Kombucha: health elixir or hype? We've got the lowdown on the popular drink that has shifted from the health set to the mainstream.
We're reader-supported and may be paid when you visit links to partner sites. We don't compare all products in the market, but we're working on it!
Move over sugary soft drinks and juice there's a new drink in town. Kombucha, the low sugar, refreshing, effervescent, fermented fruit flavoured alternative is popping up everywhere from cafes to supermarket shelves.
But wait there's more, many kombucha brewers claim that drinking it is great for your gut and your general well being.
And while kombucha is enjoying a moment in the sun as one of the hottest health trends around, we take a level-headed look at whether this new "superdrink" really is healthy?
What even is kombucha?
Kombucha is made from fermented sweetened black or green tea and fermented with a scoby (symbiotic culture of bacteria and yeast) and should contain probiotic cultures (AKA the little floaty bits). While the colour and taste tends to vary, it is often a cloudy yellow shade and has a sharp sherbet like taste with a slight fizz. It's also got a small amount of alcohol due to the fermentation process, but not enough to have any noticeable effect.
As a general rule you can expect to find these ingredients in your kombucha:
Probiotics. This is the biggest draw card, as each cup of kombucha can have billions of good bacterias such as Lactobacillus, Acetobacter and S. Boulardii.
Caffeine. Most kombucha will have a small amount of caffeine, thanks to the tea.
Sugar. Kombucha will also have some sugar content, although actual amounts will vary from brand to brand as the fermentation process eats up the majority of the sugar.
B vitamins. Most kombucha is also rich in B-complex vitamins.
---

---
What in the world is a SCOBY?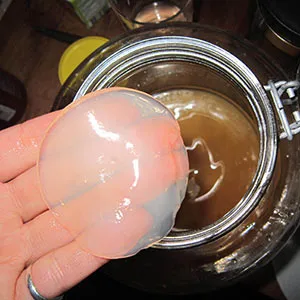 Kombucha is made with the aid of a SCOBY (symbiotic colony of bacteria and yeast) which "eats" the tea and sugar and produces all the live cultures in the final drink.
You might have seen kombucha in the fermentation process, SCOBY and all, on food-focused instagrams or at your health-conscious friend's house: an odd, rubbery-looking pillow that resembles a puffy floating mushroom sitting on top of the liquid.
If you would like to make your own kombucha you can can buy a SCOBY from health food stores, or even make your own from scratch using sugary tea "activated" by live cultures. You can either buy a prepared culture mix or can even initiate the fermentation process by adding some store-bought kombucha to your tea and waiting for it to ferment and the SCOBY to grow.
Of course, if you'd like all the benefits of kombucha, without the hassle, you can buy bottled kombucha which is increasingly available in shops, supermarkets and service stations. There are no standard requirements for what makes kombucha so the ingredients (and benefits) of store bought kombucha are likely to vary.
---
What is the best kombucha to drink?
With the wide range of different kombucha brands and flavours, it can be difficult to know which is the best kombucha to drink.
There are no hard and fast rules on what makes a kombucha, as a result not all kombucha is created equal. The trick is to read the labels carefully when you are buying it - and to look out for these key things when choosing your 'booch.'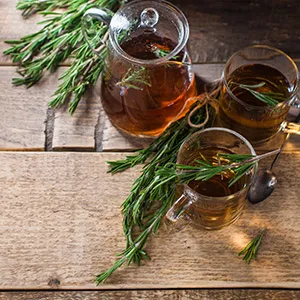 ---
How to choose the best kombucha
1. Look at the packaging
Darker is better. Light damages probiotics so the best and most active kombucha will come in dark-coloured glass bottles.
Go for glass. Glass is by far the best choice for kombucha packaging. Other materials, such as plastics and aluminium, will degrade slowly over time, especially in contact with alcohol, even at small amounts. Glass is far sturdier and will better preserve the kombucha's potency without interfering with the natural fermentation process.
2. Read the ingredients list
Natural flavours. We will say it again: flavoured Kombucha is delicious but be sure to know what kind of flavouring is used by the kombucha brand you buy. It is relatively easy to use real fruit and herbs to infuse kombucha with creative flavours, but can be faster and more cost-effective to use powdered fruit flavouring or even sweetened artificial flavoring to get a palatable taste. This really defeats the purpose of drinking a probiotic and will mess with the balance of good bacteria – both in the bottle and in your stomach. Stick to natural infusions to get the best flavour.
Sugar content. Another shortcut to a kombucha drink that is palatable is to add extra sugar. While the natural fermentation process will "eat" up sugars, there is a limit, so make sure your kombucha doesn't have a heap of added sugar. (A good guide is no more than 2.5grams of sugar per 100mls.)
3. Focus on the fermentation process
According to kombucha experts, it takes 21 days for the fermentation process to take place and for the drink to become active and healthy to drink. Take a look at the label. Higher-quality kombucha brands will list their process and tell their customers how long the contents have been fermented.
---
What are the benefits of drinking kombucha?
Some of the claims about kombucha are totally over the top "an immortal health elixir!," "supports the immune system!" and even "prevents cancer!" - however there are some genuine benefits.
One of the main selling points of kombucha is that it's rich in probiotics, which can help balance your gut flora and encourage digestion. Unbalanced gut flora is blamed for a range of ailments including IBS and low energy..
The broad B vitamin spectrum may also be helpful for vegans and vegetarians who might not be able to get enough B vitamins from their regular diet.
---
When is best to drink kombucha?
Drinking kombucha on an empty stomach maximises the health benefits, especially if you're drinking it to aid digestion.
However, some people might find it a bit strong on an empty stomach and a few people have reported mild nausea after drinking kombucha first thing in the morning but eating a little bit before you drink your kombucha (but not too much) can help.
---
Does kombucha cure hangovers?
One of the most popular times to drink kombucha is in the morning after a big night out and many people report that Kombucha aids hangover recovery.
Kombucha is lightly caffeinated drink which will definitely help regulate your blood sugar and help you feel more like yourself again when you have been rough on your body the night before. The shot of probiotics will can help you recover, as alcohol contains a lot of unprocessed sugars and too much alcohol consumption without enough water intake will make you feel queasy.
---
Is there a lot of sugar in kombucha?
Kombucha itself is made with sugar which is essential to any fermentation process. However, during fermentation, the sugar is consumed and converted into bacteria so it is possible to make and buy kombucha with a low sugar content.
The sugar levels that are left post fermentation depend on the brand you buy. The general wisdom is that home-brewed kombucha tends to have a lower sugar content, while many of the commercial brands may add extra sugar, artificial sweeteners or fruit juice to make the drink more appealing. However, there are plenty of brands that offer low-sugar options and it's simply a case of reading the label.
---
Is kombucha really good for you?
The jury is out on this one. While a well-made kombucha can be rich in probiotics and can encourage beneficial gut flora, it is certainly no cure all.
But if you like the taste, are looking for a refreshing alternative to sugary soft drinks or even wanting to swap out alcohol for a glass of 'booch' - then we say go for it.
---
---
Deals and discounts you need to know about:
Store
Discount

Naked Wines

$100 off your first order

EveryPlate

40% off your first box + 20% off your next two boxes

eBay Australia

Up to 60% off sale

HelloFresh

Over 40% off your first box + discounts on your next 3 boxes

iHerb

5% off your orders

DoorDash

Unlimited FREE delivery with DashPass subscription

Groupon

Up to 56% off Sydney dining experiences

HelloFresh

$45 off your first HelloFresh box

HelloFresh

Get 25% off your first two HelloFresh boxes

Petzyo

30% off new customers

Groupon

Up to 68% off desserts in Sydney

Vivino

Up to 50% off sale

Groupon

Up to 83% off goods

Groupon

Up to 10% off local deals

Pharmacy Online

$5 off orders over $89

Vivino

15% off 12 or more bottles

EveryPlate

Meal plans from just $4.79 per plate

DoorDash

$0 delivery fee for first order

Dinnerly

$15 discount on first order

Dinnerly

$15 off the value meal kits

eBay Australia

15% off selected items at BoozeBud

Twinings

50% off dark collection

Catch

Up to 62% off best deals of the month

Boozebud

$25 off new customers

eBay Australia

5% off every Coles order with eBay Plus + FREE delivery

Groupon

Up to 50% off Perth dining experiences

Scoopon

Up to 67% off Perth dining experiences

Scoopon

Up to 57% off dining experiences in Sydney

Scoopon

Up to 67% off Gold Coast dining experiences

Scoopon

Up to 64% off Adelaide dining experiences

Scoopon

Up to 53% off Brisbane dining experiences

Groupon

Up to 50% off Sydney dessert experiences

Nurture Life

40% off 2 weeks of delicious meals

Nurture Life

Meals from just $7.99

EASI

$10 off your first order + 5 orders with $10 off your delivery fee

Go! Kidz

10% off + free delivery on orders over $55

Lyre's

FREE standard shipping

Vinomofo

55% off M. Chapoutier Tournon Mathilda Rosé 2019

Vinomofo

55% off Domaine Anita Nouveau Rosé 2020

Vinomofo

63% off Twin Valleys Pinot Grigio 2020
More guides on Finder