Best Italy tours and tour companies for 2021
Find out which tour company will lead you on your dream holiday across Italy with all of the stops on your bucket list.
We're reader-supported and may be paid when you visit links to partner sites. We don't compare all products in the market, but we're working on it!
Italy is food, culture, history and more. It's a place many fantasise about for good reason and add to the top of their bucket list.
Luckily, Italy is the perfect destination for all ages and all types of travellers, with ancient cities for culture buffs to explore, mountains in the north for nature lovers, medieval towns with surrounding vineyards for foodies and relaxed water destinations for holiday makers in Cinque Terre or the Italian Lakes District.
There are tours that cover just the highlights as well as tours that dive deep into culture, food and leisure activities.
We've done the research and found the best tours for each type of traveller, so you can tick off your must-see destinations as you travel across this land of food, wine and scenic sites without having to lift a finger to plan.
Our favourite Italy tour companies
Trafalgar is all about living the good life, which goes hand in hand with Italian culture. This esteemed tour company is dedicated to showing its travellers the soul of a destination through VIP experiences and by connecting you with locals – which is just what you'll want on your Italian holiday.
Best for: Middle-age, seniors, luxury, family
Cost: Mid-range
Our favourite itinerary: The Best of Italy tour is the perfect introduction to Italy. In just under two weeks, you can explore many of the highlights of this beautiful country.
---
Travelling Italy in style is a dream come true for many, and Insight can make that happen with tours that cover the highlights of Italy but also go deeper by exploring with locals and allowing you to enjoy authentic travel experiences in luxury.
Best for: Luxury, middle-age, seniors
Cost: High-end
Our favourite itinerary: Discover the real tastes of Italy on the Country Roads of Umbria and Tuscany tour which travels to two of Italy's most famous regions for medieval towns and decadent foods.
---
Cosmos
Cosmos wants to make travel tours available for everyone with price points that don't break the budget and don't sacrifice on the things you want, such as nice hotels, good food and excellent guides.
Add that to the fact it builds free time into every itinerary, and you'll be able to customise your Italy experience to do what you want and join excursions as you please.
Best for: Groups, budget travellers, all ages (8+)
Cost: Budget
Our favourite itinerary: Explore the picturesque towns surrounding Italy's most beautiful lakes on The Magic of the Italian Lakes tour and nab an insider's look into the life and beauty of this region.
---
Globus
What started as a small, family company is now leading travellers to incredible destinations across the world offering multiple tour styles for independent, group and private travellers. With so much included, you'll have the ultimate holiday in Italy.
Best for: Boomers and groups
Cost: Mid-range
Our favourite itinerary: The Italian Vista tour shows you the highlights from Rome to Milan in eight days, which covers the most famous and scenic sites between these two must-see cities.
---
Intrepid
Enjoy adventure, food and stepping off the beaten path with Intrepid. Intrepid has tours that cover it all, including the must-see destinations across Italy. Combine these with tours designed for leisure travellers of all ages and you'll easily find your favourite Italy tour.
Best for: Adventure, families and groups
Cost: Mid-range
Our favourite itinerary: The Cinque Terre: Hike, Bike, Kayak tour shows you Italy in a new and active way across one of the country's most colourful and visited destinations.
[/fin_grid_col]
---
Albatross
Albatross has been creating tour itineraries for Aussie and Kiwi travellers for over 20 years, with a tour style designed to be easy and enjoyable with longer stopovers.
There are no surprises with an all-inclusive program that lets you experience local dining, high-quality excursions and authentic experiences at a relaxed pace.
Best for: Seniors, middle-aged travellers and families.
Cost: High-end.
Our favourite itinerary: If this is not your first time in Italy, the Italian "Alternativo" Tour takes you off the beaten track to experience a side of Italy that's largely untouched.
---
Other tour companies that offer tours in Italy
ExperiencePlus! Bicycle Tours
Meet and Greet Italy
Find Your Italy
Taste and Slow Italy
Italy Hotline
Private Tours of Italy
Dragonfly Tours
Europamundo
Does your company belong in this list?
Best company for:
---
Southern Italy tours:
Exodus: Get active with one of Exodus's adventure tours by walking or hiking through Italy's best southern spots (food is always involved too).
Soleto Travel: As a specialist on Sicily, Soleto Travel dives deep into the country's culture and food while taking travellers off the beaten path.
Intrepid: Discover Southern Italy on a small-group tour with a local guide by taking a tour with one of the leading travel tour operators in the world.
---
Italy and Greece Tours:
Cosmos: See the highlights of Italy and Greece from Rome to Athens and enjoy an Aegean cruise – all on a budget.
Trafalgar: Dive deep into Italian and Greek cultures while meeting locals and enjoying food and the luxuries of a Trafalgar trip.
Contiki: Contiki combines trips across countries throughout Europe with many choices across Italy and Greece for solo and budget millennial travellers.
---
Bike tours:
Exodus: Find a self-guided or guided tour by bicycle across Italy or just your favourite section of the country.
Pure Adventures: Pure Adventures plans your self-guided or guided itinerary for you with no minimum group size.
ExperiencePlus! Bicycle Tours: This company was started in Italy by bicycle enthusiasts and continues on today with tours across Italy and Europe with a focus on local experiences.
---
Train tours:
Meet and Greet Italy: Travel across Italy by train with a company that specialises in rail tours to help you discover each region's beauty and cuisine via the scenic route.
Find Your Italy: Let a local show you their country for an authentic travel experience of the "real Italy."
Intrepid: The world's largest small-group travel operator uses a combination of train and coach travel across the country so you can see more in less time.
---
Families:
Meet and Greet Italy: Experience the highlights of Italy in 8 to 14 days by train or coach on a tour that focuses on culture and food.
Taste and Slow Italy: Taste and Slow Italy delivers holidays for all ages that cater to authentic Italian destinations and experiences.
Explore!: For a family adventure holiday across Italy, Explore! offers small-group trips with award-winning group leaders.
---
Private Tours:
Italy Hotline: Find yourself a custom and/or gourmet tour of Italy from day trips to entire country itineraries.
Private Tours of Italy: Private, exclusive and customised tours of Italy from north to south with locations on and off the beaten path.
Dragonfly Tours: Guided, customised tours of Italy for all budgets and destinations in Italy, including across country trip and day trips.
---
Luxury:
Insight Vacations: Insight delivers luxury vacations where you travel in style and don't have to sweat the small details when it comes to food, accommodation and the most scenic sites.
The Italian on Tour: Learn how to be an Italian with group, wine, bike, gluten-free and private tours of Marche and beyond.
Abercrombie & Kent: Small-group tours across Italy that can be tailor-made and can include tours for family travel.
---
Gourmet and food tours:
Meet and Greet Italy: Find the best of Italy on guided train and rail tours with a focus on customs, food and culture.
Taste and Slow Italy: Food and slow travel go hand in hand in Italy and this tour operator knows how to show travellers the best Italian destinations with top quality cuisine and wines.
Intrepid: Discover the culinary highlights of Italy on a small-group tour with the largest small-group tour operator in the world.
---
Northern Italy tours:
Italy on a Budget Tours: Explore the hidden gems of Italy's north with a slew of tour options for young travellers on a budget.
Exodus: With over 20 tours in Northern Italy alone, you can choose to take a walk through the Dolomites, cycle the Italian lakes or sip your way through unexplored wine regions.
Uniworld: Uncover the treasures of Venice and Northern Italy with a river cruise that helps you explore from a unique vantage point.
Popular Italy tour routes
Classic Italy: Rome to Venice
The classic Italy route is best for those visiting the country for the first time and are looking for a quick taste of Italy's delights in one go.
A classic Italy itinerary includes the must-visit sites such as Rome, Venice and Florence as the main cities, often with excursions to sites such as Pompeii, Pisa or Cinque Terre.
Italian Lakes
The Italian Lakes District is a picture-perfect destination famous for Lake Como in Northern Italy. The region brings in visitors for its history, food, outdoor pursuits and for being so distinctly Italian. The picturesque towns surrounding the lakes along with the mountains cast shimmering reflections on the lakes. We can't blame travellers for wanting to explore this region.
Around Sicily
Exploring Sicily can be as in-depth as you desire and can focus on whatever style of travel calls to you. Take a trip around the island for adventure hiking, cycling and regional cuisine found nowhere else in the country.
Amalfi Coast
Perhaps known as Italy's most colourful spot, the Amalfi Coast brings travellers on a scenic journey from the coastal shores to the stunningly blue waters that brush up against the vibrant towns of this region. Active travellers and holiday-makers can hike, swim and cycle around the area as well as visit extra destinations such as Pompeii and Naples.
---
Around Tuscany
Tuscany is home of some of Italy's best wine, medieval hilltop towns, rolling hills, rustic castles and gorgeous views that disappear into the distance. This region typically caters to an older crowd wishing to indulge in the cuisine, hike through the scenery and take travel at a slower pace through the towns.
How long do I need in Italy?
Italy is a country that can easily be travelled in one trip or broken down into multiple parts. What really determines the amount of time you wish to spend in this splendid country is how in-depth you wish to see everything.
From north to south, you can hit the main highlights of Venice, Florence and Rome with stops in between in 7 to 10 days. Two weeks will allow you to have extra excursions, perhaps to Cinque Terre or the Amalfi Coast.
With three weeks in Italy, you'll be able to explore at a leisurely pace, including some towns in Northern Italy in the Lakes District or a few days in Sicily. With one month in Italy, you can discover most of the country fairly in-depth with a tour of Northern Italy that finishes in Rome and then jump on another tour to explore the south and/or Sicily.
If you're starved for time and have only four or five days at a stretch, we recommend dedicating your efforts to a few select cities or a region to truly explore its highlights. For first-timers, Rome alone can eat up your days with visits to the Colosseum, Forum, Vatican and Sistine Chapel.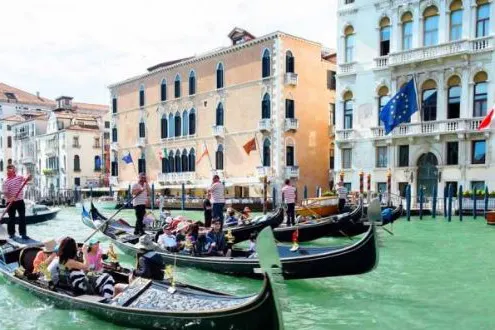 Top 10 day tour:
from Trafalgar Tours
This Gladiators Gondolas and Gold tour really gives you the time to explore each of Italy's most famous cities of Rome, Florence and Venice as well as some stops in Bologna and Pisa so you can explore without rushing.
Tour company: Trafalgar
Best for: In-depth city exploration
Places visited: Rome, Pisa, Florence, Bologna, Venice
View details
Latest deals for Italy tours, flights and more
---