The best water-saving hose nozzles for 2021
With new water restrictions now in place, we've found the top selling hose nozzles to help you to save every spare drop.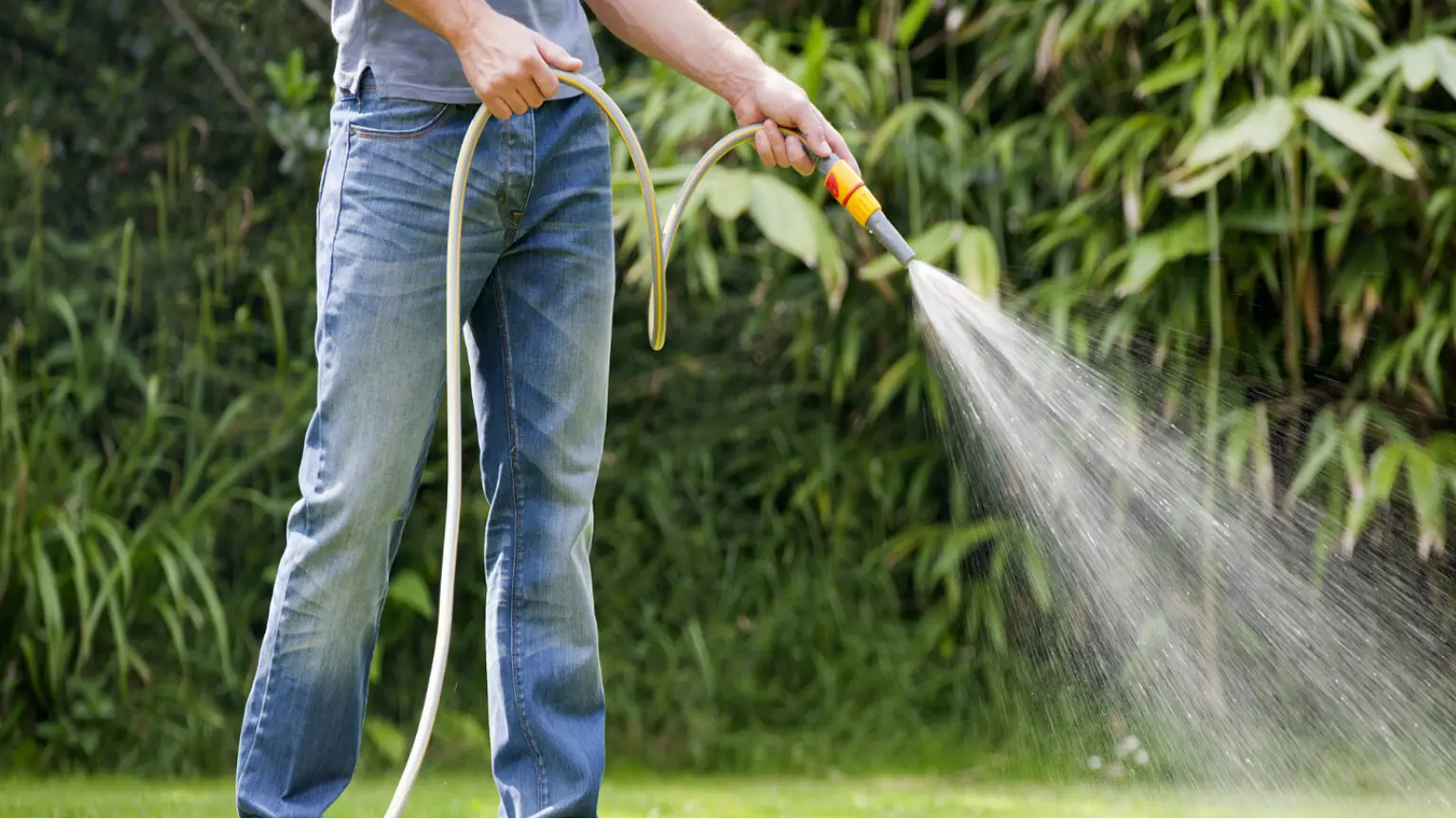 We're reader-supported and may be paid when you visit links to partner sites. We don't compare all products in the market, but we're working on it!
Water restrictions and permanent water efficiency measures are now in place for most parts of Australia, meaning that homeowners must adhere to the new rules or risk being slapped with a hefty fine.
To aid you in your quest to find an efficient new nozzle, we reached out to eBay Australia. Given that 11 million Australians shop with eBay each month, we were able to see exactly which models have been the most popular with Australian consumers.
---
Trigger hose nozzles
While water restrictions differ from state to state, one fairly consistent ruling is that when watering your garden, you must use a trigger hose nozzle. To help you meet this requirement, we've listed the top sellers for this category below.
Not looking for a trigger hose nozzle? You can also check out other bestselling hose nozzles.
Price: $14.90
Best all-rounder
If you're looking for a simple and affordable trigger hose nozzle, the Pope Ezy Trigger is the way to go. Retailing for just $14.90, the nozzle offers seven different watering patterns to suit all of your gardening needs. Selecting a spray pattern is as simple as rotating the nozzle head, while the non-slip grip of the product makes for comfortable handling.
The Pope Ezy Trigger also features a trigger lock to help ease fatigue for those who find it difficult to continuously depress the trigger. As an added bonus, the nozzle is able to withstand up to 1000kpa of pressure and is UV stabilised for Australian conditions, so you don't have to worry about leaving it outdoors.
---
Price: $29.90
Best for durability
Taking out second place is the Gardena Premium trigger gun nozzle, which has been made to cater to both heavy cleaning and irrigation needs. A fine-mist spray pattern is gentle enough for delicate applications, such as watering seedlings and potted plants, while a hard-jet spray option tackles heavy cleaning tasks with ease.
The stainless steel head makes the product extremely durable, while the integration of a frost-proof design ensures that the product remains undamaged even in low temperatures. An ergonomic trigger button and integrated lock meanwhile make the product comfortable to handle for long periods of time.
---
Price: $56.30
Best for comfortable handling
Considered to be one of the more durable watering accessories on the market, the Hozelock Ultramax features a solid zinc alloy body that is made to be hard-wearing. The nozzle is capable of producing seven different spray patterns, including a fast-fill option for filling up buckets and a fan spray mode for rinsing soap off of cars.
A trigger lock mode helps to reduce hand strain, while a rear flow control option allows you to quickly adjust the flow of water without having to go back to the tap.
---
Price: $9.90
Best for price
Coming in at a tiny $9.90, the Orbit Turret 10 is a truly budget-friendly option. It also offers more flexibility than most, with 10 varying spray options on offer. Patterns can be selected by twisting the head and include jet, flat, angle, shower, vertical, 1/2 vertical, full, cone, centre and mist spray modes.
An easy-to-use front trigger allows for optimal control, while the heavy-duty metal design lends the nozzle some serious durability. A clever lock-on clip also lets you hold a rear flow trigger in place, allowing for continuous water flow without the hand strain.
---
Other best-selling hose nozzles
Whether you're looking to water your garden or clean out your gutter, these are the most popular nozzles for the job:
Price: $58
Best for cleaning hard to reach areas
As the name suggests, the Telescopic Gutter Cleaner is the ideal option when it comes to cleaning hard-to-reach places. Featuring an aluminium alloy pole with a 180-degree rotatable nozzle, the product allows you to easily clean gutters, rooftops and high windows.
The cleaner can be adjusted from 1.05m to 1.75m, giving you plenty of reach. It also comes with a jet spray nozzle, a gooseneck, a brass hose connector, a spray gun and a versatile brush to help with all your outdoor cleaning needs.
---
Price: $49.95
Best for versatility
DRAMM has proved itself to be a leader in reliable hose nozzles, with the brand taking out three top spots in this list. Up first is the One Touch Revolution handheld water spray gun, which offers nine different spray options. You can twist the head to switch between water patterns and can engage the one-touch valve to control water flow.
The versatile product also comes in a range of bright colours, so you can choose whether you want it to blend it or stand out.
---
Price: $54.95
Best for saving water
Similar to the One Touch Revolution, the DRAMM One Touch Fan hose nozzle offers a clever push lever that can be moved back and forth with your thumb to stop and start the flow of water. The design allows you to save time when moving between different sections of your garden and also makes for a more water-conscious purchasing choice.
The nozzle offers gentle water patterns that make it perfect for container gardening. It also comes in DRAMM's signature range of bright colours to ensure that you don't have to go hunting for it later.
---
Price: $80.95
Best for watering hard-to-reach greenery
The third DRAMM product to make the cut is the One Touch Rainwand, which comes in a convenient 30-inch design. Made from a lightweight aluminium, the rainwand allows you to water hard-to-reach shrubbery with ease.
The product also features the same one-touch design as the previously mentioned models, effectively eliminating the hand strain that some experience with trigger nozzles. As an added bonus, the handle and head are covered in a rubber mould to improve longevity and prevent general wear and tear.
---
What is a trigger hose nozzle?
A trigger nozzle is a nozzle that is fitted to the end of a hose and controlled by continuously depressing a trigger by hand. Trigger nozzles make it easy for you to control the water flow and to stop and start watering with ease, making them more efficient at saving water than regular nozzles.
---
Guide to water restrictions in Australia
Water restrictions and permanent water efficiency measures are constantly changing and will vary from state to state. For more information, you can check out all the latest water restrictions on the Bureau of Meteorology's Water Restrictions website.
---
Looking to shop for home and garden products online? See the latest deals before you buy
Main image: Getty
More guides on Finder