20+ essential HBO series everyone should stream at least once
If you're looking for a new series to binge, you can't go wrong with an HBO original. Here are some of the best HBO shows of all time.
We're reader-supported and may be paid when you visit links to partner sites. We don't compare all products in the market, but we're working on it!
HBO has a long history of blessing us with high-quality
, addictive series. It all started back in the 90s when the cable company began experimenting with original programming. Ever since, HBO has built a solid reputation for creating innovative television, from cult series like
The Larry Sanders Show
to
huge international hits like Game of Thrones
.
Although the competition in television has grown exponentially in the past few years with the rise of streaming services, HBO has managed to maintain the same levels of success. In Australia, Foxtel and BINGE are the exclusive home of HBO content, allowing subscribers to keep up with the latest releases express from the US. The series are also available on demand, so you can catch up with your favourite shows anytime.
---
Succession
---
A delicious satire, Succession centres on the Logan family, known for controlling the biggest media and entertainment company in the world. As they contemplate the future following the imminent retirement of their patriarch, a power battle ensues. Darkly funny and wonderfully acted, the series is both an engaging family drama and an exploration of power and wealth, giving viewers plenty to ponder upon as they follow the dysfunctional Logans.
---
Band of Brothers
---
Band of Brothers tells the story of the Easy Company, 506th Regiment of the 101st Airborne Division, from their training in Georgia in 1942 to the end of World War II. The miniseries offers an intense close-up of the horrors of war, highlighting the sacrifices made by the millions of ordinary people who served. With tremendous performances and excellent production values, the show doesn't shy away from graphic battlefield scenes, but the focus remains on the real people who experienced it all. To call the series amazing would be an understatement.
---
My Brilliant Friend
---
Based on the popular Neapolitan Novels series by Elena Ferrante, My Brilliant Friend explores the complicated intensity of female friendship. The series starts when elderly author Elena Greco learns that her friend, Lila Cerullo, has disappeared without a trace. This makes Elena reflect on the early days of their friendship in dangerous but fascinating Naples, Italy, in the 1950s. The audience is privy to the epic journey these women embark on, one that lasted more than 60 years. My Brilliant Friend is beautifully shot and impeccably written, making for an immersive and satisfying watch.
WATCH NOW

SUBSCRIBE

Sorry, we've found no streaming options for this title.

RENT/BUY

Sorry, we've found no buying or renting options for this title.

CURRENT OFFERS
---
The Outsider
---
An adaptation of the Stephen King novel of the same name, The Outsider follows a police investigation that starts off traditionally straightforward and then takes a turn in an unexpected direction. When an insidious supernatural force edges its way into the case, viewers will start to question everything. Eerie and perfectly cast, this drama will slowly pull you into its creepy world. It might be best not to watch this one alone.
---
Watchmen
---
This might sound like a cliché, but Watchmen is more than a TV show – it's an experience. The series, a modern re-imagining of Alan Moore's groundbreaking graphic novel, takes place in a world where masked vigilantes are treated as criminals by government agencies. It's bold, visually stunning and thrilling. It's also the perfect binge for viewers interested in experiencing a different kind of superhero show. Whether you're new to this world or a longtime fan, you'll find plenty to like in this superb HBO drama.
---
Chernobyl
---
An acclaimed historical miniseries, Chernobyl dramatises the events surrounding the 1986 nuclear disaster that shook the world. While many people put their lives on the line to save Europe, others aren't quite as heroic, spreading false information to minimise the damage. Chernobyl is a bleak show, but it's also a well-crafted one, with the creators paying special attention to historical accuracy. If you're looking for an excellent and thought-provoking binge, this will be right up your alley.
---
Euphoria
---
Euphoria is an addictive teen drama – the kind that doesn't shy away from showcasing how challenging being a teenager can be. Brutally honest and aesthetically mesmerising, the show follows a group of high school students as they navigate love and friendships in a world that's becoming more complicated with each passing year. Euphoria is sometimes funny, sometimes sad and always clever. It's also a very immersive series, so don't be surprised if you end up watching the whole thing in one go.
---
Game of Thrones
---
Bloody and epic, Game of Thrones is based on George R.R. Martin's bestselling book series A Song of Ice and Fire. The show takes place in the fictional realm of Westeros, where several families battle to sit on the coveted Iron Throne. There are dragons, ice zombies and steamy sex scenes – all the ingredients necessary to become a smash hit. And it did, attracting record viewership on HBO year after year. With the final season wrapping up in April 2019, now is the perfect time to finally bend the knee and discover all the wonders that Westeros has to offer.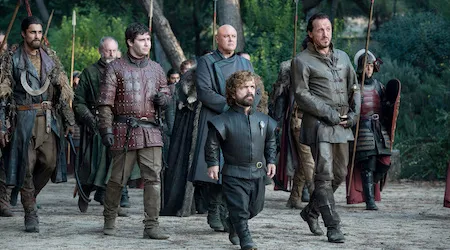 Game of Thrones Season 8 has wrapped up, so why not binge all 8 seasons for free online in Australia with this guide.
Read more…
---
The Sopranos
---
Despite being off the air for more than 10 years now, The Sopranos is still widely regarded as one of HBO's best original series of all time. The show follows Tony Soprano, a middle-aged man who has to juggle the problems of his dysfunctional family with a family of a different sort – the mob. The Sopranos changed TV for the better, finally proving that the medium can masterfully tell complex stories usually reserved for the big screen. And with more episodes to go around, it may even do a better job at creating compelling characters that stand the test of time. If you haven't seen this HBO treasure yet, what are you waiting for?
---
Rome
---
Before there was Game of Thrones, HBO had Rome, a short-lived but spectacular series featuring war, family tragedies and political intrigue. The series follows two Roman soldiers who are caught in the historical events of an era, during a time when the Senate was seeking to undermine Caesar's power, setting the stage for inevitable civil war. Rome is an ambitious exercise in storytelling, boasting a tremendous cast and stellar writing that doesn't undermine viewers' intelligence. On the contrary, it challenges fans with a fun mix of historical and fictional characters. Plus, it's a visually stunning treat, from the show's magnificent sets to its elaborate wardrobe. Too bad it only lasted for two seasons.
---
Sex and the City
---
Certain episodes of Sex and the City haven't aged particularly well, so it can be easy to forget that the show revolutionised television. When it came out back in 1998, there wasn't anything else like it on TV. The series centres around Carrie, a sex columnist, and her three best friends, as they navigate the complicated Manhattan dating scene. It was daring, controversial, fun, fashionable, sexy and ridiculous. More importantly, it transformed the conversations around women and sex. It showed a group of women being comfortable with who they are even when lacking a partner, which was bold and refreshing at the time. Friendship never goes out of style and for better or worse, neither will Sex and the City – at least not anytime soon.
---
The Wire
---
It's exciting to live in the golden era of television, with tons of shiny new series fighting for your attention. However, don't make the mistake of overlooking the classics. Constantly regarded among the best dramas of all time, The Wire centres on the narcotics scene in Baltimore. Instead of focusing solely on law enforcers, the show also prominently features drug dealers and users, painting a more well-rounded and compelling picture overall. It shows how the US system is rigged to keep the oppressed oppressed and it does so with incredible empathy, which is no easy feat. All in all, The Wire is a complex, moving and clever series, commanding attention from episode one. If you haven't seen it yet, now is the perfect time to dive in.
---
Westworld
---
HBO's Westworld revolves around an atypical amusement park, where rich vacationers can interact with robotic hosts. And by interact, we mean basically live out all their illicit fantasies through artificial consciousness. The sci-fi drama is based on the 1973 film of the same name, but it dives deeper into the human side of AI, managing to somehow balance pure insanity with more grounded and intelligent drama. Westworld thrives on clever twists and engaging characters, benefiting from a talented ensemble cast and captivating scripts. Stylish and gorgeously shot, the series takes its time to pull viewers into its bonkers world. Once you're in, you'll definitely enjoy the ride.
---
Silicon Valley
---
This smart HBO comedy not only pokes fun at the world of venture capitalism, but it does so in a subtle and charming manner, managing to also tell a fascinating story about the lengths to which an introverted programmer is willing to go to see his dream come true. The show follows Richard, a coder who develops a powerful search algorithm. Things only get more complicated from there, as Richard and his friends try to make it in the cutthroat tech landscape by building a successful company without compromising their values. Sharp and hilarious, Silicon Valley remains one of the best comedies HBO has ever made. Binge it immediately.
---
Girls
---
Girls was controversial from the get-go. A worthy successor to Sex and the City, the dramedy follows a group of girlfriends in their twenties as they navigate life in New York, perfectly capturing that uneasy feeling of having no idea what you're doing with your life. These characters are flawed, selfish, annoying and bratty – yet somehow, viewers will be unable to look away. Girls is insightful, rife with shock value and often hilarious. The show is far from an easy binge, as it features plenty of cringe-worthy storylines. However, Girls is more honest and thought-provoking than your average sitcom, so you're missing out if you don't give it a shot. It may end up surprising you.
---
The Leftovers
---
The Leftovers is one of HBO's more underrated gems, which is a shame, given the show's ambitious storytelling and outstanding performances. The series centres on life in a small town after many of its residents vanished in a Rapture-like event called The Sudden Departure, when 140 million people from all across the world disappeared without a trace. The Leftovers takes place three years after the cataclysm and perfectly showcases the difficulty of maintaining order in the aftermath of such a devastating event. It's an intelligent and interesting drama, which will make you obsessively think about purpose, connection and humanity. Consider yourself warned.
---
Boardwalk Empire
---
A period drama for the ages, Boardwalk Empire takes place during the Prohibition era, when alcohol was outlawed and outlaws became kings. The story follows Enoch "Nucky"' Thompson, who is equal parts politician and gangster, as he gains prominence and takes control of the famous Atlantic City. As one might expect, all this power doesn't come without its fair share of complications. Stylish and gritty, Boardwalk Empire offers so much more than your average gangster drama. It features exciting action scenes that will keep viewers on the edge of their seat, but it also has enough substance to ensure they will keep coming back for more.
---
Veep
---
Veep has been dominating awards ceremonies ever since it first came on the air. This sharp political satire centres on Selina Meyer, perfectly embodied by the talented Julia Louis-Dreyfus, as she deals with the inner workings of the US government, juggling her political aspirations with her tumultuous personal life. Viciously funny, Veep is a refreshing mix of smart comedy and memorable performances, benefiting from an exquisite ensemble cast which includes the likes of Tony Hale and Anna Chlumsky. The rapid-fire dialogue between the gloriously incompetent White House staffers is delicious, although their absurd shenanigans might hit a little too close to home given the current US political landscape. Alas, that's all the more reason to tune in.
---
Curb Your Enthusiasm
---
Created by Larry David, Curb Your Enthusiasm is a hilarious and semi-improvised sitcom that centres on a neurotic TV writer and his life in LA. David plays a fictionalised version of himself – a successful man who always manages to get himself into all sorts of mishaps and gaffes. Each episode of the show is a generous helping of neurotic delight. The way in which David deals with life's little annoyances is sure to put a smile on your face, even as you're wondering how this man manages to maintain any kind of relationships in his personal life. If he were real, you'd probably punch him in the face. Thankfully, Curb Your Enthusiasm is fiction – and pretty funny fiction at that.
---
Enlightened
---
It's no secret that Laura Dern is a treasure – and if you're not a fan of her work yet, you will be after bingeing Enlightened. The series centres on Amy, a successful woman who suffers a public nervous breakdown which sends her to a mental institution. However, when she returns home with a fresh outlook on life, she discovers that not everyone is willing to accept the new her and she struggles to figure out what's really important. Enlightened is the type of show that grows on you, with a healthy dose of black humour to keep things interesting. At best, it will inspire you to live more positively. At worst, it will make you laugh. In short, you've got nothing to lose here.
---
Six Feet Under
---
Compelling and thought-provoking, Six Feet Under is the kind of show that has probably always been on your watch list, but the bleak premise never really pulled you in. It's time to finally take the plunge; otherwise, you're missing out on some superb acting and a considerable amount of wit. The show follows the dysfunctional Fisher family, who own and operate a funeral home in Los Angeles. This unusual setting allows the characters to engage in enough macabre meditations on mortality to last a lifetime, with some surreal dream sequences and dark humour sprinkled in. The engaging ensemble should be enough reason to watch as the show stars Peter Krause, Michael C. Hall and Frances Conroy, among others.
---
Barry
---
A fresh addition to HBO's roster of original shows, Barry is already making waves, with Bill Hader and Henry Winkler both winning Emmy Awards for their performances on the series. Barry follows a low-level hitman who isn't particularly satisfied with his life. As a result, he finds the idea of becoming an actor incredibly appealing, although juggling his new aspirations with his night job will prove a bit complicated. The show successfully mixes comedy and violence, which enables it to stand out in a competitive TV landscape. Barry takes a lot of risks, but most of them pay off big time, as the end product is both mesmerising and unnerving. This sadcom is the perfect quick binge for a lazy weekend.
---
Big Little Lies
---
Based on Liane Moriarty's successful novel of the same name, Big Little Lies follows a group of mums – Madeline, Celeste and Jane – as they struggle to maintain their apparently perfect lives while dealing with fractured, dysfunctional relationships and trauma. It's a show about how nothing is as idyllic as it may initially seem. It also features a thrilling mystery that will keep you guessing until the very end. The cast is the stuff of dreams, featuring Nicole Kidman, Shailene Woodley and Reese Witherspoon. Plus, Meryl Streep joins them for season two, which is all the more reason to check out this highly addictive drama.
---
Sharp Objects
---
Also an adaptation, this time of a Gillian Flynn novel, Sharp Objects centres on Camille Preaker, a damaged reporter who returns to her small hometown to investigate a series of mysterious crimes. The show benefits from a powerhouse performance by Amy Adams, who makes viewers care deeply about the flawed protagonist as she grapples with mental health and family issues. Sharp Objects is a provocative series that pulls you in despite its slow pacing and grim atmosphere. Rest assured, you may have to endure a few too many scenes of Camille driving contemplatively in her car while listening to music, but the payoff is worth the wait.
---
Treme
---
Treme is a powerful show that takes place in the aftermath of Hurricane Katrina. It follows several interesting characters, from street musicians to college professors, who try to move on with their lives. Their determination to get back on their feet is what fuels the show, as viewers root for these flawed but incredibly complex characters to succeed. The music is gorgeous, which is expected since the show is set in New Orleans, a city defined by its musical culture. But more than that, Treme delivers a touching portrait of a community waiting for relief from despair. A universal story that's never boring to watch.
---
Looking
---
Funny and honest, Looking follows three best friends living in San Francisco as they navigate the complexities of contemporary gay relationships. Despite the premise, the show isn't obnoxious. It doesn't set out to define gay relationships in any way, but remains low-key and trusts its characters to win over the audience with their charm, which is revolutionising in itself. As the title suggests, the three friends are looking for partners, for jobs and for themselves. It's a show about people struggling to determine what and who they want in life. So if you're into that type of thing, while also enjoying smart, endearing comedy, you should definitely give Looking a watch.
---
Insecure
---
Insecure follows Issa and Molly, two black women and best friends who cope with an endless series of awkward everyday occurrences. The series doesn't rely on stereotypes but takes the viewer on a poignant and often hilarious journey through the life of two twenty-something women. Besides the usual difficulties of young adulthood, they also have to deal with uncomfortable racial experiences on a daily basis. Insecure is fresh, witty, stylish and sincere, providing an unflinching look at modern dating and life in general. You'll be charmed from episode one.
---
More guides on Finder
Stream the best and save