Best hair straighteners to buy in Australia 2021
Looking for sleekness and straightened locks? These top hair straighteners are here to get your hair under control.
We're reader-supported and may be paid when you visit links to partner sites. We don't compare all products in the market, but we're working on it!
Whether you're a professional hairdresser or someone who just really loves the straight hair look, it's important to find yourself a good quality hair straightener. And when you're operating with so much heat, you need to choose products that won't damage your hair or cause any lasting issues.
This guide has the best of the best so that you can start styling straight – straight away!
---
Best everyday hair straightener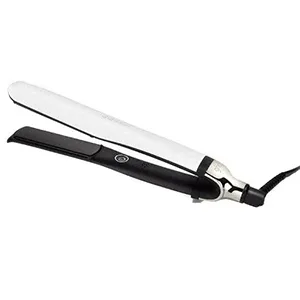 For everyday use, you want a hair straightener that isn't going to cause too much damage to your hair – especially if your hair is fine or has been coloured and damaged in the past. Depending on your price point, for an everyday device you could consider spending a little bit extra on a ceramic straightener, which will be healthier for your hair.
We recommend the GHD Professional Hair Styler. It's a reliable, steadfast straightener that will give you good heat dispersion. GHD is a reputable brand that is used in a lot of salons across Australia, so you can trust that the quality will be high.
RRP*: $174.26
---
Best hair straightener to keep in your car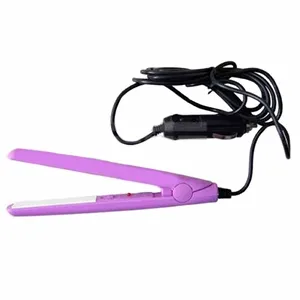 Travel straighteners are a godsend when it comes to situations like this, because all you have to do is plug it into your car and you'll be ready in minutes. They're generally smaller than regular sized hair straighteners but hey, they're a lifesaver. There's nothing worse than rocking up to an event and realising that you've got one unruly patch of hair – without a straightener in sight!
We recommend the 12V Ceramic Plates Hair Straightener. At only 12V you can use it straight from your car's cigarette socket or from any other 12V power source. With a maximum heat of approximately 140 degrees, it won't get too hot and damage your hair.
RRP*: $26.49
---
Best hair straightener for travel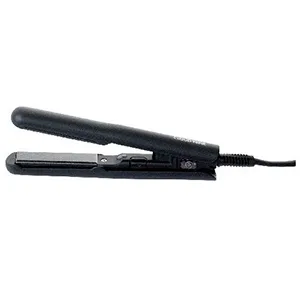 Just because you're backpacking all over Europe or gallivanting from one side of Australia to another, it doesn't mean you won't want to look nice and rid yourself of flyaway waves once in a while. Travel hair straighteners are easy to pack, don't take up as much space and use slightly less electricity – so they're a perfect addition to your luggage.
We recommend the Cloud Nine C9 Micro Iron. Not only is it compact enough to fit in your suitcase (at only six inches long), it also comes with a heat guard to pop over the plates so that you can pack it away at a moment's notice. It will also turn off automatically after 30 minutes in case you're too busy exploring!
RRP*: $106.01
---
Best hair straightener for curly hair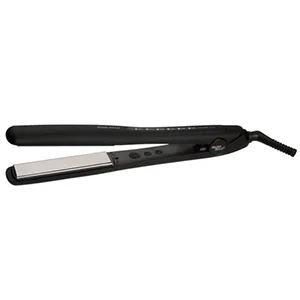 Curly hair has a mind of its own, and anyone who has it has probably fried it while trying to achieve a truly straight look – it's a classic case of wanting what you don't have. Not to mention it's a nightmare to get dry! Curly hair is naturally a different texture, so you'll want a straightener that isn't going to damage it but can still manage to tame the mane of curls, which is a hard balance to strike.
We recommend the Silver Bullet Keratin 230 Titanium Straightener. This is a straightener that you're definitely going to want to ensure you use heat protectant with, because it goes up to a huge 230 degrees. If your hair is unmanageable, this is the straightener that will stick with you until every last strand is sleek.
RRP*: $178.95
---
Best hair straighteners for thick hair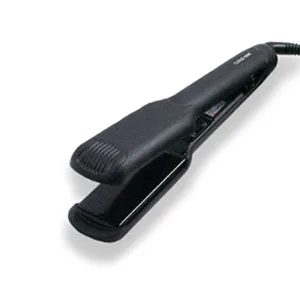 Thick hair has a tendency to be a bit more stubborn, but when you separate it piece by piece it shouldn't be any harder to straighten than regular hair – it may just take a little more time. If you're sure that you want something a bit more heavy duty though, you may consider a straightener with a bit more power.
We recommend the Cloud Nine C9 Wide Iron. The wider plates of this straightener make it even easier to straighten a lot of hair, with greater heat dispersion so you don't have to use quite so high a temperature – which is a mistake a lot of people with thick hair make, assuming that the heat will speed things up. But in reality, a higher heat will just damage your hair.
RRP*: $192.87
---
Best hair straightener for thin hair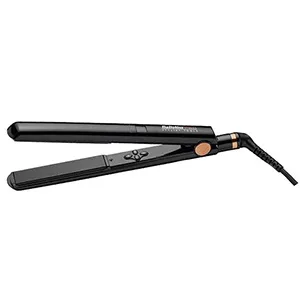 Thin hair will always need a bit of extra care when you're straightening it, because it's so delicate and already more sensitive to heat damage. The important thing when deciding on a straightener for thin hair is to find one with a relatively low standard temperature, or a setting that allows you to customise the temperature, thus avoiding the damage from high heat.
We recommend the BaByliss Pro Hypnotic Fusion Mineral Complex Styler. With up to 10 different temperature settings, you can choose the correct temperature for your thin hair, while the Japanese Kiyoseki plates are designed to create a sleek, smooth finish so your hair won't go frizzy from the heat on thin strands.
RRP*: $280
---
How to choose a hair straightener
If you're still not sure which hair straightener would be best for your hair, check out our full hair straightener buying guide for more information.
---
How do hair straighteners work?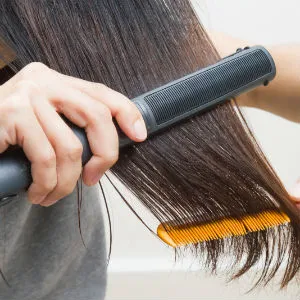 Hair straighteners work in a similar way to an iron – the heat from the plates is circulated and disperses heat onto your hair, flattening it and causing it to hang straighter. Going section by section, insert the hair between the tongs and pull down from root to tip to straighten.
Some hair straighteners can be used on wet hair as well as dry, or can be used to style, curl and create waves in your hair. The kind of straightener you need depends entirely on the type of hair you have and the results you want to achieve.
---
How much electricity do hair straighteners use?
A hair straightener used approximately five minutes a day, four days a week will use approximately 2.46 kWhs a month, which should cost most households less than a dollar. If you're using it more extensively or have thicker hair that requires more time to style, it will be slightly more, but overall the cost is generally minimal. Most straighteners are either 110 or 230 volts, and some travel straighteners will be dual voltage. Remember to keep in mind if you're buying a straightener online that the Australian power grid is 230 volts – a 110 volt straightener won't work here.
---
Do hair straighteners damage your hair?
There is always a risk of damage when you're using hair tools that function at such a high heat as they can cause hair to dry out, crack and in worst case scenarios, even burn. To minimise damage you should try and use a heat protecting product, use the lowest effective temperature on your iron and avoid straightening more often than necessary. Choose the right shampoo and conditioner and your hair will thank you. It also goes without saying that excessive yanking or tugging on your hair could cause some damage. Try and keep your cool even if your hair isn't cooperating.
---
How to use your hair straightener to create curls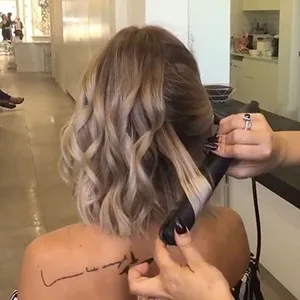 Though not as ideally suited to creating curls as an actual curling iron, it is possible to curl your hair using a standard straightener. Starting with clean, dry and heat-protected hair, part it into manageable sections.
Insert a section of hair between the plates then rotate the iron either a half turn or a full turn, wrapping the hair around it (the more rotation in the iron the heavier the curls). Once set, pull gently down the length of your hair, allowing the pinched strands to gently pull around the iron for a curling effect. Creating curls with your straightener isn't an exact science but once you get a feel for how your hair behaves, the possibilities are nearly endless. Here is one of our favourite YouTube haircurling tutorials, if you want some extra tips and pointers.
---
*prices check September 2019
Feature images: Shutterstock
---
Beauty sales and discounts
Popular Health & Beauty coupon codes
| Last checked | Code description | Code |
| --- | --- | --- |
| 5 Oct 2020 | 10% off orders over $75 | FIN**** |
| 24 Feb 2020 | 5% off your orders | FIN**** |
| 12 Jan 2021 | Get 10% off your first order | APP**** |
| 6 Jan 2021 | 10% off New Balance, Apple, Panasonic and more with eBay Plus | PLU**** |
| 26 Dec 2020 | 15% off 2 or more frames | LUC**** |
More guides on Finder
Even more shopping deals