Best hair masks for dry or unruly hair 2020
We tried dozens of products and these are the best.
We're committed to our readers and editorial independence. We don't compare all products in the market and may receive compensation when we refer you to our partners, but this does not influence our opinions or reviews. Learn more about Finder.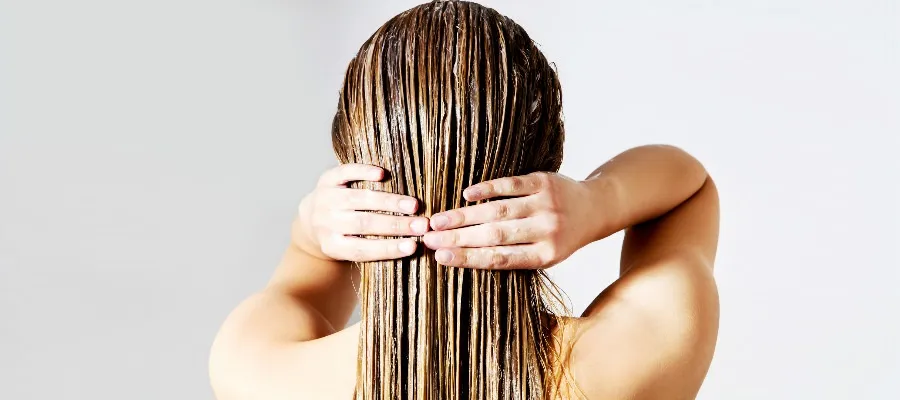 Image Source: Getty Images
For heat-damaged, dry, frizzy or split hair, a good mask can be a saving grace. But which ones work the best? We decided to find out.
Our team tested dozens of products from all price ranges to see which ones worked the best. And we can say there were definitely some surprises. Some of the most buzzed about and expensive products actually dried our hair out more. In the realm of hair masks, cost isn't always an indication of quality.
Read on to see our Finder tried-and-tested round-up of the top performing hair masks.
---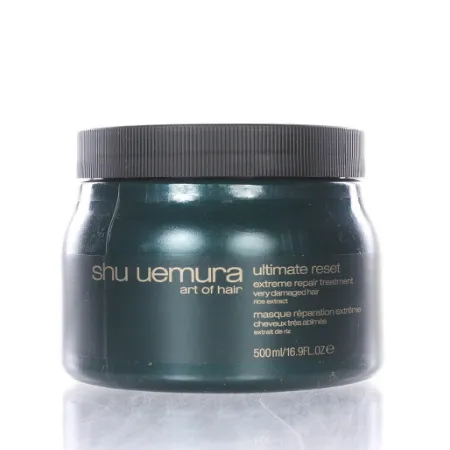 This hair mask is pricey, but it blows most of the competition out of the water. Shu Uemura's Ultimate Reset Mask is a hair saver. This mask takes even the most straw-like, damaged hair and makes it soft again. What is particularly impressive to me is how it helps to combat frizz and unruly hair. The way that it hydrates, nourishes and protects means that your hair is more resilient to the water and humidity that can seep into the core of your strands and cause frizz. I used this once a week for a month and found that my frizz issues were drastically reduced.
Despite being deeply nourishing, it doesn't make your hair more oily than normal like some masks do. It smells amazing with a light floral fragrance that lingers around for a few days after use. It's also super easy to use. Just swap it out for your regular conditioner while in the shower and try and let it sit for 10 minutes. If you have frizzy or damaged hair, you need to try this mask.
But unless you have really damaged hair, you might be able to go with a less expensive product. If your hair is badly damaged, then this is the one that will get you the best results of all the masks we tried.
Price: $68 for 200mL
Where to buy: eBay
---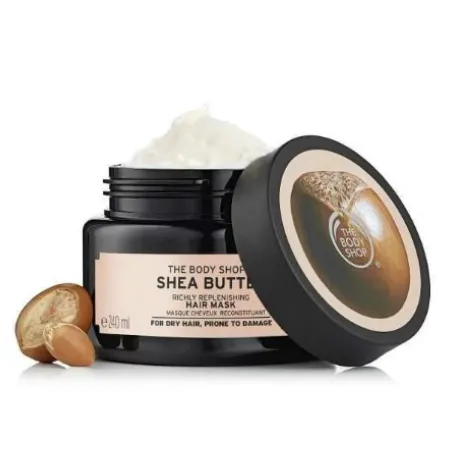 The Body Shop Shea Butter Hair Mask
If your hair needs some serious love, The Body Shop Shea Butter Hair Mask is what you need. It's enriched with shea butter, coconut oil and olive oil, so it will nourish dry hair from the root to the tip. Over time and through weekly usage, it can transform and mend hair breakage and it's all done at an affordable price.
The Shea Butter mask makes hair healthy, soft and less frizzy. It has a creamy texture and a light nutty fragrance. It's the ultimate hair treatment. It's recommended that you leave this hair mask in for a little over five minutes, so it's great to use if you have some time to kill or are enjoying a relaxing bath.
The Body Shop rating: 5/5
Price: $25 for 240mL
Where to buy: The Body Shop
---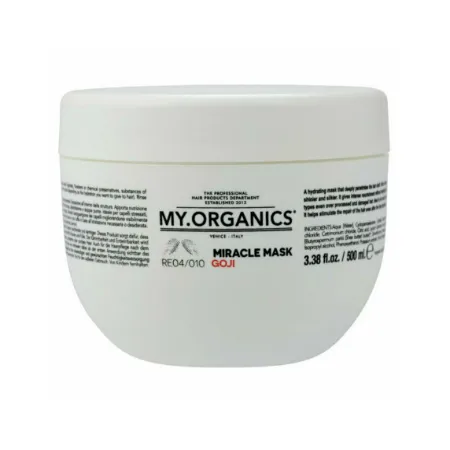 This mask makes the list, not just because it works, but because you get a whooping 500mL of product in each tub and it's just $16.99. Hair masks are often a product that you might have to invest in to find something that does the job – but not in this case.
My Organics Goji Miracle Mask drastically improved the manageability of my hair after just one use. It didn't completely soften the hay-like split ends of my hair, but it did eliminate almost all of my frizz. It also made my hair ultra glossy, which is impressive as the nourishing ingredients in some hair masks can actually dull the shine of your hair.
I like to use this in the shower as a replacement for regular conditioner, but it also works as a treatment you can use while relaxing on the couch – just dampen your hair first.
Price: $16.99 for 500mL
Where to buy: eBay
---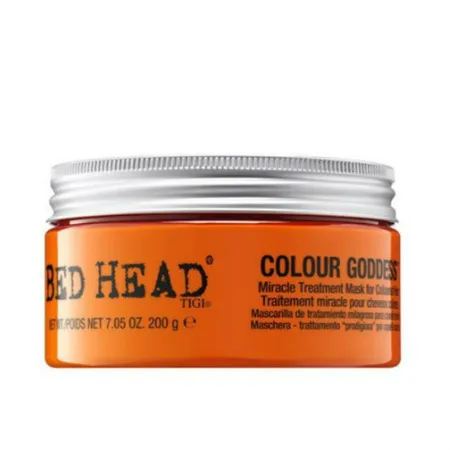 This mask has been specifically formulated for dyed hair and is designed to help your colour last longer. Even though it's made for dyed hair, I think this is a great hair mask to use on all hair types, even if your hair isn't coloured.
What I really like about this product is that it's a five-minute mask. Many other treatments and masks need to sit in your hair for 10 to 30 minutes for you to get the full benefit. But you get what you need from this product very quickly, so you don't need to devote extra time in your routine. Use it in the shower instead of a conditioner since you literally only need to leave it for a few minutes.
This mask combines keratin, provitamin B5 and almond oil to protect, smooth and care for your hair. This one isn't as tough on frizz as some of the other products, but it leaves your hair shiny, bouncy and soft.
---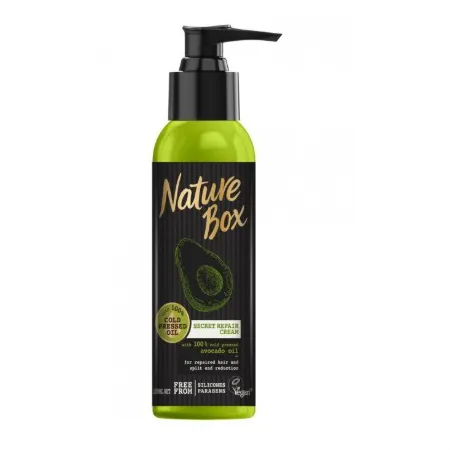 With 100% cold pressed avocado oil, the Nature Box cream treatment does wonders at hydrating dry hair. Upon using this product, it leaves the hair feeling soft and hydrated, and it can reduce the appearance of split ends. This product is loaded with all the good stuff, which is why it leaves your hair feeling a lot better than it did before.
This hair mask is also incredibly easy to use as it works like a quick treatment. You can either rinse it out after 30 seconds or use it as a leave-in product on towel dried hair, so it's perfect if you are on the go.
Priceline rating: None yet
Price: $18 for 150mL
Where to buy: Amazon and Priceline
---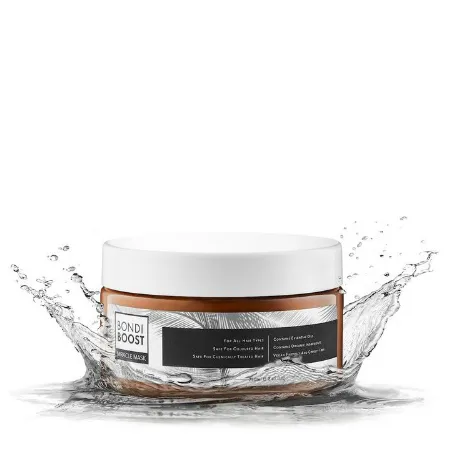 This brand has created a lot of hype for its large range of Australian-made hair products that are said to not only increase the appearance and strength of your hair, but to also help it grow. The Growth Miracle Mask is a weekly treatment that's ideal for any hair type but especially for dry, frizzy hair. Its key ingredients include argan oil, castor oil, macadamia nut oil and jojoba oil.
After shampooing, I left this mask in overnight and rinsed it out in the morning with a small amount of conditioner. After blow drying, my usually frizzy hair was noticeably smoother and felt a lot softer than normal too. I usually need to apply argan oil after straightening to combat all the flyaways, but as this mask is already so rich in moisturising oils, I didn't need to apply anything extra. It stayed frizz-free, yet not at all oily, until I needed to wash it again. This one is perfect if you're looking to end your daily battle with frizz.
We should note that we can't weigh on its effect on hair fall. Our testing window was not long enough to give an accurate indication on growth or hair thickness.
---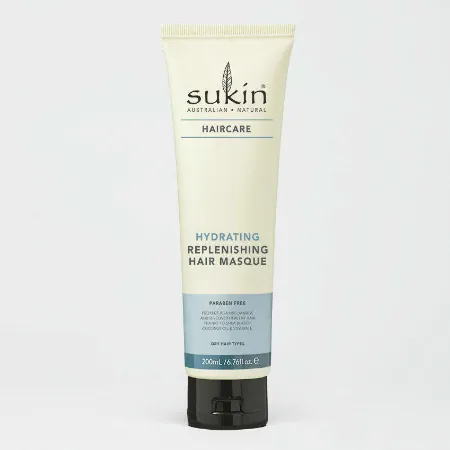 If you're suffering from dry or frizzy hair, the Sukin Hydrating Replenishing Hair Masque is for you. While it contains a bunch of nourishing ingredients like shea butter, coconut oil and Vitamin E, it is also quite lightweight, making it a great choice for those with oily roots and damaged ends. If your hair is significantly damaged from bleach or hot styling tools, you may want something a little more heavy-duty, but if you're just looking to tame some flyaways and give a bit of life back to your ends, this masque definitely does the trick. And it's cheap!
New product: no external rating available
Price: $19.95 for 200mL
Where to buy: eBay
---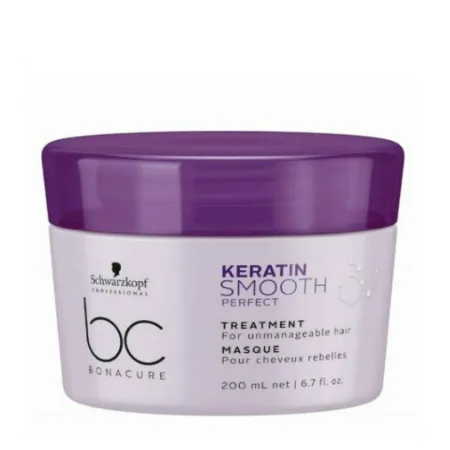 For those who have really been going overboard with the straightener lately, this smoothing treatment by Schwarzkopf will help you get your hair back on track. The intensive treatment has a thick, luxurious texture that feels like you're giving your hair a much needed drink every time you use it.
As the name suggests, it also works like a keratin treatment, helping to smooth your locks and protect against frizz. As an added bonus, it smells absolutely divine and will leave your hair manageable and super shiny. It's also rather affordable for a keratin product since keratin treatments can get really pricey!
No Australian rating available
Price: $27.95 for 200mL
Where to buy: eBay
---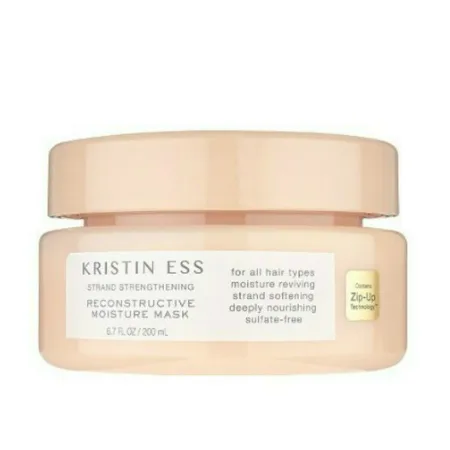 This mask is ideal for anyone with dry hair or split ends as it's really creamy and moisturising, and helps to detangle frizzy, unruly hair. The mask looks and feels quite thick and heavy, but after applying and rinsing, it's actually extremely light and doesn't weigh down thin hair at all.
I applied a small amount to my mid-lengths and ends after shampooing and left it in for about 10 minutes before rinsing and working a bit of conditioner through my hair. After I'd towel dried my hair, it was noticeably less knotty and tangled than usual, making it easy to get a comb through without causing any breakage. After blow drying and straightening, my ends appeared smoother and a lot less damaged. Just remember, a little goes a long way with this mask, so it's best to apply small amounts to start with and avoid your roots. If affordability is key for you, this is a great option.
Price: $23.99 for 200mL
Where to buy: eBay
---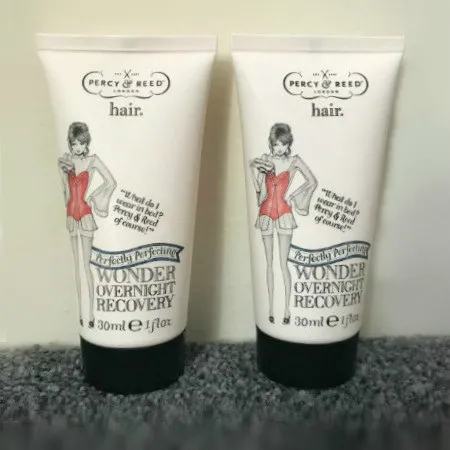 This product is a unique one. You apply it on dry hair and let it sit in your hair overnight – no, it won't get all over your pillow. It sinks in quickly, dries and then nourishes your hair as you sleep. In the morning, wash it out with shampoo. There's no need to use conditioner.
The effect? After one treatment you see results. It significantly calmed and relaxed my hair. Not just the frizz, but the curls and waves too. I naturally have quite curly hair, but this product made it much straighter without having to use a hot tool. My ends still felt a little bit dry, but any unwanted volume was a thing of the past. It's rather impressive.
Price: Australian RRP is $42 for 150mL but prices vary since it's a UK-based product.
Where to buy: eBay
Real life favourites
Lush Hair Doctor Hot Oil treatment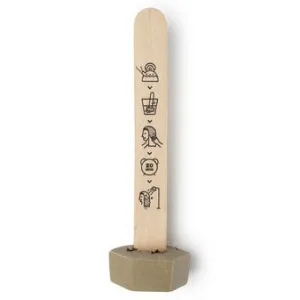 Kérastase Oléo-Relax Masque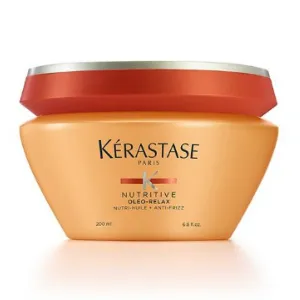 Olaplex number 3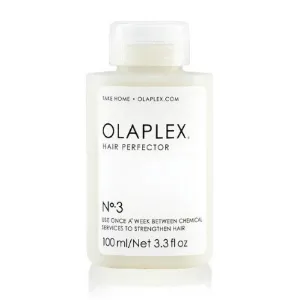 It leaves my hair super soft and shiny. I do it once a month and the results last about that long. Also on a winter morning, hot oil on your head is a real treat. Also it's natural and vegan. - Cass
I find that my hair is a lot softer almost instantly after washing it out. It might cost a bit, but a little goes a long way. - Liz
I have super curly, sometimes frizzy hair, and an occasional Olaplex treatment helps me sort it out. You only have to use a tiny bit (so it lasts forever) and it isn't oily so you can leave it in overnight - Zahra
Hair mask ingredients to look for
There are lots of fabulously nourishing ingredients out there. And new ingredients are uncovered every year. There is no one "best ingredient" for everyone – it depends on you and your hair. But if you're looking for a quick list of some of the top haircare ingredients to look for, this is it. Here are the ingredients to look for and what they do.
Keratin is actually something that occurs naturally in your hair. It's a protein and it makes up the outer layer of your hair. And when the outer layer of your hair is damaged, it leads to frizz and dull, limp-looking hair. Keratin in hair products is (supposed to be) designed to add more of this protein into the keratin layer of your hair. This replenishes, repairs and restores that outer, protective layer that stops things like frizz, damage and breakage.
Coconut oil is packed with fats, particularly saturated fats. This means that it's not actually great for your insides, but it's amazing for your outsides. All the fats and fatty acids in coconut oil act as powerful moisturisers for hair and skin. If you have damaged and flaky hair cuticles – which lets in humidity and causes frizz – coconut oil is your best friend. It will smooth down and seal up gaps in the hair cuticle to help prevent frizz and further hair damage. But it can make your hair a bit oily. If you're prone to oily hair, keep coconut products to the lengths of your hair and away from your scalp.
While this is not a tried-and-tested fact, there is a lot of anecdotal evidence out there that suggests rice is a highly nourishing ingredient for your hair. Rice and rice water allegedly contains a carbohydrate that strengthens hair and reduces friction when brushing. So this could be a good ingredient to look for if your hair is prone to tangling.
Much like coconut oil, almond oil is a great emollient for damaged hair. It helps seal up gaps in the cuticle layer of hair. But the other big plus for almond oil is its lubricating properties that other oils don't have. The lubrication that almond oil provides makes your hair easier to brush and style. If you find that your brush is always full of hair whenever you're done, try an almond oil product.
Shea butter is another powerful moisturising ingredient. What makes this one so good is how well it absorbs and how long it lasts. Shea butter sinks into your skin and hair very quickly, so you're not left with that wet or sticky feeling. It also outlasts many other moisturising ingredients, providing nourishment for days after it's initially applied. It's also a great ingredient for reducing scalp irritation, so this could be a good one for dandruff sufferers.
We know that avocado is packed with healthy fats, and these fats are great for smoothing and filling holes in the hair cuticle. It's nutrient-rich too. It's packed with biotin, amino acids, antioxidants and proteins that strengthen and nourish hair from the inside, not just on the surface.
Argan oil is a compound extracted from the kernels of the Moroccan argan tree. For centuries it's been hailed for its nourishing properties and been dubbed as "liquid gold" by some. It works as other moisturisers do to tame frizzy hair. But in addition, argan oil has a bunch of other vitamins, antioxidants and minerals that treat hair and can lead to softer and healthier locks long term.
---
More beauty reviews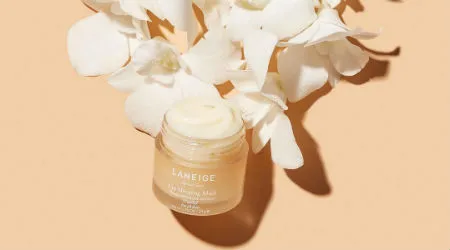 Find out why this simple beauty product is now a cult favourite among skincare lovers.
Read more…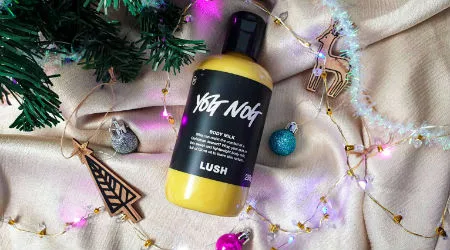 If you suffer from dry, tight skin, make sure this soothing body milk is on your wish list to Santa.
Read more…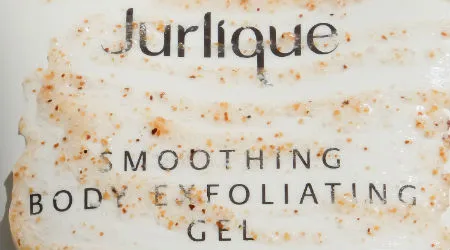 Banish dry and dull skin with this softening and smoothing body exfoliator.
Read more…
---
---
Popular Health & Beauty coupon codes
| Last checked | Code description | Code |
| --- | --- | --- |
| 27 Oct 2020 | 10% off + FREE shipping on all orders over $50 | FIN**** |
| 7 Oct 2020 | 20% off for members + $10 off your first purchase | FIN**** |
| 5 Oct 2020 | 10% off orders over $75 | FIN**** |
| 15 Sep 2020 | 30% off superfoods range | FIN**** |
| 24 Feb 2020 | 5% off your orders | FIN**** |
More guides on Finder
Even more shopping deals