Best hair dryers in Australia 2021
Taming those locks can be tricky. Here's your guide to buying the best hair dryer for your hair type.
We're reader-supported and may be paid when you visit links to partner sites. We don't compare all products in the market, but we're working on it!
When faced with a plethora of possibilities, picking the perfect hairdryer can be confusing. Whether you're after a smooth and sleek finish, or a more tousled and volumised look, the hair dryer you choose can make – or break – your chances at achieving your ideal style. In this guide, we'll show you how to choose the right hair dryer for your hair type, plus give you our best hair dryer recommendations.
Want to know which will be the best choice for you? We're on hand to help. Whether you have thick hair, curly hair or you are interested in hair health, we have a top pick for you. We compared customer reviews and included hair dryers that we actually love and use regularly.
Image Source: The Good Guys
How to decide which hair dryer is best for you
First, it's important to think about what effect you want. Here are some key questions to ask yourself before you add your desired hairdryer to cart.
What is your natural hair type?
What effect are you trying to achieve?
What's your budget?
Once you've determined the answer to these factors, you'll be one step closer to choosing the hairdryer that will help you score a salon-perfect style every time.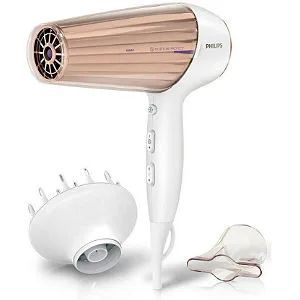 Best hair dryer for curly hair
Controlling curly hair means you need a hairdryer that will lock in your hair's natural moisture level and keep your locks free from frizz while keeping them soft and smooth. The Philips Moisture Protect Hair Dryer uses innovative technology to do just this. It's equipped with an infrared sensor that continuously measures and adapts to the optimal temperature needed to efficiently and effectively dry your hair. This hair dryer will never be too hot for your hair; it will dry it without damage. It also prevents moisture loss and cuticle damage for maximum shine.
Important features:
The hairdryer is powerful with a 2,300W motor, so you can get the job done in no time
Moisture is retained, thanks to the hair dryer's ionic conditioning
Comes with a cool shot action and a diffuser, which is perfect for controlling curly hair
Choose between six different temperature settings
Back to top
---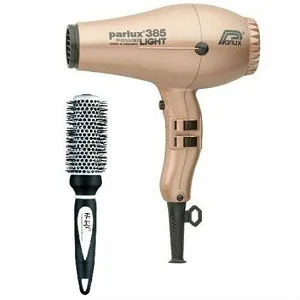 Best hair dryer for thick hair
If you have thick hair, blow-drying can be a daunting task. There is so much hair to work through and heavy tools can cause a strain on your arms after long periods of time.
The Parlux Power Light is extremely powerful and lightweight, meaning you can blow dry your hair quickly without any pain. This is our top pick if you're trying to manage thick hair.
It's also equipped with both ceramic and ionic technology – that way your hair turns out smooth, silky and shiny.
Important features:
Total weight is a mere 465g
Choose between four temperature controls and two speed settings
Comes with an instant cold shot button to cool down your locks
There are two concentrated nozzles, meaning you can customise your blow drying experience
Back to top
---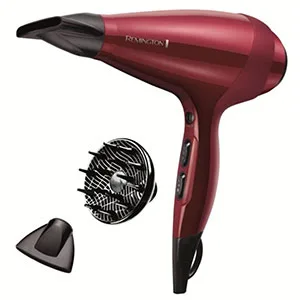 Best hair dryer for fine hair
If you've got super-fine hair, achieving full volume can be a challenge. Searching for a hairdryer that will give your hair a new lease of life? We'd recommend the Remington Silk Ceramic Ionic AC Professional Hair Dryer.
With its unique turbo-boost function, injecting volume into your locks is actually rather easy. This hair dryer is fitted with a professional AC motor that can reach airflow speeds of up to 140km, perfect for carrying off that wind-swept style you've been pining for.
The included concentrator and diffuser attachments will be a welcome bonus for ladies with finer hair.
Key product features:
Powerful 2400W AC motor will inject life into your locks.
With a choice of 3 heat settings and 2-speed settings, you can spend as little or as long as you like achieving your style.
Silk ceramic technology avoids the risk of unwanted frizz.
Various compatible tools included that can be switched up as desired.
Five-year manufacturer warranty.
Back to top
---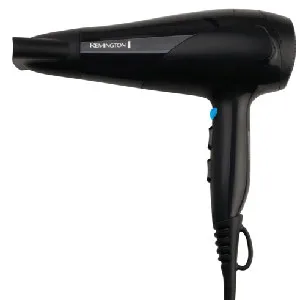 Best hair dryer on a budget
Shopping for a great hairdryer on a shoestring budget can seem hopeless. But, there are some awesome options out there that won't let you down.
If you only want to spend a little but still get big results, check out the Remington Aero 2000W Hair Dryer. This model is super affordable, coming in at in the region of $20, yet still has the versatility you want out of a truly great hairdryer.
With the comfortable and sculpted handle design, you can rest assured your grip will be secure even during the lengthiest of blow dries. The Remington Aero 2000 also features a hanging loop which means that storing your hair dryer between uses is easier than ever.
If you're looking for a hairdryer that been designed for everyday convenience, this is a go-to.
Other hair dryer highlights:
2000W of power gives a mighty performance despite the affordability.
Three heat settings and two-speed settings mean you can tailor your blow wave to your preferences.
Lightweight for comfort and ease of use.
Cool shot function seals hair cuticles to add a healthy shine.
Two-year manufacturer warranty
Back to top
---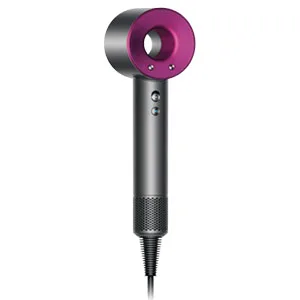 Best hair dryer for hair health
At the moment, Dyson is dominating the market with the brand's superior tech and design. This extends to the Dyson range of hairdryers too.
If you're looking for a global best-selling hair dryer that won't compromise on performance, the Dyson Supersonic Hair Dryer is a must-have. This drying companion is all-singing, all-dancing. The controlled airflow elicits the results you crave in half the time. There's a built-in microprocessor that measures the temperature of the air output 20 times per second to eradicate the risk of damaging your natural locks. Paired with a digital V9 motor, this hair dryer offers all the power, balanced weight structure and performance you desire.
Revolutionise your blow-drying experience with innovative Dyson design.
Product features include:
Back to top
What are the most important things to look for in a hair dryer?
When shopping online for a hair dryer, there are many things to think about, but it boils down to three primary factors:
Ease of use. Hair dryers have to be user-friendly. You need to be able to switch between settings, and interchange the adaptors without too much fuss.
Comfortable hold. Comfort during use is a must. Whether you're quickly blasting your hair off after a shower, or completing a complicated, lengthier blow-wave finish, you'll want a hair dryer that delivers a comfortable grip.
Back to top
Hair drying technology explained
There's an overabundance of technical terminology promising to deliver salon-perfect, natural and shiny results across the market. Want to know what these terms mean? No problem.
Tourmaline. It is said that tourmaline technology produces negative ions, which are believed to speed up the drying process and minimize unwanted static.
Ionic. This term is one of the most popular of the moment. Ionic technology has been designed to condition hair by using negative ions. It not only dries hair faster and reduces frizz and static, it also helps to retain the natural moisture keeping your hair looking glossy for longer.
Back to top
How do I know it's time to replace my hair dryer?
Here's a few key indications that it might be time to trade your trusted old hair dryer for a new model:
Outputting unusually hot air. If your old faithful is putting out extremely high heat then it's a good sign that the time to upgrade has finally arrived. Not only could over hot air end up damaging your hair significantly, heat transference could result in minor (or even major) burns to your skin.
Giving off a smell of burning. Old hair dryer models can give off a faint burning smell. Whether this is due to a clogged filter, worn out heating coils or something else entirely, it's a sure sign that it's time to trade in your old model.
Safety cut-off switch feature failure. This is a safety feature that is common in most of the models on the market right now. When your hair dryer overheats, this inbuilt trigger will cut the power preventing the risk of real danger. If your hair dryer doesn't do this, it could be a sign that either the safety feature has worn out, or that your model was not fitted with it in the first place. Either way it's time to invest in a newer model.
Back to top
How to dispose of my old hairdryer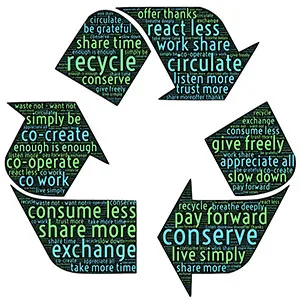 Recycling is big all over the world, and Australia is keen to reduce their carbon footprint too. Electronic waste recycling helps to keep potentially hazardous metals away from landfills. It also promotes reuse of many materials and components.
If you're looking for an eco-friendly way to dispose of your old hair dryer, it's best to check with your local council first. The vast majority of Australian councils do offer electronic waste disposal free of charge.
Another recycling route to consider is Sustainable Salons Australia, a service that collects and recycles waste products from hair salons across Australia. If your go-to salon is partnered with this specialist green team, it is possible that they extend this service to their clients. Give them a call to check, as it may be possible to drop your old hair dryer in to be recycled.
Back to top
Why pay full price? Try one of our latest deals & coupons
More guides on Finder
Even more shopping deals