Best grout cleaners in Australia
We examined hundreds of customer reviews to find the six best grout cleaners in Australia you can buy online.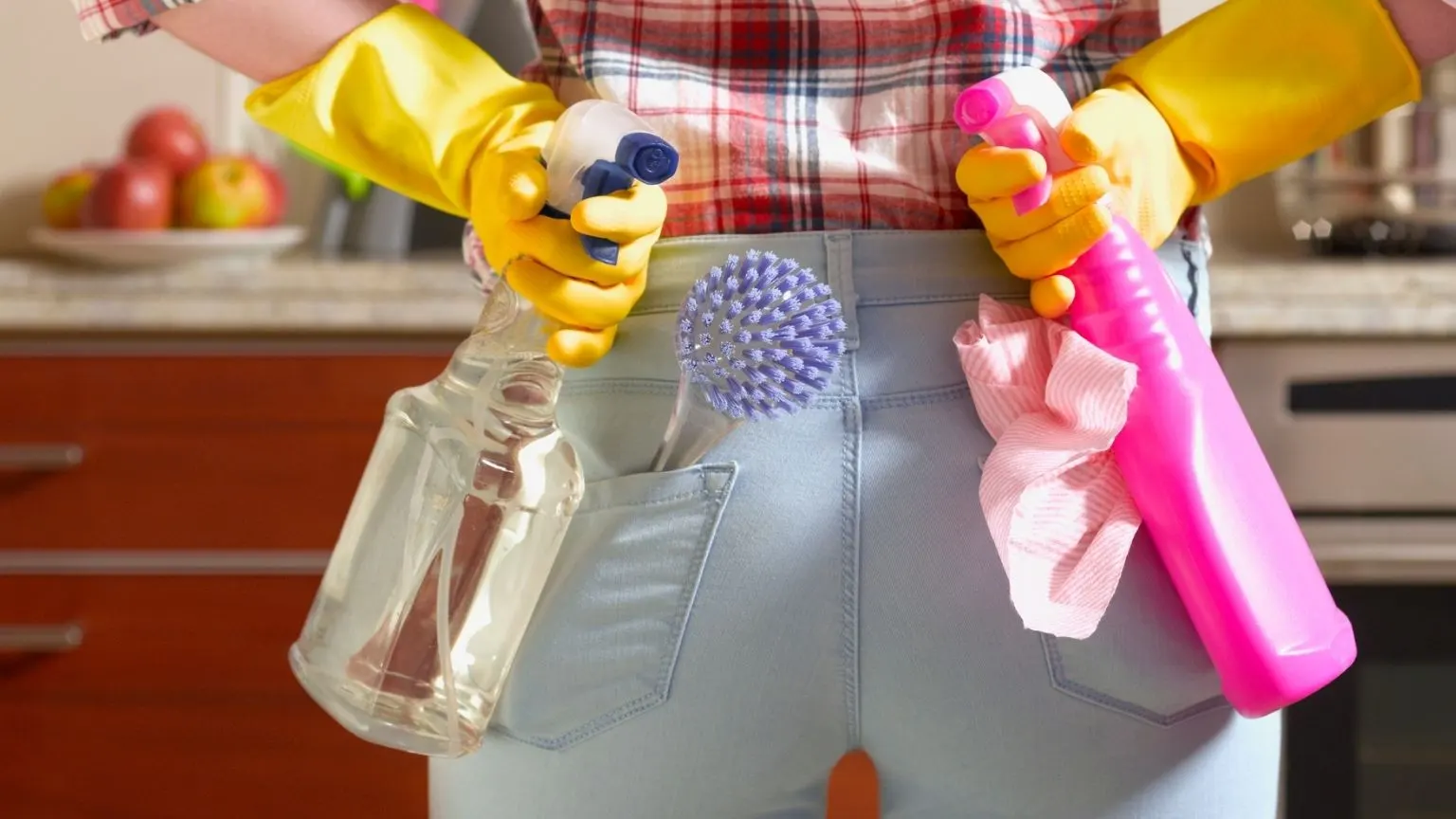 We're reader-supported and may be paid when you visit links to partner sites. We don't compare all products in the market, but we're working on it!
The best grout cleaners in Australia
How did we pick this list?
Our editorial team has picked the products featured in the list based on real customer reviews found on Amazon Australia and other reputable sites. For each category, we carefully selected parameters based on our research and identified the grout cleaners with the highest review within the criteria judged.
Best grout cleaning brushes: OXO Good Grips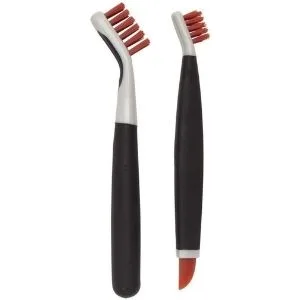 Pros
Can effectively tackle stubborn grout
Brush comes with wiper blade that can clean drains and crevices
Cons
Bristles on brushes could be more robust
Brushes can wear down quite quickly
Price (RRP): $20.20
Buy at Amazon
Buy at Kogan
Buy at eBay
Why we chose it
Designed to tackle the most stubborn grime, OXO Good Grips ranked very well on Amazon Australia, garnering an average of 4.6 stars out of 5. Of the 16,471 reviews that have been published to date, 76% of the ratings received a 5-star rating. Customers said it's easy to use and an effective solution to remove grout.
In the OXO Good Grips are two brushes. One of the brushes is large and can handle removing grout from shower doors as well as stovetops. The second brush is much smaller in comparison, but it has a compact bristle head that can clean around fixtures, thin grout lines and other tight spaces.
There is also a built-in wiper blade that removes general build-up from drains and other crevices. Both brushes are quite soft and are comfortable to handle. The brushes are 16.5cm in length, 3.8cm in width and 1.9cm in height.
---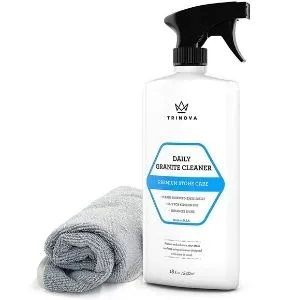 Pros
Enhances shine on stone surfaces
Doesn't leave a horrible scent after use
Cons
Have to rub harder on countertops compared to other products
Can take longer to remove food stains or spillages
Price (RRP): $24.74
Buy at Amazon
Buy at eBay
Why we chose it
For those who want glistening work counters and bathroom surfaces, then they should consider TriNova Granite Cleaner as it ticks many boxes. With over 3,000 reviews published to date on Amazon Australia, the product has garnered an average of 4.5 stars out of 5. Of the deluge of ratings, over 70% of the score returned a 5-star mark and customers praised it for being an effective cleaner.
The TriNova Granite is very versatile as it is appropriate for all premium stone types including granite, marble, quartz, soapstone, quartzite and many more. This product comes in the form of a spray and leaves no residue or haze.
This particular cleaner removes all kinds of impurities, including scum and grime and, more importantly, it doesn't leave a horrible odour. The TriNova Granite is non-toxic and PH neutral safe for all types of stone surfaces.
---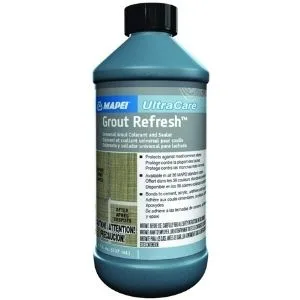 Pros
Can choose from a wide variety of cleaners
Easy to apply
Cons
Grout hard to wipe off porcelain tile surface
Drying time for wiping excess is tricky
Price (RRP): $27.50
Buy at Amazon
Buy at eBay
Why we chose it
If you are looking to solve your mould issues, then you should take a closer look at Mapei's Grout Refresh. So far, there have been 98 reviews published on Amazon Australia and the product has garnered 4.4 stars out of 5. Nearly 70% of reviews returned a perfect 5-star rating and customers were enamoured with the product.
Grout Refresh works as a deep cleaner, as it can instantly remove grout and build-up which is in part due to its non-toxic formula.
As a deep cleaner, Grout Refresh can tackle all types of grout, including urethane and acrylic grouts. Grout Refresh comes in an 8-ounce bottle and it is easy to apply.
---
Best multi-purpose grout cleaner: Absolutely Clean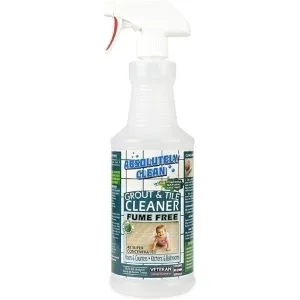 Pros
Works on all grout types
Formula very fast acting
Cons
Product can be very slippery if not rinsed properly
Quite expensive
Price (RRP): $39.65
Buy at Amazon
Buy at eBay
Why we chose it
Absolutely Clean grout cleaner is a natural fit for this category and it sparked a positive reaction from customers. While it averaged 4 stars out of 5 from 223 reviews published on Amazon Australia, over 50% of the reviews generated a perfect 5-star rating.
Aside from being a naturally based formula, Absolutely Clean works on all grout types. It can be used on bathroom or kitchen tiles, and the product helps remove any unnecessary germs or dirt. Regular use of the product will help maintain the natural shine of your tiles.
This grout cleaner can also work on natural stone as well as on marble fixtures. Absolutely Clean can break down dirt and grime in under 60 seconds. The product comes in a 32-ounce bottle too, so it should last a long time.
---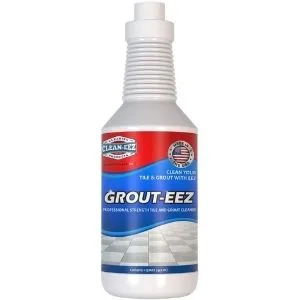 Pros
Sufficient for large areas
Effective for heavy-duty grouting
Cons
Can't be used with natural stone
Product quite thin and runs out of bottle like water
Average online price: $129.23
Buy at Amazon
Buy at eBay
Why we chose it
Finding a reliable heavy-duty grout cleaner can be tricky, but the Grout-EEZ Super Heavy Duty Cleaner sat very well with Amazon Australia customers. Over 4,500 customers rushed to Amazon Australia to post reviews and the Grout-EEZ Super Heavy Duty Cleaner had 57% of customers give it a perfect 5-star rating. Customers were very pleased with the way the Grout-EEZ removed some of the toughest dirt and stains.
This heavy-duty product is suitable for ceramic and porcelain tiles. It has been tried and tested, and approved by those in the grout cleaning industry. Grout-EEZ is convenient for larger surfaces and one bottle should be enough for roughly 250 square feet of tile and grout.
However, customers should be aware that Grout-EEZ should not be used on natural stone. The product weighs just over 1kg.
---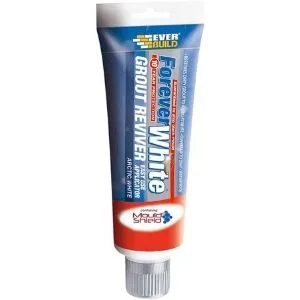 Pros
Instructions are clear
Provides a water resistant finish
Cons
Product comes out in similar fashion to toothpaste
Applicator only suitable for flat areas
Average online price: $8.33
Buy at Amazon
Buy at eBay
Why we chose it
Packaged in a tube, the Everbuild Forever White Grout Reviver is a cost-effective way of handling grout issues. Over 2,300 customer reviews have been shared on Amazon Australia and it averaged 4.5 stars out of 5, with 69% of the reviews giving it a perfect 5-star rating. Customers praised the results of the product and how it transformed their homes.
One of the stand-out features of this product is the mould shield. The Everbuild Forever White Grout Reviver has a mould shield that is integrated in order to stop the growth of mould, mildew and bacterial growth for up to 10 years, which should help minimise the need for a high-quality shower cleaner.
The Everbuild Forever White Grout Reviver dries to a water-resistant white finish and it is very easy to apply. All tubes are 200ml in size.
Instead of having to replace tiles in your home, the Everbuild Forever White Grout Reviver can be used in areas of high humidity, including shower rooms and bathroom walls.
---
Methodology
We compared grout cleaner products found at online retailers.
We excluded brands that aren't widely available across Australia.
The products featured on this list are chosen by our editorial team and not selected based on commercial relationships.
More guides on Finder