Best Greece tours for 2021
Find your perfect Greek destination match with these top companies and their tours which can take you from mainland Greece to the islands.
We're reader-supported and may be paid when you visit links to partner sites. We don't compare all products in the market, but we're working on it!
With its pristine blue waters, magical whitewashed buildings and ancient history, a trip to Greece could be the trip of a lifetime.
That's where these tour companies come in. They're our prime picks from the cream of the crop that specialise in everything from Greek Island hopping to historical walks. We've also included the best companies to travel with depending on what you want to get out of your trip, as well as tour recommendations to tick off all the must-see boxes.
Let's get started.
Our four favourite tour companies offering Greece tours
Contiki is the world's leading travel tour company for millennials, famous for its #noregrets slogan that encourages travellers to live in the moment. It offers tours throughout Europe with more than a handful visiting Greece.
Best for: Millennials, backpackers
Cost: Mid-range
Our favourite itinerary: Contiki's Greek Island Hopping tour is a classic take on seeing a few of Greece's best islands: Mykonos, Santorini and Ios, plus 13 days to explore Athens.
---
2. Intrepid
From islands to mainland, Intrepid offers world-renowned small group tours with exceptional guides throughout Greece.
Best for: Adventurers, outdoor lovers
Cost: Mid-range
Our favourite itinerary: The Mainland Greece Discovery tour hits all Greece's important highlights such as Athens, Thessaloniki, Meteora and Delphi for an incredible lesson in ancient history and mind-blowing sites.
Browse Intrepid Tours
---
Topdeck strives to provide millennial travellers with as many opportunities to meet friends as it does to discover new destinations… and all without emptying your bank account. Its Greece tours focus primarily on the islands, some through the mainland or in combination with other European destinations.
Best for: Millennials, backpackers
Cost: Mid-range
Our favourite itinerary: The Greek Island Chaser tour is ideal for those looking to get off of the beaten path to explore some more remote islands from Athens over eight days
---
As the world's most awarded travel brand, Trafalgar offers luxury tours for all ages and styles. Its tour itineraries through Greece are no exception, teaching visitors how to live the good life while travelling across the mainland and islands.
Best for: Leisure travel, gen Y
Cost: Mid-range
Our favourite itinerary: The Best of Greece tour takes you around Greece in 12 days showing you all of the top spots you've heard all about and are dying to visit.
Other companies that tour Greece
Cosmos
Blue Aegean Sailing
Pictours of Greece
Epos Travel & Tours
Globus
Trails Beyond
Aegean Outdoors
Does your company belong in this list?
Top Greece tour companies by style
Top companies for Greece/Italy tours
Contiki: Contiki has over 20 itineraries that include both Italy and Greece as well as other European destinations and two options for just Greece and Italy tours.
Trafalgar: Trafalgar offers best of Greece and Italy tours seasons, open to all ages.
Cosmos: Short or long, Cosmos has a great selection for tour lengths that include both Italy and Greece from less than two weeks up to a month.
---
Top tour companies for island hopping and sailing
G Adventures: With eight marine-based tour options up its sleeve, which include more than just the big name islands, G Adventures knows its stuff when it comes to Greece island hopping.
Topdeck: Topdeck offers island hopping tours for millennials from 8-10 days in length which cover the popular Cyclades as well as less popular islands like Hydra and Poros.
Blue Aegean Sailing: Dedicated to sailings through the Greek Islands, choose from 4 unique island hopping tour experiences.
---
Top companies for educational tours
Pictours of Greece: In-depth cultural tours both on land and across islands with some that include an archaeologist.
Epos Travel & Tours: Epos takes groups on the paths of legends such as Hercules for an in-depth look at Greek history.
Globus: Choose from a wide variety of in-depth cultural tours through Greece, often bundled with trips through other countries.
---
Top companies for active tours
Trails Beyond: Trails Beyond tours leads adventurers on hiking, sailing and jeep safari excursions all across Greece.
Aegean Outdoors: Stay active in Greece with trips that include hiking, whitewater rafting and yoga on the mainland and on the islands.
Explore!: Mainly dedicated to walking tours, Explore! Tours also offers time for those craving more activity as well as downtime.
---
Top tour companies for seniors
Insight Vacations: Insight Vacations is all about luxury group tours with some designed at an easier pace for slow travel.
Trafalgar: Style and comfort is what Trafalgar is all about. It has tours and options to cater for families, large groups, solo travellers and more.
Popular Greece tour routes
Cyclades Islands
The Cyclades are by far the most popular islands to visit in all of Greece, blessed to be surrounded by the vibrant blue waters of the Aegean Sea. Top names in this region include the blue-and-white painted Santorini, the charming island of Mykonos, Ios, Paros and more. Drenched in the sun and ideal for island hopping, this group of islands is the Greece that you envision.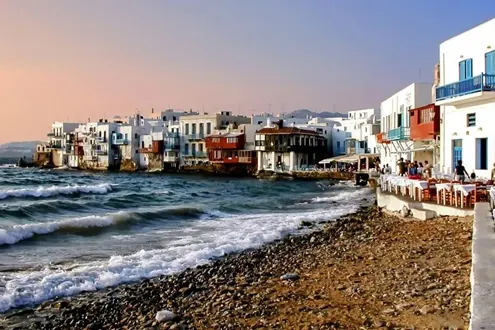 Sailing Greece: Mykonos to Santorini
from G Adventures
This small group tour is ideal for those who want to maximize their experience on these Greek Islands over a short time. See the best of Mykonos and Santorini along with stops at more sequestered islands that are less crowded and just as pretty.
Tour company: G Adventures
Best for: Island discovery with limited time
Length of tour: Eight days
View details
---
Mainland Greece
Mainland Greece is where most of this Mediterranean country's ancient monuments tell the stories of its incredible past, a must-see for history buffs. From the bustling streets of Athens to Mount Olympus and the picturesque views of Meteora, Greece is rich with legends and natural mainland wonders.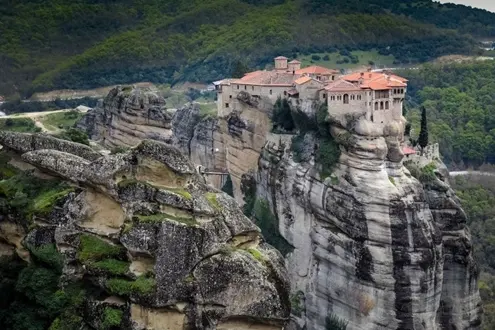 Glories of Greece
from Insight Vacations
Enjoy a week of tasting delicious Greece cuisine between sightseeing at some the world's most incredible sites such as the Acropolis in Athens, the famous "monasteries in the sky" in Meteora and Olympia where the Olympics originated.
Tour company: Insight Vacations
Best for: In-depth culture with limited time
Length of tour: Seven days
View details
---
Ionian Islands
This group of 12 islands is often passed over in favour of the Cyclades Islands, but a trip off the coast of central Greece will be a treat featuring fewer crowds, spectacular views and a thriving tourist infrastructure.
Corfu, the largest Greek Island is here along with Zakynthos which has one of Greece's most photogenic beaches thanks to the surrounding blue waters.
How long do I need in Greece?
We don't think it's possible to spend too much time in Greece, but for those wanting to see all of the highlights there are options that will give you a full experience.
We recommend spending a week minimum on mainland Greece and at least a week island hopping in either the Cyclades or Ionian Islands in order not to feel rushed.
10 days in each region takes you more in-depth and two weeks in Greece is ample time to see all of the highlights, both on the mainland and on some of the islands.
Best week-long tour (mainland):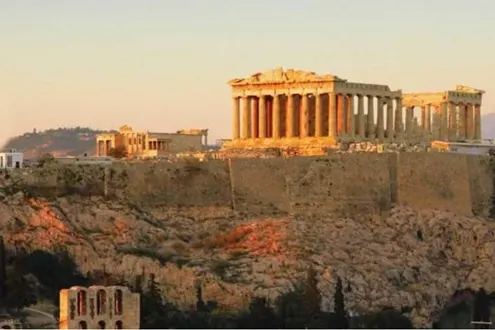 Best of Greece
from Trafalgar Tours
This eight-day tour takes you on a journey to explore mainland Greece from the gritty streets of Athens to the mountains of Meteora with ancient, religious and jaw-dropping scenic sites at every stop.
Tour company: Trafalgar
Best for: Cultural travel
Places visited: Athens, Corinth, Mycenae, Epidaurus, Nafplion, Olympia, Patras, Delphi, Thermopylae, Kalambaka, Meteora.
View details
Best week-long tour (islands):
Best 14-day tour: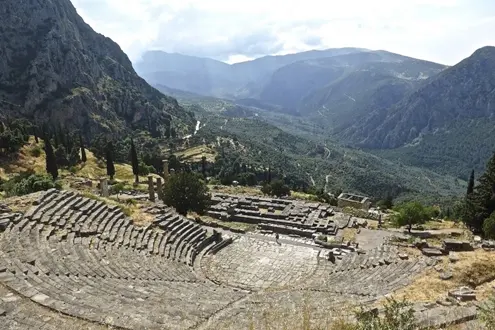 Secrets of Greece
from Trafalgar Tours
This Secrets of Greece tour shows you the must-see sites on the mainland and also includes a stop on Corfu with ample time for exploring Santorini. You'll get to experience the diversity of Greece along with its cuisine and major sightseeing points in two weeks.
Tour company: Trafalgar
Best for: Greece highlights with limited time
Places visited: Athens, Epidaurus , Nafplion, Mycenae, Olympia, Amphilochia, Preveza, Nikopolis, Igoumenitsa, Corfu, Ioannina, Metsovo, Portaria, Thermopylae, Delphi, Galaxidi, Portaria, Santorini
View details
Latest deals for Greece tours, flights and more