Best face sunscreen for all skin types and budgets 2020
We tried the most popular face sunscreens on the market and separated the best from the rest.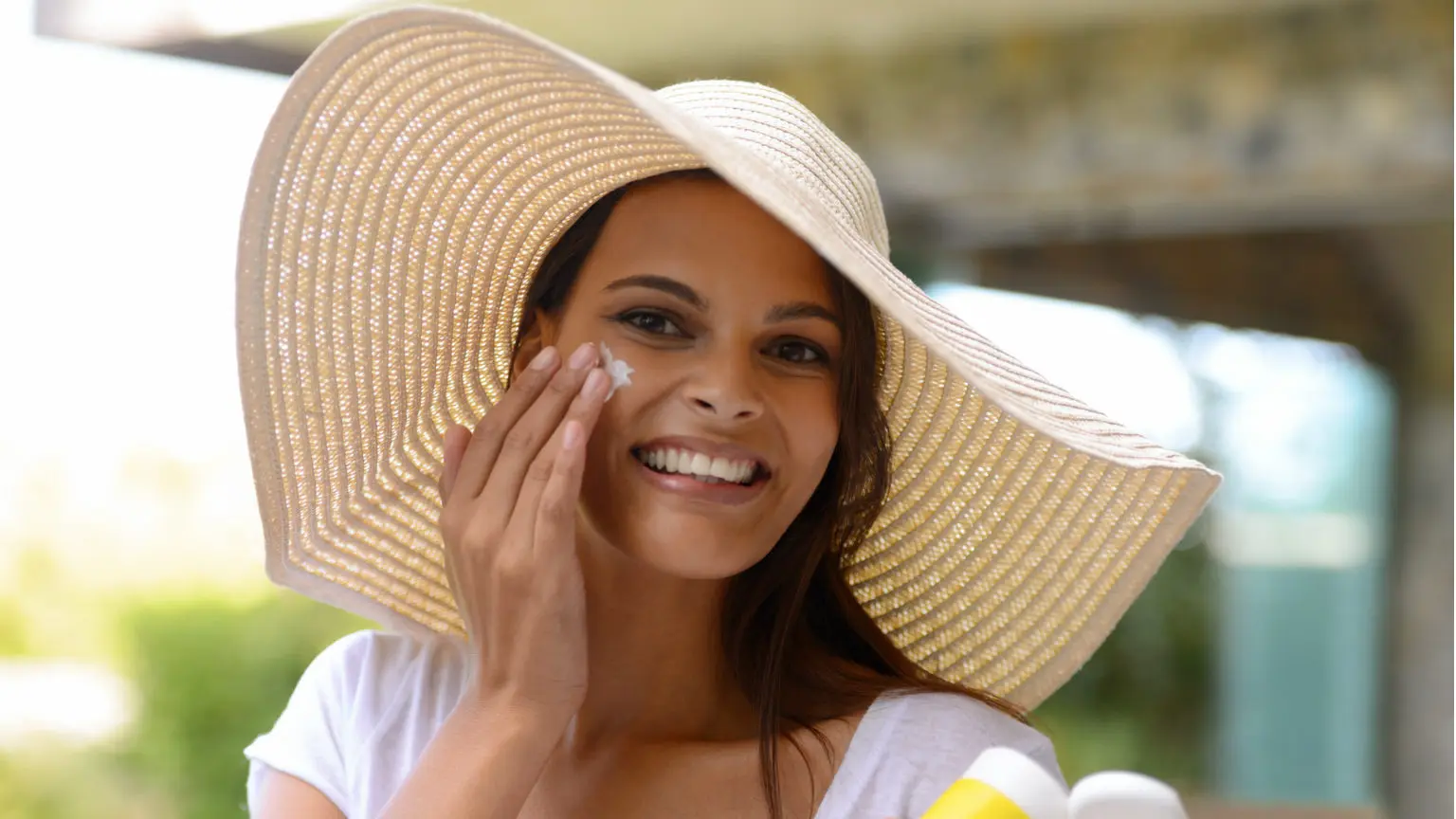 We're committed to our readers and editorial independence. We don't compare all products in the market and may receive compensation when we refer you to our partners, but this does not influence our opinions or reviews. Learn more about Finder .
While we may all know that we need to wear sunscreen every day, we don't always do so. Why? Because it's hard to find the perfect one for you.
You need a face sunscreen that will fit seamlessly into your skincare routine. It needs to be the best formula for your skin type that won't disrupt your makeup, won't make you break out and won't make you look dry or oily.
There are plenty of options on the market but trying them all can be a dreadful task. To help you out, the team here at Finder have tried, tested and loved every single one of these sunscreens.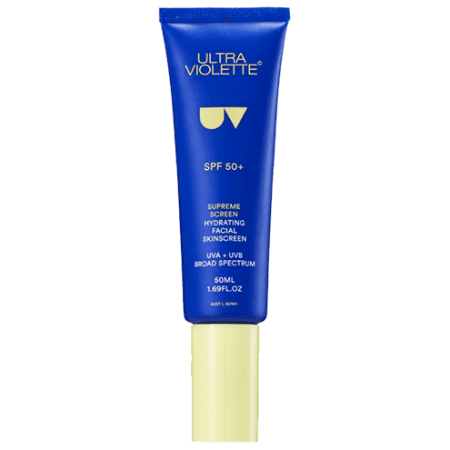 You've probably seen this sunscreen somewhere on your Instagram feed. The Supreme Screen SPF 50+ Hydrating Sunscreen is a combination of a moisturiser, primer and SPF. It's formulated with Australian Kakadu plum, Pentavitin and Dragosine Plus. These work together to provide your skin with a cocktail of powerful antioxidants with anti-ageing properties and ultimate hydration. However, the texture is what really sold me. Once I apply it, it feels super lightweight on the skin. I don't look or feel oily, and my skin feels balanced and hydrated. The colour of the product has got a nude tint, meaning that there's no sign of a white cast. I also love that it comes in a squeezable tube because it's great for on the go. You can easily throw it into your handbag or beach bag without a worry. The Supreme Screen sunscreen is so good that it got its own review, which you can check out here.
Adore Beauty rating: 4.7/5
Price: $45
Where to buy: Adore Beauty and Ultra Violette
Skin type: Perfect if you have normal or dry skin
---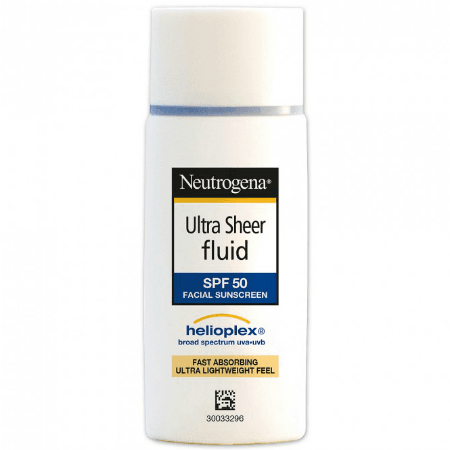 Neutrogena carries an array of sunscreens, so you should be able to find one that suits your personal needs. Is there one that does it all? Yes, the Ultra Sheer Fluid Sunscreen SPF 50. It's formulated with Neutrogena's HELIOPLEX technology and this provides superior broad-spectrum UVA/UVB protection. Hands down, one of my favourite things about this sunscreen is the texture. As the name suggests, it has a water-like consistency and applying it to the skin is effortless. It's great for everyday use and can easily be re-applied throughout the day if you're not wearing makeup. If you are wearing makeup, it layers invisibly and doesn't disrupt a thing. I love that it doesn't feel sticky or look shiny – and it's also non-comedogenic so it won't clog your pores.
---
Mecca's To Save Face is one of the most luxurious feeling sunscreens I've ever used. When you apply this, your skin instantly feels hydrated and it's all thanks to the key ingredients. This lightweight sunscreen is formulated with hyaluronic acid, pomegranate extract and vitamin E. All of these seamlessly work together to provide your skin with hydration and a handful of antioxidants. The product doesn't leave you with a white cast either as it's got a luminous pink tint that I love. You can easily wear this sunscreen alone and under makeup. However, if you have sensitive or acne-prone skin, we do recommend staying cautious. Others I know who have also tried this sunscreen reported that their skin broke out – so it may be best to patch test first.
MECCA rating: 4.7/5
Price: $40
Where to buy: MECCA
Skin type: Best if you have a normal skin type, would not recommend if your skin is sensitive.
---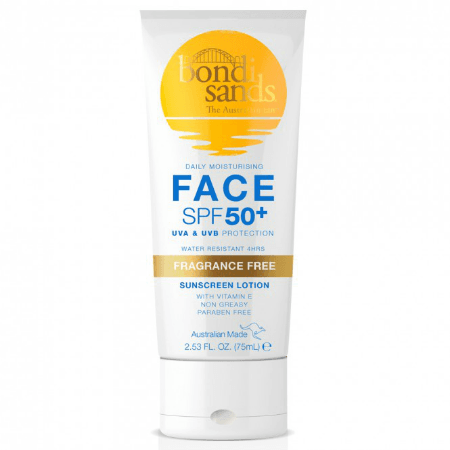 Bondi Sands Daily Moisturising Face SPF 50 sunscreen
The Bondi Sands sunscreen range is made for the Australian sun and provides you with the necessary UVA and UVB protection. I love the consistency of this water-resistant formula – it's not thick and oily, so it feels just like a normal moisturiser. And it just so happens to act like one too. It provides 72 hours of hydration, all thanks to the added aloe vera and vitamin E. If you're always on the go, this sunscreen is perfect for you. The formula is gentle and fast-absorbing, with an invisible finish. The Bondi Sands sunscreen is also free from any fragrances, which is great if your skin is sensitive.
Price: $15
Where to buy: Priceline and Chemist Warehouse.
Skin type: Works great for most skin types
---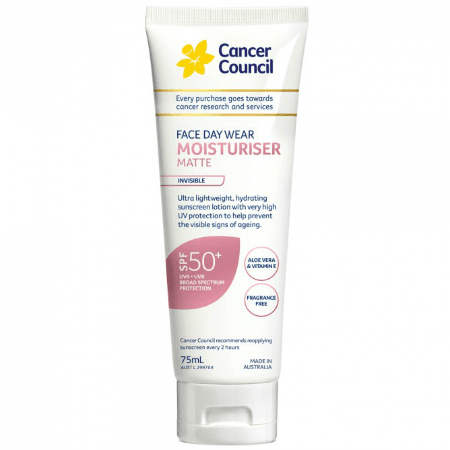 Cancer Council Face Day Wear Matte Moisturiser SPF 50+ Invisible
You can trust the sunscreen range from Cancer Council, and every purchase goes towards cancer research and services. The matte invisible moisturiser applies like an absolute dream. It's packed with a high SPF 50+, it's dermatologically tested and it's free from fragrances (so it's suitable for sensitive skin). One of my favourite things about this sunscreen is the formula. Not only is it lightweight and easy to apply, but it doesn't leave your skin feeling greasy. My skin looks and feels incredibly hydrated and nourished. There's no sticky feeling left behind, it just feels like I'm applying another layer of moisturiser. This is most likely thanks to the inclusion of aloe vera and vitamin E as they both carry amazing moisturising properties.
Priceline rating: 4/5
Price: $15
Where to buy: Priceline, Chemist Warehouse and Coles.
Skin type: Works well on all skin types
---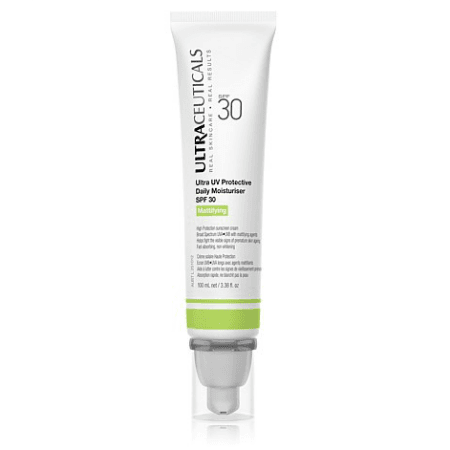 If you're after a moisturiser that doubles as a sunscreen, then this will be an absolute godsend. This two-in-one product offers broad-spectrum SPF 30 (free of nano-particles) and ultimate hydration. It's all thanks to the ingredients – vitamin E, shea butter, glycerine and sodium hyaluronate. But does it make you look oily? Not at all. One of the ingredients is silica, which contains a mattifier to absorb excess oil. Rather than that sticky feeling some sunscreens can leave behind, this feels just like a normal moisturiser. I love the lightweight texture. It's fast-absorbing, which means I can follow it up straight away with my makeup. Best of all, it's non-whitening, which means you don't end up looking like a ghost after you've applied it.
Active Skin rating: 4/5
Price: $84
Where to buy: Ultraceuticals, Active Skin and David Jones.
Skin type: Best suited for normal/oily skin types. The brand also offers a hydrating version, which is perfect for those with dry skin.
---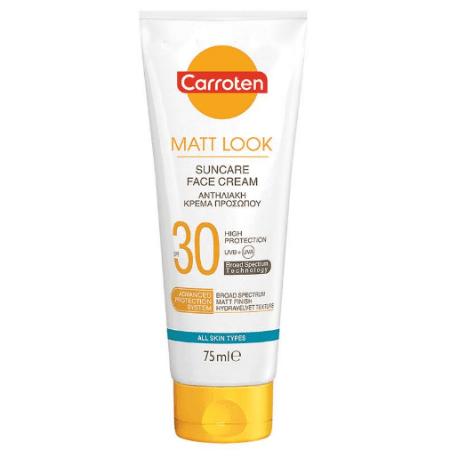 The Carroten SPF 30 Matt Look face cream provides you with broad-spectrum UVA/UVB protection. This SPF lasts throughout the day and also helps your skin look better than ever. The formula is enhanced with anti-shine technology, so you can stay looking matte. This combined with the unique and lightweight Hydra Velvet finish leaves your skin feeling matte yet hydrated all day long. The sunscreen is scented but I didn't find it overpowering. However, if your skin is sensitive to fragrances, we recommend test patching first. I also love that the sunscreen arrives in a small and travel-friendly bottle. You can easily take this on the go and always stay protected!
Price: $9.69
Where to buy: Chemist Warehouse
Skin type: Most skin types, except if you're sensitive to fragrances
---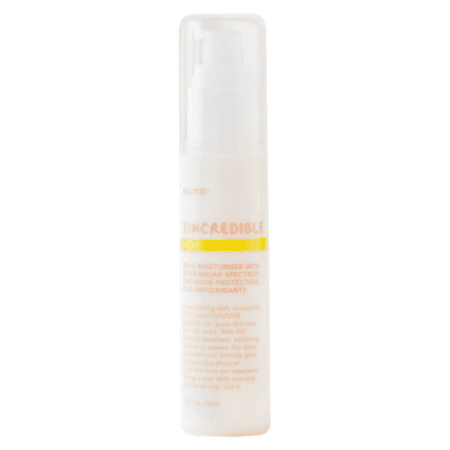 Description
Go-To Skincare's Zincredible is a daily protective moisturiser, formulated with essential fatty acids, botanical oils and antioxidants. These work together to ensure your skin is not only protected, but also hydrated and nourished. In particular, I love that you don't get that annoying sticky feeling. You can easily use this as a primer because of how beautifully it sits underneath makeup. The Zincredible is a physical sunscreen, meaning that the sun's rays will literally bounce off your skin, providing you with more resistant protection. Is there a downside? The SPF 15 is a little low for my liking. However, the formula is beautiful so I would either wear this if I'm at the office or at home all day. If you really want to wear it outside, it's easy to layer another sunscreen on top.
MECCA rating: 3.8/5
Price: $45
Where to buy: MECCA and Go-To skincare
Skin type: Works well on all skin types
---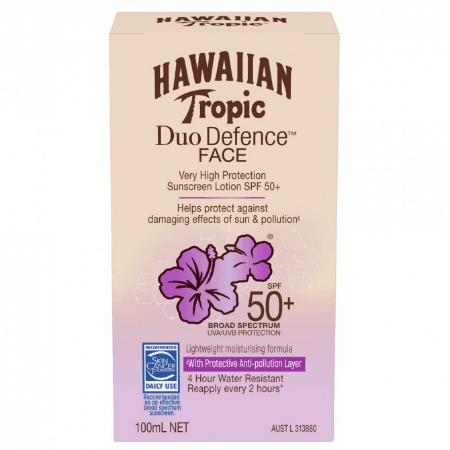 Hawaiian Tropic Duo Defence Face Sunscreen
Hawaiian Tropic's Duo Defence range is a newer option on the market, but it still ticks all the boxes. This oil-free lotion moisturises and feels silky smooth on the skin. There's no gross greasy feeling either. I love that it doesn't disrupt my makeup, and it's dermatologically tested, so it won't clog your pores. The Duo Defence range also happens to be recommended by the Skin Cancer Foundation. The sunscreen is infused with Hawaiian Tropic's signature coconut scent. For me, the tropical smell was bearable – you can't ignore it but the smell didn't bother me or break me out. If you're sensitive to fragrance in skincare, be wary of this product because it may not be for you.
Price: $17
Where to buy: Priceline and Coles.
Skin type: All skin types but may not work if your skin is sensitive to fragrance
---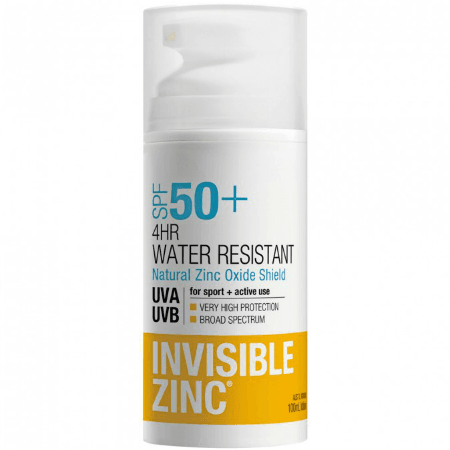 Invisible Zinc is actually a physical sunscreen rather than a chemical formula. What does that mean? Instead of absorbing the UV rays, this product will create a barrier that bounces the rays off your skin. This sunscreen will seriously protect your skin and it just so happens to be water and sweat resistant. If you're swimming at the beach or exercising outside, you're going to want to be wearing this. I'm also a big fan of the formula. Most zinc products are thick but this one is the exact opposite. It effortlessly glides on the skin, and it's got a silk touch finish. It does leave a slight white cast, so if you're choosing to wear foundation over the top, you may prefer something with fuller coverage.
Priceline rating: 4/5
Price: $29
Where to buy: Amazon, Priceline and Active Skin.
Skin type: All skin types can use this sunscreen
---
Real life favourites
La Roche Posay Anthelios XL Ultra-Light Fluid SPF 50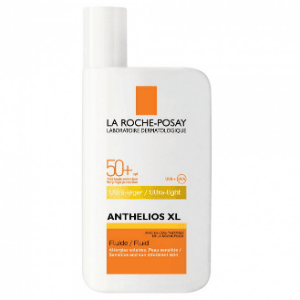 Neutrogena Ultra Sheer Face and Body Lotion SPF 50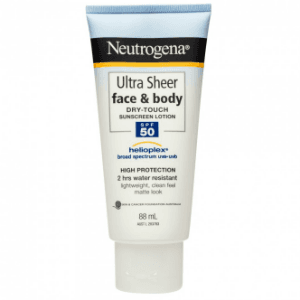 Courtney: The Carroten SPF 30 Matt Look face cream has been my go-to for everyday use during the summer. As someone with extremely fair skin, finding effective SPF products can often be hit or miss. I look for SPF face creams that last throughout the day, feel light on my skin and don't have an overpowering scent. This face cream ticks all of the boxes. The bottle is small and compact, making it convenient to carry whether I'm heading to work or the beach.
Zahra: I hate the feeling of sunscreen on my face, but definitely don't want to burn in the Aussie sun! I use the La Roche Posay Anthelios sunscreen on my face when I'm at the beach. It's lightweight and doesn't feel gross and oily. It's a pretty tiny bottle for $30 so I use a normal sunscreen on my body, but this is the only thing I'll use on my face.
Demi: This Neutrogena sunscreen is so great because it has a nice thin consistency. It wears great under makeup and still looks good on bare skin. This is a great pick for those with sensitive skin and especially if you have acne like me.
---
What is the best SPF for sunscreen?
In Australia, the regulations around labels and SPF recently changed. The highest number that could be offered on a label was SPF 30+. Now things are different, and it can go all the way up to 50+. However, if it is labelled as SPF 50+, it doesn't mean it's 50 – it could be 60, 70 or 80.
Finder spoke to dermatologist Dr Cara McDonald and we discussed how UVA light is just as bad as UVB and unfortunately, SPF factor only counts the UVB protection.
"UVA can cause more damage to the deeper layers of the skin, so it's more responsible for pigmentation, premature ageing and skin cancers. At an SPF of 30, you don't usually have adequate UVA protection… so you really want to be hitting that 50+ mark. SPF 30 will stop you from getting burnt; however, SPF 50 will help you better in the long run."
---
What's the difference between a physical and chemical sunscreen?
Both types effectively work to prevent sunburn and skin damage – so what's the difference?
Chemical sunscreen uses synthetic compounds to absorb UV light before it gets a chance to reach the skin. The formula usually feels lightweight, and it can be combined with other ingredients to nourish and/or hydrate the skin.
Alternatively, physical sunscreen contains tiny minerals that act as a shield to bounce the sun's rays off your skin. It's usually made from titanium dioxide or zinc oxide, so the formula is generally thicker. However, it does have a longer shelf life.
For more, you can check out our detailed comparison here.
---
More beauty reviews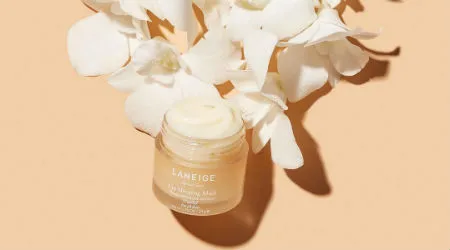 Find out why this simple beauty product is now a cult favourite among skincare lovers.
Read more…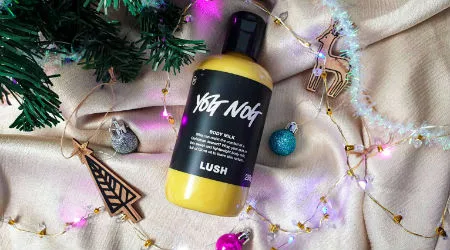 If you suffer from dry, tight skin, make sure this soothing body milk is on your wish list to Santa.
Read more…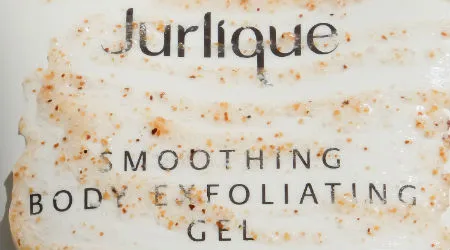 Banish dry and dull skin with this softening and smoothing body exfoliator.
Read more…
---
Beauty deals and discounts:
Popular Health & Beauty coupon codes
| Last checked | Code description | Code |
| --- | --- | --- |
| 21 Oct 2020 | 15% off full-price items | MID**** |
| 14 Oct 2020 | 5% off orders over $150 | FIN**** |
| 7 Oct 2020 | 20% off for members + $10 off your first purchase | FIN**** |
| 5 Oct 2020 | 10% off orders over $75 | FIN**** |
| 15 Sep 2020 | 30% off superfoods range | FIN**** |
More guides on Finder
Even more shopping deals