The best face oils for every budget and complexion 2021
Looking for a reliable face oil to rejuvenate and repair your skin? We've tried and tested a range of products to bring you our top recommendations.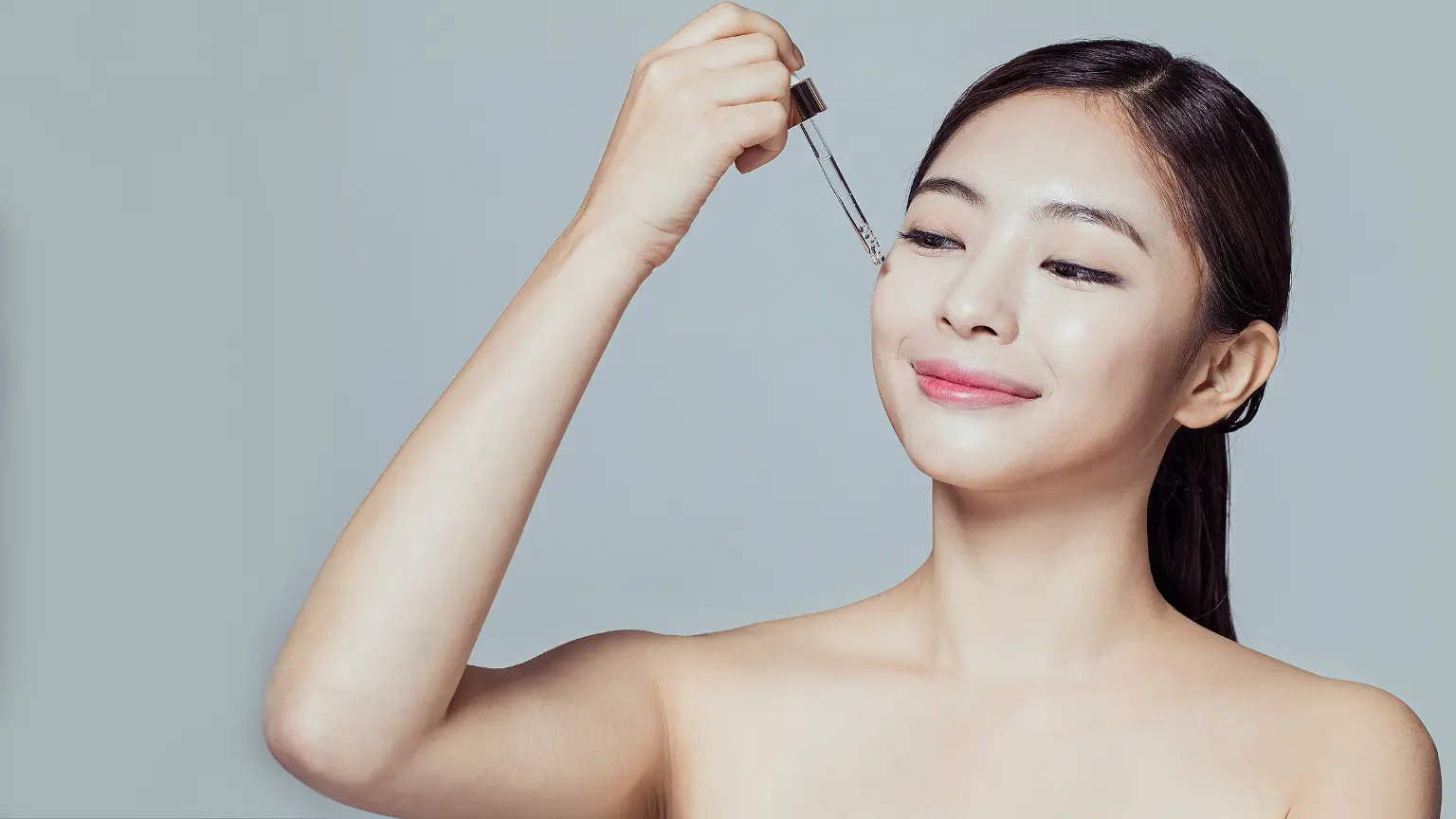 We're reader-supported and may be paid when you visit links to partner sites. We don't compare all products in the market, but we're working on it!
If you're looking for the secret to radiant skin, face oil is your answer. Doing everything from improving pigmentation to boosting skin hydration, a good face oil should be an absolute staple in your skincare routine. And no, they aren't just for people with dry skin – many oils will actually help to diminish acne and balance oil production too.
With so many products on the market, though, how do you know which oil is right for you? Well, we've tested a whole bunch of products to bring you our top recommendations for each skin type and budget so you can get glowing skin sooner.
---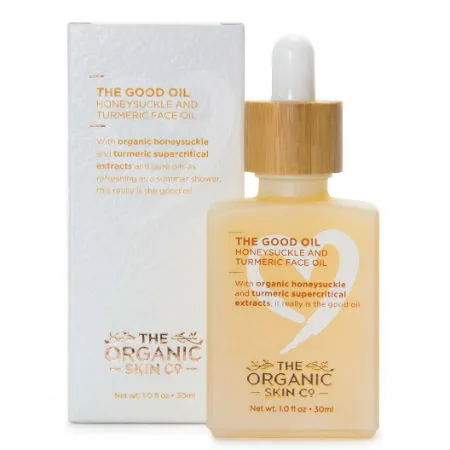 1. The Organic Skin Co. The Good Oil
Everything about The Good Oil is super luxurious, from the gorgeous golden colour to the way that it effortlessly glides onto the skin. Made from five different types of oil, the formula is on the slightly heavier side, but it absorbs quickly without leaving skin feeling sticky or filmy.
Large doses of calendula and turmeric ensure that those with combination skin can also use it without being plagued by blemishes, which can sometimes happen with heavier oils. Instead, the ingredients actually work to minimise pimples and skin irritations with their anti-inflammatory and antibacterial properties. Best of all, the oil leaves your skin feeling intensely hydrated and gives it a radiant, healthy glow that lets you know it's working.
Beauty Heaven rating: 5/5
Price: $65 for 30mL
Where to buy: ThePharmacy and The Organic Skin Co.
Who should use it: Suitable for dry skin types
---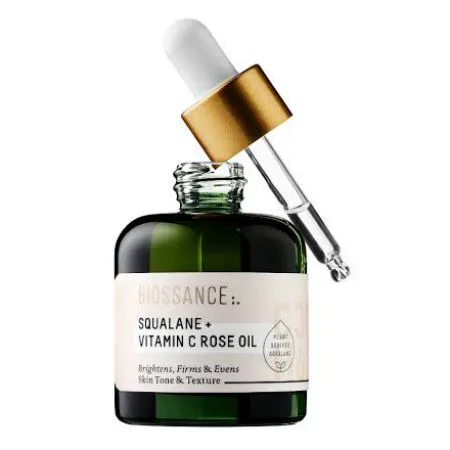 With a super lightweight formula, Biossance's Squalane + Vitamin C Rose Oil is perfect for those who are still a little uncertain of face oils. The barely-there oil is light enough to use under makeup and absorbs super quickly, making it easy to incorporate into your skincare routine.
The presence of Squalane in the formula really helps to lock moisture into the skin, making this one a real winner during the colder months. Rose oil and Vitamin C meanwhile help to brighten skin and calm redness to leave skin more evenly toned. It does have quite a strong botanical scent, so those sensitive to fragrances might want to try a tester first before committing to buy.
---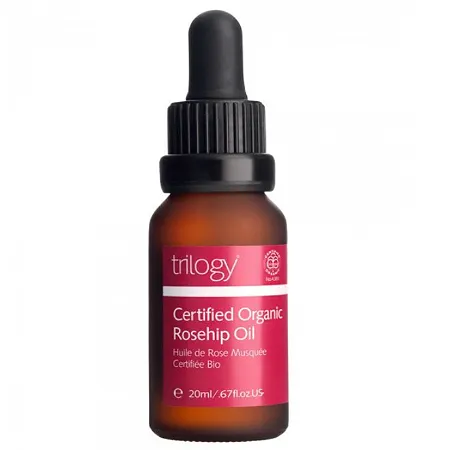 One bottle of this rosehip oil sells every 20 seconds across the globe and it's not hard to see why. Not only is it one of the few face oils on the market with clinically proven results, but it's also packed full of plant-derived vitamin A, which has similar skin-repairing benefits as retinol, making it a great natural alternative to traditional anti-ageing products.
The oil is also pure, certified organic and contains a minimum of 80% fatty acids, which are the moisturising factors in the oil. It makes for a great final step in your nighttime skincare routine, but it can also be great to use as an additive to any serum that you're currently using. You can also use this one as a daytime product because it's drier than other oils, so it's fine to use under makeup, which we love.
Adore Beauty rating: 4.5/5
Price: $25.95 for 20mL
Where to buy: Amazon, Adore Beauty, Priceline and Myer
Who should use it: Suitable for all skin types
---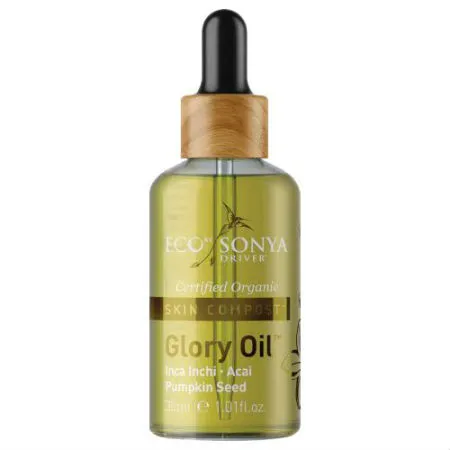 If you're looking for a natural, organic face oil, you really can't go past Eco Tan's Glory Oil. If you haven't already seen it all over social media, you can check out the amazing before and after customer shots online. Helping to assist with everything from redness to more serious skin ailments, the Glory Oil really is a holy grail type product and the photos are proof.
The lightweight, non-greasy formula absorbs quickly into the skin, leaving it soft and dewy without feeling overly sticky or wet. The combination of super seed oils and natural ingredients then works to hydrate and repair the skin, all without causing any irritation. The one downside is that the oil does have quite a strong nutty scent, which may be off-putting for some.
Adore Beauty rating: 4.6/5
Price: $49.95 for 30mL
Where to buy: Adore Beauty
Who should use it: Suitable for all skin types
---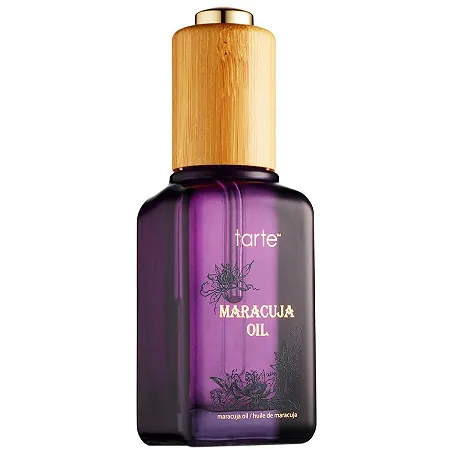 While Tarte's Maracuja Oil is suitable for all skin types, it's an absolute god-send for those with dry skin. The formula instantly provides hydration to dry faces without leaving that nasty film on the skin that you can get with some other oils. Even though the formula itself is quite thick, it does actually dry quite quickly and doesn't leave your skin looking like an oil slick.
Our favourite thing about this oil though has to be the packaging. We've tried plenty of face oils with droppers and many of them end up dispensing too much product or flicking it across your face, which is less than ideal. This one, on the other hand, is super easy to use and allows you to get just the right amount of product out every time.
Sephora rating: 4/5
Price: $61 for 50mL
Where to buy: Sephora
Who should use it: Suitable for all skin types
---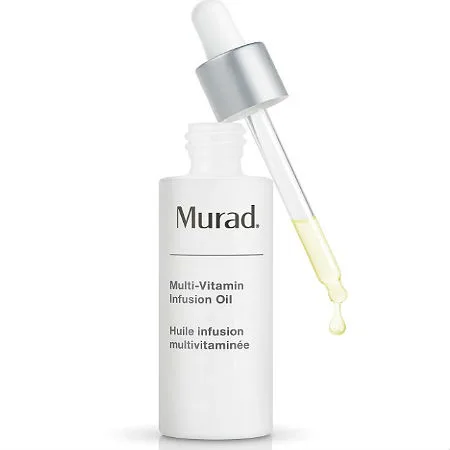 Although this one is pricey, we definitely think it's worth the cash. The light-weight oil does a little bit of everything, working to brighten, plump and smooth the skin. It's also great for those who usually avoid oils for fear it might cause their skin to break out, as it actually helps to calm skin congestion.
As well as keeping skin looking fresh and healthy thanks to its vitamin-heavy formula, the oil is also one to use if you're lacking sleep. Not only will it plump the skin, but it will also smooth out any telltale signs of sleep deprivation. The only downside is that it is quite runny, so we don't recommend using it under makeup.
Sephora rating: 4.5/5
Price: $73 for 30 mL
Where to buy: Amazon, Sephora and Adore Beauty
Who should use it: Suitable for all skin types
---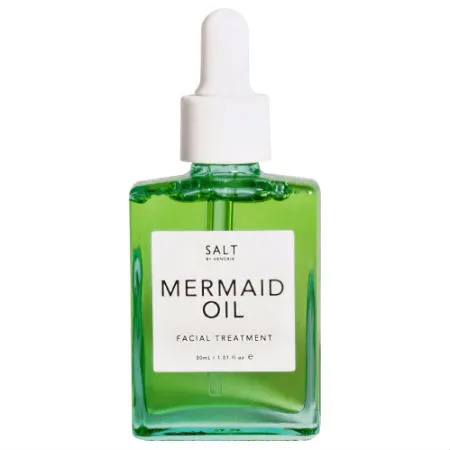 Not only are we in love with the name and the packaging of this one, but also with the oil itself. Boasting a formula rich in Omega's 6 and 9, the difference it makes to your skin is noticeable the very next day. Visibly calming redness, it works to make skin more even-toned and also gives it a nice, healthy glow.
On the downside, the oil does take about ten minutes to fully absorb into the skin, so we would recommend using it before bed rather than underneath your makeup. Those who are sensitive to scent may also want to look for something else, as this one is very fragrance heavy.
Adore Beauty rating: 4.4/5
Price: $39.95 for 30mL
Where to buy: Adore Beauty and Look Fantastic
Who should use it: Suitable for all skin types
---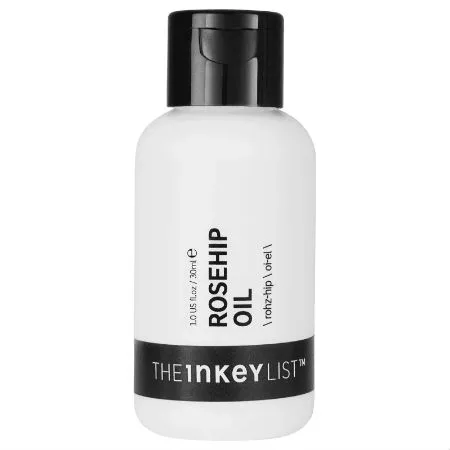 Made with essential fatty acids and vitamins, this budget-friendly oil is one for those who struggle with extremely dry skin. The potent antioxidant formula packs a punch in the hydration department, while also helping to improve overall pigmentation and skin texture.
It does leave your face a little oily and takes a little while to fully absorb, so those with combination or oily skin would be best to avoid this one. The packaging could also be a little better, with the lid making leaking while travelling a definite concern. For the "give-it-a-go" price tag though, it's definitely worth the purchase – we just recommend leaving it at home next time you travel.
---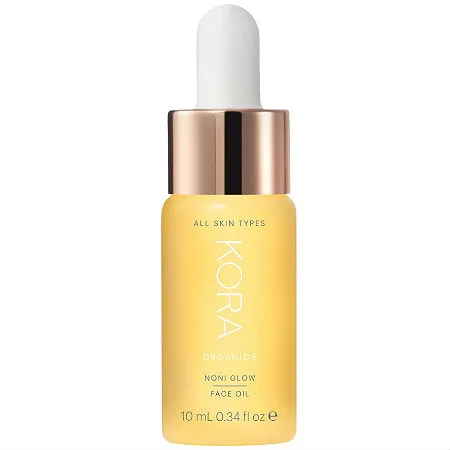 While this one is a little pricey for the amount that you get, its super nourishing formula makes it worth a look in for those with dehydrated skin. The rich oil provides thirsty skin with much-needed hydration, while also helping to ease any tightness and flakiness.
Despite the heavy nature of the formula, you don't actually need to apply much to fully cover your skin – just a few drops will do. Best of all, the oil is made from all-natural and organic ingredients, so you know that it's free from any nasties. It does have a slightly greasy residue that makes it better for nighttime use, but by morning it will have skin fully nourished and glowing.
Adore Beauty rating: 4.6/5
Price: $29.95 for 10mL
Where to buy: Adore Beauty and Sephora
Who should use it: Suitable for normal to dry skin types
---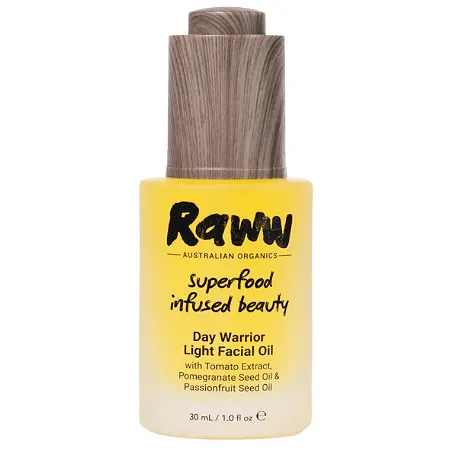 Not only does this lightweight oil work to nourish your skin and brighten your complexion, but it also helps to fight damage and premature ageing caused by pollution and blue light exposure from your electronic devices.
Taking the red phytochemical colour from tomato extract and combining it with Rice Bran, the innovative oil manages to stop blue light from penetrating the skin, which is definitely something we appreciate. It also absorbs super quickly and is light enough to use underneath your makeup, so you can stay protected and hydrated all day long.
Price: $35 for 30 mL
Where to buy: Raww Cosmetics
Who should use it: Suitable for all skin types
Real life favourites
Derma E Radiant Glow Face Oil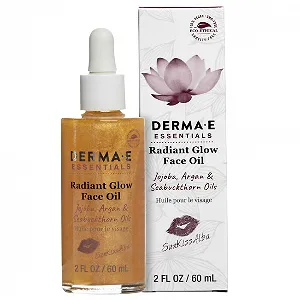 Out of all the face oils I've tested and tried, this radiant glow face oil by Derma E has been the most effective in giving me a natural and healthy glow throughout the day. I also find that it isn't sticky or just sitting on my face, but it actually makes my skin smoother and helps over time with the overall texture of my skin. Additionally, it's super affordable for its size and lasts better than any other face oil I've used.
– Lucy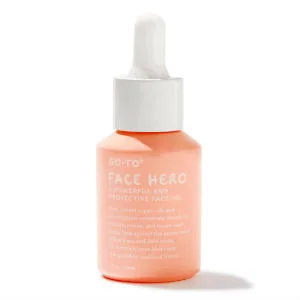 I have combination skin (oily/dry) so I was reluctant to try a face oil at first, but after trying Face Hero it is now my favourite skin product. The oil is really fine and my skin just drinks it up but is never left greasy or oily. I use it at night and in the morning religiously (a first for me) and my skin is very happy. It also smells gorgeous.
– Kate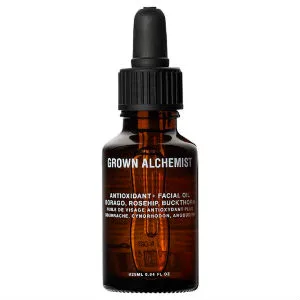 The Grown Alchemist face oil is so hydrating and smells amazing. I put it under my face cream every night and massage it into my face and the results have made this my favourite face oil so far. For someone with super sensitive and dry skin, I highly recommend adding this to your nightly skincare routine!
– Monisha
What is face oil and what does it do?
Oils may be incorporated into many of your skincare products such as serums and creams, but a standalone face oil is unique in that it offers your skin a concentrated dose. These oils often contain essential oils and plant extracts, which provide the skin with lipids, helping to deliver additional hydration and keep skin balanced.
Face oils can also help to protect the skin from environmental aggressors, in addition to helping fight premature signs of aging and other skin concerns such as pigmentation.
Who can use face oil?
While those with combination or oily skin might think that putting additional oil on their skin is counterproductive, this isn't actually the case. Face oils mimic the skin's natural sebum production, so they aren't designed to make your skin any oilier, making them suitable to use for any skin type.
While there are definitely some heavier oils out there that are better suited to dry skin types, there are plenty on the market that work to balance oil levels in the skin as well as to fight blemishes and other skin conditions. If you're unsure which oil is best for you, check out our "who should use it" section under the above products or consult an in-store expert at your nearest pharmacy or beauty store.
How do you use face oil?
Face oil can be applied after cleansing, toning and moisturising the skin. You'll likely only need a couple of drops to fully cover the face, so it's important not to go overboard, no matter how dry your skin is!
While a face oil can be used either morning or night, the type of oil you're using should be the deciding factor in this. For instance, if you're using a heavier oil, you may want to apply it at night so that it has a chance to be properly absorbed into the skin. Heavier oils may also not sit well under makeup, making them better for nighttime use or for those who don't wear makeup.
If you do want to use oil as part of your daytime skincare routine, try looking for something more lightweight or choose an oil that absorbs into the skin quickly.
What's the difference between face oils and serums?
The main difference between oils and serums is that, in most cases, oil molecules are much larger and work to penetrate the outer layers of the skin. Meanwhile, serums contain highly concentrated ingredients and are molecularly formulated to penetrate the deeper layers of the skin.
This means that facial serums are better at targeting specific skin concerns, while oils are primarily used to improve hydration of the skin, though they can also help with issues such as pigmentation, acne and dull skin too.
More beauty reviews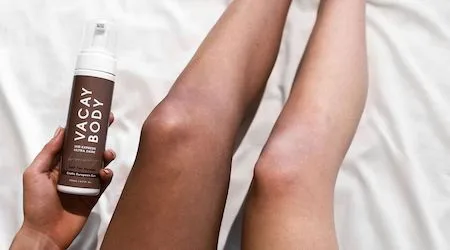 No filter: My actual thoughts after trying one of the Gram's fave self tan brands.
Read more…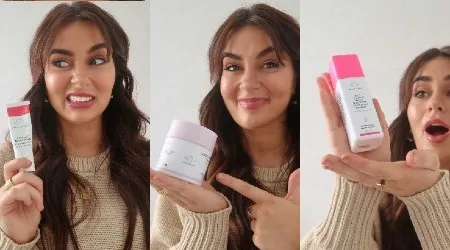 I'll be honest, I really didn't want to like some of these Drunk Elephant products but they're just that damn good.
Read more…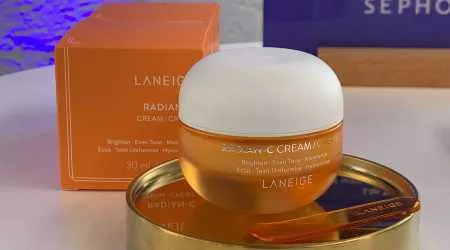 Korean beauty is here to give you brighter and more hydrated skin. 
Read more…
Image source: Getty
---
Looking for more beauty deals online? Check out the deals and discounts below
Popular Sephora coupon codes
| Last checked | Code description | Code |
| --- | --- | --- |
| 11 Mar 2021 | 20% off everything | ASO**** |
| 1 Mar 2021 | Get 10% off your first order | APP**** |
| 12 Apr 2021 | FREE gift from Guerlain | GUE**** |
| 12 Apr 2021 | FREE gift from Youth to The People | SUP**** |
| 12 Apr 2021 | Extra 20% off sale dresses | DRE**** |
More guides on Finder