How to choose the best face masks in Australia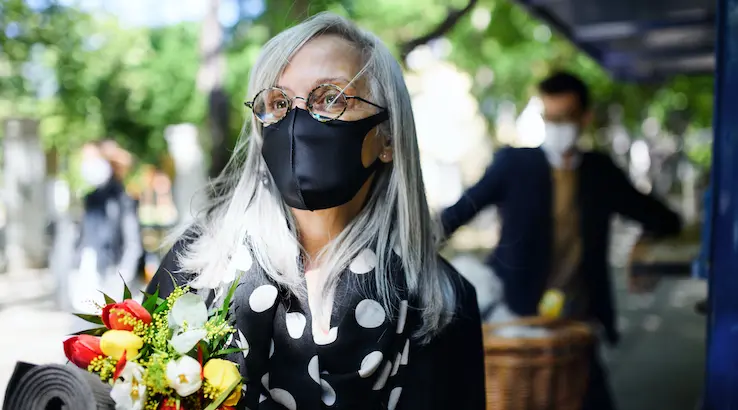 What you need to know before buying a reusable cloth face mask.
If you're looking to buy a reusable face mask to comply with government mask regulations or help prevent the spread of COVID-19, there are plenty of options available.
Ultimately, the best mask for you is one that you'll be able to wear consistently without having to touch or adjust it while you're out and about. It should be comfortable, breathable and durable enough to withstand washing.
What type of face mask should I wear?
The Victorian State Government, recommends that non-healthcare workers should wear washable cloth masks and disposable surgical masks. Brett Sutton, the Victorian Chief Health Officer, has provided guidance on wearing 3-layer cloth masks.
While P2 masks and N95 respirators are extremely effective, The Australian Department of Health recommends that they only be worn by healthcare workers. This is probably in order to avoid a mask shortage.
How to choose the best cloth face mask
When you're comparing the best face masks, consider the following factors:
Material
According to the latest WHO guidelines, avoid elastic material when possible. Elastic is designed to stretch, which increases the size of the gaps between the fibres. The larger the gaps between the fibres, the less effective the mask will be. Also, elastic materials don't hold up as well in washing machines or high temperatures as other materials do.
Organic materials such as cotton are more breathable than some synthetics, but offer lower filtration. If you opt for a cotton mask, look for one with more than one layer.
Layers
Advice from the WHO and the Victorian government suggests wearing masks with three layers to ensure adequate protection. Why does a mask need so many layers? According to the WHO, masks made of nylon blends and 100% polyester are 2–5 times more effective at filtration when folded into 2 layers and 2–7 times more effective when folded into 4 layers.
WHO guidelines are more specific, stating that the best option includes an inner layer made of a hydrophilic (not water-repellent) material such as cotton, a middle layer made of either synthetic non-woven material or cotton and an outer layer made of hydrophobic or water-repellent material.
Does a filter count as a layer?
Yes. Many cloth masks sold online have two layers of fabric and an inner pocket that allows you to insert a disposable filter. This filter counts as a third layer.
Coating
Some masks feature an outer layer that has been treated to make it water-repellent. However, the treatment usually only lasts a certain number of washes (often around 10–20). Once the mask has been washed more than the recommended number of times, it will no longer be as effective.
Also, the treatment can affect the breathability of the fabric.
Breathability
The reason three layers is recommended is that masks with more than three layers can be more difficult to breathe through, which means people are less likely to wear them consistently.
The quickest way to check how breathable a mask is is to put it on and try to breathe normally. Masks generally aren't returnable, so if you're not sure if a mask will be breathable enough to wear all day, check online reviews.
Keep in mind, commercially made masks are designed to be breathable and so it shouldn't be too difficult to find one that you can wear comfortably, even if it takes a little while to get used to wearing a mask for long periods.
Valves
Earlier this year, many people went out and bought P2 face masks for smoke protection during bushfire season, but should we still be wearing these masks now to prevent the spread of COVID-19? Some of these masks have one-way valves, designed to close when you breathe in and open when you breathe out, protecting you from airborne particles.
According to Dr Brad McKay, a Sydney-based GP and health communicator,
They will protect you from others because the valve shuts off when you breathe inwards, but will not protect others from you because the valve opens wide when you breathe outwards."
While this can help protect you, it won't necessarily protect those around you if you are sick. Some countries have banned masks with valves to stop people from wearing them.
Fit
Look for a mask that fits snugly to your face and doesn't leak air out of the sides. There shouldn't be any large gaps between the mask and your face. If there are gaps, air will go around the mask when you breathe, instead of through the mask as it should.
Any mask should fully cover your mouth and nostrils and should stay in place without you needing to hold it up or adjust it.
Shape
There are several types of mask shapes available including flat, folded and duckbill designs. However, the shape of the mask is a matter of personal preference and won't affect the effectiveness of the mask as long as it fits.
Ear loops, ties and head straps
Face masks typically come with either ear loops, adjustable bungee ties or straps that tie around your whole head.
Ear loops are non-adjustable loops that slide around your ears, holding the mask in place. They're usually made of the same fabric as the mask.
Bungees are stretchy adjustable ties that you can tighten or loosen depending on your head size. While this can make the mask more comfortable and help with fit, elastic materials don't always hold up in the wash.
Masks with straps that tie around the back of your head are less convenient than those with ear loops as they take longer to put on and take off, but some people find them to be more comfortable for extended use because they don't put pressure on the backs of your ears. Also, they won't interfere as much with the glasses.
Strap type
Pros
Cons
Ear loops

Convenient
Widely available

Not adjustable
Might not be comfortable for extended use

Bungees

Can wear out more quickly in the wash, especially when made of elastic
Might not be comfortable for extended use

Head straps

Adjustable
Comfortable for extended use

Takes longer to put the mask on and take it off
Can be harder to find
Patterns and designs
While the pattern of a cloth mask won't have any effect on the effectiveness of the mask, a lot of us would prefer to wear masks that we think look good. If we have to wear masks, we might as well have fun with them.
If you want to match your mask to your outfit or jewellery, you can find masks in a wide range of fashionable patterns including animal prints, stripes, florals, tie-dye and tartan. You can also get funny face masks if you want to lighten the mood.
If you're more of a minimalist, there's no shortage of white and black face masks out there.
Cost
Recent Finder analysis shows the average price of a reusable face mask in Australia is around $22.47. However, the cost can vary widely depending on the manufacturer, store and location. In some cases, shipping can cost just as much as a mask.
You can typically save on shipping by buying multiple masks from the same retailer.
How to choose the best face mask for exercise
When you're exercising with a face mask the two most important things to consider are how well it stays in place and how breathable it is.
If a mask is constantly slipping down your face as you run and requires you to touch it and adjust it, it won't be doing much good. A moldable nose strip can also help keep your mask in place while you exercise.
If the mask has several layers but is hard to breathe through when you work up a sweat, you'll be less likely to wear it the next time to exercise. Moisture-wicking fabric will help with sweat, but will often be less breathable. Some people prefer using a one- or two-layer cotton mask for workouts and switching to a three-layer water-resistant mask for trips to the grocery store or journeys on public transport. Also, if you have a mask with a reusable filter layer, taking the inner filter out could give you the extra breathability you're looking for during your workout.
How to choose the best face mask for kids and teens
When looking for a mask for your child or teen, consider the same things you'd consider when choosing a mask for yourself.
Children under two shouldn't wear face masks because of choking risks. While children under 12 are exempt from the mask requirements in Victoria, those older than 12 are expected to follow the same guidelines as adults.
A lot of teenagers find that the standard one-size-fits-all adult masks don't fit their faces. Fortunately, many retailers are offering smaller mask sizes, suited to teens and older children. If you're not sure of sizing, look for a mask with adjustable ear or head straps so that you'll have more flexibility when it comes to fit.
Fun patterns might incentivise your child to wear the mask, while comfortable fabric and ear bands can help keep your child from taking it off while out and about. If your kid doesn't like the feel of bands tucked behind their ears, look for a mask with straps that wrap around the entire head.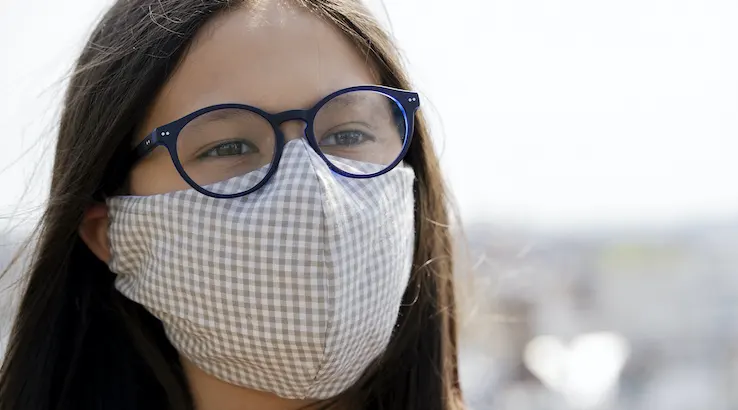 How to choose the best face masks for people with glasses
People who wear glasses have additional considerations when it comes to wearing masks.
A common complaint glasses-wearers have with face masks is that their glasses fog up frequently, making it difficult to see.
According to The Royal College of Surgeons of England, an effective method to prevent your mask from fogging up is to wash your glasses with soapy water before putting your mask on. Let your glasses air dry or dry them off with a soft tissue.
If you've ever been scuba diving, you might already be familiar with this method, as it's similar to a popular method that divers have used for decades to avoid mask fog using soap or baby shampoo.
Another tip to help avoid the dreaded glasses fog is to wear a mask that fits your face. If the mask doesn't fit properly, air can escape through gaps around your face, sending condensation up and into your glasses. Masks with moldable nose strips can also help you get rid of these gaps.
How to choose the best face masks for people with beards
Unfortunately, a beard can prevent your face mask from forming a seal or close fit to your face. People who have to wear masks in professional settings are often required to shave or trim their beards to ensure their face masks are effective, including those in the Queensland Police Service.
The government isn't asking people to shave to comply with mask regulations, but if you have a long or bushy beard you might find that standard one-size-fits-all masks don't work for you.
In this case, look for masks that come in large sizes and ones with long, adjustable head straps that don't interfere with your beard.
Accessible and deaf-friendly masks
If you live or work with people who are deaf or hearing-impaired and use lip reading, a standard face mask will limit your ability to communicate. Some manufacturers are making clear face masks and face shields, but many people have had to make or alter their own masks at home.
If you can't find a clear face mask in stores, The Hearing, Speech & Deaf Center published instructions on how to make an accessible face mask using a sewing machine or hot glue gun.
How to wash your mask
Before washing your mask, check the manufacturing instructions for the maximum temperature you can wash the fabric at. When possible, the WHO recommends washing the mask in water that's at least 60°C with soap or detergent.
If you're using a washing machine, use a delicate cycle to avoid stretching or wringing the mask.
For more tips on using and caring for your mask, check out our guide on how to wear a face mask.
Disclaimer: This guide is intended to be of general informational use - not medical advice. We are not making any recommendations about the effectiveness of face masks generally or of any particular face mask. The general information and opinions we publish may not be appropriate for you or your circumstances. Always seek your own medical advice from your doctor or health professional before making any decisions.
---