Best electric toothbrushes in Australia 2020
Keep your teeth pearly white and smile-ready at all times with the best electric toothbrushes Australia has to offer.
We're committed to our readers and editorial independence. We don't compare all products in the market and may receive compensation when we refer you to our partners, but this does not influence our opinions or reviews. Learn more about Finder.
Your smile is such an integral part of your first impression, so you want to keep it as clean and sparkling as humanly possible. Electric toothbrushes are a convenient way to keep your chompers in tip-top condition with ease and efficiency – but you want to make sure you have the right one for you.
This guide will help you wade through the information and narrow down the options so you can settle on an electric toothbrush that will make your life easy and your teeth clean in no time!
---
Best electric toothbrush for sensitive teeth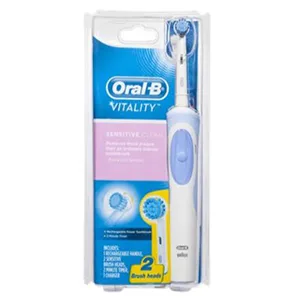 Sensitive teeth can be really frustrating at the best of times, but they're at their worst when you're struggling to clean them properly due to sensitivity or even pain. It's best to go with a toothbrush that has extra soft bristles to ensure you don't feel as though you're causing damage every time you brush. The Oral-B Vitality Sensitive Clean is a good option for this, with an in-built timer and spare head included on top.
---
Best electric toothbrush for kids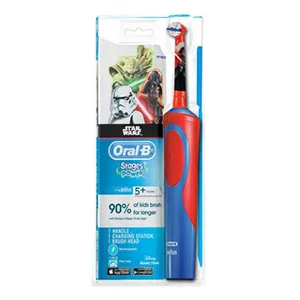 Convincing kids to brush their teeth can be a challenge – it's hard enough getting them to sit still for 30 seconds sometimes, let alone stand at the sink for at least two minutes of solid brushing. Choose a toothbrush that's a bit more fun to get them to want teeth time, all the time. The Oral-B Stages Kids STAR WARS Electric Toothbrush is a solid option as it incorporates a classic film with the fun of an electric toothbrush – and it comes with a handle, charging station and brush head.
---
Best electric toothbrush for travel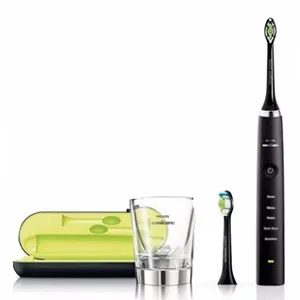 Jet-setting around the world requires you to pack light, but a toothbrush is definitely an essential. It may seem easier to just pack your manual toothbrush in your carry on, but the Philips Sonicare Diamond Clean is a strong alternative that will have your teeth feeling as fresh as if you were at home. With a USB charger and travel case, you can take it with you anywhere for ease of use.
---
Best electric toothbrush for braces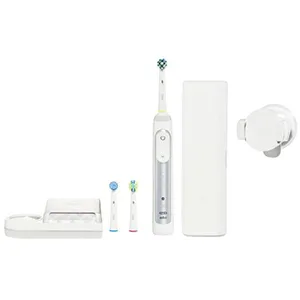 Oral B Genius 8000 Silver Power Toothbrush
Braces are a sore point for a lot of teenagers, and even some adults, out there. Brushing your teeth while you've got them is harder than you'd expect because you definitely don't want to damage the wiring – anyone who's had braces can attest to the pain of a broken wire poking your mouth. The Oral-B Genius 8000 is a strong contender for best orthodontic-friendly electric toothbrush, especially if you use the designed "Ortho Head" to brush safely.
---
Best electric toothbrush on a budget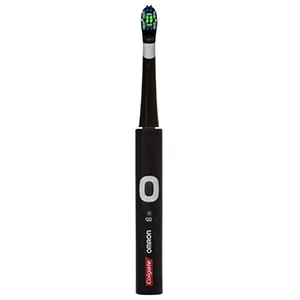 Colgate Toothbrush Pro Clinical Black C250+
If you're shying away from purchasing an electric toothbrush because you're afraid it'll cost more than your grocery budget allows, rest assured that's not always the case. The Colgate Pro Clinical C250+ is an effective toothbrush that only comes in at $29.99, but still has all the bells and whistles you need in an electric toothbrush – from a timer to the 360-degree Deep Clean brush head.
---
Best quiet electric toothbrush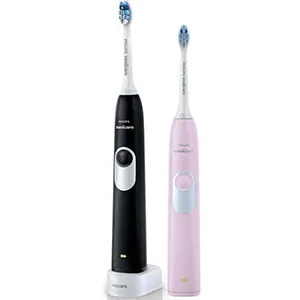 Sonicare 2 Series Rechargeable Electric Toothbrush
If you like to brush your teeth late at night but don't want to wake up your family or roommates with the droning, you'll want to get yourself a quiet electric toothbrush. Judging by consumer reviews and feedback, the Philips Sonicare 2 Series is by far the most popular electric toothbrush for this purpose. With a timer, two modes and a colour battery charge indicator, it's definitely a model worth seriously considering.
---
Best electric toothbrush for receding gums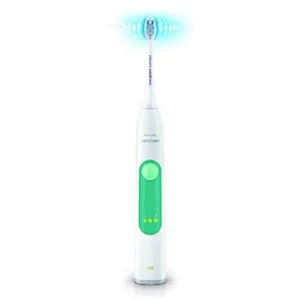 Sonicare Gum Health Electric Toothbrush
If you've got receding gums, the last thing you want is to make them worse with over-brushing. The Philips Sonicare Gum Health Electric Toothbrush is a smart choice because not only does it have three different intensity settings to choose from (depending on how gentle you require your brushing to be), it's also got a built-in timer and sensor to indicate when you've spent enough time on each quadrant of your mouth.
---
How to choose an electric toothbrush
Electric toothbrushes are all different – and some are trickier than others. Some brands have all the bells and whistles you can imagine, while some have only the basics. Either way, with so many options on the market, there are a few key elements you need to keep an eye out for.
Removable vs static head: As a general rule, it's best to opt for a toothbrush with a removable head. This allows you to simply purchase replacement heads when your toothbrush has been used to capacity, instead of purchasing an entirely new model.
Rechargeable vs battery powered: This choice really depends on your personal preference. If you opt for battery powered, you may want to consider rechargeable batteries anyway, as an environmentally-friendly move.
Oscillation vs vibration: Though you may not realise it, these are not the same thing. Where possible, opt for an oscillating toothbrush. These are more adept at removing plaque than their vibrating counterparts.
---
Electric vs manual toothbrushes
There's a lot of debate about the efficacy of electric toothbrushes in comparison to manual brushes, but what's the real difference and which is better? Well, the question of which is better comes down to the situation and people involved, but for the most part the biggest differentiation is the fact that electric toothbrushes streamline the process.
Manual toothbrush
More control
Easier to determine pressure
No charge or batteries required
Cheaper to purchase
Greater variety
Electric toothbrush
Timer and sensors in-built
Replaceable brush heads
Delivers more brush strokes per minute
Variable intensity settings
Proven to remove more plaque
---
More guides on Finder