Best computer and office desks in Australia
Whether you're working from home, studying or gaming, these are the 7 best computer and office desks available right now.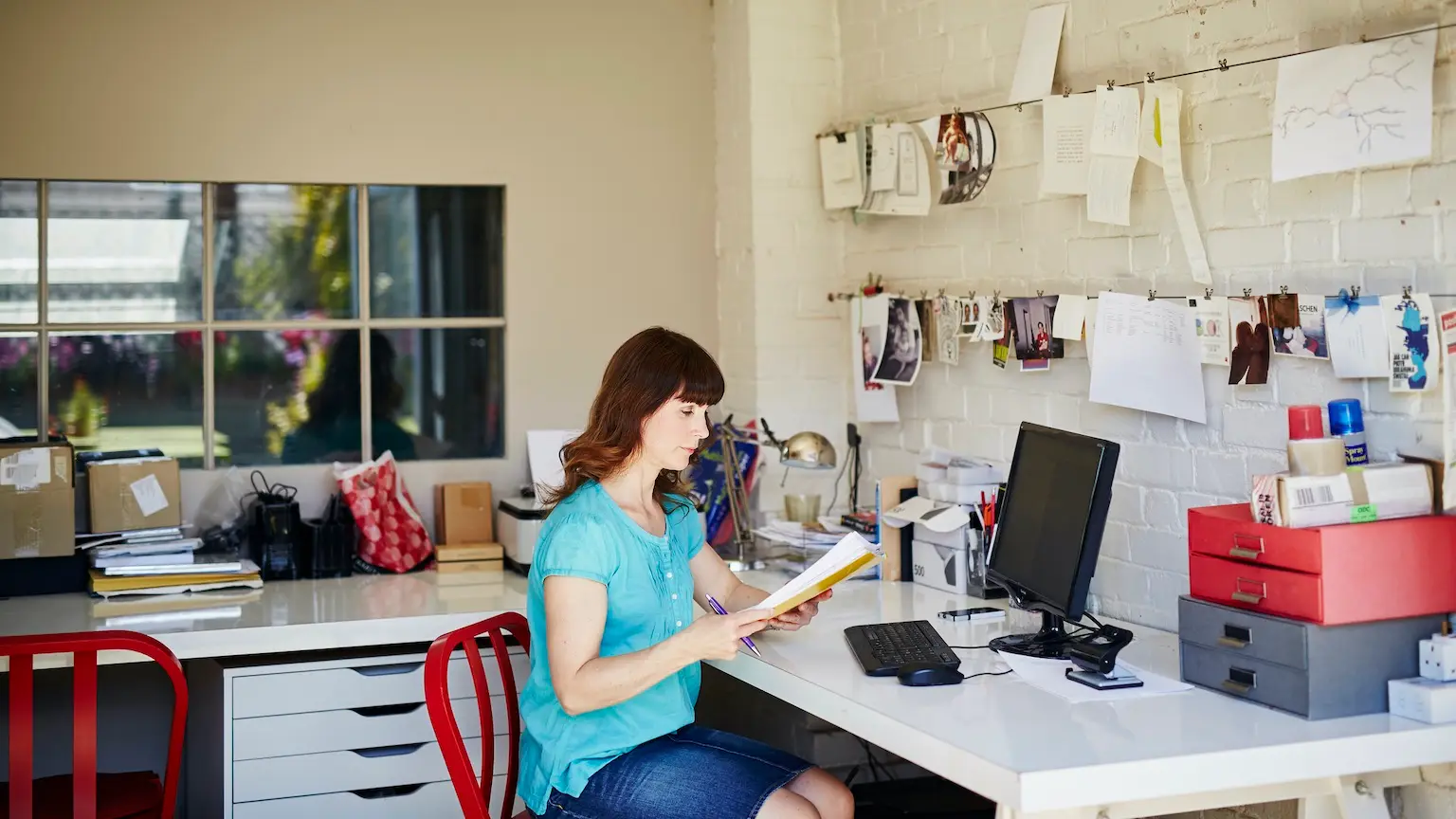 How did we pick this list?
Our editorial team selected the computer and office desks on this list based on actual customer reviews. For each category, we carefully selected parameters based on our research and identified the desks with the highest review score within those parameters.
Best budget pick: Studymate Dyson Trestle Shelf Desk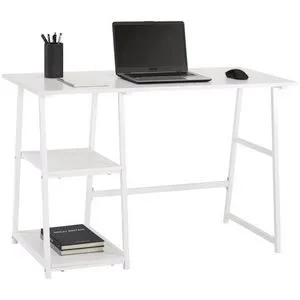 Simple and practical
Three-year warranty
35-minute assembly time
May not be large enough for everyone's purposes
Where to buy
Check availability at eBay
Why we chose it
With an average score of 4.8 out of 5 from 6 Officeworks reviews, this trestle shelf desk from Studymate is our pick as the best budget desk.
Measuring 1,100mm wide and 500mm deep, it's a compact but practical desk for your home workspace. Featuring an MDF construction and melamine finish, it includes a scratch-resistant desktop and two handy storage shelves.
The desk has a weight capacity of 40kg and an estimated construction time of 35 minutes. It's also backed by a three-year warranty.
---
Best high-end pick: Stilford Ashton Executive Desk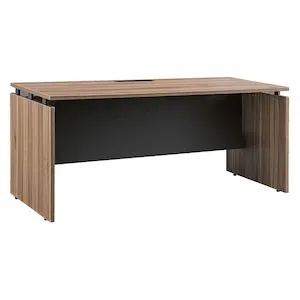 Why we chose it
With an average score of 4.4 out of 5 from 5 ratings on the Officeworks website, the Stilford Ashton Executive Desk is well worth checking out if you're shopping for a desk over $200.
At 1,600mm wide and 750mm deep, it offers a large workspace and has a desktop weight capacity of 80kg. Made from E1 grade particleboard with a melamine finish, the Ashton Executive Desk comes with adjustable feet to help keep it stable.
You can also buy other items from the Ashton range to help maintain a matching look throughout your office, while the desk is backed by a 15-year warranty.
---
Best for small spaces: Artiss Portable Wooden Laptop Desk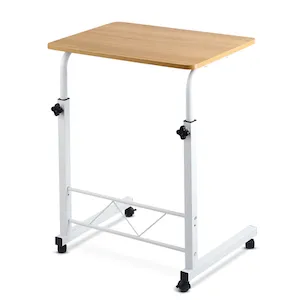 Why we chose it
If you're searching for a compact desk for your home office, this portable laptop desk from Artiss boasts an average score of 4.5 out of 5 from 31 Amazon reviews.
With a work surface that measures 600mm x 400mm, it's the ideal size for a laptop. The height of the desk can be adjusted between 65cm and 97cm, and there are 4 lockable wheels so you can move the desk around your home whenever needed and secure it in place.
The desk also features a U-shape design to allow it to fit in with a wide range of other furniture.
---
Best corner or L-shaped desk: vidaXL Computer Desk Workstation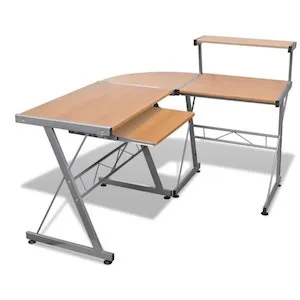 Why we chose it
If you want a larger corner desk for your home office, this vidaXL Computer Desk Workstation boasts plenty of practical features. And with an average rating of 4.1 out of 5 from 51 Amazon reviews, it's our pick as the best corner/L-shaped desk.
The desk features an 850x540mm desktop with a pull-out keyboard tray and an 1,150x540mm desktop with a top shelf. Left or right-side assembly is possible based on the layout of your office space, and the desk itself is made of particle board and powder-coated steel.
---
Best standing desk: VariDesk Pro Plus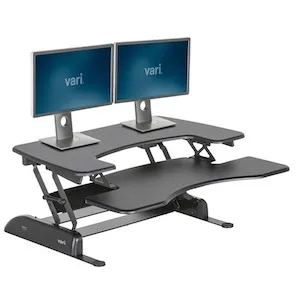 Why we chose it
With an average score of 4.8 out of 5 from more than 2,000 Amazon customer reviews, the VariDesk Pro Plus takes the prize in the best standing desk category.
Designed to sit on top of your current desk, this clever converter uses a rowing-lift raising mechanism to turn your sitting desk into a standing desk. It also features a two-tier design, with the upper tier boasting enough space for up to two monitors and a lower tier for your keyboard, mouse and documents.
There are 11 height settings available, and the VariDesk Pro Plus comes with a five-year limited warranty. Best of all, there's no assembly required.
---
Best for gaming: Eureka Z1-S Gaming Desk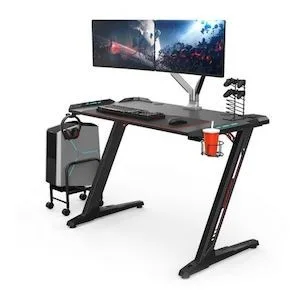 Loaded with features
Easy to assemble
Some customers complain about plastic desk corners taking up space
Limited flexibility in where cup holder and headphone hook are placed
Where to buy
Check availability at Amazon
Why we chose it
With an average rating of 4.8 out of 5 from almost 900 Amazon customer reviews, this ergonomic gaming desk from Eureka takes the top prize in this category.
Featuring a smooth carbon-fibre texture, the Z1-S comes with a host of features to help improve your gaming experience. These include LED lights, a controller stand, a cup holder and a headphone hook. It also features Z-shaped legs and side supports to ensure that the table doesn't wobble at a critical moment.
Best desk for storage: J. Burrows Boston Large Hutch Desk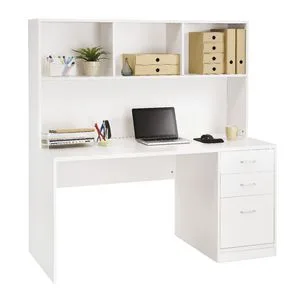 Three drawers plus storage shelves
Drawers come pre-assembled
Two-person assembly
60-minute estimated assembly time
Where to buy
Check availability at eBay
Why we chose it
With an average rating of 4.3 out of 5 from 4 reviews on Officeworks, the J.Burrows Boston Large Hutch Desk offers ample storage space.
It has two stationery drawers, one deep storage drawer and hutch shelving, making it a practical option for anyone who likes to keep their workspace neat and tidy. The desktop is 1,520mm wide by 700mm deep, and the drawers come pre-assembled for added convenience.
The desk is made from E1 particleboard, features a scratch-resistant surface and comes with an eight-year warranty.
---
Methodology
We've compared hundreds of desks from more than a dozen brands.
The winners were chosen based on real customer reviews on Amazon and Officeworks (as of April 2020).
The products on this list are chosen by our editorial team and are not selected based on commercial relationships.
Where to buy computer and office desks online
Related Posts