The best convection microwaves to suit your lifestyle
Plus, everything you need to know about buying a convection microwave.
We're reader-supported and may be paid when you visit links to partner sites. We don't compare all products in the market, but we're working on it!

Convection microwaves are great for multitasking and are often a go-to for those of us with a more compact living space. They also prove to be a handy kitchen feature when you're catering for a larger-than-average crowd, as a convection microwave can offer some much-needed additional cooking space.
It's worth doing your research before buying, as price and power aren't necessarily the best indicators to base your purchase on. We'll take you through some important considerations so you can choose the microwave that's perfectly tailored to your lifestyle.
---
How to decide which convection microwave is best for you
A convection microwave is an investment. Don't simply buy on a whim, allow yourself time to assess your lifestyle demands. Consider the following before you browse:
How much spare kitchen space do you have?
Would you prefer a built-in or stand-alone?
What's your budget?
Once you've answered these key questions, you'll be ready to start moving towards purchasing the perfect, cost-effective cooking addition to your kitchen.
---
Best convection countertop microwave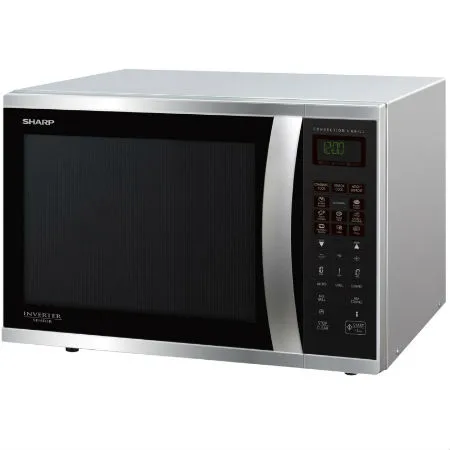 Sharp 1000W Large Convection Microwave Oven
If you're looking for a convection microwave that can sit atop your counter, you're going to want something that can handle all of your heating requirements without taking up too much space, especially if you live in a smaller unit or apartment. Most models are quite sizable to accommodate both microwave and oven capabilities, so it's important to find one that strikes the right balance for your home.
We recommend the Sharp 1000W Large Convection Microwave Oven. Its sleek and stylish stainless-steel finish makes it adaptable to your kitchen colour scheme, but more importantly it comes equipped with "Inverter" technology to provide even and quick cooking every time. With the 21 pre-set Australian-inspired cooking menus, this convection cooker is everything one needs.
Additional features and technical specifications include:
Child safety lock feature
6 power levels
LCD display
Sensor cook
Weight defrost
---
Best built-in convection microwave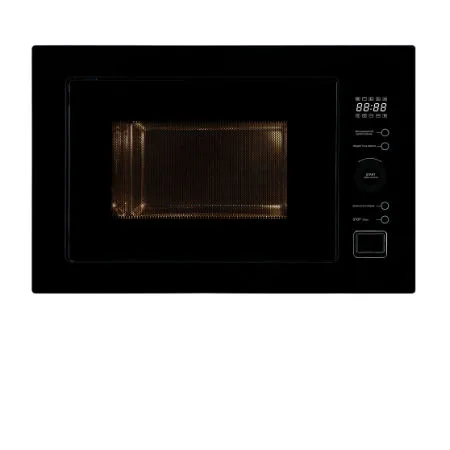 Esatto MC25BF 25L Convection Built-in Microwave Oven 900W
If you're looking for a convection microwave unit that you can have built-in, take a look at our top pick. With its frameless black glass design, the Esatto MC25BF 25L Convection Built-in Microwave Oven 900W is both easy to integrate into your kitchen decor and a powerful choice of convection oven. Choose between 10 pre-set food types to eliminate the guesswork out of your cooking and enjoy the in-built grill and touch control settings.
Additional features and specifications include:
10 pre-set cook settings
Child safety lock feature
Weight and time defrost
Touch controls
2-year manufacturer's warranty
---
Best convection microwave with a grill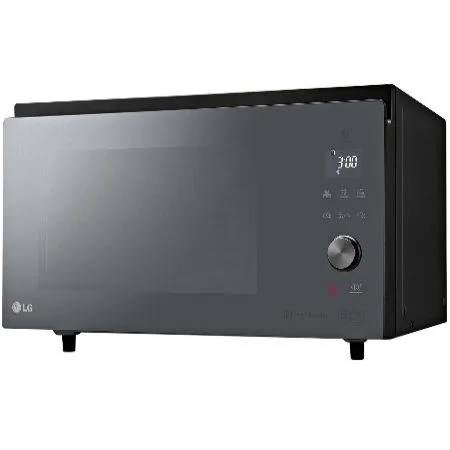 LG 39l Black Convection Microwave with Grill
If you're searching for a convection microwave that offers grilling capabilities, you'll want to check out the LG 39l Black Convection Microwave with Grill. As the name states, this convection microwave takes care of all your grilling needs. It's free-standing so will need to sit on your workbench, but this microwave really is as clever as it is compact. It even has a unique "Healthy Fry" feature that reduces the amount of fat left in your food after frying.
Additional features and specifications include:
Smart inverter for consistent heating results
34l internal capacity
Max power output of 1100W
Easy-touch control
Anti-bacterial coating eliminates 99.99% harmful bacteria and is easy to wipe down after you've finished cooking
Convection Microwaves pros and cons
Pros
Combine and condense your cooking appliances. Convection microwaves can perform like a microwave or an oven.
Fast and effective cooking capabilities.
Quick to preheat, some models offer temperatures up to 240 degrees.
Cheaper to run than conventional ovens, so can help to cut back on energy costs.
Much smaller in size, making them ideal for apartments and caravans.
Cons
Cleaning can be tricky and needs to be done after each use to avoid a build-up of baked-on grease.
Convection ovens are small in capacity which can restrict how much food you're able to cook at once.
Things to keep in mind when shopping for a convection microwave:
Visibility- Bright internal lighting and a clear-glass viewing window will allow you to keep an eye on your food while it's cooking.
Clear controls- Look for a model that you can use without having to repeatedly refer to the instruction manual.
Size- You don't want to get your shiny new kitchen appliance home only to find out that none of your existing crockery fits in it!
Cleaning time - Check out the interior and make sure there aren't too many nooks and crannies where grease and food can become trapped or lodged and breed unwanted bacteria.
Automatic functions - A defrost setting, for example, should prompt you to enter the food type and weight to calculate how long your food will take to cook. Some even set an alarm halfway through the cooking process to encourage you to turn your food for a more even result.
Child-safety lock- An important consideration if you've got little ones in your home. This allows you to push a programmed series of buttons to stop kids switching it on by accident.
Sensor cook- This mode measures the vapours emitted during the cooking process in order to adjust the cooking time appropriately.
How much do convection microwaves cost?
Prices are quite diverse, starting at approximately $160 stretching up to $1,000 or more. If you're going the whole hog and choosing to invest in a deluxe inbuilt convection microwave, you can expect to pay anything up to $4,000 without factoring in the installation costs.
Are convection microwaves worth it?
For the convenience, speed and simplicity offered by the majority of models available on the market, we'd definitely recommend convection microwaves. You can prepare your favourite meals in a fraction of the time with a compact convection microwave. They're perfect for smaller spaces, or as an extra cooking appliance when the demand for food is larger than normal.
Top-rated sites to buy
Best homewares deals
Popular Kogan AU coupon codes
| Last checked | Code description | Code |
| --- | --- | --- |
| 7 Apr 2021 | FREE shipping on almost all in-stock products | POS**** |
| 6 Apr 2021 | FREE shipping on 100's of bulky items | MEG**** |
| 5 Apr 2021 | 25% off almost gone shoes and apparel | LAS**** |
| 28 Dec 2020 | Up to 81% off + extra 10% off top deals | ******** |
| 8 Apr 2021 | Up to 30% off: Cooking and Dishwasher Sale | ******** |
Main image: Getty
More guides on Finder