Best China tours and tour companies from Australia 2022
Choose your China journey with these on- and off-the-beaten-path tours that will lead you through the ancient past and to the modern world.
We're reader-supported and may be paid when you visit links to partner sites. We don't compare all products in the market, but we're working on it!
China is quite unlike anywhere else in the world, with customs that might seem unusual at first, ancient sites so old it's hard to grasp how things were built and some of the world's most iconic sites such as the Great Wall of China.
We've compiled a list of our four favourite companies to help you discover China's traditions, religious sites and epic battles as well as delve into the futuristic world of modern cities.
Plus, we've recommended tours and companies by travel style, length and itinerary, and discounts to get you there for cheap.
Our 6 favourite China tour companies
1. Wendy Wu
Wendy Wu knows Asia and connects travellers with local guides for authentic experiences that you won't find on other tours. With over 59 award-winning tours in China alone, Wendy Wu will make sure that you see all of China well.
Best for: 40+, solo and group travellers
Cost: High-end
Our favourite itinerary: The Wonders of China tour is ideal for first-time travellers to China as it ensures that you see all of China's main highlights in 16 days.
---
2. Gate1 Travel
No stone is left unturned with Gate1 Travel's tours which are a well-curated set that include hotel stays, most meals, internal flights, sightseeing tickets and English-speaking tour guides. Tours are quite active and can include international flights, upon request.
Best for: Active travellers, first timers
Cost: Mid-range
Our favourite itinerary: The 14-Day China with Chengdu & 3-Day Yangtze River Cruise tour takes the time to explore each city, with 2-3 night stays, and includes a relaxing cruise down the Yangtze over 3 days to finish off your trip.
---
Explore further on your dollar with small group tours that keep costs low by offering a mixture of accommodation and transport to suit even shoestring budgets. G Adventures offers 20+ tours ranging from classic itineraries to more active and youthful ones.
Best for: Adventure seekers, youth travel
Cost: Low-mid range
Our favourite itinerary: ISick to that budget with an 8-day Beijing to Shanghai adventure that won't cost more than $100 per day but lets you tick off highlights like the Great Wall, the Beijing Tiantan East Gate, Terracotta Warriors, Suzhou and The Bund.
Browse G Adventures tours
---
China Odyssey Tours focuses primarily on customised private tours around China that are tailor-made to fit your needs. From tours as short as a day to longer than three weeks, China Odyssey Tours covers all of the best areas in China and beyond.
Best for: Age 11+, private/customised tours
Cost: Mid-range
Our favourite itinerary: We love this 12-Day China Tour because it includes some time exploring Hong Kong before moving onto other star cities and attractions in mainland China.
---
5. Webjet
Most of Webjet's packages include return flights from Australia, luxury hotel stays, tours and activities, meals and transfers so everything is organised for you. You just need to choose your adventure.
Best for: Ages 2+, family, solo travellers, first timers
Cost: Budget.
Our favourite itinerary: Discover Beijing's most famous landmarks, ride a bullet train to Tai'an, walk the Great Wall of China and stay at a luxury 5-star hotel on the Wonders of China tour.
---
6. Nexus Holidays
Offering 5-star experiences at bargain basement prices, Nexus Holidays tours are easy on the wallet and fully customisable, making them a great choice for return visitors who know what they want and first-timers alike.
Tour packages include international flights, accommodation and tour.
Best for: Family, first timers, group travellers.
Cost: Budget
Our favourite itinerary: Get the best of both worlds with a land and water combo on the Yangtze River Delight tour. Take in the dramatic gorges, mountain villages and breathtaking scenery on a cruise along the Yangtze River, and visit some of China's best cities.
---
Does your company belong in this list?
Top tour companies for China by style:
Top China tour companies for private tours
Wendy Wu: You can explore China with a tried-and-tested tour or tailor an experience to suit your own style of travel. Either way, you can expect a first-class experience with one of the leading tour companies in China.
Monograms: Perfect for those who love to travel independently but without the stress of planning as you go. You'll be assigned a local host and have all the essentials organised for you.
Variants: Choose from carefully curated tours or use Variarts' insider knowledge to customise a tour that's perfect for you.
---
Top China tour companies for luxury tours
Wendy Wu: One of the biggest names in China tours, expect professional guides, an extensive range of tour options and the best possible care and attention while away with Wendy Wu.
Abercrombie & Kent: Jet journeys, cruises, small group or private tours, Abercrombie & Kent is a leader in luxury travel with over 20 tours from 3 days to 3 weeks in China.
Uniworld: Travel in the lap of luxury on a Uniworld cruise. The boutique river cruise specialist offers 3 China cruise-tours which includes internal transfers, accommodation, some meals and excurisons.
---
Top China tour companies for cycle tours
China Adventure Travel: As one of the largest adventure travel companies in China, you'll find plenty of award-winning group and customised tours, with a large selection of cycle tours.
World Expeditions: World Expeditions is a leader in adventure travel around the world, guiding small group tours across all continents including cycling tours.
SpiceRoads Cycling: This tour company is dedicated to cycling-only tours in 30 countries around the world, focusing as much on the journey as the destination.
Popular China tour routes
Western China (Tibet and the Silk Road)
Western China is one of the most popular areas for tours as it emcompasses Tibet and part of the Silk Road which is a famous trading route that connected the east and west. Most tours cover Lhasa, Drepung, Sera Monastery and Yamdrok Lake in Tibet.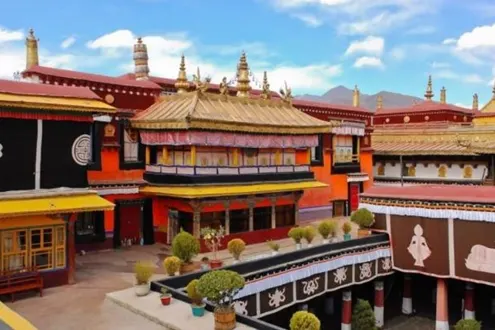 6-Day Central Tibet Culture
from TourRadar
Travel around Tibet on a discovery tour to see palaces, temples, monasteries and get a glimpse into local Tibetan life with stops for cultural shows. You'll also drive across the Gampala pass for jaw-dropping views of snow-capped mountains.
Tour company: Tibet Vista
Best for: First-time visitors to China with minimal time
Length of tour: 6 days
View details
---
Southern China (Shanghai and Shenzhen)
Southern China includes the iconic cities of Shanghai with its contemporary skyline and Shenzhen, a metropolis renowned for its amusement parks and wetland parks.
Most tours focus on these two cities; however, some also jump across to Hong Kong for something a little different.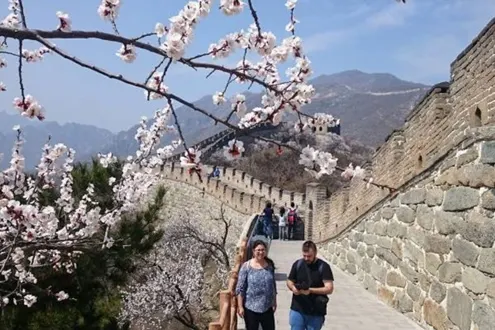 Best of China from Shanghai
from TourRadar
Visit historic sites in Beijing such as Tiananmen Square, try authentic local food, see the Terracotta Army Museum in Xi'an and walk the Great Wall of China. This tour starts in Shanghai.
Tour company: TravelChinaGuide
Best for: China highlights
Length of tour: 9 days
View details
How long do I need in China?
You could easily spend weeks travelling China and still not see it all. It's possible to see one or two highlights in five days, but you'd do better staying for an extended week (9-12 days) to blitz through the essentials.
If you'd prefer to take your time, give yourself three weeks, and if you wish to get off the beaten path or travel the Silk Road, schedule four weeks or more to dig deep into Chinese culture.
Top 5-day China tour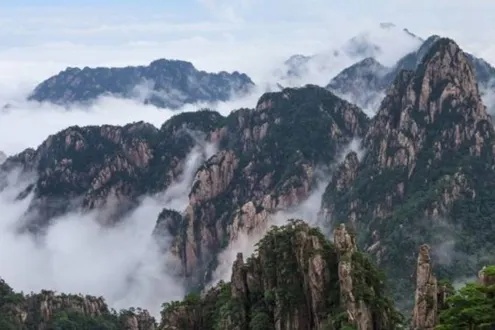 5-Day Scenic Yellow Mountain Tour
from TourRadar
Spend your short time in China experiencing something magnificent. This small group tour is relaxing and takes you through one of the nation's most picturesque sceneries. It includes transfers to and from Huangshan.
Tour company: ChinaTour
Best for: Travellers with limited time, off-the-beaten-track explorers
Places visited: Huangshan, Yellow Mountain, Xixian County, Shexian County
View details
Top 8-day China tour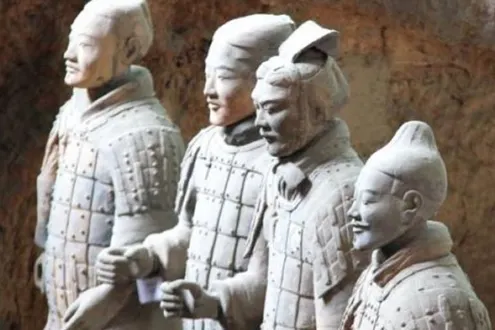 Luxury 8 days Golden Ring of China
from TourRadar
This small group tour covers three of the main highlights in China – Beijing, Xi'an and Shanghai – which will give you a taste of old and new China in a little over a week. You'll learn about the culture, the most famous points in history and see some of the tops sites in China.
Tour company: ChinaTour
Best for: First-time travellers with limited time
Places visited: Beijing, Xi'an, Shanghai
View details
Top 10-day China tour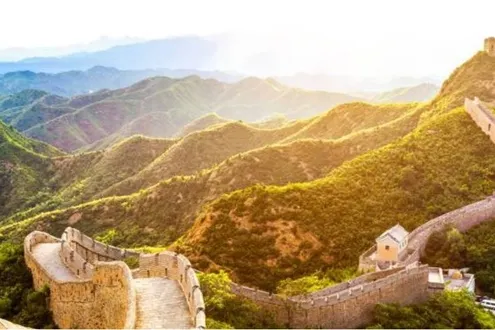 Best of China Adventure
from TourRadar
With 10 days in China you can squeeze in the top sites as well as a stop in Hong Kong. This tour is also a private tour that can be customised based on the sites you want to see between Beijing and Hong Kong.
Tour company: Discovery Nomads
Best for: Custom itinerary
Places visited: Beijing, Xi'an, Shanghai, Hong Kong
View details
Top 14-day China tour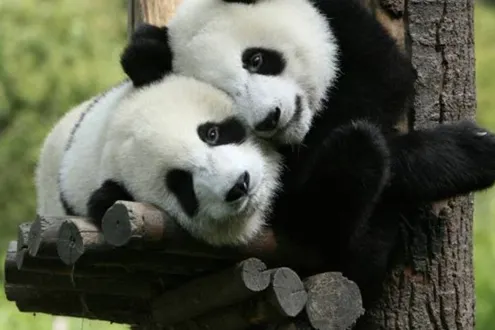 Great Wall and Pandas
from TourRadar
14 days will allow you to see China's top cities and sites in more depth and you can travel at a more leisurely pace. On this two-week tour you'll get to explore the Great Wall, see the Forbidden City and visit a panda research centre.
Tour company: On The Go Tours
Best for: China highlights and pandas at a leisurely pace
Places visited: Beijing, Xi'an, Chengdu, Shanghai
View details
Latest deals for China tours, flights and more
---