Best camping mattresses in Australia
Our expert team has done the research to find the best 6 camping mattresses in Australia.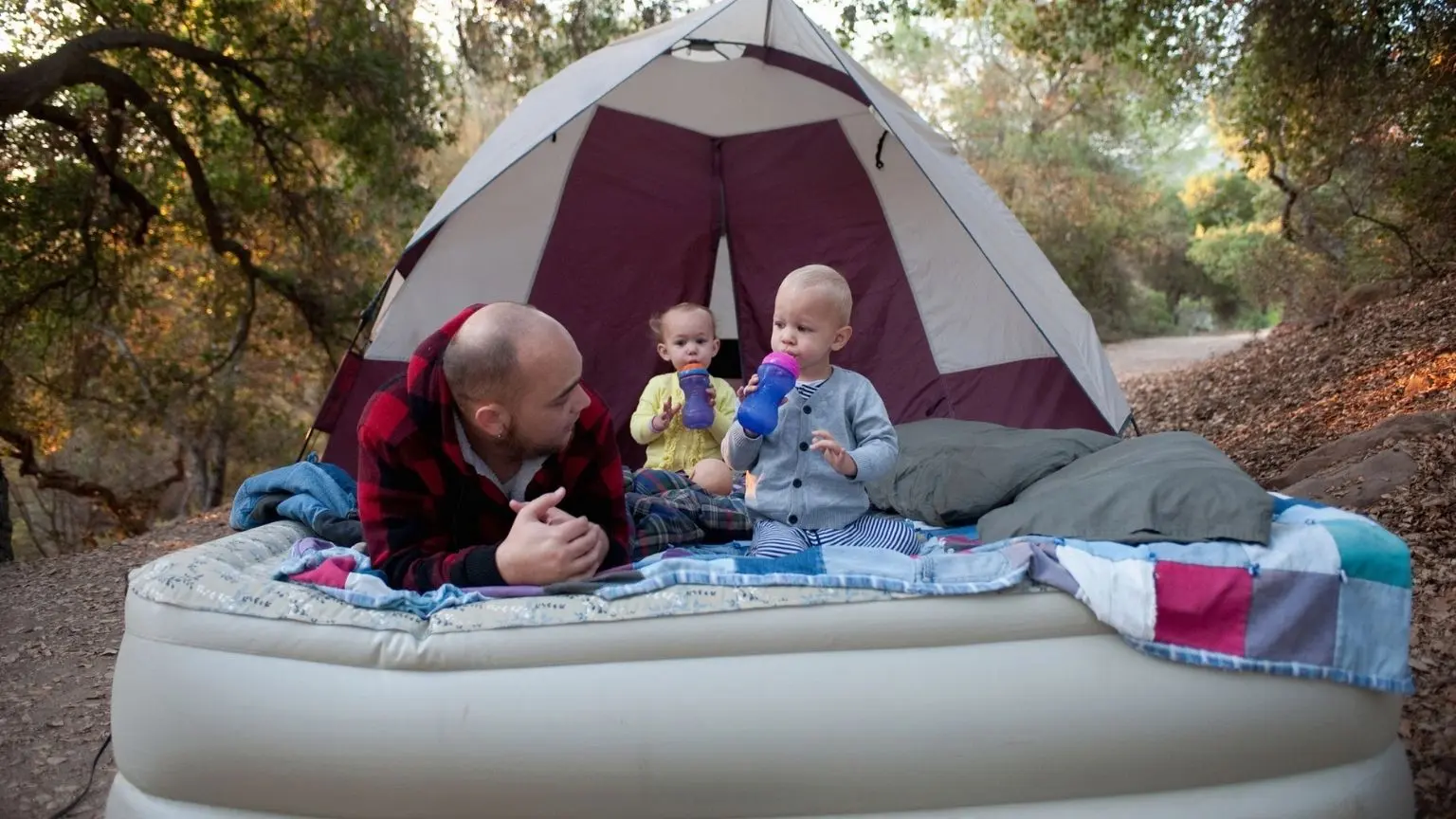 We're reader-supported and may be paid when you visit links to partner sites. We don't compare all products in the market, but we're working on it!
The best camping mattresses in Australia
How did we pick this list?
We chose these camping mattresses by combining hundreds of customer reviews on Amazon with our own many camping experiences. For each category we selected parameters based on our research and identified the mattresses with the highest review score within those parameters.
Read more detail on our methodology below.
Self-inflating
Light to carry
Narrow design may not suit everyone
On the expensive side
Price (RRP): $212.95
Buy at Amazon
Buy at eBay
Why we chose it
Most Therm-a-Rest mattresses are extremely well reviewed online. However, we selected this model as it received a rating of 4.6 out of 5 stars on Amazon and had the added bonus of the winglock valve.
Lightweight and durable, this mattress is the perfect all-rounder. It is easy to roll up and pack away, perfect when space is an issue. It comes with a storage bag and weighs less than 1kg, so it's a dream to carry around.
This is a self-inflating mattress, so no pump required. With the winglock valve, inflation is three times faster than with the previous model, and deflation even faster. The fabric is durable and with its 3.4-R value, campers stay toasty and warm in cold conditions.
This mattress is ideal for camping, hiking or backpacking and many online customers have commented on its overall comfort and warmth.
---
Good for side-sleepers
Suitable for all seasons
Not suitable for hiking/backpacking
Bulky when rolled up
Average online price: $141.57
Buy at Amazon
Why we chose it
We selected this mattress as it attracted a rating of 4.8 out of 5 stars on Amazon from over 1,200 online reviewers.
With a self-inflating air mattress, you want it to inflate and deflate quickly. This mattress does exactly that, thanks to its dual oversized air valves. It's also made of a non-slip material to hug your body and offers 7.5cm of foam for insulation and support. Plus, it consists of non-PVC materials, which means no plastic odours or annoying crinkly plastic noises.
This mattress rolls up easily into its own carry bag and has an inbuilt pillow for extra comfort and convenience. Many online reviewers found this self-inflating mattress incredibly comfortable, compact and ideal for camping.
---
Why we chose it
We chose this mattress, not only because it received a rating of 4.7 out of 5 stars from online reviewers, but it is also particularly ideal for couples who like to camp.
This superior mattress is designed to feel more like a bed than a camping mattress and provides incredible comfort and support. It self-inflates easily and can be pumped up to nearly 10cm off the ground. A mini pump is provided to top up or adjust the firmness.
The mattress is beautifully insulated and is suitable for all seasons. It comes in a long double wide size, which offers a luxurious edge-to-edge sleeping space of approximately 1.3m by 2m.
Packing up is easy and it comes with a height-adjustable roll top bag with a carrying strap, which also fits the pump and repair kit.
It is certainly one of the most expensive mattresses, but it is a top-quality product and well worth the investment. And if you've ever been camping with your partner, then you'll understand why this must be a consideration.
---
Very high off the ground
Comes with repair kit
Takes up space when deflated
Pump not included
Average online price: $147.66
Buy at Amazon
Why we chose it
We chose this mattress because it received a rating of 4.5 out of 5 stars from over 200 online reviewers. Not only that, it also attracted a great deal of positive feedback from customers with back issues.
Firstly, this air mattress is super thick and high off the ground, making it easier to get in and out of. It has a coil construction which gives better all-night support and a velvet-like surface for added comfort. Plus, it is made of thick multi-layer PVC, offering added durability and resistance to punctures. It can be inflated fairly quickly with an electric pump to whatever level of softness or firmness suits best. It also features a double lock valve to prevent leaks during the night.
Overall, it's an excellent option for those with bad backs, knees or joints. It can confidently double up as a spare bed at home for guests.
---
Can be rolled up and used as a seat
Good for backpacking/hiking
Not for super cold conditions
Minimal sleep comfort
Price (RRP): $117.95
Buy at Amazon
Why we chose it
When it comes to foam camping mattresses, this one is a winner, with a rating of 4.6 out of 5 stars on Amazon from 1,878 online reviewers.
This mattress is extremely lightweight, compact and a great option if you prefer a foam mattress. While very thin, the foam is softer on the top for comfort and denser underneath for insulation, greater durability and protection from the ground. Plus its coating along with heat-trapping dimples captures radiant heat and offers warmth at night.
With no inflating required, setting up the mattress takes less than a minute. It then folds up, accordion style, and packs away neatly, weighing just under 400g.
Naturally sleeping on a thin foam camping mat is going to be a different experience to an airbed, but many online reviewers say that this foam mattress provided a good night's sleep and suited their needs.
---
Durable design
Excellent value for money
Not suitable for super cold conditions
Not self-inflating
Average online price: $63
Buy at Amazon
Buy at eBay
Why we chose it
The cost of camping mattresses starts from as little as $10 and can go right through to about $800. However, when looking at the budget end, some are better than others in terms of quality and features. We chose this mattress as it offers a rating of 4.4 out of 5 stars on Amazon and is listed as its top-selling camping air mattress.
Inflating this mattress is quicker than many other cheaper options as no pump is required. It takes as little at 10 to 15 breathes and the valve is designed to prevent air leaking. It is also extremely lightweight, compact and waterproof. And its insulated top offers extra comfort.
Basically it has all the features a camping mattress needs for a lot less dollars. Many online reviewers have commented positively on how well this mattress performs and that it is definitely good value for money.
---
Methodology
13
Brands considered
35+
Products compared
6
Best products chosen
Our team researched camping mattresses widely by closely examining all available options available in Australia.
We pored over hundreds of online reviews (as of October 2020) and considered what we have learned from our personal camping experiences over the years.
The products on this list are chosen by our editorial team and are not selected based on commercial relationships.
More guides on Finder