15 of the best book-to-movie adaptations you can stream right now
Not all book adaptations are worth your while. These are the exception.
We're reader-supported and may be paid when you visit links to partner sites. We don't compare all products in the market, but we're working on it!
Adaptations don't always do a book justice. For every Gone Girl there's a Girl on the Train and for every Harry Potter there's a Vampire Academy. However, when it happens it's pure magic.
Not only can the flick perfectly capture the book's spirit, but it helps you love the source material even more. As long as the movie has a tight script and great cast, you'll want to watch it over and over again.
Plus, while reading is usually a solitary activity, movies can be watched with loved ones. They're a great way to share your favourite read with a friend who isn't much of a bookworm, but still appreciates a good story.
Here are some of our favourite book-to-movie adaptations available to stream in Australia.

1. The Irishman
---
Year: 2019
Cast: Robert De Niro, Al Pacino, Joe Pesci, Harvey Keitel
---
Directed by Martin Scorsese, The Irishman is based on the 2004 nonfiction book I Heard You Paint Houses by Charles Brandt. The story takes place in the 50s and follows a truck driver who gets involved with a crime family, slowly climbing the ranks to become a top hit man.
The epic gangster drama features an all-star cast and has an intimidating runtime. Even so, not one minute is wasted, with Scorsese once again on top of his game. The movie is worth the hype, offering an entertaining tale of mobster shenanigans, sprinkled with just enough depth to be worth your while.
WATCH NOW

RENT/BUY

Sorry, we've found no buying or renting options for this title.

CURRENT OFFERS

2. The Hunger Games
---
Year: 2012
Cast: Jennifer Lawrence, Josh Hutcherson, Liam Hemsworth
---
In a dystopian version of North America, the 12 districts of Panem must send a teenage boy and girl as tributes to compete in "The Hunger Games" as punishment for a past uprising. The Games are a twisted reality show where the tributes fight each other to the death, up to the point where only one victor remains. The story centres on Katniss Everdeen, who has to rely on her sharp instincts and hunting skills to survive in the dangerous arena.
The Hunger Games series remains one of the best young adult book-to-movie adaptations out there, as it perfectly captures the trilogy's gloomy atmosphere and raw emotion. The fact that author Suzanne Collins was on board to help write the screenplay probably didn't hurt. Factor in Jennifer's Lawrence undeniable acting chops and a hit was born.

3. The Silence of the Lambs
---
Year: 1991
Cast: Jodie Foster, Anthony Hopkins, Lawrence A. Bonney
---
Bringing Hannibal Lecter to the big screen is no easy feat, but The Silence of the Lambs pulls it off beautifully, offering a haunting tale of horror and suspense.
The story follows Clarice Starling, a young FBI trainee who interviews Hannibal Lecter in her pursuit to apprehend a serial killer. Lecter is himself a cannibalistic serial killer serving life behind bars, who just happens to be a brilliant psychiatrist as well. Unfortunately for Clarice, his insights don't come cheap.
This hypnotic adaptation will keep you glued to the screen thanks to its sheer intensity. Anthony Hopkins and Jodie Foster are both brilliant, showcasing their talent as they bring to life two memorable characters.
All in all, The Silence of the Lambs is a well-crafted, clever thriller not recommended for the weak of heart. Stream it immediately.

4. Trainspotting
---
Year: 1996
Cast: Ewan McGregor, Ewen Bremner, Jonny Lee Miller
---
Trainspotting centres on Renton, a heroin addict who has little prospects and a fairly pathetic life in Edinburgh. The movie details Renton's heroin-fuelled exploits and the shady ways in which he finances his habit, mostly with the help of his similarly tragic friends.
Based on Irvine Welsh's novel, Trainspotting became a cult hit, which was only made even more obvious in 2017, when a sequel was released to great success. Nonetheless, the original is still a must-see, especially if you're a fan of black comedies.
The movie is a terrifying, yet often funny portrayal of addiction. With Trainspotting, it's all about the atmosphere, as the flick perfectly captures the joy and misery of getting high. You'll be left with a hangover, that's for sure.

5. No Country for Old Men
---
Year: 2007
Cast: Tommy Lee Jones, Javier Bardem, Josh Brolin
---
Based on Cormac McCarthy's 2005 novel of the same name, No Country for Old Men follows a Vietnam veteran who makes the discovery of a lifetime when he stumbles upon $2 million in the aftermath of a Texas drug deal gone bad. He decides to keep the cash, which sets off a violent chain reaction as a merciless killer starts tracking him to recover the money.
The movie perfectly balances comedy and horror, but never goes overboard with either one. It's about American violence, so you'll need a strong stomach, but it's also an allegory about life and the doom that eventually awaits us all. Fun stuff.
No Country for Old Men features some amazing performances from Javier Bardem, Josh Brolin, Woody Harrelson and Tommy Lee Jones, each exquisite in their own way. If you like Westerns, you can't pass on this one.

6. Fight Club
---
Year: 1999
Cast: Brad Pitt, Edward Norton, Meat Loaf
---
"First rule of Fight Club is: you do not talk about Fight Club."
In this case, we'll make an exception. An adaptation of Chuck Palahniuk's popular novel, the movie centres on a depressed man who meets a charming stranger on a business trip.
Together, they form an underground club where men can fight other men without any judgement, all in an attempt to bring some excitement to their otherwise boring lives. As one expects, mayhem ensues.
A mix of satire and social critique, Fight Club is so much more than a movie about men bonding through violence. Visually gorgeous, the film perfectly captures the discontent and anxiety plaguing many of those desperate to discover life's true meaning. Maybe that's why it was such a huge hit.

7. L.A. Confidential
---
Year: 1997
Cast: Kevin Spacey, Russell Crowe, Guy Pearce
---
If you're a fan of clever thrillers, this one should be at the top of your must-watch list. Based on James Ellroy's 1990 novel, L.A. Confidential follows a group of LAPD officers back in 1953 and explores Southern California's criminal underbelly during a time when Hollywood was still seen as the capital of glamour and sophistication.
The cast should be enough to catch your eye, as it includes Kim Basinger, Kevin Spacey, Guy Pearce, Danny DeVito and Russell Crowe.
The novel's complex story of crime and corruption is brilliantly brought to the screen, ensuring viewers can follow the story without having read the novel. That's impressive, given that a lot happens over the course of the flick, yet it somehow still feels like it's over too soon.
Everyone delivers top-notch performances, to the point where it's impossible to say who comes in at number one. Our money is on Basinger.
WATCH NOW

SUBSCRIBE

Sorry, we've found no streaming options for this title.

CURRENT OFFERS

8. The Devil Wears Prada
---
Year: 2006
Cast: Anne Hathaway, Meryl Streep, Adrian Grenier
---
It's not often that a movie ends up being better than the book, but this may be one of those rare instances. That's mainly thanks to Meryl Streep as a cutthroat fashion editor and Anne Hathaway as an aspiring journalist.
The movie is based on a novel by Lauren Weisberger and centres on Andie, who lands a job millions of young women would kill for: assistant to one of the most diabolical faces in the high-powered fashion magazine world.
The Devil Wears Prada is half satire, half melodrama, telling a tale as old as time that will resonate with anyone who hated their boss at one point or another. It's engaging and fun, but the film's main appeal lies in Streep's magnetic performance. If you're a fan of her work, you can't skip this one.

9. The Hate U Give
---
Year: 2018
Cast: Amandla Stenberg, Regina Hall, Russell Hornsby, Anthony Mackie
---
After Starr Carter, an African-American teenager, witnesses the shooting of her childhood best friend by the police, she faces all sorts of pressure from the community and struggles to stand up for what's right.
The movie, based on the powerful young adult novel of the same name penned by Angie Thomas, proves that the genre has plenty of potential to tell hard-hitting stories. Amandla Stenberg is a revelation in the lead and a force to be reckoned with. She plays a teenager finding her voice with skills and vulnerability, offering a performance for the ages.
All in all, The Hate U Give is relevant, raw and emotional. Regardless of whether you're a teen or an adult, you should tune in immediately.
WATCH NOW

SUBSCRIBE

Sorry, we've found no streaming options for this title.

CURRENT OFFERS

10. True Grit
---
Year: 2010
Cast: Jeff Bridges, Matt Damon, Hailee Steinfeld
---
True Grit is based on Charles Portis' 1968 novel of the same name.
After an outlaw murders her father, feisty 14-year-old Mattie Ross hires a trigger-happy lawman to help her get revenge. They join forces with a Texas Ranger and together the trio venture into hostile territory to dispense some Old West justice.
Moving and unpredictable, the movie excels thanks to delightful banter, brutal gunfight sequences and gorgeous cinematography. Hailee Steinfeld is perfectly cast as Mattie Ross, but the entire ensemble is superlative, as it features the likes of Josh Brolin, Matt Damon and Jeff Bridges.
All in all, True Grit is a true Western, appealing to veteran fans of the genre and newcomers alike, since the unusual trio's adventures never fail to entertain.

11. Silver Linings Playbook
---
Year: 2012
Cast: Bradley Cooper, Jennifer Lawrence, Robert De Niro
---
Adapted from Matthew Quick's novel, Silver Linings Playbook is fast-paced, addictive, thought-provoking and highly enjoyable.
The movie follows Pat, a bipolar man recently released from a mental institution, keen to get back on his feet and determined to win back his estranged wife. He meets Tiffany, a recent widow who convinces him to enter a dance competition with her.
The two get closer and struggle to figure out a way to cope with their problems. After all, life doesn't always go according to plan.
Silver Linings Playbook is crazy-good, as it completely revitalises the rom-com genre by injecting some much-needed realism into the story. It's about how happily-ever-after entails finding someone willing to live with your lunacy instead of being hell-bent on "fixing" you, which is refreshing and poignant. Plus, the cast is the stuff of dreams – it includes Bradley Cooper, Jennifer Lawrence, Robert de Niro, Jacki Weaver and Chris Tucker.

12. To All the Boys I've Loved Before
---
Year: 2018
Cast: Lana Condor, Noah Centineo, Janel Parrish, Anna Cathcart
---
A Netflix hit, To All the Boys I've Loved Before is based on Jenny Han's 2014 novel of the same name, the first in a series.
The story follows Lara Jean, a high school student whose life takes a wild turn when a bunch of love letters never meant to see the light of day are mysteriously mailed out. What comes next is a bit of fake dating, some minor family drama and enough cuteness to keep you glued to the screen.
To All the Boys I've Loved Before is a heartwarming flick with delightful performances from everyone involved. As a result, it makes for light and funny viewing. The sequel, To All the Boys: P.S. I Still Love You, is also streaming on Netflix.
WATCH NOW

RENT/BUY

Sorry, we've found no buying or renting options for this title.

CURRENT OFFERS

13. Schindler's List
---
Year: 1993
Cast: Liam Neeson, Ralph Fiennes, Ben Kingsley
---
Schindler's List isn't a feel-good movie, but it's a must-see one. Based on the novel Schindler's Ark by Thomas Keneally, it follows Oskar Schindler, a businessman who saved over 1,000 Jews from sure death during the Holocaust by employing them in his factories, which caused him to lose his fortune in the process. It's a true story, brilliantly brought to the big screen thanks to Steven Spielberg's skilful showcasing of humanity and compassion.
One of the most powerful portraits of World War II, Schindler's List is about an anti-hero who succumbs to his inner goodness. But it's also about death, grief, terror, violence and empathy.
The realism and attention to detail make the movie difficult to watch, true. However, it's the type of outstanding film everyone should see at least once.
It will likely stay with you for a long, long time.

14. The Fellowship of the Ring
---
Year: 2001
Cast: Elijah Wood, Ian McKellen, Orlando Bloom
---
Granted, you should watch the entire trilogy, but we'll focus on the first one for now. Based on J. R. R. Tolkien's work, The Fellowship of the Ring centres on Frodo, a hobbit living in the fictional world of Middle-earth. Assisted by a fellowship of heroes, he embarks on an epic quest to destroy the One Ring and, consequently, its maker – the Dark Lord Sauron.
The Lord of the Rings trilogy is a cinematic triumph and the first movie flawlessly introduces the world and mythology. In short, it does the source material justice. Although faithful to the books, the adaptation does omit some of the story, so we advise you read the novels as well to experience even more Middle-earth goodness.
WATCH NOW

SUBSCRIBE

Sorry, we've found no streaming options for this title.

RENT/BUY

Sorry, we've found no buying or renting options for this title.

CURRENT OFFERS

15. The Godfather
---
Year: 1972
Cast: Marlon Brando, Al Pacino, James Caan
---
Considered one of the best movies of all time, The Godfather is based on Mario Puzo's novel of the same name. The story, taking place over 10 years, chronicles the happenings within a New York crime family, with an emphasis on the transformation of one of the boss's children from reluctant outsider to ruthless mafia boss.
With Marlon Brando and Al Pacino delivering glorious performances and an epic story, there's no wonder The Godfather is one of the most imitated and frequently quoted films in modern history.
The movie exceeded all expectations, quickly becoming one of Hollywood's greatest critical and commercial successes. Not only that, but it stands the test of time and can easily be enjoyed today, thanks to a compelling narrative and great cinematography.
If you haven't seen it yet, what are you waiting for?
This week's streaming deals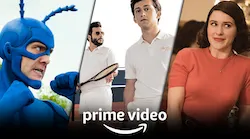 FREE TRIAL: 30 days of Prime Video's premium TV shows and movies for free
from Prime Video
Prime Video's free 30-day trial will give you instant access to thousands of premium TV shows and movies.
View details
More guides on Finder
Stream the best and save