Best Australia tours for locals and visitors alike 2022
There's no need to stitch together an Australian itinerary with these tour matches that are perfect for you.
We're reader-supported and may be paid when you visit links to partner sites. We don't compare all products in the market, but we're working on it!
We'll be blunt: there is no easy way to tour all of Australia in one go. This absolutely breathtaking country is too large for that, but we found a few alternatives that can show you all of the highlights, including the insane natural beauty of Tasmania, the traditional ways in the outback, the almost untouched beaches of the west coast and the bucket list destinations on the east coast.
Find a tour for a short holiday or a long one to the destination that you've been dreaming of discovering. We've got you covered no matter your travel style or destination wants, plus killer deals for extra savings.
Our favourite Australia tour companies
---
G Adventures is all about small-group travel, offering various styles for those who want a classic adventure trip that is dedicated to giving back to local communities.
Best for: Eco-enthusiasts, adventures seekers
Cost: Mid-range
Our favourite itinerary: You really can't go wrong with the classic Best of the Red Centre & Eastern Australia tour, which combines the must-sees in the outback and the east coast.
See G Adventures tours
---
Whether soaking up the sun on a sailing or surfing experience or going walkabout in the untamed outback, Contiki has adventurous packages that will leave you with smiles, like-minded travelling friends and memories for a lifetime.
Best for: 18-35 year olds, backpackers
Cost: Low-mid range
Our favourite itinerary: Beach bums will lap up the Sun Seeker With Sailing tours that provide you with the iconic experience of sailing the Queensland coast, capturing its World Heritage sites and working on that golden glow.
See Contiki tours
---
3. Scenic
Unwind and experience the best of the country in comfort and style with Scenic. With Scenic, all perks and privileges come standard as do 5-star hotel stays, unsurpassable cruise and rail transport, and as many free choice activities as you can muster.
Best for: Couples, families, seniors
Cost: High-range
Our favourite itinerary: Discover the beauty of Tasmania with Scenic's Ultimate Tasmania touras it takes you across the island from Hobart and Port Arthur to Cradle Mountain and Freycinet National Park with exceptional guides, meals, transport and accommodation all included.
---
4. Bamba Experience
Don't tick off sights, tick off experiences with Bamba as your guide. Whether you're new to the country or are seeking to explore your own backyard, you can enjoy activities such as safaris, diving, 4WDing, group sailing, camping and more.
Best for: 18-35 year olds, solo travellers
Cost: Low-mid range
Our favourite itinerary: Taking DIY out of your hands, the Kakadu Adventure is a no-frills, three-day tour that takes you there and back while providing you with enough choice and freedom to leave you feeling complete.
---
5. Intrepid
Intrepid joins Adventure Tours Australia and Peregrine Tours as some of the biggest names under the Intrepid Group. All offer small-group tours across Australia to allow travellers to connect with local indigenous culture and wildlife while catering to your fitness level, budget and general travel interests.
Best for: All ages, adventure seekers
Cost: Mid-range
Our favourite itinerary: This short but sweet Red Centre Adventure tour is perfect for those who have limited time but want to explore the main highlights of the outback.
---
6. APT
An innovative Australian tour company operating since the 1920s, APT is dedicated to showing travellers around Australia, especially destinations that are less travelled or harder to reach through 4WD adventures, luxury escorted tours and cruises.
Best for: Luxury, middle-age, seniors
Cost: High-end
Our favourite itinerary: We love the Kimberly Complete with Coastal Cruise tour because it takes you to 31 lesser known destinations between Broome and Darwin.
---
Other companies that tour Australia
Adventure Tours Australia
Ultimate Travel
Nullarbor Traveller
Discovery Nomads
Globus
Great Southern Rail
Xplore Eyre
Fun Over 50
Casey Australia Tours
A&K
Ultimate Travel
Does your company belong in this list?
Top tour companies for Australia by style:
Top companies for Australia eco-tours:
Nullarbor Traveller: Enjoy South Australian adventures with a dedication to the environment and sustainability. Many tours involve camping, bush walks and hiking.
Under Down Under Tours: For nature-based trips around Tasmania that feature national parks and coastal walks, Under Down Under Tours has escapes from two to eight days.
Adventure Tours Australia: Choose from dozens of tours all over Australia with a focus on nature and indigenous culture, on partnerships with local communities that offset its carbon emissions, and on collaborations with environmental organisations.
---
Train and rail tours
Globus: A well-known and trusted travel tour operator, Globus offers train journeys in Australia that are sometimes combined with other destinations such as Fiji.
Great Southern Rail: Great Southern Rail is a tour operator that specialises in train journeys across the country to see cities, nature, wildlife, beaches and more.
---
4WD
Intrepid: Experience small-group overland travel by jeep or 4WD in Western Australia and the Northern Territory.
Xplore Eyre: Xplore Eyre is an eco-certified small-group adventure company with overland tours through South and Western Australia.
APT: Enjoy small-group luxury 4WD tours that explore all over Australia.
---
Singles/solo tours
Contiki: Geared to under 35s with a penchant for adventure and sociability, Contiki brings solo travellers together on trips that are longer for the chance to interact more.
Bamba Experiences: With a slogan that reads "Independence Travel Made Easy!", going solo offers hop-on hop-off and adventure tours that allow you to spend as little or as much time in the company of others as you want.
G Adventures: Solo travellers won't feel like they're surrounded by cliques with G Adventures, which features small, intimate groups without that "party" setting.
---
Hiking and active tours
World Expeditions: Hiking pursuits are the name of the game at World Expeditions, which is a leader in responsible adventure travel and has the biggest selection of hiking tours throughout Australia.
Intrepid: For something a little more tame, Intrepid has hiking tours for the more casual adventurer that range from desert style hikes to coastal walks.
: With a dedicated "trekking and hiking tours" style, G Adventures makes it easy for you to filter and determine your next overland travel tour.
---
Seniors
Scenic: Luxury tour company Scenic travels by coach or cruise for those who prefer to drink in the scenery while keeping activity at a minimum.
Casey Australia Tours: This tour operator has coach tours for seniors that are designed for affordability to give maximum options from hiking to helicopter flights, boat cruises and more.
Fun Over 50: These specialists in tours for seniors offer itineraries around the country by coach, cruise or rail.
---
Luxury
APT: Discover Australia by coach, cruise, 4WD or rail with one of the most esteemed Australian tour companies in the nation. Tailor-made journeys are a breeze with sightseeing spots, modes of travel and specific experiences all capable of being dictated by you.
A&K: Find small-group guided luxury tours or have tours tailor made for you, whatever your budget or travel style.
Scenic: Luxury tours are the name of the game with Scenic, which offers high-quality tours with all the bells and whistles – from hotel stays to plane journeys within Australia.
---
18-35 year olds
Contiki: Contiki is one of the top tour companies for 18-35 year olds. It boasts a wide selection of tours around Australia with a particular focus on sailing and surfing activities.
Topdeck: Topdeck focuses on millennial travel and meeting new friends as much as it does on the destinations visited.
G Adventures: G Adventures has the option to go on small-group tours that are created specifically for 18-35 year olds.
Popular Australia tour routes
The East Coast
Australia's East Coast is almost always the first pick for first-time travellers to or around Australia as the typical route stretches from Sydney to Cairns (sometimes Melbourne is included too) and includes famous sites and activities such as sailing the Whitsundays, the Great Barrier Reef, tropical rainforests, heavenly beaches and prime surf spots in Byron Bay, Sydney and more.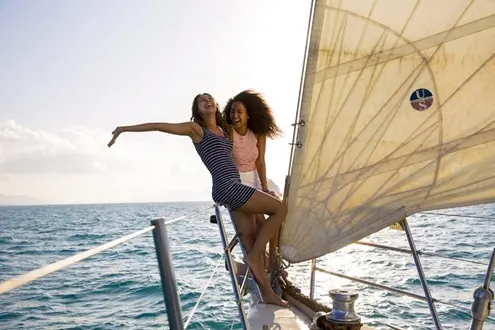 Beaches and Reefs with Sailing
from Contiki
This discovery tour focuses on the highlights of Australia's stunning east coast, between Sydney and Cairns. It includes Fraser Island, the largest sand island in the world, as well as sailing the Whitsunday Islands, sunning yourself on Surfers Paradise and chilling in Byron Bay.
Tour company: Contiki
Best for: First-time visitors/travellers around Australia
Length of tour: 14 days
View details
---
The Red Centre
The beacon of the Australian outback is Uluru, the spiritual red rock in the centre of Australia. But with the expense and distance to travel to the outback, many tours include routes around the outback that often have stops at Kings Canyon, Uluru-Kata Tjuta National Park and Alice Springs. Most are adventure and camping tours.
---
Alice Springs to Top End
Many travellers want to explore further than just the Red Centre and find themselves moving through the picturesque landscape of the Northern Territory to finish in Darwin. These tours typically include Uluru and Alice Springs but might also tack on Katherine, Litchfield and Kakadu National Parks.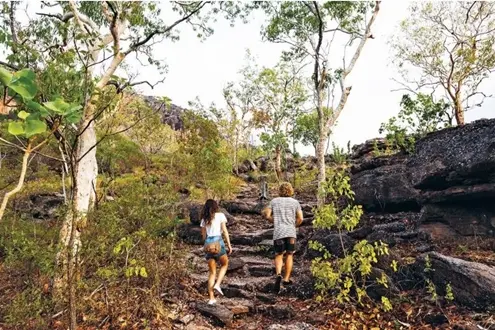 Alice Springs outback adventure
from Contiki
This tour will take you through the outback and north with a heavy focus on nature as multiple national parks are visited. It's a great tour that includes the main highlights of the outback along with less visited sites for a more unique experience.
Tour company: Contiki
Best for: Millennials, outdoor adventure
Length of tour: 11 days
View details
---
West Coast of Australia
Australia's lesser explored West Coast brings in visitors wishing to experience clear blue waters and almost untouched nature. Tours typically start in Perth and go as far north as Broome or even into Darwin to explore the Kimberley Coast.
The average itinerary includes Coral Bay, Exmouth, Cape Range National Park and Karijini National Park. Other tours focus heavily on Western Australia's major wine regions such as Margaret River.
---
How long do I need in Australia?
Australia is not an easy country to travel if you only have a limited amount of time, but it can be done. We suggest breaking up the country into smaller sections so weekend trips can be taken or longer two- to three-week long journeys can be made to max out that annual leave.
Some examples for shorter trips are to the outback, tropical northern Queensland and the Great Ocean Road/Grampians.
If you wish to travel Australia in depth, then some destinations only require a week of travel such as Tasmania, South Australia or parts of the west coast. Others, such as the east coast or the western route from Perth to Darwin, require a minimum of two to six weeks (or more!).
If your goal is to see the entire country, your best bet is to rent a car or caravan and spend a few months driving around. You could also combine tours together that hit all of the highlights which could be done in two months of travel at a decent pace.
Latest deals for Australia tours, flights and more