Best almond milk in Australia 2020
The sweet, nutty alternative to regular milk has surged in popularity and we can see why. But which one should you choose?
We're committed to our readers and editorial independence. We don't compare all products in the market and may receive compensation when we refer you to our partners, but this does not influence our opinions or reviews. Learn more about Finder .
Introducing...
our top picks for
best almond milks
in Australia 2020
Almond milk is a great dairy alternative - especially if you're lactose intolerant or are vegan, allergic to soy or even on a strict paleo diet.
But with almond milk so hot right now, and so many brands on the market, how do you choose the best brand for you?
Our pick of popular almond milks 2018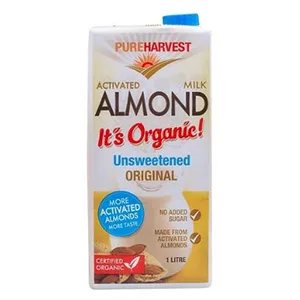 Claiming activated almonds and no added sugar, this almond milk is definitely one to consider. It's certified organic, GMO-free and gluten-free, as well as being suitable for vegans. With no artificial colours or flavours and no cane sugar this almond milk can almost claim to be guilt free.
Cost per unit (1L): $4.55
Back to top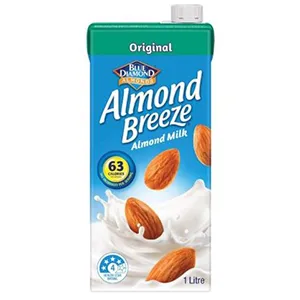 Blue Diamond almond milk is a particularly creamy milk alternative, with a four-star health rating. It has no cholesterol and comes in at just 63 calories (or 263 kilojoules) per serving, so you can enjoy a tasty drink without being too worried about intake. Available sweetened and unsweetened.
Cost per unit (1L): $4.54
Back to top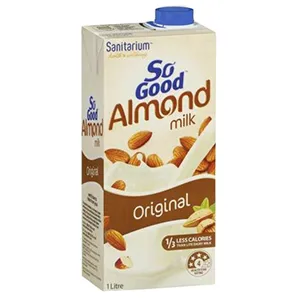 Sanitarium almond milk has a four-star health rating. With no artificial colours or flavours, it's a smart choice for the health-conscious especially if you're on a restrictive diet. So Good almond milk is also high in calcium and is a good source for vitamin B2, E and B12.
Cost per unit (1L): $6.17
Back to top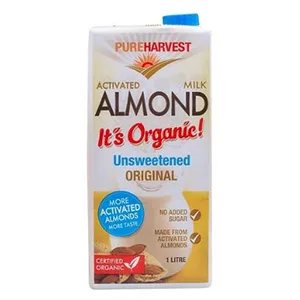 Vitasoy almond milks are all made from Australian-grown almonds, with no added sugar, artificial colours or preservatives. The unsweetened almond milk has a four-star health rating and has 215 kilojoules of energy per 250mL serving.
Back to top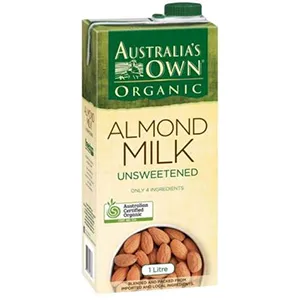 If you're after an organic almond milk, Australia's Own almond milk carries the Australian Certified Organic bud logo. With no added cane sugar, it consists of organic almonds, water, organic agave syrup, organic sunflower oil and salt.
Cost per unit (1L): $5.84
Back to top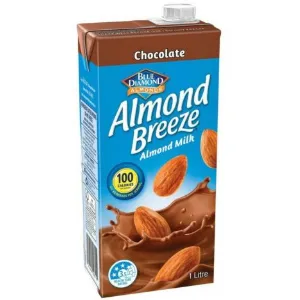 We all crave chocolate now and then – maybe more now than then, if we're honest – and this chocolate-flavoured almond milk is a delicious treat that's also good for you. It's suitable for vegans and has only 100 calories in each glass - did we mention it's chocolate-flavoured?
Cost per unit (1L): $4.94
Back to top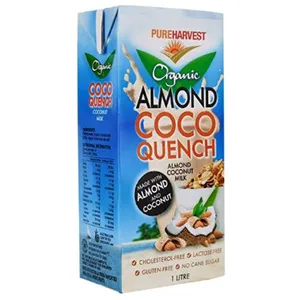 If you like almond milk and coconut milk, why settle for one or the other? The Pure Harvest Organic Almond Coco Quench Milk is the best of both worlds. It's organic, GMO-free, gluten-free, vegan and contains no added cane sugar or artificial colours and flavours.
Cost per unit (1L): $6.55
Back to top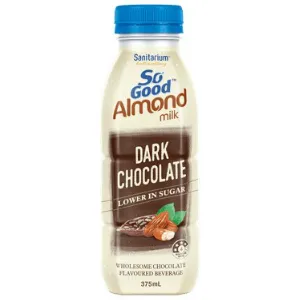 The word out there is that dark chocolate is pretty good for us and in combo with this creamy almost milk, we are totally here for it. The dark chocolate-flavoured So Good Almond Milk is great because it combines the health benefits of almond milk and the delicious taste of dark chocolate. With a four-star health rating, you can't go wrong!
Back to top
Where can you buy almond milk?
If you're on the hunt for almond milk, you'll want to check out your local Woolworths, Coles, IGA or even ALDI. Most grocery stores will carry at least one brand for you to choose from. You've also got to narrow down whether you want to buy a long-life or chilled product – this will play into how long your almond milk lasts, so consider your circumstances before buying. You can also order your almond milk online either direct from the producer or from an independent grocer, or even make your own if you're feeling inclined.
Back to top
What are the nutritional benefits of almond milk?
Almonds on their own are a rich source of protein and if you're on a plant-based diet that can really help boost your intake. In addition, you'll also get the benefit of fibre, calcium, iron and other minerals as well as antioxidants that will help your overall health. However almond milk can contain a lot less protein almonds alone and cows milk. (the brands with the highest levels sit at around 2 grams of protein per 100mls but many are far less) so if you want to maximise your protein choose a brand with a high almond content.
And if you're determined to get more out of your almonds, we recommend switching to a higher protein almond milk for your morning (and afternoon!) coffee, and to snack on whole almonds them throughout the day as well.
Back to top
Almond milk is so hot right now
Not long ago when it came to 'milk' our choices were limited to full fat, low fat skimmed or none at all. But these days plenty of cafes and restaurants offer soy, rice, coconut and almond milk as well.
The rise in popularity for almond milk is due to the rise in popularity of vegan and paleo diets and can be a godsend for anyone who needs a lactose-free diet too.
Throw in the nutritional benefits of the almonds, and a sweet nutty taste means almond milk is a delicious alternative for even the most die hard dairy fan.
Is almond milk vegan?
Finding tasty, healthy alternatives to milk products can be tricky for vegans, but the good news is that most almond milks are vegan.
It's a good idea to check the ingredients label before you buy in case there are additives that aren't plant-based, or you can use our recipe to make your own from scratch. Almond milk can be used to make ice cream and in baking too.
Does almond milk go off?
Almond milk does eventually expire, but the shelf life is considerably longer than the other dairy alternatives, especially if you purchase a shelf-stable products. These can be put away in your cupboard for months, and it's only once you open that they must be consumed within seven to ten day
Refrigerated almond milk should be stored in the fridge and consumed within a week. You can tell if your almond milk has gone off by the consistency, smell and colour. If it starts to resemble yellow cream cheese it's time to throw it out.
How to make your own almond milk
If you're keen to try DIY almond milk the good news is it's surprisingly easy to make. (Though it's important to know that once you've bought the almonds it's not going to be much cheaper than the store bought versions. But it will be delicious.)
Ingredients:
Whole raw almonds (220 grams)
Water (660 mls)
(Makes approximately 700mls of almond milk)
Soak the almonds the night before with some sea salt and lukewarm water
Take the skin of the almonds off by pouring boiling water over them and peeling (this isn't required but can make it taste less bitter)
Use a blender or food processor to blend the almonds with the 660 mls of water
Strain the milk in a sieve to remove the almond pieces (you can buy special muslin bags for this at most health food stores)
Pop it in the fridge to chill, and then it's ready to drink
More guides on Finder