The best adventure games of all time on PlayStation 4
Strap in and grab your favourite DualShock 4 for these epic PS4 adventures.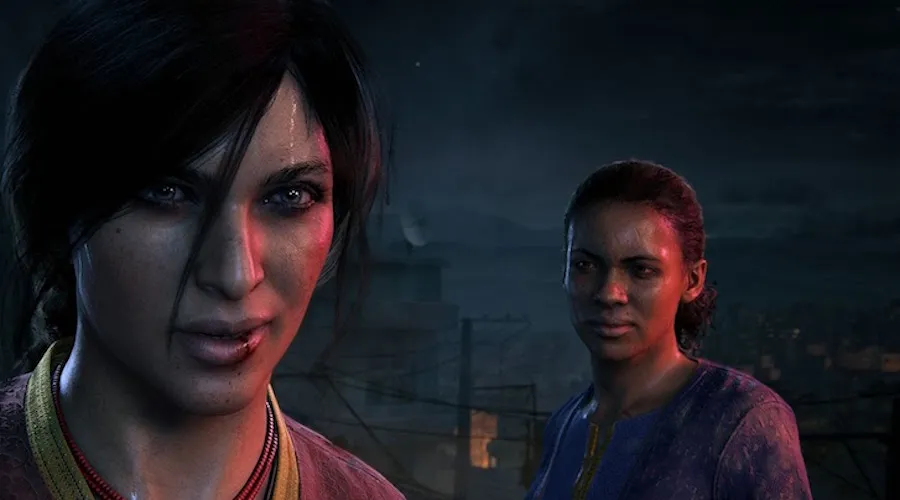 We're reader-supported and may be paid when you visit links to partner sites. We don't compare all products in the market, but we're working on it!
If you're a PlayStation 4 owner looking for adventure, you have a lot to choose from (I started with a shortlist had around 40 entries that have been whittled down considerably). That being said, let's talk about what you will and won't see here in this collection of the crème de la crème.
For this list let's steer well clear of sandbox action-adventures where a lot of the experience involves side quests and making your own emergent fun. If you want a story laced through kilometres and kilometres of open-air open-world, this article isn't for you. We're focusing on extra intimate narratives and more linear journeys today.
The Dark Pictures: Man of Medan
Fans of the horror classic Until Dawn had best put on the brown paints once again and take notice of this new series by Supermassive Games – an anthology project that's off to a cracking start with Man of Medan.
This time around we're shelving the remote winter locale and that group of poor-decision making teens for something a bit more mature.
The gore fodder here are five 20-somethings who have set sail on a diving trip holiday. They're out to screw with maritime laws by looting an unexplored wreck. They manage to dig up a lot more than they bargained for...
Aside from a fascinating 2-player co-op mode (that lets you share in the stupid, fatal choices) this is Until Dawn all over again.
Think: gorgeous, hyper-realistic graphics and gameplay broken up into "butterfly effect" chapters. Essentially, every seemingly innocuous item you interact with, or word you say will affect your survival chances.
Only this time you're handed premonitions on what could go wrong next (though some of these are devilishly framed to lure you into even worse mistakes). Genuinely scary and moderately priced, Man of Medan comes highly recommended.
Control
If you're after a mind-bending narrative that is X-Files levels of weirdness, then look no further than Control.
Developed by Remedy (creators of Max Payne and Alan Wake), this third-person shooter tells the twisted tale of Jesse Faden, an answer-seeking civie who blunders into the titular Bureau of Control.
In no time at all our heroine realises this shadowy organization is a nexus for an inter-dimensional experiment gone wrong. Worse, the role of Bureau Director gets mysteriously foisted upon her, along with a weird reconfiguring firearm whose primary exports are bullets and garbled alien messages.
Gameplay-wise, this is equal parts cover shooting and leveraging your ever-growing list of earned supernatural powers.
Honestly, being able to "Magneto fling" everyday objects into people's faces never gets old – especially when you grind the skill up to include enemy corpses and forklifts as projectiles. Couple that gratifying action with the thrill of sniffing through an Area 51 gone mad, and Control is damn fine action-adventuring.
Uncharted: The Nathan Drake Collection
Just to prepare you: you're going to see a lot of Naughty Dog developed titles in this list. Because whenever this talented team releases a game they more or less redefine the action-adventure genre all over again.
In fact, the three games that cemented this studio as trend-setters are in this very pack – Uncharted: Drake's Fortune, Uncharted 2: Among Thieves and Uncharted 3: Drake's Deception.
The middle entry in trilogy is worth the full price of admission alone, too, as it's still widely regarded as one of the best video games ever made. Period.
In terms of gameplay, The Nathan Drake Collection is more or less a swashbuckling interactive Indiana Jones movie. Our titular bounty hunting hero is adept at three things: solving ancient puzzles, blasting / punching rival grave robbers and platform leaping in ways that'll make vertigo sufferers uneasy.
The cherry on top of all that: some of the best script writing and voice performances ever committed to game disc.
Detroit: Become Human
Auteur game director David Cage is already well known for delivering unique gaming experiences like The Indigo Prophecy, Heavy Rain and Beyond: Two Souls.
With Detroit: Become Human he turns his attentions to the near-future problems of automation, synthetic humans and the growing irrelevancy of us, their creators.
Basically, this is a gorgeous looking, choice-driven adventure that will present you with an array of fascinating moral dilemmas.
The narrative is told from the perspective of three androids: Kara, a "maid bot" who defies her programming to protect an abused young girl; Connor, a Bladerunner designed to track his rogue brethren; and Markus, a messiah of sorts.
Whether these protagonists survive or get scrapped will all depend on your dialogue choices and reflexes during quick-time action moments.
This is slower-paced stuff, but you'll get your money's worth with an abundance of possible endings.
Life is Strange 2
RELEASE DATE: 27/09/18
DEVELOPER: Dontnod Entertainment
PUBLISHER: Bandai Namco
This episodic graphic adventure is shaping up to be a best in genre experience already.
Set three years after the events of the award-winning Life Is Strange, this sequel centres on 16-year-old Sean Diaz.
Without spoiling too much, he and his brother Daniel become fugitives and must make a perilous journey from Seattle to Puerto Lobos in Mexico. Basic elevator pitch: this is an interactive road movie, inspired by Into the Wild and Of Mice and Men.
The modus operandi of the original game is still very much in effect here. You're looking at a fairly linear adventure whose ultimate outcome will be shaped by you via a binary decision-making mechanic and dialogue options with non-player characters.
Well scripted and laser-focussed on the turbulent political landscape of modern America, Life is Strange 2 ought to be at the top of your to-purchase list.
A Plague Tale: Innocence
The biggest sleeper hit of the year so far. A Plague Tale centres on the bubonic ridden times of the 14th century and follows the grim tale of young Amicia and her little brother Hugo.
Forced from their castle and lands by the dreaded inquisition, these two diminutive heroes must struggle to survive in a French countryside overrun by piranha-like swarms of vermin.
Consider yourself warned: this is one adventure that's not for the squeamish.
All that being said, this is absolutely the game for anybody who appreciates nuanced characters, nail-biting stealth sections and lushly rendered environments.
This is a bit more action-oriented, too, so expect some light RPG elements, resource collection and the odd bit of ranged combat.
Bottom line: you're looking at 20+ hours of edge of your seat adventuring and an ending that will gnaw at you long after the credits have rolled.
Journey
RELEASE DATE: 21/07/15
DEVELOPER: thatgamecompany
PUBLISHER: Sony Computer Entertainment
This isn't even a remaster and for the longest time, I had this at the top of my list.
It's only because the PlayStation 4 release of this PlayStation 3 game hasn't had any changes (which felt like cheating) that this gem is so low on my list. Not that Journey needs any changes. It's already a perfect player-empowering adventure without it.
To date, I've yet to play a game that leaves me grinning like a kid playing a great game for the first time.
Journey ditches subgenre modifiers in favour of a pure adventure experience. There's little to no hand-holding, but it's not a hardcore game.
The whole point of the game is to discover what comes next in a subtly-told story. You'll occasionally come across other players in your world, but you can't do more than chirp at them to communicate.
Still, you'll feel compelled to work with them for mutual satisfaction in your joint adventure, even if that cooperation only lasts for a time. What isn't temporary is the memories of a game driven by its haunting soundtrack, that make for one of the greatest adventure experiences you can have in gaming.
Infamous: Second Son
RELEASE DATE: 21/03/14
DEVELOPER: Sucker Punch Productions
PUBLISHER: Sony Computer Entertainmnent
Buy at Amazon
You may be shocked to hear that I missed the original Infamous games. Despite hearing how amazing they were, I never got around to giving them a proper go.
I wasn't about to make that mistake again with Infamous Second Son. This new-gen Infamous picks up where the last-gen version left off.
Second Son is an open-world action-adventure game with a sci-fi twist: a Sucker Punch take on an X-Men story with a protagonist who's much more likeable than the way-too-serious Cole MacGrath.
There's plenty of heart in the main storyline, and plenty of interesting stuff to do outside of it.
Plus, there's an army of occupying fascists to dispatch in new and exciting ways, based on the new powers you unlock.
While I used to gush at how pretty the PlayStation 3-era Infamous games were, Sucker Punch took things to a whole new level with Second Son.
It's not crucial that it's a gorgeous game, but it sure helps immerse you in (weirdly named) Delsin Rowe's addictive world.
Uncharted 4: A Thief's End
Uncharted 4: A Thief's End is a great game, and even occasionally fantastic, even if it's widely agreed that the Uncharted series peaked with Uncharted 2.
Among Thieves does provide a Return of the King-like second ending to a cast of beloved characters in a fitting final adventure.
The fact that the usually bolted-on multiplayer is now must-play (and at 60fps) means Uncharted 4 is even more appealing.
Oh, it's also one of the prettiest games you'll ever play on PS4, and is more memorable (with more content) thanks to Uncharted: The Lost Legacy.
Oxenfree
RELEASE DATE: 31/05/16
DEVELOPER: Night School Studio
PUBLISHER: Night School Studio
A lot of these other adventure inclusions feel similarly themed, so it's good to have an option (well, two if I'm being honest) that has a prefix that's different to "action".
Cue the entry of Oxenfree, a horror-adventure game that'll haunt you long after you're finished. Thankfully, you're incentivised to return by the promise of multiple endings (and it doesn't take long to beat it once).
At last! An entry that ties into the choose-your-own-adventure book origins of the game genre.
PlayStation 4 owners had to wait patiently for a few months for Oxenfree to release, while Xbox One and PC fans raved about this unique adventure.
Oxenfree isn't particularly deep when it comes to gameplay mechanics, but the realistic convo options (including the option to cut people off) means you're constantly engaged with this stellar supernatural tale.
It may be almost entirely driven by dialogue, but saying that's a bad thing is like saying that nothing happens during the opening of Inglourious Basterds beyond two dudes talking.
Yakuza 0
Maybe you've never played a Yakuza game and feel you can gloss over this one. Don't do that. Yakuza 0 is the Yakuza game to play, whether you're a fan of the long-running series, or never touched it before.
First and foremost, Yakuza 0 is a prequel, which means you don't have to worry about watching hours of YouTube videos to catch up on the "previously in Yakuza" stuff.
Sega has built a fantastic backstory about a fascinating leading man, with a quirky splicing of drama and comedy. You'll stick around for the story, but you'll also appreciate the moment-to-moment gameplay, like the bone-breaking fisticuffs, or the bevy of attractive things to do on the side.
A strong offering of any of these elements alone could entice people to play, but the way they're masterfully balanced means Yakuza 0 feels like so much more than the sum of its parts.
Whether you're in it for one hell of a yarn, brutal brawls, hours of mini-games, or a killer soundtrack, Yakuza 0 punches all the right boxes.
Until Dawn
RELEASE DATE: 26/08/15
DEVELOPER: Supermassive Games
PUBLISHER: Sony Computer Entertainment
Buy at Amazon
Take note: this is how you execute a gamified interactive drama. I want to focus on that word "execute" because it's particularly relevant in Until Dawn.
You're being hunted and unfortunately for you and your in-game pals, you're the kind of teenagers who attract serial killers.
The story is pretty much cliché 80s horror territory, but that provides a safe backdrop for a game that plays out in a very unsafe way.
That unsafeness mainly applies to the characters' longevity and they can die horrible deaths if you make stupid decisions for them.
The thing is, you'll soon find yourself endeared to these weird and wonderful characters to the point where, when they die it's actually upsetting. Sure, you might want some of them to meet ugly fates more than others, but you'll fight to protect your favourites.
When you find yourself ranking the characters in terms of which ones you'd like to die least, you'll know that Until Dawn has you in its clutches. This is an adventure where your decisions can have big bloody consequences for the game's heroes.
Rise of the Tomb Raider
If action-adventure gaming has a name, it has to be Lara Croft. Lady Croft nicked Dr Jones' fedora and made such a compelling action-adventure franchise that Indiana Jones games felt like knock-offs of Tomb Raider games.
Then the series went stale. Cue the entry of a timely reboot from developer Crystal Dynamics and Lara Croft was back on track. Except the Tomb Raider 2013 was great but not amazing.
It seems the amazingness would be held back for its sequel Rise of the Tomb Raider. Not only does it remember that a Tomb Raider game should actually have some decent tomb raiding, it escalates Lara's next adventure in all the right ways.
The storytelling and characters are great. The action and set pieces are top-notch. The progression system and sprawling hub worlds are engrossing and engaging.
This, ladies and gentle-gamers, is how you make a sequel.
The Last of Us Remastered
The Last of Us Remastered is absolutely the best way to play one of the greatest games of all time. That's coming from someone whose primary gaming platform is a PC, and who was in truth more of a fan of my Xbox 360 than my PlayStation 3.
There's really only one fault with The Last of Us Remastered, a carry-over from the PS3 version, which only becomes a negative if you notice it, so I'm not even going to point it out. Outside of that, even at my nit-pickiest, The Last of Us Remastered is a delight.
That doesn't really encapsulate how heartbreaking it is, at times – in a very beautiful, very satisfying way – but it's so perfectly executed and so damn stunning on PlayStation 4 that the appeal to stop writing and just go play it again is so damn tempting.
---
More guides on Finder