Best acoustic guitars in Australia
Let our experts help you pluck a great guitar from the overwhelming online options.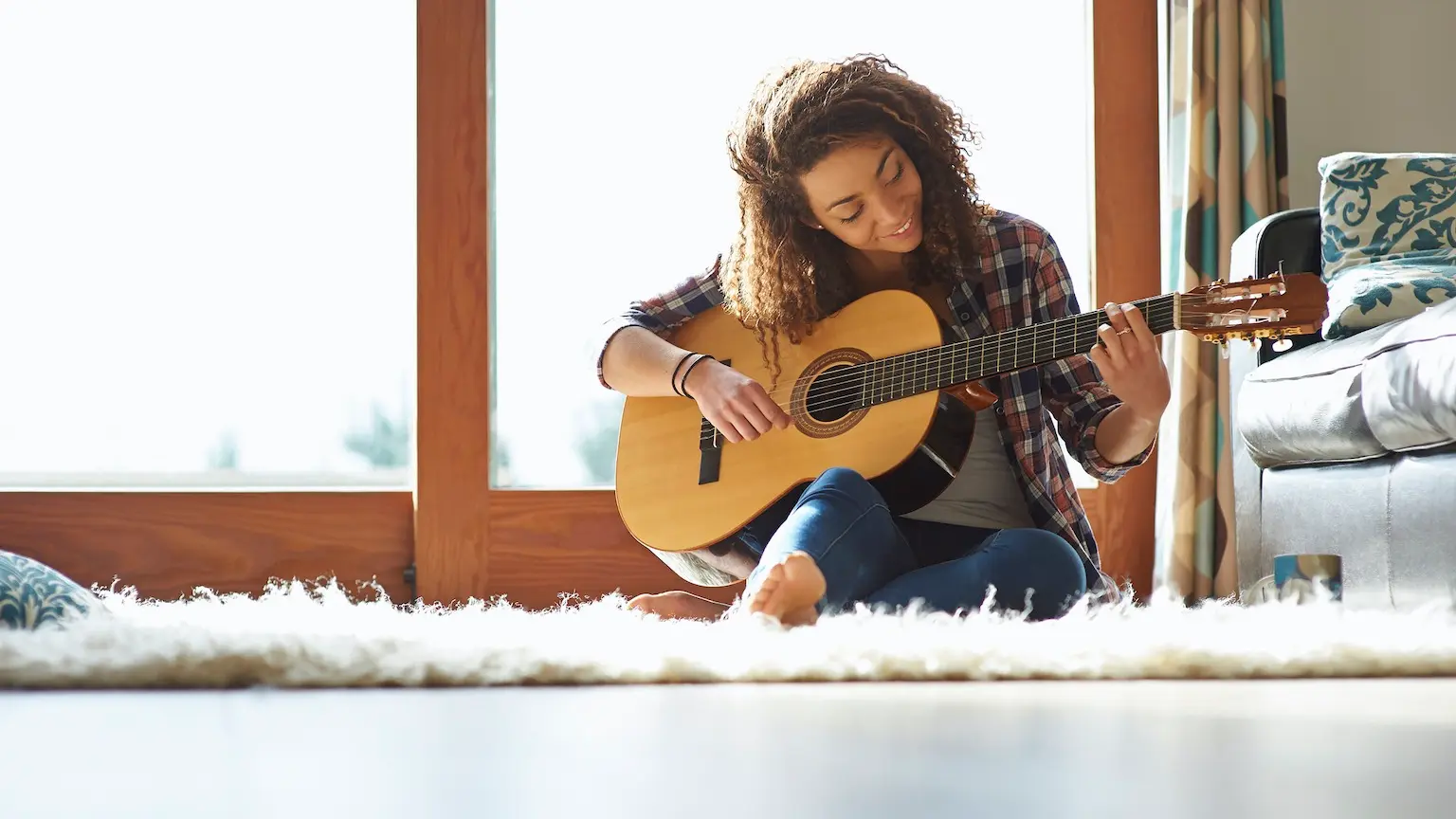 We're reader-supported and may be paid when you visit links to partner sites. We don't compare all products in the market, but we're working on it!
The best acoustic guitars in Australia
How did we pick this list?
The guitars chosen for this list are based on extensive research and real customer reviews. For each category, we carefully selected parameters based on our research and identified the products with the highest review score within those parameters.
Reviewers report it is lightweight, easy to play and has a pleasing tone
Striking colour makes it a great display/mounting choice
Some isolated reports of cloudy paintwork around the headstock
Some reviewers felt the body is deeper than expected for a 3/4 guitar
Price (RRP): $1,830
Buy at Amazon
Why we chose it
For those of you who want to skip the selection rigmarole and just get strumming with the best, Fender's Malibu Classic comes highly recommended with 4.5/5 stars (after 130 Amazon reviews). Rocking the distinctive Fender-exclusive Malibu body shape, this eye-catching turquoise number even comes with a protective deluxe gig bag to help keep it pristine.
Build-wise, you're looking at top-of-the-line, uncompromising master craftsmanship here. The Malibu Classic consists of natural solid mahogany bodywork and a painted top that's solid Sitka spruce. Last but not least, the innards include a Fishman-designed pickup/preamp set-up, and this premium instrument also comes with a warranty.
---
Reviewers report great sound/tone quality for the price
The neck is smaller, but there's still a normal-size thickness to it
Some reviewers feel the neck is too thin
The case is reportedly a little too snug for this instrument
Price (RRP): $326.35
Buy at Amazon
Buy at eBay
Why we chose it
If you're ok with making a small body size sacrifice, the S.Yairi Compact Acoustic Series Mini boasts 4.1/5 stars (after 147 Amazon reviews). Important note for owners of adult hands: though this is a diminutive 1/2 guitar, in the right (sized) hands, it can still produce pleasing results.
Spec-wise, you're looking at a primarily mahogany build with a walnut bridge, spruce top and chrome hardware. Also, depending on where you shop, you can usually pick up the YM-02 series in its standard walnut colouring, a lighter sandy tone or the always appreciated black.
---
Majority of reviewers report a pleasing tone for the price
This is quite a cost-effective, high-quality package deal
The odd reviewer reporting iffy connections with the onboard electronics
One reviewer questions the structural integrity (after dropping, mind you)
Price (RRP): $877.79
Buy at Amazon
Why we chose it
If you're after a decent acoustic-electric but you don't wish to pay absolute top dollar, the Glen Burton is a standout option with 4.4/5 stars after 772 Amazon reviews. It's quite impressive in terms of build quality and looks (it comes with a flame top, plus basswood back and sides). You're also getting a rosewood fingerboard and catalpa bridge and neck.
Better yet, it's sold in a cost-effective pack that includes all of the acoustic accoutrements. Along with the all-important soft case bag, you'll be covered for strings, picks and a strap. There's even a modest 10-watt amp as well as a handy clip-on tuner to keep you sounding spot on.
---
Many reviewers reporting good tone when used with the right amp
Reviewers report resonant sound despite the light-weight nature of this guitar
Some reviewers feel the bass dies too quickly for a flamenco-focused guitar
Some reviewers feel the action could be a little lower
Price (RRP): $1,373.51
Buy at Amazon
Why we chose it
If you're the sort of guitarist who expects and deserves nothing but the best, you'd be well advised to check out Cordoba's GK Studio Negra with its 4.3/5 star rating (after 32 Amazon reviews). As the eagle-eyed among you will have no doubt already gathered, this flamenco guitar is a signature model inspired by The Gipsy Kings. It's the Bamboléo business.
Protected by a Cordoba gig bag, this sumptuous instrument is comprised of Indian rosewood back and sides, and the top is European spruce. Onboard electronics are Fishman Presys Blend and you get the always handy in-built tuner as well. Lastly, it's nice that this comes pre-strung for action with some decent Savarez Cristal Corum strings.
---
Reviewers feel this is a solid example of a basic 3/4 classical guitar
Sturdy design makes it perfect for younger, less careful future musicians
Some reviewers noted a strong (initial) chemical smell to the product
The odd reviewer questioned the quality of the pre-strung strings
Price (RRP): $86.05
Buy at Amazon
Why we chose it
You have to start somewhere, and the overwhelming word on the street is that Pyle's Beginner 36" Classical Acoustic Guitar is a more than decent option with a 4.3/5 star rating (after 900 Amazon reviews). Once again, what we have here is a handy package deal that includes the major accessories you're going to need in the long run, such as a gig bag, tuner and spare strings.
Be aware that this is a junior scale six-string guitar, which is smaller than usual. All that being said, what's here is a solid, no-fuss construction of a linden wood body, birch headstock and a maple fretboard. It won't turn any heads, but it's a reliable workhorse design.
---
Ernie Ball strings will provide better tone than most factory-provided strings
Many reviewers reporting these produce soft, bright tones
Isolated reports of not getting all six strings in a pack
Minor reports of faulty string snapping on first tune up
Price (RRP): $14.00
Buy at Amazon
Why we chose it
When it comes time to re-string your favourite acoustic, you can't do much better than Ernie Ball's Earthwood Light strings with their 4.7/5 star rating (after 9,429 Amazon reviews). Built for clarity and rich sound, these are woven from 92% copper, 7.7% tin and 0.3% phosphorus wire. They'll last longer than most too, thanks to Element Shield Packaging.
Other benefits include individual packaging for each string, with every mini-bag providing clear identification to aid in quick installs (or to help newcomers who are still learning which thing goes where). The bottom line: in serious guitar circles, Ernie Ball stands a trusted, apex producer of strings.
---
Methodology
60+
Brands considered
400
Products compared
6
Best products chosen
Our editorial team compared guitars from brands found in major supermarkets across Australia as well as online retailers.
We examined hundreds of customer reviews and ratings as well as expert reviews.
The products on this list are chosen by our editorial team and are not selected based on commercial relationships.
More guides on Finder