Feel inspired to rock pink brows thanks to Benefit's Bold Is Beautiful Project
Image: Instagram user benefitaustralia
Empowering women and girls all over Australia to have big dreams, bold moves and pink brows.
Benefit Cosmetics has just announced the global philanthropy program, the Bold Is Beautiful Project. It's dedicated to empowering women and girls to help them believe in themselves so that they can reach their full potential. Wondering how you can help out and get involved? There is actually plenty you can do! During the month of May, 100% of the profits from Benefit Brow Wax services at Myer counters will be donated to three important and impressive charities.
Look Good Feel Better – It's a free national community service program dedicated to teaching cancer patients how to manage appearance-related side-effects caused by any type of cancer treatment. The entire program is run by volunteers and runs across the country.
Fitted For Work – It's an independent not-for-profit organisation that works on both pre and post employment services for disadvantaged women. The program helps women from all kinds of backgrounds and is also run thanks to the help from volunteers.
Sister2Sister – It's a youth development program that provides mentoring, workshops, support and crisis intervention services to vulnerable or disadvantaged teenage girls. The mentoring program is based on evidence and is informed by trauma.
So you can get your brows waxed, look fresh and fabulous and feel good because you are helping women all over Australia achieve more in their lives.
And did someone say pink brows? That's right beauty lovers, you can rock pink brows and empower women while doing so! Benefit have also decided to launch a special limited edition of the 3D BROWtones in a brand new shade – Magenta. It's available right now and can be purchased from all Myer Benefit counters for $43. So yes, it comes in pretty rose gold packaging but your brows will be tinted a fabulous shade of pink. And of course, all the profits from the sales will be donated to the Bold Is Beautiful Project.
Image: Supplied
---
Where to buy Benefit Cosmetics
---
Want to rock pinks brows? Shop to support the Bold Is Beautiful Project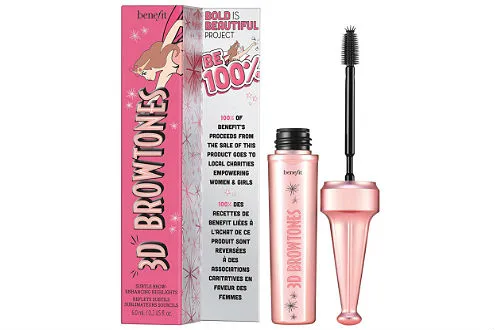 ---
The History of the Bold Is Beautiful Project
You may not have known, but this program has been running since 2015. This year, Benefit has pledged to donate $200,000 which will bring the total donation for the five years to 1 million dollars. Talk about impressive!
---