Belkin Active Pro Backpack review: Got it in the bag
Quick Verdict
Belkin's newest backpack matches up a lot of storage capacity with a relatively laid back style. It's comfortable to use as your daily laptop lugger, or for longer trips, as long as you don't regularly need to open it up wide.
Strengths
Lightweight
Lots of hidden compartments
Comfortable on the back even with lots of weight
Could be better
Small primary aperture
Plain visual design
---
Belkin's Active Pro Backpack is a good match for those with laptop carrying needs.
I'm rather thankful that the cult of the briefcase as a necessary part of business life is all but dead. Not that a briefcase can't deliver a certain level of style per se, but there's really only so much space in a briefcase, and they were essentially designed as document-carrying compartments.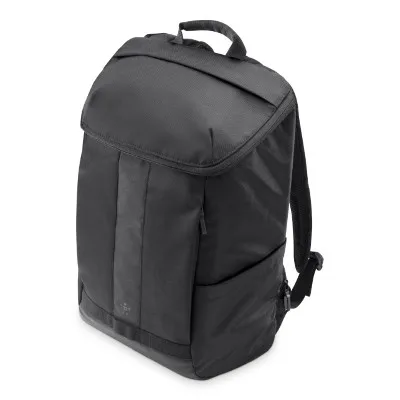 Buy a Belkin Active Pro backpack
from Amazon
Style and storage space come together in Belkin's tech-focused backpack. Grab one for yourself from Amazon Australia.
View details
These days, you're more likely to be lugging your documents on a laptop or tablet, and once you've put one of those in a briefcase, you're essentially out of space. Thankfully, there's no shortage of business-suitable backpacks that can cover both work and casual uses. Belkin's latest backpack is the Active Pro Backpack. It's been some time since Belkin offered a backpack in the Australian market, so what do you get for your money?
Design
Naturally, the Active Pro Backpack functions as a backpack, so in terms of its very basic function of essentially being a sack in which you can store things, it's perfectly fine. However, that's not enough in this day and age where a simple backpack can be had for under $10.
The Active Pro Backpack features a single primary compartment with a padded section at the rear of the backpack large enough to place a laptop up to 15.6" in size, although you will want to carefully measure out larger laptops to ensure that the backpack is large enough. Just about any regular 15" or smaller laptop will fit without fuss. Just in front of that section sits a smaller padded tablet enclosure and then the main body of the bag itself with a mesh enclosure and front mounted pockets as well.
However, these are only the most obvious parts of the Active Pro Backpack's storage features as it's all but impossible to twist the backpack and not find a hidden zipper, pocket or velcro-locked pouch to store further valuables. That's something of a mixed blessing because hidden compartments are ones you can place your wallet into for safekeeping and then... ahem... lose along the way. I speak from experience, and that's all I'm going to say about that!
Belkin actually sells a regular $69.95 version of the backpack dubbed the "Classic Pro Backpack", with a reflective strip on the body of the backpack, water resistant coating on the base of the bag and a loop for a bike light. These are features you won't find in the classic version. You can also get the Active Pro Backpack design in a messenger bag format if that's more to your tastes.
In terms of overall storage, the Active Pro Backpack performs well, taking most of my daily needs and leaving space for any intermittent daily pickups or purchases as well. Even after a number of hours on my back, the relative level of discomfort was low thanks to some fairly generous rear padding, although your spine's comfort level may vary. It's markedly better than a few very low-cost backpacks I have, and on a par with most decent quality bags I've used.
From a style point of view, the Active Pro is neither terribly extroverted nor massively conservative. In fact, in some ways it's rather plain to the point of anonymity, but that could be a plus if you want a simple bag that doesn't stand out. As always with style, it's a matter of personal taste
If I have one criticism of the Active Pro Backpack, it's in the overly vertical design of the bag. This is a backpack that's been designed with the idea that you'll vertically drop objects into it all the time. What that means is that the top zipper that gives you access to its contents only really loops around the top of the backpack. If you're after a backpack that allows for more of a complete unzip to accommodate larger objects than this small aperture does, you may find yourself struggling to cram your objects into the bag.
Verdict
The Active Pro Backpack is a perfectly acceptable backpack in a market that generally addresses the needs of laptop users pretty well. It's fairly priced at $79.99 and available through Harvey Norman stores.