Behold The Kickmen review: Does goals very well
Do you have what it takes to lead your team of Kickmen to victory?
We're reader-supported and may be paid when you visit links to partner sites. We don't compare all products in the market, but we're working on it!
Australians, on average, adore sports with a fever that I've always found somewhat fascinating. I don't adore sports and I've never quite been able to figure out if that makes me above average or below average. Maybe it's a mix of both? All I know is that the national obsession with watching (mostly) men do things to balls on (mostly) grass isn't quite for me. I just can't seem to be as passionate about it as my fellow countrymen.
That's an affliction that must also be the case for Dan Marshall, the developer behind titles such as
Ben There, Dan That!
and
The Swindle
, who set out to make a football (or soccer in the Australian context) game more or less by accident.
Get a new Xbox One controller for your PC from Microsoft Store.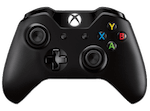 $79.95: Xbox One Wireless Controller
from Microsoft Store
View details
Behold The Kickmen started as a Twitter joke then grew to have a life of its own. Marshall's position all through development was that he knew nothing about football and didn't much care to learn, which gave him an immense flexibility when it came to interpreting how the rules of the game actually work.
I don't know what the "rules" of football are and I don't intend to look them up.

— Dan Marshall (@danthat) April 5, 2016
This infuriated a certain number of the football-adoring crowd, but was also very funny if you're not religiously attached to the sport. Or maybe even if you are, but clearly that wasn't me.
Twitter jokes aside, what Behold The Kickmen does is present a single player, top-down-based football game with a heaping dose of satire on the top of it.
You're first charged with creating your player and his team, which is always "Whatever-name-you-choose United". Within seconds, I had created the mighty Booty Mcboot and his team, Boots United. There's a loose soap opera storyline that sees young Booty seeking out the truth as to what happened to his father, one of the finest Kickmen of all time, as Boots United attempts to get to the top of the Big Boring Football Spreadsheet and defeat the nefarious Brazil United.
No, I have no idea what Brazil did to deserve that particular honour, but there you go.
Marshall's cavalier attitude to the so-called "rules" of football meant that Behold The Kickmen really isn't like any modern football game you've ever played. In many ways, it feels like a throwback to much earlier 8-bit and 16-bit games, where the limitations of technology meant that more complex AI and player moves were impossible.
There's an obvious comparison to the classic Sensible Soccer to be made here, but the AI reminds me more of Match Day II, in that there's not much of it to be seen from either your team or the opposition. That's quite deliberate, as is the decision to have the field be circular and to have the offside rule be a random event where one complete side of the circular field (left or right) is suddenly, after a warning period, out of bounds. End up there with the ball in your possession and it's an automatic red card for your offending Kickman.
In other words, everything that makes up traditional football is second fiddle to the game's conceit, whether that's extra time clocks that appear at random and must be collected if you want to continue a match or the fact that you "do" more goals (and yes, that grammar is game-accurate) if you kick from further away. It's arcade football, rather than any kind of serious simulation, and all the better for it. This means that sliding tackles are present in glorious slow-motion and goals are celebrated by the umpire walking up to the goal-scoring Kickman and giving him a big friendly kiss. D'awww!
Progression in Behold The Kickmen involves powering up your team, which is paid for by cash you earn in each match. It's not just a matter of doing more goals. You must string together passes, tackles and fancy sidestep moves before you do each goal. This is made tougher by the fact that when you start at the bottom of the Big Boring Football Spreadsheet, your players don't even know how to pass the ball. Those are fancy skills learned after each victory, which also serves to teach you the game if you opt to skip through the text-heavy (but very amusing) tutorial.
There's no multiplayer in Behold The Kickmen, and in some ways that feels like a missed opportunity. But even within its very tongue-in-cheek arcade stylings, and especially at the low price point that it commands, there's enough here to keep even sports-apathetic types like me happy. Will you keep playing it incessantly and ignore this year's crop of FIFA or Pro Evo games? It's probably not likely, but you'll have more than enough fun with Behold The Kickmen anyway.
We reviewed Behold TheKickmen on Xbox One with a copy provided by the publisher.
Behold The Kickmen
7.0 VERY GOOD
What we liked...
Great surreal take on football
Slow motion tackles are a joy
Great writing
What we didn't like...
No multiplayer
Menus are mouse controlled, but the game uses a controller
Fails to address the underlying issues that led to the Sino-Prussian war of 1792
VERDICT
Football purists might find the relentless disregard for the rules annoying, as well as the satirical take on the hype around the sport itself, but Behold The Kickmen really shows how they should loosen up and go with it.
While it started as a joke, Behold The Kickmen has some fine, if slightly under-polished, arcade football action at its heart. It's hard not to be taken in by the rapid-fire action and it'll be hard to resist that "just one more match" to even the score. Given its very low price point, that's a huge plus. If you love sports games, or even if you don't, it's an easy recommendation.
Available for
For more information on how finder scores games, check out our review guidelines.