The ultimate beginners guide to running. Can you spare 30 minutes to get fit?
Are you new to running? No problem! Follow these simple steps to help you get your jog on this running season.
We're committed to our readers and editorial independence. We don't compare all products in the market and may receive compensation when we refer you to our partners, but this does not influence our opinions or reviews. Learn more about Finder .
How often should I be running? How far should I be running? Should I be running at all!? Running is a great activity to kick start your fitness, and the great news is that you can do it all at your own pace, quite literally. Whether you want to start training again for a 5k run coming up later this year, or you simply want to get fit, we've outlined some key tips and ideas to help you through the process.
Sites to buy activewear & gym gear online in Australia
---
Planning your running schedule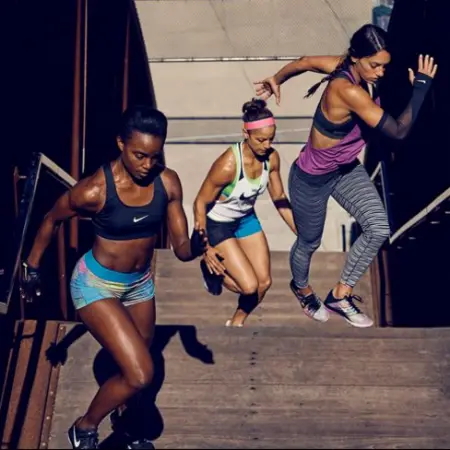 Planning your running schedule is important for two reasons. Firstly, it helps you build your training up so you're constantly pushing yourself. Secondly, it makes running doable within your day-to-day schedule.
Aim to set aside enough time to exercise for about 30 minutes, ideally three to five times a week. This can be hard to start with but once you get into a routine, you'll wonder what you did with all your time before you began training.
Another important thing to remember when you start to plan your training schedule is to start small and progress as you improve your fitness levels. Running non-stop for 30 minutes is totally attainable, but you will need to work your way up to it. Taking a gradual approach toward training also reduces the risk of injury. No-one wants to start running and then need five days to recover from their first run, so gradual please, people!
Nutrition is also a key consideration. It's always best to try and eat something about 45 minutes before you go for a run. Some people find running on an empty stomach suits them better, but if you do start feeling weak, then make sure you try and eat something before the next run. Even half a banana could give you the extra energy you need to power through your training. If you decide to go running after work, maybe have a bite to eat before you leave work so that you have time to digest before running.
---
Get kitted out
One major advantage of running is that you won't need to spend hundreds and hundreds of dollars on sports equipment. The most important thing is to have a decent pair of running trainers. And when we say "running trainers", we don't mean fashion trainers. Trust us on this one.
Wearing the wrong kind of shoes when running can cause problems such as shin splints, back pain, knee damage, or you could even lose a toenail! I know everyone wants to look super cool when working out – and you can – but make sure you buy some proper running trainers.
When it comes to gym pants and cute T-shirts, knock yourself out! Check out the Beyonce range in Topshop: Ivy Park. Also ladies, be sure to get a very supportive, properly-fitted sports bra. No-one likes back pain, right?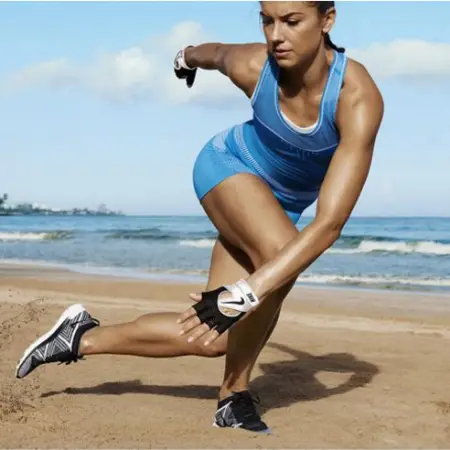 ---
Top stores to get running trainers
---
Four week running schedule
Week 1:
Warm up (5 minutes of jogging. Just get the blood pumping, and get erm...warm!)
Run for 3 minutes and walk for 1 minute
Repeat this 7 times = 28 minutes of working out
Cool down
Do some stretches
Repeat this three to four times in week one.
Week 2:
Warm up
Run for 4 minutes / walk for 1 minute
Repeat this 6 times = 30 minutes workout
Cool down
Do some stretches
Repeat this three to four times in week two.
Week 3:
Warm up
Run for 6 minutes / walk for 1 minute
Repeat this 5 times = 35 minute workout
Cool down
Do some stretches
Repeat this three to four times in week three.
Week 4:
Warm up
Run for 10 minutes / walk for 1 minute
Repeat this 3 times = 33 minute workout
Cool down
Do some stretches
Repeat this three to four times in week four.
Once you get to week four, you should be able to add a few minutes each time you go out for a run. Increasing your training time and intensity gradually will help you reach your goal of running for 30 minutes. Go you!
---
Quick tips
Rest is important. Your muscles need time to heal too, so take days off in between runs.
Know your ability - you should be able to speak without running out of breath. Go at the right pace for you.
Think about doing other exercise to support your training, such as cross training, cycling, walking more, swimming.
Posture is very important and engages your core. Give those abs a workout too!
Use a foam roller for particularly painful or tight muscles.
Listen to your body. If you're getting a cold, for example, take time off and recover before exercising again – especially if you're running outside.
Eating healthy is very important too. Make sure you're getting your nourishment from fruit, vegetables and lean meat.
Run with friends and make plans to meet people in the park. You are more likely to stick to your plan if you're accountable to someone else.
---
Sports coupon codes and sales
Popular Active Wear coupon codes
| Last checked | Code description | Code |
| --- | --- | --- |
| 26 Oct 2020 | 10% off when you spend over $200 | FIN**** |
| 26 Oct 2020 | 15% off | FIN**** |
| 26 Oct 2020 | 40% off everything | PRO**** |
| 17 Sep 2020 | 15% off site-wide | FIN**** |
| 4 Sep 2020 | 50% off standard shipping | HAL**** |
---
More guides on Finder