Beats Powerbeats Pro Review
Quick verdict: If the lighter sound and style of Apple's AirPods leaves you cold, consider the Powerbeats Pro to be their better sounding, more muscular cousins.
Comfortable fit
Great battery life
Balanced sound
Travel case is huge
Audio controls may not work on Android
No charger in the box
May need to play with bud choice to avoid discomfort
Only sweat, not water resistant
We're reader-supported and may be paid when you visit links to partner sites. We don't compare all products in the market, but we're working on it!
Beats as a brand has long traded on its image, its particular bass-heavy tuning and its headphone style above all else.
The Beats Powerbeats Pro take a different path, and it's not hard to see them as the first "Apple" Beats headphones, even though Apple has owned the headphone maker for a good long time now. They're one part Beats ideology, one part Apple technology, and the end result is a quite compelling set of mostly fitness-focused headphones.
If you're interested in the latest generation, we have also reviewed the Beats Studio Buds.
---
Design
Large earpieces
You may need to play with bud size to get a comfortable fit
Carrying case is immense
Heavy carrying case
Many sport-centric wireless headphones concentrate on being tiny, with the theory being that smaller headphones will be less of a distraction when you're working out.
That's not the way that Beats went with the Powerbeats Pro headphones. They're larger earpieces that are somewhat reminiscent of some hearing aids, were it not for the prominent Beats logo on each earpiece. I tested with the black variant, which is what we'll see in Australia at first, although other colour variants will come to the market later in the year.
Each earpiece has a flexible fixing loop that fits neatly behind the ear. I wear glasses, and these are often problematic, but the softer flex of the Powerbeats Pro headphones meant that they were rarely uncomfortable in that way.
One area you may need to tweak for comfort is in the bud size you use. I typically find that the default buds on most headphones fit my ears quite well – not so with the Powerbeats Pro. I found after a while my right ear canal became quite uncomfortable. Switching to a smaller dual flange set (as found in the box, along with larger and smaller buds) fixed the comfort problem neatly.
Beats claims that the Powerbeats Pro are their smallest and lightest set to date, being 17% lighter than the Powerbeats 3 Wireless headphones. Without a set to compare to, I can't entirely comment on that, but I will say that through both casual day-to-day use and a few running workouts, they've stayed comfortable throughout.
The flip-side of this is that they're anything but subtle when you're wearing them. I've had more than one person assume I was wearing hearing aids while they were in, although my own lack of hair probably didn't help to hide them much.
It's also worth noting that the Beats Powerbeats Pro headphones are IPX4 rated, which means that they should be able to survive your sweat, but not necessarily getting all that wet. Bluetooth while swimming is a bit of a non-starter anyway, and I can attest that you can sweat into the Powerbeats Pro without causing them grief. However, running in heavy rain would be done at your own risk.
---
Performance
Wide range audio, not just thumping bass
Integrated Siri for iPhone users
Works with Android – but only in a rudimentary fashion
Beats has a reputation for delivering... well, beats, really. The difference between many headphones comes down to the audio equalisation, and Beats has always tended towards delivering a more bass-heavy experience than many competing headphones.
I'll be honest here and say that I wasn't entirely looking forward to that part of testing. Not that I don't appreciate a good thumping bass track, but simply because so many previous pairs of Beats I've used have accentuated bass to the detriment of the overall soundscape. Great for grungy rap (no surprise there), not so great for other musical forms.
However, the Beats Powerbeats Pro subverted my expectations with an audio balancing that works well across most music types. On The Beatles' I Want You (She's So Heavy) you'd expect most Beats headphones to simply accentuate that slow and deliberate guitar work, but it also picked up the drums and other instrumentation with great and highly enjoyable delivery.
Paul Kelly's harmonica work on Dumb Things came through just as clearly despite its much higher range. The mournful piano work in Cold Chisel's classic Choir Girl presented well as did the contrast between the heavy drum beats and the quieter guitar in the intro to Prince's Purple Rain.
Switching up styles and going for a run, the electronic distortion that forms so much of the Beastie Boys' Too Many Rappers kept me energised and running at a good pace. Cooling down afterwards with Suzanne Vega's Tom's Diner revealed just how well the Beats Powerbeats Pro headphones handle softer material.
The one caveat here is that the Powerbeats Pro doesn't feature any kind of noise cancellation. Any noise isolation is somewhat coincidental, too. There's an argument that this may be desirable on a set of fitness headphones so you don't get run over by a truck. Nobody really wants that. What it does mean is that if you're after a set of commuting headphones, you might want to opt for a different pair.
The Powerbeats Pro are, in effect, a more muscular set of the new generation Apple AirPods, right down to the use of Apple's own H1 chip for Siri integration if you're connected to a compatible iOS device. It's even hands-free if you're happy to leave the Powerbeats Pro listening all the time.
The experience on Android is a little more mixed, depending on your connected device. Using a Huawei P30 Pro, I could get the Powerbeats Pro to work fine as headphones, but the volume buttons on either earpiece would only intermittently work. The call/cancel buttons did work every single time. However, on a paired Samsung Galaxy S10 5G, volume controls and the call/cancel buttons worked just fine. Naturally, there's no sign of Siri if you're not within the Apple ecosystem.
---
Battery
Very easy all-day battery life for most users
Tricky to get into the charging case
Why no included charger or wireless charging option?
Apple's claim with the Beats Powerbeats Pro is that they'll run for up to 9 hours between charges, with the battery case providing a further 2 charges before it conks out.
That battery-life figure will depend on how heavily you use them as well as on volume constraints, but I haven't hit a working-day situation where I've been able to run them flat. That should be enough for everyone save for ultramarathon runners. Even there, you could opt to run with just one of the Powerbeats Pro headphones in your ear and swap them every 9 hours to keep on going.
However, it's not all good news on the battery life front. These are Apple products through and through, and that means that charging for the battery case is via Lightning connector. You do get a Lightning connector in the box, but not an actual charger. The idea is that you'll use your existing phone charger, but that feels just a little stingy for a set of headphones that retail at $349.95.
What's also missing, even though the second generation AirPods support it, is wireless charging. The fat black blob of a charging case would dwarf many wireless charging pads, but it would still be a very welcome inclusion. I suspect we might see that on the Beats Powerbeats Pro 2 headphones, whenever they appear.
---
Verdict
Sounds great for day-to-day or workout use
Best suited to Apple users
For the longest time, owning and using a pair of Beats headphones was as much about the fashion statement as the music, if not in fact more so.
The Beats Powerbeats Pro headphones subvert that equation and not in a small way. The Beats branding is positively subtle, and the overall music presentation is among the very best I've hit in wire-free headphones. They're much more capable than the standard Apple AirPods and are highly recommended, so much so that we selected them as the best wireless earbuds for bass.
---
Pricing and availability
The Powerbeats Pro headphones sell in Australia for $349 outright through Apple's website and selected retailers.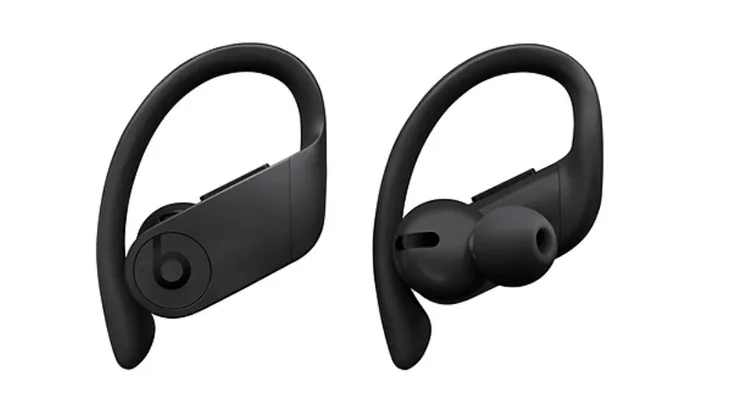 ---
Specifications
Build
Colours
White, Black, Blue, Moss
---
Connectivity
Bluetooth Version
Class 1
---
Features
Battery Life
Up to 9 hours
---
---
---