How to beat bill shock when travelling overseas
You don't want to return home from a holiday with a heavy phone bill, and if you're smart you won't have to.
We're reader-supported and may be paid when you visit links to partner sites. We don't compare all products in the market, but we're working on it!
Keeping in touch while travelling overseas is now easier and cheaper than ever before, but that phone bill once you get home can still bring you back to the real world with a thump. International roaming will automatically connect you to a local phone network in the country you're visiting, and it will automatically charge you accordingly.
You can be charged not only for the calls you make, but also for the calls you receive, including calls that are diverted to voicemail or MessageBank. Sending holiday snaps home via MMS might be easy, but each one costs much more than it does at home, and sometimes it can cost you to receive texts or pictures yourself.
The real kicker though is data usage, which can literally cost dollars per megabyte. Simply checking your email, updating Facebook or checking Yelp for some dinner ideas can chew through your allowance. Fortunately, following a few simple tips can help you spend your holiday fund on fancy dinners and tourist attractions, rather than on downloads you might not even see.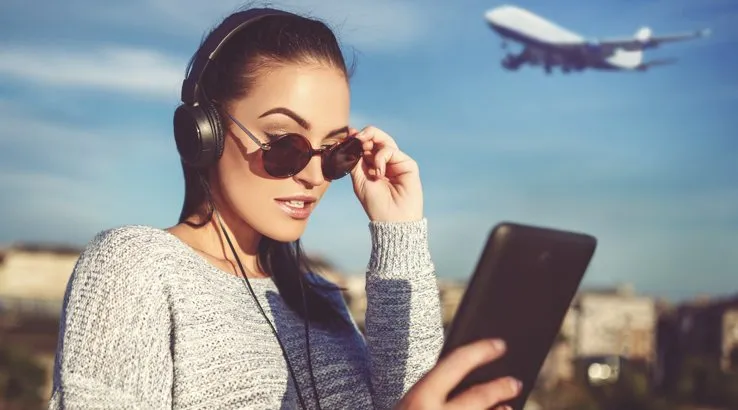 Tip #1: Purchase a travel-friendly SIM card
One obvious choice is to pick up a new phone connection when you get to your destination. This can either be a cheap handset that comes preloaded with calls and data or a standalone travel SIM that you can use with a compatible (unlocked) handset you've brought from home. You could even use this foreign SIM in your everyday handset, but you won't be able to use your Australian number until you get back home and replace the SIM. If you aren't worried about people being able to contact you, this is an easy solution.
Compare travel SIMs
Whether you're on a contract or a prepaid plan, there are options to take your phone and your SIM with you around the world. This means you are easily contactable, and with a few simple tweaks, it shouldn't be too expensive.
Tip #2: Turn off data-roaming
The first thing you should do is to make sure you lock your handset so that you don't accidentally use any of that expensive data. Start by turning Data Roaming off on your handset.
On an iPhone, go to Settings>Mobile and switch Mobile Data to off, then go to Settings>Mobile Data Options and slide Data Roaming to off. Finally, select Enable 4G and turn that one off as well.
On an Android handset, the exact location can vary, but Data Roaming is generally somewhere like Settings>Wireless Controls>Mobile Network Settings. On a Google Pixel, it's hidden away under Settings>More>Mobile networks>Data roaming, and it's generally turned off by default (but it's always a good idea to check).
While you're at it, turn off all those little things that sit in the background of your smartphone and use up your data without you realising it. Turn off automatic updates or set them to Wi-Fi only, and turn off push notifications. Sorry, but you'll have to go a little while without checking your email as well.
It might seem counter-intuitive, but you should also turn off Location Services. Sure, the setting uses GPS (which is free to use), but it will also use mobile data for increased accuracy, so loading local maps can get expensive. If you really want to save data, take some time to look at which apps use all your data and change the way you use them. You can look for alternatives or simply uninstall the most data-hungry.
Tip #3: Buy a 4G hotspot
If you don't use your smartphone to actually call people, there is another option. Instead of buying a travel SIM or a new handset, you could buy a 4G hotspot with a data cap or pay-as-you-go plan that will throttle your bandwidth rather than charging ridiculous fees. Lock down your phone data as detailed above then connect your phone to your personal hotspot using Wi-Fi. You can still receive calls (but remember, you're paying for the privilege) and can even dial out using Wi-Fi messaging and calling apps like iMessage, Facebook, Skype, Viber, WhatsApp and Google Hangouts.
This solution is particularly useful if you are travelling with another person or in a group as you can all connect to the one hotspot rather than everyone needing separate local phones. However, remember that more people use more data, so budget accordingly.
A major drawback of the travel hotspot idea is that it does mean you need to carry (and charge) another device. Some hotspots time out after a certain connection period or simply go flat after just a few hours of use, so it's important to keep an eye on your power use as well as your data.
Tip #4: Buy a travel pack add-on for your current plan
International roaming charges and allowances vary widely from carrier to carrier as well as from country to country. Optus, Telstra and Vodafone offer a travel pack solution, a one-off payment that unlocks more flexible international roaming. Of these, Vodafone's roaming offering is the most simple: Pay $5 for each day you're overseas and you have access to exactly the same calls, texts and data as you'd have in Australia for the same price. As an added bonus, this setting is already enabled for Vodafone customers connected after April 23, 2014 and travel to New Zealand does not incur any extra roaming fees.
International travel can be an expensive pastime, but an undeniably enjoyable one. A little research before you leave can save a lot of money when you return.
---
Image: Shutterstock
More guides on Finder
Latest mobile plan deals on Finder