Battlezone Review: "One of the launch line-up's best"
Rebellion dusts off an old arcade classic and gives it a modern makeover for the launch of Sony's PlayStation VR.
We're reader-supported and may be paid when you visit links to partner sites. We don't compare all products in the market, but we're working on it!
Is the only way forward a step back? Battlezone was the first game I was ever shown on PlayStation VR; I liked it then and I like it now. In fact, it's one of my favourite games of the launch line-up. However, it's actually a reboot of the original Battlezone game that released on arcades way back in 1980, and it pays deep tribute to its roots. This is the kind of pure action experience you can imagine playing in an old Time Zone or in the dark halls of a theme park, where you might put in a few coins and sit in some elaborate tank-shaped case to get bombarded by big explosions and explosive sound for a few minutes. Except now you can do it sitting on your couch in VR, and there isn't a queue.
Battlezone benefits greatly from veteran developer Rebellion's laser focus on the central concept. Spawn in an arena; blast everything; get out. There's little in the way of story, while your goal is to battle through a neon wasteland from the cockpit of a heavily armed and armoured hovertank, taking out an army of AI opponents that level-up and grow more powerful as you progress. Make it to the end and destroy the Core AI, and mankind is saved.
When you jump into the campaign – whose length you can define – you choose your tank and are presented with a randomly generated hexagonal grid overworld. Each hexagon is an arena, filled with different objectives, obstacles, enemies, environments and designs. Each time you complete an arena's objectives, you are extracted back to the overworld and can plot your next move. So turn-by-turn, you choose your path through this map towards your goal, upgrading your weapons and your tank at supply points, and trying to weaken the Core AI's resilience by knocking down shields.
The idea is that the most direct route may not be the best. Shield hexagons are scattered about the map and require plenty of criss-crossing to take out, supply points may be off the beaten path and you're not sure which will have that upgrade available you desire. Super-challenging Nemesis Tanks lurk the overworld, moving and chasing you down. You can launch probes (earned by levelling-up or purchased with in-game currency) into surrounding hexagons to get an idea of what to expect within, but I couldn't help feeling that the most direct route was always your best option -- especially as the longer you take to get there, the more the enemy AI levels up.
I do hope that Rebellion play with this post launch and maybe makes it impossible to be strong enough to defeat the Core AI if you go direct. The game needs something to force players into making more considered choices when defining their path, and to reward them more significantly depending on the risk involved with those choices.
Objectives are pretty stock standard – protect the convoy, defeat waves of enemies, take out the enemy base – but they're beside the point. You're here to feel like some futuristic tank driver somewhere in the matrix. Combat is a blast; the tanks move much faster than their grounded brethren, allowing you to strafe and boost across the landscape quite quickly, even if they still turn like a lug. Aiming is responsive, while reloading and changing weapons leaves you vulnerable long enough that you need to shift from attack to evasion regularly. Using cover is smart in this instance, but dodging enemy fire is the more rewarding option. The virtual reality environment helps accentuate a feeling of being a bad-arse crack pilot as bullets lob overhead, left and right, while you weave like a ferret in between.
Indeed, Battlezone revels in its VR environment. I really enjoyed looking up into the sky for airborne enemies and over my shoulders for new threats while still blasting at the enemy in front. When you combine that with a tank strafing at high-speeds through the explosion clouds of dusted foes, you can get quite immersed. I also love how the entire game unfolds from your tank's seat. The way the user interface jumps in and out at you is very engaging, and no matter which way you look, it's a believable futuristic cockpit environment full of little details.
I do wish the AI offered more flair in its attack strategies, as there's not a whole lot of smarts required to get through each arena. At times the difficulty can spike out of nowhere not because you came across a new enemy strategy, but because you came across a more powerful weapon. It doesn't help that each tank looks the same inside, even though there is significant disparity in their external appearance and their agility and power. These elements threaten a vanilla blemish in a bowl of chocolate.
At least there is a suite of multiplayer options, including team and competitive play. In fact, until Rebellion tighten up the value of exploring off the beaten bath in the hexagonal campaign mode, multiplayer is where you'll want to spend most of your time. Battlezone is fun anywhere, but the added tension provided by a genuine human opponent is where you can really sink into the fight.
Once you're in battle, the action is so fast and frantic you don't have too much time to admire the scenery. There's not a whole lot going on to be honest, but the landscape feels vibrant and wondrous as it flashes by. It helps that the cartoony visuals suit VR as they aren't too impacted by the visual downgrade. Enemies aren't particularly detailed and can get blurry at only a moderate distance, but you won't care. Instead you'll be dodging their incoming bullets and then driving through them as they explode, spewing loot over your face. I love the explosive sound effects, too, which really sell the intensity of the action while evoking the series' arcade roots.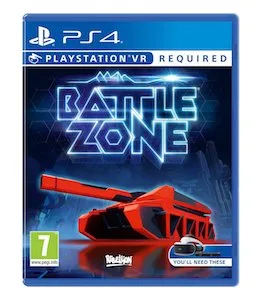 Battlezone PS4 Game (PSVR Required)
from ozgameshop.com
View details
Battlezone could have been little more than a tech demo; fun but as shallow as the arcade experiences from which it was born. But Rebellion deserves praise for shovelling more and more onto its concept at every turn. Trying out different tanks, unlocking new components, exploring different environments and grids, and even just the randomised nature of the campaign maps, all add depth to an otherwise simple concept. And by accentuating the VR environment instead of forcing itself upon it, Battlezone stands out as one of the launch line-ups best titles.
---
Battlezone and a range of other PSVR titles are available to purchase now
---