Battlefield 1 review: A single-player renaissance
The most engaging and well-told single-player campaign in a military shooter in years.
We're reader-supported and may be paid when you visit links to partner sites. We don't compare all products in the market, but we're working on it!
It's been a long time since I could say I enjoyed a Call of Duty or Battlefield single-player campaign. There was a tipping point somewhere along the line where the celebratory semper fi attitude stopped feeling fun and started feeling kind of uncomfortable. I'm not 100% sure, but I think that's part of growing up.
---
---
Whatever the reason, I haven't really enjoyed either of the rival shooters' campaigns since Modern Warfare 2, maybe Bad Company 2. Though Battlefield 1's trailers did a solid job of selling its own effort as an authentic and grounded World War 1 experience, I still went into this one expecting the same old military riff-raff I'd come to expect. Battlefield 1's six "war story" mini-campaigns are still uncomfortable, but not because they celebrate war and decorate soldiers with the ridiculous praise normally reserved for Marvel heroes, but because they genuinely depict the twisted survival story that is trench warfare.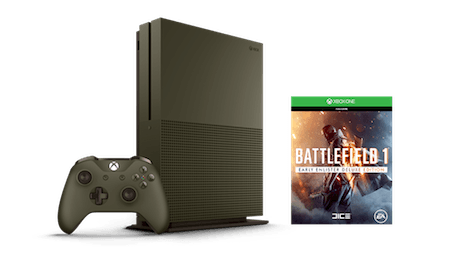 AU$399.00 Xbox One S Battlefield 1 (1TB)
from Microsoft Store
View details
Battlefield 1's campaign is split into five separate stories, each told from a different perspective in a different part of the map. Things kick off with the player assuming the role of various soldiers, each fighting a purposefully overwhelming battle. As the player transitions from one soldier to the next, they're given a glimpse of the different modes of play (tank, assault and so on) and a brief window into the horrors of frontline warfare. Each time your soldier inevitably dies, you're given a mini-obituary with a birth and death dates. These and the occasional fact or statistic make for quiet and sombre moments that punctuates the screams and gunfire.
After the initial trudge through the campaign's bleak opening, the player can choose to tackle one of five campaigns in whichever order they see fit. They range from the dreadfully grim Through Mud and Blood tank mission, to the rip-roaring adventures of Lawrence of Arabia's bedouin buddy Zara Ghufran. Some are clearly better than others. I particularly liked playing as infiltrating Ottoman camps as the badass bedouin Zara and storming a castle as the Gallipoli runner (and former Ramsay St resident) Peter O'Brien. But the skybound Friends in High Places mission, which admittedly sports a stunning fight atop a burning zeppelin, features an irritating unreliable narrator and some clumsy dog fighting sequences that just don't fly.
Battlefield 1's campaign shares more in common than most modern shooters with Ubisoft Montpellier's Valiant Hearts: The Great War (which still tells a better story in my opinion) in that it successfully balances adventure, tragedy and character. At first I was a bit put off by the brevity of its five war stories, but DICE has managed to pack enough drama and adventure in these bite-size stories to outshine most full-length war campaigns. I'm convinced that DICE is onto something here and I'm really looking forward to seeing how it handles single-player downloadable content and future Battlefield and even Star Wars Battlefront titles.
If I have one criticism about the single-player campaign, it's that it could have done a better job of easing players into the multiplayer, which is a whole other beast entirely. While war stories aren't short of gameplay variety (there's flying, tank and horseback missions peppered throughout) it doesn't really explore the four roles (Assault, Medic, Scout and Support) that are core to the multiplayer experience. I feel like some of the campaign could have been tweaked a little to introduce those roles and act as a tutorial of sorts with an in-depth look at the nuances, strengths and weaknesses of each role. Instead, you get a lot of first-time medics taking potshots from a far-off grassy knoll and snipers charging headfirst into battle with their slow and unwieldy rifles. I was guilty of treating Operations and Conquest like a round of Team Deathmatch at first, but it's got to be awfully frustrating for more experienced players. Going full Leroy Jenkins just doesn't cut it; these sprawling modes require strategy and team cohesion otherwise they just become a cluster of flying bullets and f-bombs.
Battlefield 1's multiplayer features a handful of returning modes, such as Rush, Conquest and Team Deathmatch (all enhanced by Battlefield 1's stunning graphics and vintage weaponry) and a few fresh modes, like War Pigeons (yes, War Pigeons) and Operations. Out of all of Battlefield's multiplayer modes, I feel like Operations is the one worth talking about here.
Like the classic Rush mode, players are tasked with capturing points of interest. This time, rather than setting off bombs, teams of 48 or 64 must capture multiple flags at once. Operations is where the whole communication issue becomes vital. Whether attacking or defending, each player has to play to their role's strengths and take fewer risks that are likely to get everyone killed. This is important as Operations has a similar tickets system to Rush, limiting respawns throughout the match. An Operations match unfold across multiple maps, progressing to a new map when the attacking team wins a round.
As you'd expect from a Battlefield game, multiplayer is packed to the teeth with all sorts of engineering marvels to drive, ride and fly. Most impressive are Battlefield's behemoth class vehicles, like the Dreadnought warship, the Airship L30 and the Armored Train. Behemoths are exclusive to particular maps and can be used to turn the tide of an Operations round in the final hour. When the attacking team is close to biting the dust in Operations, they're given access to one of these devastating machines.
Manning an Airship or Dreadnought can (and often does) give the failing team the power they need to claw their way back from defeat. This is great for the attackers, and a good way to keep a good match going, but each Behemoth is purposefully OP, which can be pretty damn frustrating if you're doing a standup job as a defender.
Check out the best price on Battlefield 1.