Batman Arkham VR Review: The hero your lounge room deserves
Bat's entertainment.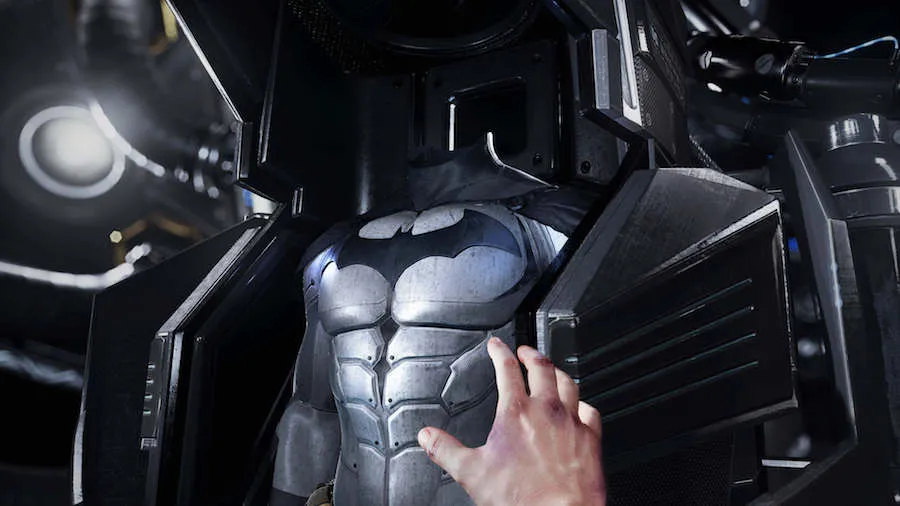 We're reader-supported and may be paid when you visit links to partner sites. We don't compare all products in the market, but we're working on it!
With a be-gauntleted virtual hand, I reach out, snatch up the Dark Knight's cowl, and put it on. The batcomputer blinks into life, offers me a perfect 1:1 mirror image of myself as The Dark Knight, and says it's "calibrating". Never knew Bruce Wayne had such a dad-joke sense of humour.
Getting into the spirit of that, I spend the next hour throwing household items and bat gadgets alike at Alfred the butler. Then I solve serious crimes with a level of oafishness not seen since The Pink Panther's Inspector Clouseau.
It's the most fun I've had in a video game in years.
---
---
Swing into Batman: Arkham VR with the ludicrously high hopes of somebody wanting Batman: Arkham Knight 2, and you can expect to be disappointed. What you've grappled onto is only really a companion piece to Rocksteady's Dark Knight franchise; a tech demo that shows what a true AAA studio can achieve with Sony's wonderful new VR toy. It's also pure, unadulterated wish-fulfilment.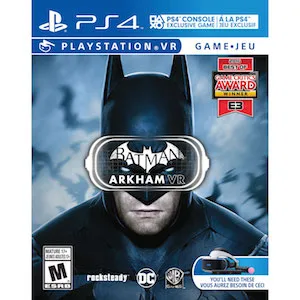 Batman Arkham VR
from Green Man Gaming
Experience Gotham City through the eyes of the World's Greatest Detective in an all new Arkham mystery.
View details
After a brief stint as Bruce Wayne, the action becomes centred upon you: the hero your lounge room deserves. You're effectively rooted to the spot with only the objects / levers / dials available in front of you to interact with, or you can look down and dip into your utility belt (there's a crime scene scanner, an endless supply of batarangs, and a grapple gun). The latter is used in conjunction with hotspots around the environment to teleport you to new areas, and in some instances you can tap the Move button to change crime scene perspectives to better get your snoop on.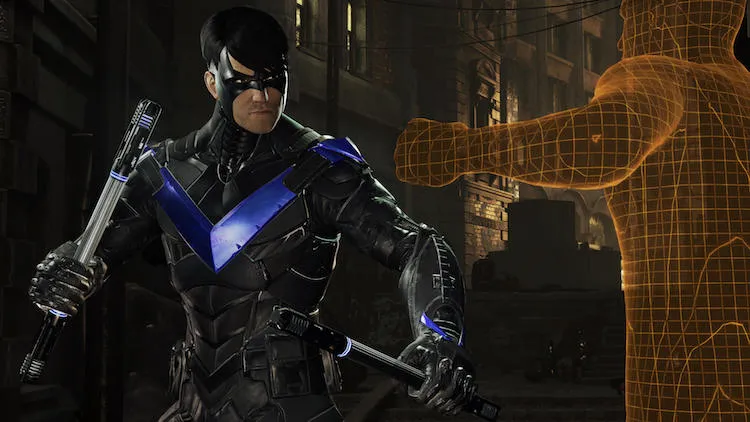 Sounds kinda boring when you boil it down to these essentials, but the reality is Rocksteady has created a cool as hell point 'n' click adventure that's oozing with atmosphere and their typical high production values. This is, without a doubt, the best game of the launch titles currently available (short of PlayStation VR Worlds) to win over VR-less mates and loved ones. It mesmerises people in seconds.
Unfortunately, we can't spoil too much more of what you'll be doing in it, because... well, the runtime is shorter than The Penguin. Suffice to say there's only a splash of action here and there as this is primarily a cerebral challenge. That said, even the world's crappiest detective could solve Batman: Arkham VR in roughly an hour. One could feasibly stretch this out by a half an hour if they loved poring over intel and 3D models, players can also go sniffing around for trophies and a bunch of Riddler collectible puzzles. Personally, we discovered a timed batarang target challenge, and lost a lot of time playing swap-the-PSVR score war with mates. The only replayability outside of this: hassling Alfred with the type of actions that'd result in Mr Wayne replacing his batsuit for a sexual harassment lawsuit.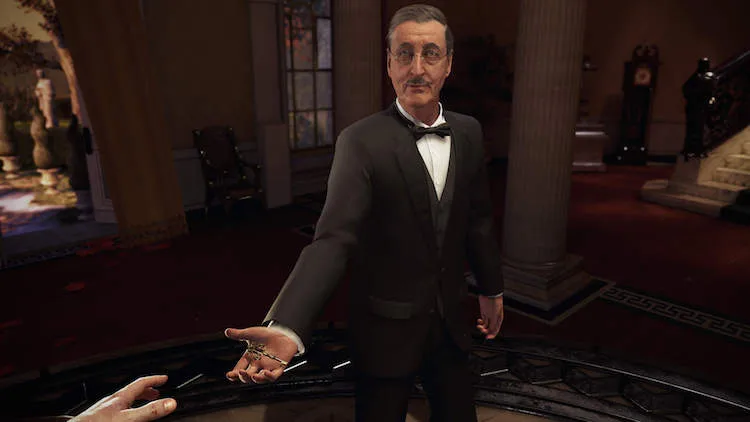 Aside from the disappointing absence of driving and/or flying mini-games, Batman: Arkham VR ticks off all of the coolest PSVR motions and moments. Full first-person movement has been shunned in favour of teleporting about the place (gentle fade-to-black moments which shouldn't affect nausea sufferers). Having two bat-gloved hands to rummage through a world bristling with interactive doodads makes for a lot of fun, too. Flipping switches and messing about with Bats' holographic iPads is a blast, as is piecing together 3D Riddler puzzles back into their original shapes.
---
---
Combat-wise, things aren't nearly as 1:1 and impressive. Thrown batarangs are heavily guided to your targets, rather than any real hand-eye prowess on your behalf. Twipping your grapple line at things also comes with a lot of programmer-provided aim assistance.
The absolute best moments are the emergent fun you make for yourself, like trying to cram the wrong objects in a delicate and expensive centrifuge, or bashing out tunes on Bruce Wayne's grand piano with the batphone receiver. All told, Batman: Arkham VR provides solid evidence that the "PSVR + double Move controller" paradigm is a solid and accurate partnership.
---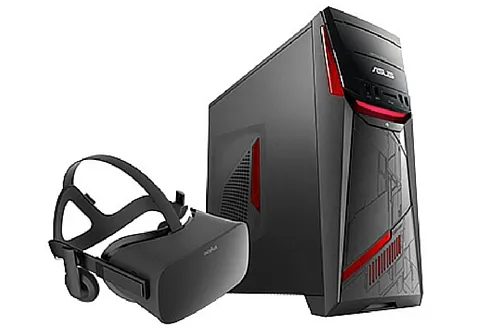 Purchase Oculus Rift VR Headset + ASUS G11CD Signature Edition Desktop Bundle
from Microsoft Store
Save $149.00 on this bundle, which includes: Desktop PC (no monitor), Intel Core i5-6400, 8GB memory/1TB HDD, NVIDIA GeForce GTX 970 graphics, Oculus Rift VR headset and Xbox One wireless controller
View details
---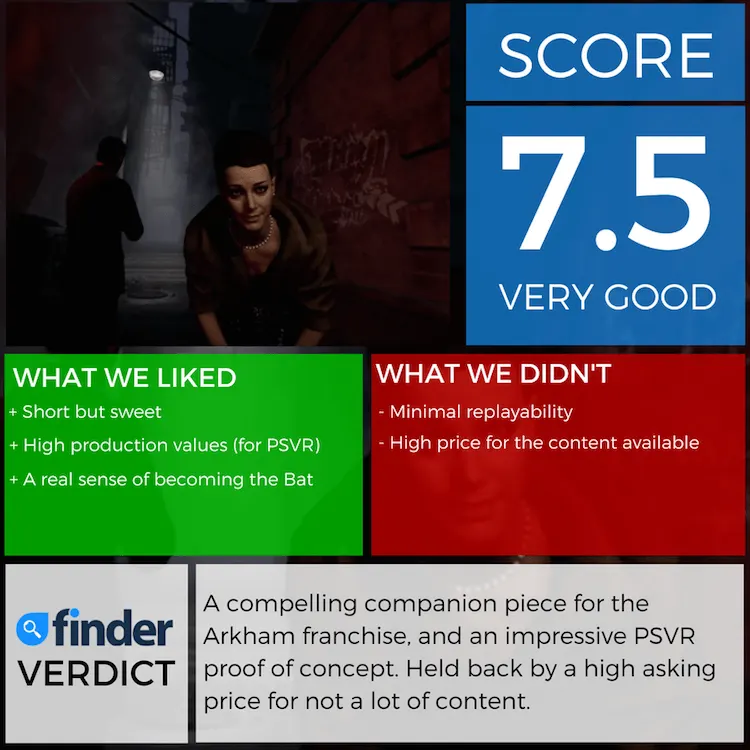 More guides on Finder