Bali vs Lombok
Indonesia's neighbouring islands of Bali and Lombok battle it out to win you over for your next Indonesian holiday.
We're reader-supported and may be paid when you visit links to partner sites. We don't compare all products in the market, but we're working on it!
Bali and Lombok may be similar in location, price and scenery but there are still vast differences between the islands. Bali is majority Hindu while Lombok is mostly Muslim. Bali is a tourist haven and Lombok feels almost deserted compared to Bali.
That last part has been changing lately though as visitors have started venturing over to Lombok. Perhaps that's why you're considering it?
To help you on your way we've debated price, sites, activities, family holidays and getaways for honeymoon lovers to determine which Indonesian island is the ultimate paradise for you.
TL;DR: Our verdict
The winner: Bali has much more going for it than Lombok in the way of flight and accommodation options, as well as things to do. More direct flights operate out of major cities to Bali compared to Lombok and with an abundance of accommodation options, it's more ideal for family friendly and romantic holidays.
Bali vs Lombok
---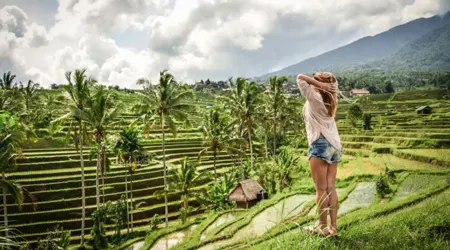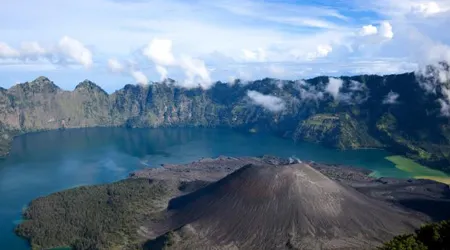 Cost
Which is better for cost?
Bali and Lombok are very similar in costs for accommodation and food, so if budget is your main concern you won't have an issue with either destination for your holiday.
The biggest difference is in transport as neither destination offers public transport. If you're going long distances in Lombok, some shuttles are available starting from $14. Private drivers are more expensive in Lombok costing $47 for 3 hours, while in Bali that price would get you a driver for a full day.
Bali transport costs between $9.40 and $28 for the same distance with a taxi or ride sharing app. Motorbike rentals are $1 cheaper per day in Bali ($5) than Lombok.
The cost of food depends on where you eat. Local warungs can start from $3 while restaurants serving Western dishes can cost $28.50 per person. Beer prices are the same with an average bottle costing $2.30.
| Feature | Bali | Lombok |
| --- | --- | --- |
| Flights | Flights to Bali start from $99 each way from Darwin and Perth on budget airlines like Jetstar and AirAsia. | The only direct flights to Lombok are out of Perth. These start at $107 each way. All other flights require a stopover. Alternatively, you can fly into Bali and take a boat over. |
| Hotels (3-star hotel) | From $12 per night. Prices obtained from hotels.finder.com.au for a stay on 1 February 2020. | From $16 per night. Prices obtained from hotels.finder.com.au for a stay on 1 February 2020. |
| Beer | $3.49 | $3.49 |
| Meals | $3–$12 | $3–$12 |
| Tour | Full-day tour of Nusa Penida is $46.85 with Klook | Full-day tour of Southeast Gili and Pink Beach is $65.79 with Klook |
Prices obtained on 8 April 2019. Food and meal prices obtain from Numbeo.
---
How do flights compare from Australia?
Cost: Flights to Bali are generally cheaper than those to Lombok. Fares can start as low as $99 for a one-way flight between Darwin or Perth and Bali (Denpasar). Flights to Lombok can start from $107 each way, though direct flights are very limited.
Airlines: AirAsia, Jetstar, Qantas, Garuda Indonesia, Virgin Australia, Batik and Malindo all offer direct flights to Bali from various major Australian cities. The only direct flights to Lombok fly out of Perth on AirAsia.
Airports: Bali's international airport is Denpasar International while Lombok's is Praya International. Both are accessible to the main city centres.
Flight duration: Flights from Perth to Bali take 3 hours and 40 minutes while flights from Perth to Lombok take 3 hours and 55 minutes. Flights to Lombok from all other cities include a stopover which can increase your flight time to around 14 hours.
Flight times and frequency: Flights to Bali are much more frequent than those to Lombok. This lets you pick and choose which works best for your schedule.
---
Hotels
Which is better for hotels?
The types of accommodation on both islands are the same, offering hostels, homestays, resorts and hotels from budget to luxury. The only difference is Lombok doesn't have villas like Bali.
Prices too are similar. Bali has hostels that start at $10 a night, homestays at $15, 5-star hotels at $30 and entire villas for $100. Luxury accommodation can be upwards of $500.
On Lombok prices are slightly more expensive with hostels starting at $13, homestays at $17, 5-star hotels at $40 and luxury accommodation for $300+.
It should be noted Bali offers unquestionably more accommodation choices. Hostels and budget accommodation are the most obvious difference. You'll be able to find both all over Bali but in Lombok hostels are found only in Kuta.
Winner: We don't know about you but we prefer more choice so Bali is our winner. Compare hotels here.
Things to do
Which is better for night-life?
Bali has night-life that suits any style. If you're craving a night full of fist-pumping music, a relaxed lounge by the beach or tunes spun by top DJs from around the world at electric clubs, Bali has it.
Seminyak, Kuta and Canggu are the top places to party in Bali. If you can't decide, try a try a bar hopping tour to be introduced to all the top spots.
Lombok has a much more relaxed atmosphere than Bali and that's reflected in its night-life. You won't find crazy clubs or plush seats in a lounge but more surfer-style bars that are laid-back and chilled. Your options for night-life in Lombok are much more limited as most bars are in Kuta.
Winner: Once again Bali screams ahead of Lombok with better options for night-life.
Which is better for beaches?
Bali, though considered a beach destination, doesn't have the best beaches. There are white and volcanic black sand beaches but unfortunately they're often dirty with the litter floating in from the water. Surfing is possible though and there are many beaches with lounge chairs. Some of Bali's best beaches are in Uluwatu. Catch the sunset for any unforgettable experience.
Lombok on the other hand has idyllic beaches compared to Bali. There are very few people basking in the sun and the garbage isn't an issue like it is in Bali (there's still garbage on Lombok's beaches but very minimal). Surfing is much better in Lombok than Bali and you're spoiled for choice when it comes to quiet beaches in Lombok.
Winner: We can't pass on visiting Lombok's cleaner, emptier beaches, making Lombok the obvious winner of this round.
Travel style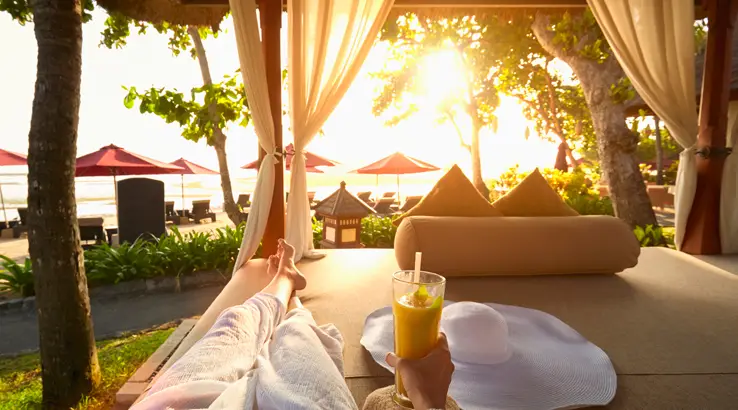 Which is better for a honeymoon?
To be perfectly frank, there's really no comparison here. Bali is filled with luxurious hotels and resorts, has more than a handful of high-end restaurants to its name and offers more in the way of activities and attractions.
Lombok isn't a honeymoon destination by traditional standards, but if getting off the beaten track is your idea of romance then Lombok is the place. Its accommodation and transport options are limited and its food veers more on the local and traditional side of things.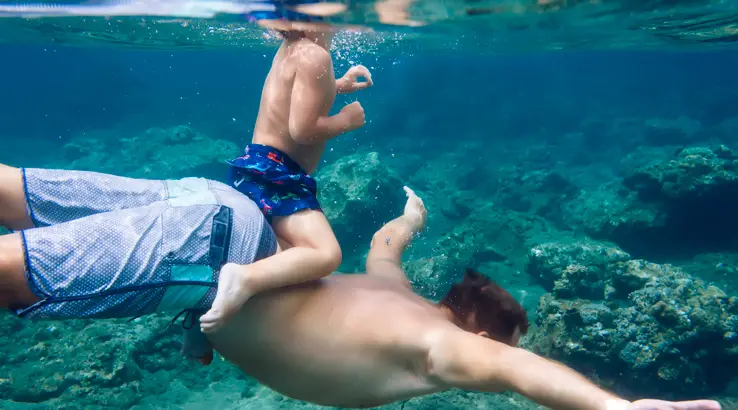 Which is better for families?
Bali is one of Asia's top family destinations. There are activities to please all ages, including water parks, nightly shows, animal parks and marine activities such as surfing. There's also an abundance of family friendly accommodation and compared to Lombok, it's regarded as being much safer.
Lombok is geared more towards backpackers and travellers seeking outdoor adventure. Senggigi is the most family friendly destination on the island but it still pales in comparison to areas in Bali such as Nusa Dua and Sanur.
Winner: Bali easily wins this round for having more entertainment, being safer and having more family friendly facilities overall.
---
Bali vs Lombok: Features compared
Feature
Bali
Lombok
Verdict
Popular activities

Visiting temples
Surfing
Sunrise volcano trek
Beaches
Rice terraces

Surfing
Beaches
Volcano trek
Waterfalls

Bali
Transport options
Bali has no public transport system so transport is limited to private drivers, some shuttles, taxis and ride sharing apps.
Lombok has no public transport and is limited to a few shuttles and private drivers.
Bali
Best months to visit
April to September
April to September
Both
Type of scenery/landscape
Lush jungles, mountains and volcanoes, scenic beaches and rice terraces.
Waterfalls, jungles, scenic beaches, mountains and a large volcano.
Both
Airlines that fly there from Australia direct

Jetstar
Virgin Australia
Qantas
Garuda Indonesia
AirAsia
Malindo Air
Batik Air

AirAsia (departing Perth only)

Bali
Average flight cost from Australia, according to Skyscanner

$277 (Darwin, cheapest city to fly from)
$375 (Perth)
$753 (Sydney)
$749 (Melbourne)
$643 (Brisbane)

$560 (Perth)
$622 (Darwin)
$778 (Sydney)
$836 (Melbourne)
$849 (Brisbane)

Bali
Cuisine
Indonesian cuisine mostly consists of rice, noodle or soup dishes. Dishes are typically fried and are packed with flavour. Bali also offers many Western food choices.
Indonesian cuisine is the same as in Bali but there are fewer Western food options.
Bali
Travel style best suited for

Adventure travellers
Beach lovers
Culture

Adventure travellers
Beach lovers

Bali
---
Bali vs Lombok: Who won?
Hands-down the winner here is Bali. It's more touristy, but because of that it has a greater frequency of direct flights, more accommodation options, a wider variety of food options (by cuisine and quality) and a more exciting night-life. Where Lombok shines is in its untouched nature. This off-the-beaten track is ideal for getting away from it all. It also boasts more-inviting beaches and better surf conditions.
Here's a list of both of their winning points:
Bali
More direct flights from major Australian cities
Overall cheaper to get to
Wider variety of accommodation options at cheaper prices
More resorts for honeymooners and romance
Wider variety of food options, including an abundance of Western cuisine
More family friendly activities
Better and cheaper transport system
Lombok
Cleaner and more-inviting beaches
Better surf
Top Bali and Lombok deals:
---
More guides on Finder