Why you need Balenciaga's new rainbow-stripe handbag
Image: Supplied
Find out where you can buy the limited-edition handbag, just in time for Pride Month.
Luxury Spanish fashion house, Balenciaga has just dropped an iteration of the Ville XS handbag in a rainbow and colour-block fantasy. The designer handbag arrives in time for Pride Month that is just around the corner. The Pride-inspired designer handbag is the perfect combination of fun meets functionality.
The Ville XS is a boxy shape featuring an adjustable, cross-body strap so you can wear it over the shoulder or across the body. Once you open it, it reveals a compact interior with a single slip pocket. Throughout the design, we spot red, orange, yellow, green, blue and violet stripes. Black lacquered edges finish off the bag's design and in true Balenciaga fashion, the brand's logo is displayed in bold white lettering across the front of the bag.
Balenciaga's nod to Pride Month is exactly what we want to see from globally recognised designer brands. It brings attraction and attention to the issues at hand. The month of June is formally known as Pride Month as it commemorates the Stonewall riots that occurred in June 1969. This event led the path for the world to follow in accepting LGBTQ+ rights. In the mood to splurge on more Pride-dedicated items? Luckily for you, you can celebrate with what you choose to wear on your feet. Sneaker brands Converse and adidas dropped Pride 2019 capsules and there is so much colour and glitter that we really cannot contain our excitement.
---
Where to shop:
Wondering where you can pick up the limited-edition designer handbag? Well, you're in luck ladies and gents because it's available right now on Matches Fashion, retailing for $1,700.
Never heard of Matches Fashion? The online retailer for high-end fashion stocks over 400 designer brands. And what's better? You can check to see if there are any discount codes here.
Free delivery. Orders over $300 are delivered for free.
Free pick-up service for returns. MATCHESFASHION.COM offers a complimentary pick-up service via DHL for all Australian customers.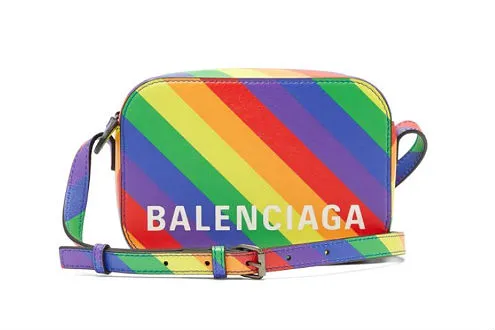 BALENCIAGA Ville XS rainbow-stripe leather cross-body bag
from MATCHESFASHION
View details
---