Packed to the Rafters reboot in the works at Amazon Prime Video
Titled Back to the Rafters, this will be Prime Video's first Australian scripted series.
Eager to tune in for the next chapter in the story of the Rafter family? Thanks to Amazon Prime Video, you'll be able to do so quite soon.
The streaming service has commissioned its first Aussie scripted series, a reboot of the popular drama Packed to the Rafters. The show, named Back to the Rafters, will begin production in Sydney next year, meaning that we should be able to tune in sometime in late 2020.
If you're interested in what's coming to Prime in the meantime see our article.
Packed to the Rafters ran for 6 years, from 2008 to 2013, on Seven Network. It followed the beloved family through the ups and downs of life. During its run, Packed to the Rafters won 13 Logie Awards out of 42 nominations, which is quite a feat.
Moreover, the show always had good ratings, so loyal fans are likely eager to see what the characters are up to today. Until the new Amazon show becomes available, you can stream old episodes for free on 7Plus.
The reboot will feature the return of the original cast members, including Rebecca Gibney, Erik Thomson, Jessica Marais, Hugh Sheridan, Angus McLaren, Michael Caton, and George Houvardas. There's no announcement yet as to whether any of the other players will be back as well.
The new show commissioned by Amazon Studios will be produced by Seven Studios. It will be available to stream not only in Australia but everywhere where Prime Video is available, which entails more than 200 countries and territories.
According to the official synopsis, the reboot will pick up six years since we last saw the Rafter family, as Dave and Julie live in the country with their youngest daughter Ruby. Meanwhile, the older Rafter children face fresh challenges and Grandpa Ted struggles to find his place in the world.
Coming to Amazon Prime Video
Besides Back to the Rafters, Amazon Studios is also producing LOL: Last One Laughing, a variety/competition series hosted by Rebel Wilson and featuring Aussie comedians like Tom Gleeson, Tommy Little and Judith Lucy.
Cricket fans will also be able to watch docuseries The Test: A New Era for Australia's Team, which picks up after the appointment of Justin Langer as coach and offers a behind-the-scenes look at what happened next. Both these titles will be available on Prime Video in 2020 as well.
Prime Video comes free with an Amazon Prime subscription, which costs $6.99 a month with a 30-day free trial. This also buys you free expedited delivery in as fast as two days on eligible items and free international delivery on eligible Amazon US items over $49. Plus, you get early access to deals, can take advantage of thousands of free ebooks and games, and get Prime Music for free.
Also read: Amazon Prime Movies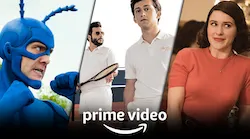 FREE TRIAL: 30 days of Prime Video's premium TV shows and movies for free
from Prime Video
Prime Video's free 30-day trial will give you instant access to thousands of premium TV shows and movies.
View details