Australians will sacrifice salary for "work-life balance", but is this unattainable?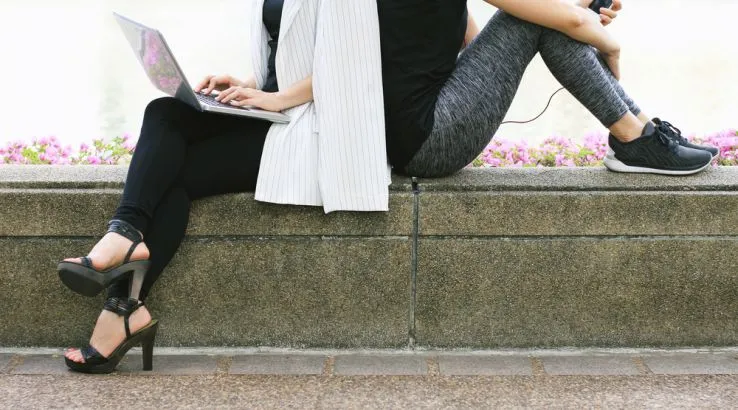 A new study shows Australians will accept a lower salary for non-monetary benefits in their quest to achieve the elusive "work-life balance".
No phones at the dinner table.
Turn your electronics off at night.
"Unplug" over the weekend.
Make exercise and downtime a priority.
Schedule social events with the same priority as business meetings.
The list of tips and tricks to manage business and personal commitments is endless as Australians strive to achieve the elusive "work-life balance". As much as this 21st-century catchphrase is tossed around, what does it actually mean? Is it even possible to reach a harmonious balance between work and "life" itself?
More than a 9-to-5
A new study by an independent research company on behalf of specialist recruiter Robert Half, conducted in December 2017, surveyed 1,000 office workers from a variety of Australian companies. Perhaps unsurprisingly, the study found that office workers place a lot of importance on non-monetary benefits in their job positions.
Gone are the days when a 9-to-5, Monday to Friday working life was expected and salary was the only variable that differentiated one position from another. Today, workers place increasing importance on flexible working hours, the freedom to work from home and increased annual leave – all markers of a position that promotes work-life balance.
Have Australians been pursuing the wrong metric all along?
Not only are workers prioritising non-monetary job benefits, they're willing to sacrifice salary to get them. The Robert Half study showed that 8% of those surveyed would accept a lower salary in exchange for other benefits which promote flexibility and autonomy.
The definition of success
These figures agree with a survey conducted by LinkedIn earlier this year, which asked the question: How do you define success? While only a few decades ago success was defined in terms of salaries, expensive homes and material possessions, the results of LinkedIn's survey showed a remarkably different attitude from today's workers.
For 77% of those surveyed, success was inextricably linked with happiness. 71% of those surveyed ranked health as one of the top indicators of success. Only 18% of participants still held the view that success came from earning more than $100,000 per year.
Tied in with the broad "happiness" indicator came ideas of travel, spending time with family and friends, and prioritising health and well-being.
While Australians appear to be united in their quest to achieve a work-life balance, the question remains: How far can workers reasonably expect to separate their work from the rest of their life? Have Australians been pursuing the wrong metric all along?
The circle of life... and work
For Jeff Bezos, the CEO of Amazon and the world's richest person, "work-life balance" is a "debilitating phrase". The Amazon CEO believes that work is inextricably tied with life itself, and to view work and life as two distinct and mutually exclusive elements is harmful.
Rather than balancing two competing interests, Bezos says that the two elements of a person's life should be viewed as a circle or, as he calls it, "work-life harmony". As he sees it, work and life inevitably influence each other.
"If I am happy at home, I come into the office with tremendous energy. And if I am happy at work, I come home with tremendous energy."
Bezos is known for eating breakfast with his family every morning, never waking up to an alarm, and making time to wash his own dishes. But many working-class people could argue that, while this arrangement might work for the richest person on earth, not everyone enjoys the same freedoms.
A complete overhaul
Cecile Richards, who will step down from her 12-year tenure as President of Planned Parenthood in the United States later this year, has said that it seems "barbaric" that women are put in the position of returning to work just weeks after giving birth, then facing pressure to balance their job and family life while navigating childcare and self-care.
"It's been really heartbreaking [...] to see distraught young women who've just given birth and have to go back to work and don't know how to do it."
Rather than "balancing" competing interests, Richards believes that workplaces need to be completely reimagined, starting from "a premise that women are going to be a central part: Women are going to bear children, people are going to raise those children, and it's not going to be a nuisance."
Battling the myth
Is work-life balance little more than a myth? According to the Seattle Times, career coach Kathryn Crawford Saxer believes that the idea of work-life balance is a "crock", particularly when children are involved.
Only partly joking that "babies and careers are bottomless pits of demands," Saxer says that people cannot reasonably expect to meet all of their responsibilities, no matter how organised or productive they may be. Rather than honing their time management skills, the career coach has her clients look at "guilt management" instead.
"We're going to start from the assumption that you are going to feel guilty no matter what you do."
Saxer believes that people need to accept the fact that they can't be in two places at once. Rather than aiming for balance, which begins from the assumption that one person can successfully juggle multiple responsibilities without giving anything up, Saxer says that the first step is to acknowledge that compromises must be made. From there, "mental guardrails" can be created and, as long as these are followed, the person can keep their guilt at bay.
"For example, I say, if you decide beforehand that you leave work every day at, say, 5:30, then you get a pass on the guilt when you do so. That decision is a guardrail, and you can give yourself permission to not feel guilty when you stay within your predetermined guardrails."
Latest business headlines
Picture: Shutterstock