Australia Day in Perth 2020 | Fireworks, events and things to do
Gold and green are the colours to be seen in on this one day of the year. You with us?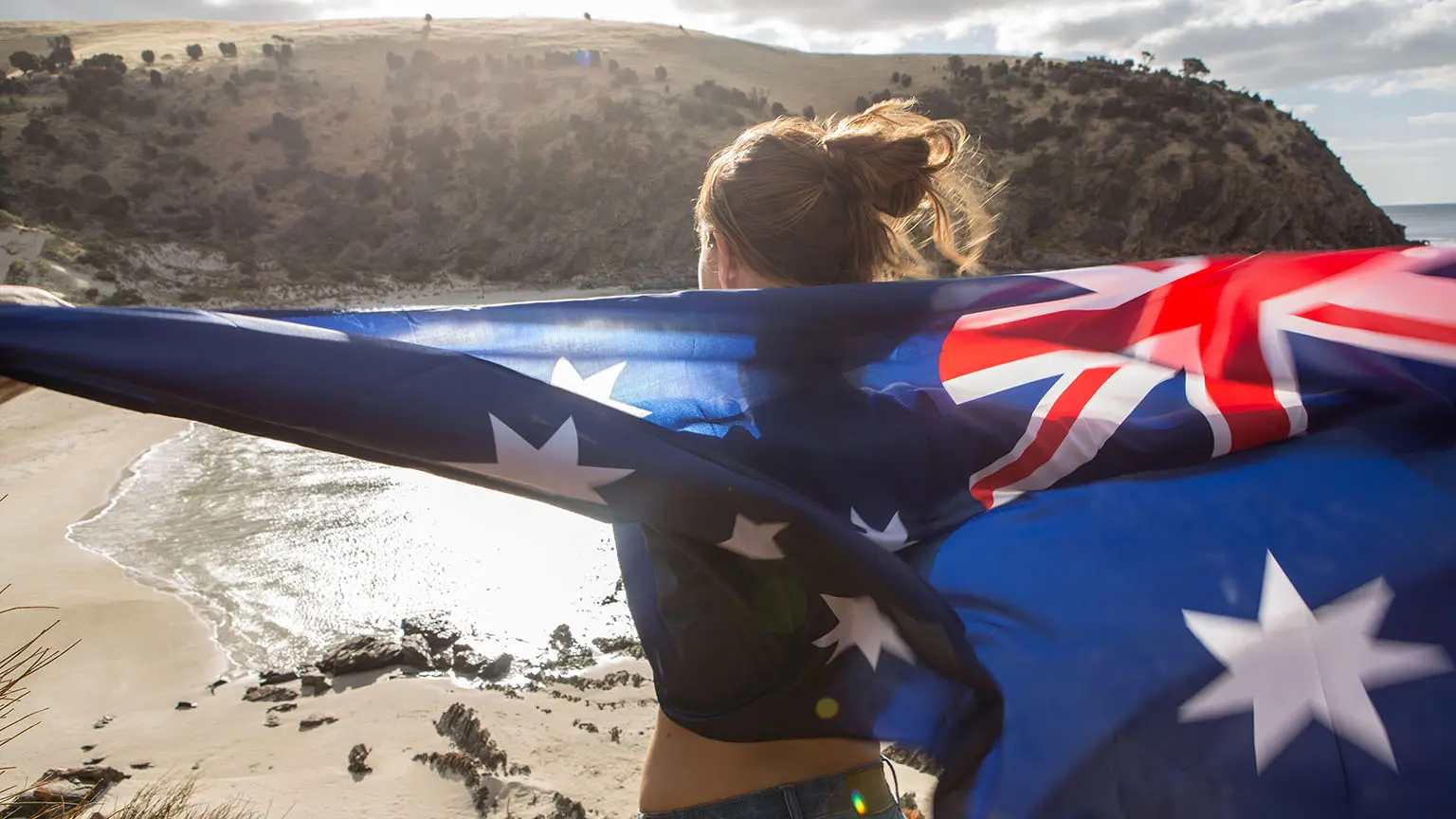 Struth, there's a lot going on in Perth this week. With green and gold being the colours of choice, it certainly is an Australian celebration – and it's a big one too, featuring a massive fireworks display along the Swan River.
So if you're still scratching your head wondering where you'll be on Australia Day, we know a few beaut places in Perth where you won't be the only one wrapped in an Aussie flag. In fact, you'd stick out like a sore thumb if you weren't.
---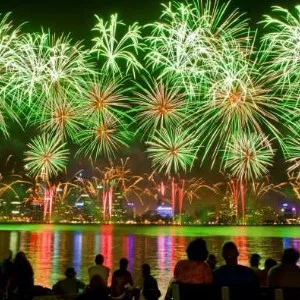 Australia Day fireworks in Perth
Known as the City of Perth Skyworks and Laser Show, the Western Australian Australia Day fireworks display is all that and so much more.
Spectacular enough to rival Sydney's famous New Year's Eve fireworks extravaganza, Perth's Skyworks and Laser Show is a marvel on the water. Last year, the city outdid itself by offering six huge "experience zones" where you could catch the fireworks and vibrant lasers, which could be seen from a kilometre away.
This year's spectacular is still hush-hush, but Perth doesn't do anything by halves so we're expecting a bigger, better and more spectacular pyrotechnics display. Stay tuned.
Where to watch the Australia Day fireworks in Perth:
| Fireworks vantage points | What else is happening? | Food and drink |
| --- | --- | --- |
| Langley Park | Starting at 3pm, there are family events taking place from this popular spot to watch the fireworks at 8pm. | Food for sale. BYO picnic zones. |
| Supreme Court Gardens | Starting at 3pm, there's the Birak Concert and stunt show. | Food for sale. No alcohol (BYO picnic areas nearby in Langley Park.) |
| St James Mitchell Park | Starting from 3pm, St James Mitchell Park is home to the South Perth Celebration Zone. Starting at 3pm, there's an art tent, a big top with entertainment and train rides. | Food for sale. No alcohol or smoking permitted. |
| Kings Park and Botanic Gardens | 21 gun salute at midday. Entertainment starts at 3pm. Entry by gold coin donation. | BYO picnic zones. No alcohol, smoking or glass permitted outside the picnic area. |

Image: Perth City
Australia Day events in Perth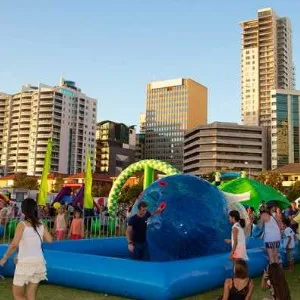 Langley Park Entertainment Zone
For family-friendly entertainment from afternoon to night, head to Langley Park Entertainment Zone.
The official site of the City of Perth's Australia Day celebrations is at Langley Park. Being right on the waterfront, it's also a prime spot for catching the city's big fireworks display.
The entertainment zone opens from 3pm and features entertainment and activities for kids of all ages. This includes a carnival area with bouncy castles and other attractions, a water playground, a sports zone and even a freestyle motocross and BMX show.
Then let's not forget about the mandatory big Aussie sausage sizzle!
---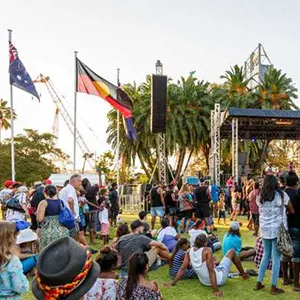 Birak Concert
Celebrate with a display of indigenous performances.
Held in the Supreme Court Gardens, the traditional Birak Concert is a celebration of Australian and Torres Strait Islanders through dance, music, art and food.
The event runs from 3pm to 7:30pm.
---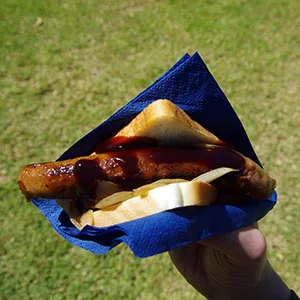 Morning Ceremony and Great Aussie Breakfast
Enjoy free kids entertainment and a sausage sizzle this Australia Day.
Spend the morning at the City of South Perth's flag raising and citizenship ceremony. This will be followed by an Australian-style BBQ provided by the Rotary Club of Como ($5 cost for the sausage sizzle). Bring the whole family with free kids entertainment present on the day.
The morning ceremony runs from 8am to 9:30am and the BBQ will be on from 9:30am to 10:30am.
---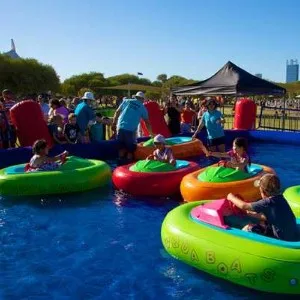 South Perth Celebration Zone
With over 100 free activities for wide-eyed Aussies to get stuck into, boredom doesn't exist in the South Perth Celebration Zone.
The list here is long, so let's not beat around the bush. From 3pm through till 7:30pm, Sir James Mitchell Park in South Perth will entertain the masses with 100s of activities for all ages all along the river.
We're getting tired just looking at the list of things to do – phew!
---
---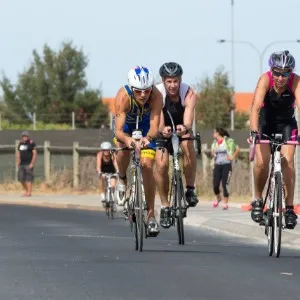 Australia Day Triathlon/Duathlon
Get your heart pumping and your "oi, oi, ois" out for WA's annual triathlon/duathlon.
Whether you're in it to win it or are a proud spectator, the Australia Day Triathlon is not one to miss on 26 January. It's a family-friendly event with categories for all grades of athletes starting from 12 years old up to 70+.
For those looking to swim, cycle and run, the triathlon events include junior, novice, fun and sprint categories. For those wishing to skip the swim, the duathlon is available in standard and sprint forms.
---
Top free things to do on Australia Day in Perth
Crash another suburb's party. We mean this in the nicest way possible. Many of Perth's major suburbs will be hosting their own Australia Day celebrations, so why not branch out and check out what talent and activities they've got to offer? Popular ones include Cottesloe and Armadale.
Get cultured. Australia Day is not just one big party – it's a day to remember and celebrate Australia's history and culture. Tap into the heart of Australia Day with a trip to one of Perth's many museums such as the Western Australian Museum and the Art Gallery of Western Australia.
Cool off at a water playground. January is one of Perth's hottest months and while you and your kids can stay at home with the air conditioner cranked up to the max, you could also take them out to cool their jets at one of the city's many water playgrounds. Examples include Hyde Park Water Playground and Ellenbrook Water Playground.
---
Are shops open on Australia Day in Perth?
Here are the major shopping centres that will open for Australia Day and their trading hours:
Westfield Garden City: Open from 10am-5pm
Westfield Carousel: Open from 11am-5pm
Westfield Whitford City: Open from 11am-5pm
Karrinyup: Open from 8am–6pm
Claremont Quarter: Open from 8am–6pm
Related Posts