Aussie Life Insurance
Compare Aussie Life Insurance policies.
We're reader-supported and may be paid when you visit links to partner sites. We don't compare all products in the market, but we're working on it!
While Aussie is a relative newcomer to the Australian financial market – being launched in just 1992 – in that time the company has maintained its dedication to offering a genuine and upfront alternative to the major financial institutions. Aussie may be best known for their mortgage broking services, however, their life insurance products are also comprehensive, competitive and can quickly and easily offer cover for you and your family.
Aussie operates around Australia, servicing all mainland capital centres, and the major regional centres. After founding Aussie in 1992, John Symond remains active in managing the direction of the business, expanding the services of his company from mortgage broking to travel wedding and personal loans, general and life insurance, and credit card products.
There are now more than 250,000 Australians who work with Aussie for their financial needs, whether they are getting into their first home, or making sure they never have to leave. Aussie also returns the support of the locals by providing sponsorship funds for community projects.
Compare direct life insurance brands below
An adviser can help you find cover from trusted life insurance brands.
Get competitive quotes from multiple brands

Lower rate of declined claims (according to ASIC)

Save time and effort
---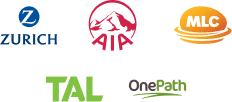 Aussie Life Insurance Products
It is easy to assume that you can't afford life insurance, after all, you probably have a mortgage, credit card bills, a car loan and seemingly endless household bills all due right now, and you don't want to add another bill to the list. However, if you're finding finances tight now, imagine how hard it would be to pay your bills if you were sick or injured and unable to work, or you were permanently disabled and couldn't return to work at all. Or worse yet, how would your family manage the finances if you weren't there?
That's why Aussie Direct Insurance have created a range of simple and affordable products to help you quickly and easily protect your family, often from as little as a dollar a day. For example, the Aussie Life Plan offers:
Up to $1 million of cover - A lump sum benefit payment will provide a financial assistance to your family if you were to pass away. If you are between 18 and 64 years old, you can apply for the Aussie Life Plan and no medical test or blood test will be necessary. With Aussie life insurance, you can rest assured that you will remain covered for life. You also have a 30 day cooling off period if you change your mind or reassess your needs.
Premium freeze To help you budget for this new financial product in your life, Aussie insurance will freeze your premiums for the first three years of your policy, so there is no increase in cost during this time, making budgeting easier.
Additional recovery insurance While you can choose death cover only, if you wanted to add recovery insurance too, you would receive a benefit if you suffered a heart attack, malignant cancer, stroke or needed coronary artery bypass surgery.
Cover the whole family - You can add your partner and your children to your Aussie life insurance policy so that you have peace of mind, knowing that your whole family is protected.
Your choice of premium frequency - To help with your budgeting you can choose to pay your premiums monthly or fortnightly, at no extra charge.
Funeral advance - Your family can also receive a $10,000 advance from your Aussie life insurance benefit to help pay for funeral bills or other immediate expenses at the time of death.
While the Aussie Life Plan insurance policy has a range of inclusions and valuable features, you can further customise your policy by adding the following features:
Children's serious illness coverage - You can choose to add $20,000 to $50,000 of coverage to your Aussie life insurance policy to cover school tuition or medical bills if your child suffers a serious illness.
Total and permanent disablement - Add from $50,000 to $500,000 of cover in case you suffer a serious injury and are totally and permanently disabled.
Critical illness cover - Include a benefit of $50,000 to $500,000 if you suffer a serious illness such as heart attack, malignant cancer, stroke, or you have a coronary artery bypass.
Accident cover - You can also be covered for $50,000 to $500,000 if you are seriously injured or die in an accident.
Alternatively you can take out a separate Aussie accident insurance policy, which features:
Your choice of benefit amount - You can choose an accident benefit from $50,000 to $500,000 to help pay for medical bills or living expenses and other debts, in the event of an accident or serious injury.
Easy application and management - You can apply for accident cover if you are between 18 and 69 years old, and don't need to undergo a medical test or answer any health questions. You can also add your partner and children to the policy, and keep your coverage until you are 75 years old.
Coverage for injuries - Your accident insurance benefit will be paid if you experience one of the eligible injuries within 12 months, including, quadriplegia, paraplegia, hemiplegia, deafness, blindness or total and permanent loss of two limbs.
If you're shopping around for life insurance, it is important to know that you have options outside of the big banks for your coverage. With Aussie life insurance you'll find comprehensive and affordable insurance products, from a local and easy to work with provider.
More guides on Finder