Assassin's Creed Rogue Remastered review: Avast, open-world!
This is a technically flawless, no-frills remastering of Rogue.
We're reader-supported and may be paid when you visit links to partner sites. We don't compare all products in the market, but we're working on it!
As a gamer of the '90s who spent hundreds of hours plundering the Spanish Main in Sid Meier's Pirates!, my life, my love and my lady is pretty much the sea now. If your video game features even a hint of buckling swash on the high seas, I'll chart a course right for it at ramming speed. Even more so if it doesn't water down the violent realities of being a filthy, ill-bred buccaneer. The more arrr-rated the better.
Two of the best cruises I've ever been on over the decades include Assassin's Creed IV: Black Flag and its standalone spin-off, Assassin's Creed: Freedom Cry. There was another AC title released around the same time as these, but alas it only came out on PS3 and Xbox 360. I'd always regretted skipping it, but hey – now its been dredged up out of nowhere as remastered gold anyway.
Today, I'm kicking myself for skipping Assassin's Creed Rogue (though to be fair that decision was based on valid graphics and performance concerns at the time). It's such a quirky and unique entry in this bloated series. I've sampled every other AC on deck – even the PS Vita, mobile and side-scrolling spin-offs – and this is still, without a doubt, the most tonally adventurous in the entire bunch. It's the blackest of black sheep, thanks to Ubisoft asking you to "turncoat-hoodie" on your assassin brothers and join the dark-side as a power-mongering Templar.
---
---
But calm down now. Before you raise up to full mast, let's be perfectly clear on what Rogue is. The 2014 source material was developed by the B-team that is Ubisoft Sofia, and on what appears to be limited resources and budget. As far as sequels go, this is a paint-by-slightly-different-numbers take on Black Flag that makes no great leaps of innovation. Was that a cheeky and cheap way to make gamers buy a half-sequel? Sure, but given how good the Black Flag template was in the first place – an entry I still call the highest point in the series until Origins came along – yeah, it's pretty hard to look down your nose at Rogue.
Honestly, it's just so good to be bad. Rubbing elbows with Benjamin Franklin and hunting down your former mentors as the brash and cocky Shay Patrick Cormac is a refreshing change of pace. Yes, gameplay in Rogue is still very similar to that of Black Flag, with a mixture of open-world naval exploration and third-person land-based murder, but Ubisoft Sofia managed to shiv in a few cool ideas of their own.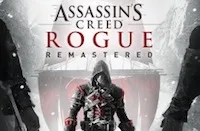 Buy Assassin's Creed Rogue Remastered on PS4
from Amazon
Explore the darkest chapter of the Assassin's Creed franchise today.
View details
First of all, the addictive gameplay loop that is pimping out your own personal galleon returns, only this time you'll need to consider upgrades that take into account the unique watery sandbox that is the Northern Atlantic. Frigid conditions mean two things: Black Flag's underwater diving missions have been given the heave-ho on account of hypothermia, and iceberg fields are now a frequent part of your naval shenanigans. You'll need to spec yourself with an icebreaker to avoid becoming The Proto-Titanic, or invest in some weapons that can blast them out of your way (like a primitive machine gun). Either way, slaloming through these during a desperate battle makes the experience tactical and twice as fun. Side bonus: The Morrigan is a shallower vessel than the Jack Daw in Black Flag – so you can expect to go on river raids, too.
The standard landlubbing assassination gameplay has been slightly iterated upon, as well. Ubi Sofia tweaked the counter-system in an effort to steal the simplicity of the Batman Arkham series. Plus, Shay has a better capacity to kill silently from afar with an air rifle that can hold custom ammo (the best of which turns it into an attitude-adjusting grenade launcher). You'll need all the boomsticks you can get a hold of, because you'll be hunting bonafide assassins, or trying to protect "innocent-ish" targets who are being stalked by them. Not an easy task when you consider these sociopaths can use all the same tricks you've relied upon over the years (disguise via crowds, concealment in bushes and one-hit-kill strikes).
Like I said, Rogue didn't really knock people on their butts with new features back in the day. But, as a remastered time capsule from the halcyon days – right before Assassin's Creed Unity nearly ruined the franchise completely – this is a charming little adventure. Ubisoft has gussied it up nicely with a boost to 4K 60fps, too. Definitely to the point where I think my long Rogue abstinence has been justified, however, there's no way this could ever be mistaken for current gen on the same level as Origins.
Be that as it may, Rogue should still be sought out for its unique protagonist and mission designs, and also because it's an essential puzzle piece in the sprawling lore of the Assassin's Creed universe. Shay's arseholery serves to book end the events started in Assassin's Creed III and Assassin's Creed IV: Black Flag, and he even starts the ball rolling in Assassin's Creed Unity as well. Basically, whenever this pirate gets close to an important assassin or historical figure, ship happens.
We reviewed Assassin's Creed Rogue Remastered on PlayStation 4 with a copy provided by the publisher.
Assassin's Creed Rogue Remastered
7.0 VERY GOOD
What we liked...
4K visuals pop nicely, perfect frame-rate
Includes heaps of DLC cars and the Big Surf content
Still the king of its sub-genre niche
What we didn't like...
Missions and overall story are shorter than expected
Abstergo intermissions still suck
Combat feels quite dated after playing Origins
Open world feels more barren than usual
VERDICT
A technically flawless, no-frills remastering to UHD. Rogue takes a novel premise and stands on the shoulders of a venerable predecessor to become Assassin's Creed: Black Sheep. That alone makes it worth boarding at a budget price.
Available for PS4
For more information on how finder scores games, check our review guidelines.
---
More guides on Finder
Handypay Green Loan

A Green Loan from Handypay could help you make your home more energy-efficient. Handypay green loans are available up to $75,000 on terms of up to 10 years.