Aspera F24: Plans | Pricing | Specs
The flip phone is back with the Aspera F24, a budget 3G handset that prioritises accessibility over bleeding-edge technology.
2.4 inches
Display size
N/Apx
900 mAh
Battery size
Finder rated as Average vs similar phones
Details
Display
Pixels per inch (PPI)
167 ppi
---
Camera
Rear camera megapixels
0.3MP
Rear camera aperture size
N/A
Front camera aperture size
N/A
---
Physical Dimensions
Dimensions
104mm x 51.5mm x 19mm
---
Connectivity
Network category speed
N/A
---
Power, storage and battery
External storage support
Up to 32GB
---
Device features
Water resistance rating
N/A
| | |
| --- | --- |
| Launch price (RRP) | $99 |
| Launch date | 2012 |
Styled after mobile phones of the early 2000s, the F24 serves as a pure communications device rather than a portable computer. By trading 4G connectivity and virtual buttons for a clean and simple interface driven by a large physical keypad, it provides an accessible and affordable alternative for keeping in touch on the go.
Design
Flip-phone design is compact and convenient
Second screen and emergency SOS button provide functionality even when the phone is closed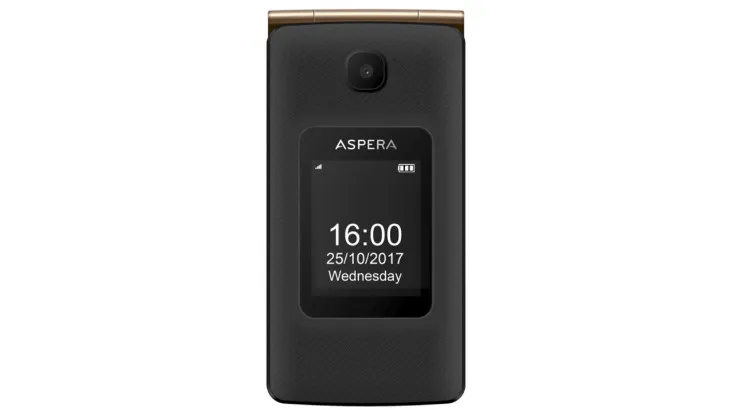 Camera
Handy for quick note-taking and chronicling sudden events
Not ideal for taking photos you want to share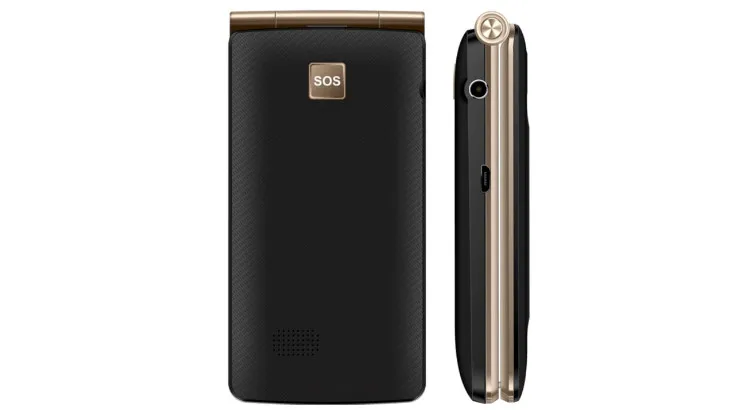 Performance
Should handle all your basic needs without a hitch
Phone functionality has some limitations worth keeping in mind
Battery
900mAh is small for a phone battery, but should prove adequate for infrequent use
Pricing and availability
Compare SIM-only plans for the Aspera F24
Aspera F24 specs
Display
Pixels per inch (PPI)
167 ppi
---
Camera
Rear camera megapixels
0.3MP
Rear camera aperture size
N/A
Front camera aperture size
N/A
---
Physical Dimensions
Dimensions
104mm x 51.5mm x 19mm
---
Connectivity
Network category speed
N/A
---
Power, storage and battery
External storage support
Up to 32GB
---
Device features
Water resistance rating
N/A
---
Latest Aspera news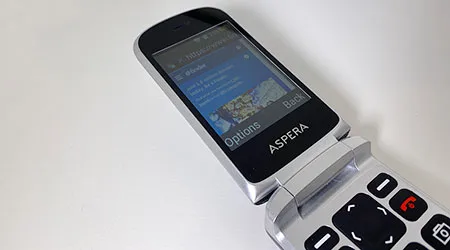 Aspera's flip phone is very basic, and rather inexpensive, and those are the two primary reasons you might buy one. Read more…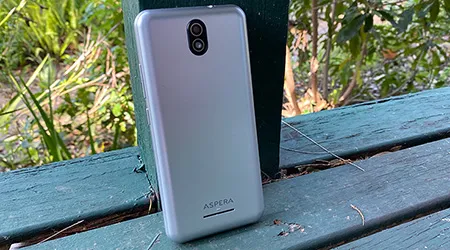 You won't have to lay down much to pick up an Aspera Jazz 2, but that's its primary selling point. Read more…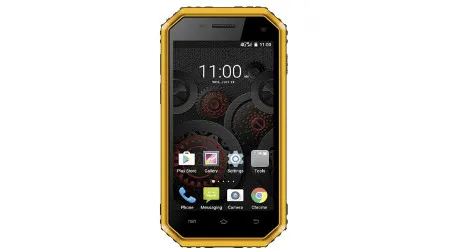 Water and dust resistance, a shock-absorbent shell and modern features like 4G compatibility and Android 6.0 make the Aspera R8 one of the more capable rugged phones on the market. Read more…
Image: Shutterstock