ARMS review: Punching above its weight
Nintendo's latest motion-controlled fighter sucker punches the doubters.
We're reader-supported and may be paid when you visit links to partner sites. We don't compare all products in the market, but we're working on it!
Oh, how the scores of snarky fans and rival console warriors baulked when ARMS for Nintendo Switch was first announced. "A full-priced Wii boxing game," they said, "It should have been a pack-in," they said. While the latter of those two arguments certainly wouldn't hurt (especially considering the Switch's lousy launch lineup), the first couldn't be more wrong. ARMS is much more than a controller-waggling flail-a-thon and even if it is a little light on content, you will be coming back time and time again to master its nuances.
The game is a tournament where mutated fighters with springy appendages duke it out at arm's length (a really long arm's length). For single players, there's a 10-round Grand Prix mode and a Versus mode. Participating in any of these modes will score you some coin, which you can use to unlock and equip more ARMS (essentially, boxing gloves with varying abilities). Grand Prix has the player climb a ladder of opponents before getting matched up against the "boss" Max Brass (who will be released as a playable character in the first free DLC drop).
ARMS mixes up the traditional arcade formula by throwing a few different modes into the mix: 1v1, 2v2, V-Ball, Hoops and Skillshot. Each mode is just as fun as the next, but Hoops and Skillshot offer up a bit more of a challenge than V-Ball (volleyball in the ARMS universe).
In Hoops, the player must land a grapple on their opponent to toss them into a basketball ring. Just like basketball, you can score a three-pointer for shooting outside of the D, but the further out you get, the lower your chance is of landing the shot. You will have a hell of a time with Hoops if you haven't nailed down ARMS's controls, but once you learn to deflect incoming grapples with a counterpunch, it becomes a reaction-based game of quick draw.
Hoops isn't just a fantastic mini-game, it lets you hone your grappling and deflection skills for the main attraction. In a similar sense, Skillshot helps you nail your curves. One of the tricks to ARMS is the ability to curve your punches. If you twist your Joy-Con as you thrust it forward, your character's punch will curve in that direction. It's a good way to catch out an opponent who's spamming dodge.
In Skillshot, a series of targets appear from the ground like a melee shooting gallery. The player must curve their punches to take down as many targets as they can in succession while their opponent does the same from the other side of the pitch, with bonus points for landing a punch on your opponent while you're at it. I wholeheartedly encourage players to toy around with each mode a few times before jumping into the Grand Prix or online. I didn't and to my surprise, I got wiped repeatedly by online players and AI alike.
That's kind of ARMS's secret sauce. On the surface, it looks like a goofy waste of time that flexes the Switch's incredibly accurate Switch controls. Something you can go into swinging blind and come out with the title belt. That's far from the case.
Like Super Smash Bros (SSB), ARMS's basic controls are the same for each character. However, also like its brawling Nintendo brethren, ARMS gives each of its characters a set of undisclosed perks and abilities that give them an edge in battle. These abilities are usually linked somehow to the character's persona/stature. In SSB, Peach can float longer than most characters because of her parasol, Kirby because he's full of air. In ARMS, Mummy Man (being undead and all) can regenerate health while blocking and Mechanica can extend her jumps with her mech's thrusters. What I'm trying to say is, these kinds of logical abilities are very Nintendo and the care that the company takes in these smaller details help sell the universe, even if ARMS's particular universe is admittedly a little lighter than Smash Bros'.
I'm very excited to see what else springs from this quirky universe and I genuinely hope there's a lot more coming because honestly, as surprising as the complex combat is,
ARMS
really holds back when it comes to content. The 10-character (soon to be 11) roster isn't small by any means, but we're so used to the sprawling rosters of today's fighters that
ARMS
's paltry lineup just doesn't cut it.
That's not my main gripe, though. Outside of the hidden skills between each character, there's not much more that's unique about them. There aren't any individual attacks (the only variety you have is the ARMS that you unlock by collecting coin through GP and Versus mode) or any kind of finishing move that's unique to each character. Like them or not, SSB's Final Smash attacks provide quite the spectacle. The variety of SSB's fighters makes you want to play through every last one until you've found your perfect fit, whereas ARMS gives you less of a reason to really experiment with its characters. There is a huge variety of actual ARMS to unlock and customise your character with, but they're unnecessarily costly, making it a bit of a grind if you want to unlock the full selection of gloves.
As you'd expect, there's just as many levels as there are characters. Thankfully, the levels offer up some variety not normally found in fighting games (outside of environmental transitions and interactions). Ribbon Girl's Ribbon Ring has destructible platforms that rise from the floor, which can provide cover or, at times, be used as an explosive offence when punched. Kid Cobra's Snake Park has bumper platforms that you can stand on, which gives you the high ground and lets you zip around the level a little faster. These levels can be your enemy or your ally depending on how you utilise the unique environments. It keeps you on your toes when playing through the Grand Prix and gives ARMS some much-needed variety.
We reviewed ARMS on Nintendo Switch with a copy provided by the publisher.
ARMS review
7.5 GREAT
VERDICT
ARMS may not seem like much from the outset, and it still has a long way to go, but it's a surprisingly complex brawler that's bound to spawn a competitive community of Nintendo fans. While there's no doubt that it's a little thin on content right now, Nintendo has promised to bulk it up with free DLC for the life of the game (much like Splatoon, which has become a much different beast 12 months on).
What we liked...
Accessible brawler that's tricky to master
First class use of motion controls
A healthy variety of modes and mini-games that don't disappoint
What we didn't like...
Progression is a grind
Switch's online features are still far from perfect
The characters are begging for a little diversity
Available for
For more information on how finder scores games, check out our review guidelines.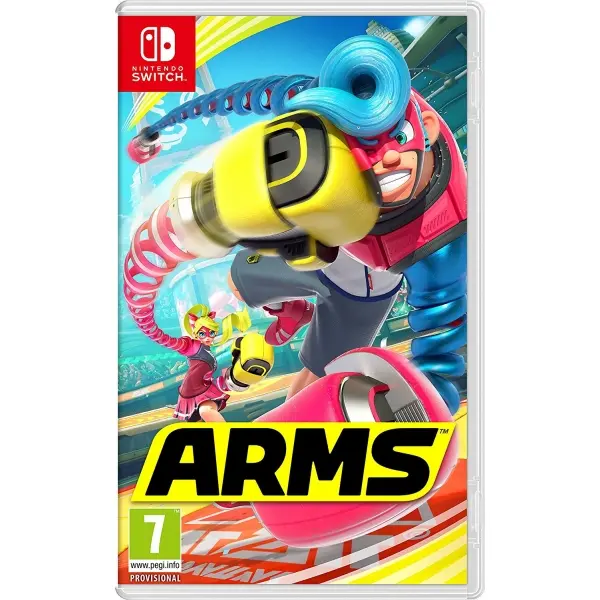 Purchase Arms for Nintendo Switch
from ozgameshop.com
View details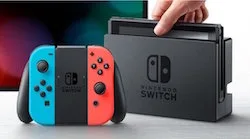 Purchase Nintendo Switch
from eBay Australia
Purchase the Nintendo Switch with grey Joy-Cons or Neon Blue and Red Joy-Cons from eBay today.
View details