Arlo Pro 2 review: Full HD and simple install is a winning combination
Netgear's latest wireless security camera adds 1080p video and exclusive wired modes, making it better than ever... at a price.
Quick Verdict
The Arlo Pro 2 delivers top-quality video surveillance with a very simple and flexible installation process, although the high initial cost may put some buyers off.
The good
Really easy to install
Will integrate with existing Arlo installations
3-second lookback
Motion zones
Rechargeable batteries
Most users won't need a subscription
The bad
Motion zones and 3-second lookback require plugged in connection
Cameras are very obvious
High initial outlay cost
Home security is a must these days, but getting a fully monitored system installed can be an excruciating endeavour that leaves fixed cameras in place and may require extensive modification of your existing property.
We've seen a large scale growth in DIY home monitoring solutions using cloud-based video streaming in recent years, and Netgear's Arlo has often led the pack in terms of simplicity and quality of experience. Netgear's latest iteration of its Arlo family comes in the form of the Arlo Pro 2.
Arlo Pro 2: Design
The Arlo Pro system relies on two core components. There's the base station, which sets itself up a dedicated 2.4Ghz 802.11n wireless network to However, talk to the Arlo 2 cameras. Various configurations are available depending on the number of cameras you require.
For the purposes of review, I was supplied with the 2-camera kit, but it's possible to expand the Arlo system out to a large number of cameras, depending on your needs and how much you're willing to spend.
The actual cameras themselves are nicely designed for in-home decor purposes, with a rather iPod-esque white finish. They measure in at 79.3 x 48.6 x 70.5mm each and are quite heavy in the hand at 136g.
That same decor-friendly design could be seen by some as a downside for external installation.
While they're water resistant, rated at IP65, the white design means that they stick out very obviously. It's a glass half-full problem, because while it makes it obvious that your home is being monitored, it also makes them tempting theft targets in their own right. They're not exactly inexpensive items to replace, after all.
You can opt for optional black silicone skins for your Arlo Pro cameras at $39 each if you fancy a bit of stealth, but it's a pity for a system at this price point that they're not included with the standard starter kit.
Arlo Pro 2: Installation
There's been a gradual shift in home security installations towards products that are easy to install, but Arlo's been in that space since the very first generation. Installation really is a breeze, even for a complex multi-camera setup.
All you need to do is connect your Arlo Pro 2 base station to your existing router, sign up for an Arlo account (either via a computer or the Android or iOS apps) and connect through to your base station.
The Arlo app then guides you through the pairing process for each camera, which is no more complex than popping the rechargeable battery into place and bringing it in general range of the base station. A tap on the camera's sync button, a few flashing lights and you're all done.
In terms of placement, each Arlo Pro 2 camera has a flat base with a circular magnetic indent that allows it to easily attach to the supplied fixing plates, or to a range of other optional accessories. If you're planting it anywhere with enough iron, the magnets are actually strong enough to typically attach by themselves. This gives you a lot of scope for placement, whether inside or outside your property.
The Arlo Pro 2 uses rechargeable batteries, but it also works as a wired camera with a charger if you're concerned about battery life. The earlier Arlo Pro also had rechargeable battery capability, but couldn't work in a wired configuration, so this by itself is a nice upgrade feature. If you're still using an original generation Arlo, which lacked support for rechargeables and so requires pricey battery replacements every few months, it could be reason enough to upgrade.
One great touch here is that Arlo Pro 2 is fully backwards compatible, so if you do have an existing Arlo Pro or Arlo system in place, your existing cameras will work with the new base station without issue.
Arlo Pro 2: Performance
The Arlo Pro 2's headline feature is the inclusion of 1080p video recording, up from the 720p capabilities of earlier cameras. The additional video quality can make a difference, but it does very much depend on the placement of your cameras. For indoor shooting when the camera detected me during testing, video was nice and clear and I was easily identifiable.
For a camera located just outside my front door at night when the Arlo Pro 2 kicked into night vision mode it was rather predictably less clear than when it was indoors. However, actual motion pickup was quite sharp and that's definitely part of the Arlo Pro 2's appeal, because it will quite quickly send alerts to your chosen mobile devices when it does detect motion.
The Arlo Pro 2 isn't just about the 1080p features, because then it would just be a very minor upgrade to the existing Arlo Pro. The Arlo Pro 2 also allows for a wired connection which enables features beyond the rather obvious factor of a never-depleting battery.
If you're plugged directly into the power, you gain the ability for continuously shifted recording, meaning that you can view the period from 3 seconds before motion is detected on a camera. That also means you can use your Arlo Pro 2 cameras as an always-monitoring solution, although you'll have to pay for an appropriate recording plan to do so.
You're also able to set "motion zones" for your Arlo Pro 2 cameras when plugged directly into power, so you can tell it to specifically focus on just one area, or ignore another if (for example) your pets continually set off false alarms when you're not home. That's a feature that I do wish was available in wireless mode, simply because it can seriously reduce your false alarm rate.
The Arlo Pro 2 also supports two-way audio so you can chat to anyone in the field of vision. This isn't exactly a Skype alternative, although it can be handy to pass on quick messages, or potentially scare away burglars. You're probably going to have more luck in the latter endeavour by utilising the very loud siren alarm built into the Arlo Pro 2.
I tested the Arlo Pro 2 using the same Telstra HFC connection as I've used for previous tests of the Ring Video Doorbell and Ring Spotlight Cam Battery, which meant I was prepared for a level of lag when it came to video uploads, because HFC upload speeds simply aren't that great.
The Arlo Pro 2 did warn of buffering before sending me to a live feed, although it had far fewer issues with low upload speeds than the Ring devices did on the very same connection. If you're currently on a very low speed broadband plan of any type (including potentially the 12/1 fixed line NBN plans), then these kinds of solutions are always going to struggle.
Battery life on the supplied rechargeable batteries is rated at 2440mAh with a claimed battery life of 3 to 6 months. Based on my testing that seems entirely feasible, although obviously if you have a very busy monitored space they'll go flat much faster than if they're not activated all that frequently.
While the Arlo Pro 2 kit isn't exactly inexpensive, one huge upside to the whole Arlo experience is how Netgear handles the cost of hosting your recordings in the cloud.
The basic free plan supports up to 7 days of recordings with 1GB of cloud storage with up to 5 cameras. For most users with basic security needs, that's probably going to be enough, because you can select any given recording and quickly download it to your phone or desktop with a tap or click.
If you do have wider needs, the Premier plan runs $12.99 per month or $129 annually for 30 days/10GB of storage from up to 10 cameras. Finally, the Elite plan offers 60 days worth of recordings/100GB for up to 15 cameras, and will cost you $18.99 per month or $189 annually.
Arlo Pro 2: Verdict
All up, the Arlo Pro 2 delivers a simple, high quality home security solution. As long as your home broadband is up to the task, it will provide clear video and audio of any incidents around your home and business with enough flexibility to scale and mobility to switch cameras around if your needs change.
However, all that flexibility and quality comes at quite a high cost, and that's easily the worst thing about the Arlo Pro 2. Compared to competing home video security solutions, the Arlo Pro 2 is downright expensive. You get a quality result, but your wallet will certainly feel it.
Arlo Pro 2: Pricing and availability
The exact price you'll pay for an Arlo Pro 2 depends on how large a system you require. The Arlo Pro 2 Security Camera System tested retails for $799 with the included base station and 2 cameras. Any additional cameras you want to add to the system will set you back $349 each.
The Arlo Pro Charging Station typically sells for $99. That's the same price you'll pay for an additional rechargeable battery too. The optional black silicone skins cost $39 each and an optional solar battery charger will run you $149.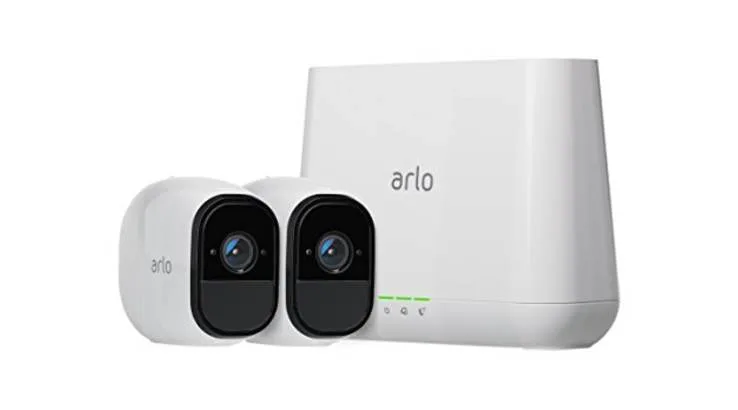 Buy the Arlo Pro 2
from Amazon
With high definition video recording and long wireless battery life, Netgear's Arlo Pro 2 offers a simple and effective way to manage your home security.
View details
Arlo Pro 2: What the other reviewers say
| Site | Comment | Score |
| --- | --- | --- |
| Digital Trends | "The Arlo Pro 2 is simply the best smart home security camera system you can buy." | 4.5/5 |
| PCMag | "Netgear's Arlo Pro 2 outdoor security camera system is completely wireless, plays nice with other smart home devices, and offers stunning 1080p video with free cloud and local storage options for event-triggered video." | 4.5/5 |
| Tom's Guide | "The Netgear Arlo Pro 2 provides a great combination of software, free cloud storage and video quality." | 9/10 |
Specifications
Product Name

Arlo Pro 2
Resolution

1080p
Video format

H.264
Audio

Speaker and microphone
Digital zoom

8x digital
Battery

2440mAh rechargeable
Size

79.3 x 48.6 x 70.5mm
Weight

136g
RRP

$799
Latest technology headlines
---
Follow us for all the latest mobile phone news and deals
---