Arlo Go Review: A fully mobile robust security camera
Netgear sets its security cameras free with the 4G LTE-enabled Arlo Go, but that mobility comes with a very definite cost.
Quick Verdict
The Arlo Go provides a way to monitor just about anything provided you have a mobile signal to feed to it, although the entry cost and ongoing data costs won't be insignificant.
The good
Not reliant on home Wi-Fi
Good quality audio and video
Solar charging option
Motion zones
Rechargeable batteries
The bad
Requires ongoing mobile subscription
High outright price
No magnetic base
Solar recharge users will need to use stand
---
Netgear's Arlo series of home cameras is one of our favourite home security monitoring stations, thanks to the ease of installation and the fact that you don't need to pay an ongoing subscription cost if you only need a few cameras.
The Arlo Go camera takes that basic premise, but rather than using your home broadband connection, it incorporates 4G LTE into the design, giving it a lot of mobile flexibility and potentially even more robust security than the regular Arlo family of cameras, but that flexibility does come with a very definite cost.
Arlo Go: Design
While the Arlo Go undeniably looks like much of the rest of the Arlo family, it's definitely the member of the family that looks rather like it needs to go on a diet. Where the Arlo Pro 2 features slender cameras, the Arlo Go is short and squat. Measuring in at 90x69.5x77.9mm, this isn't a camera you're going to be able to hide easily if that's important to you. It's also notably much heavier than a regular Arlo camera at 335g with the battery installed.
The Arlo Go is also notable because it doesn't feature a magnetic base. This means unlike the regular Arlo cameras, you can't just magnetically attach it to a given surface. You'll need to install this camera with screws mounted either to a wall, tree or via its supplied metal stand. Once it's screwed into place, it's going to be very difficult to steal, even if it is rather obvious.
Back to top
Arlo Go: Installation
One of the joys of the Arlo system is the ease with which you can install the entire system, and for the most part this is a philosophy that extends to the Arlo Go as well. There's no separate app for Arlo Go installations, so all you need to do is download the app and add the Arlo Go to it.
However, because the Arlo Go uses 4G LTE exclusively, you'll need an activated microSIM card installed and ready to go inside the Arlo Go itself. I had some issues with activation on my SIM card which rather pointedly demonstrated this since without an active data connection, there's simply no way to even discover the Arlo Go camera at all.
Once that hurdle is jumped, the Arlo Go quickly integrates into the existing Arlo app. Indeed, it's arguably a little simpler and easier to manage because it doesn't require an Arlo base station and will never talk to one, which means it's a standalone piece of hardware. Undoubtedly, this also accounts for its more robust shape since it has to fit all the smarts of the Arlo hub within its frame.
Speaking of smarts, the Arlo Go is also compatible with both Amazon's Alexa assistant and Google's Google Assistant for its Home speakers. If you've got a smart speaker, you can adjust its usage and display to compatible screened devices.
Back to top
Arlo Go: Performance
The Arlo Go works under the same basic principles as the recently reviewed Arlo Pro 2 system, albeit only at 720p resolution where the Pro 2 kicks up to 1080p. It has the same motion sensing features, so you can set specific regions it should look at, and like the rest of the Arlo family, it uploads to the cloud for quick review of motion events.
Where the Arlo Go differs is in that use of 4G LTE, for both better and worse. The Arlo Pro 2 is a great system, but it's entirely fenced in by the limits of your home Wi-Fi connection because if you have hotspots, or a large property to observe, getting a camera to work at a distance can be a real challenge.
That's not an issue for the Arlo Go because it's only constrained by the network quality of your chosen provider. I tested with a unit supplied by Telstra and had no real network issues to speak of, so I could have placed the Arlo Go just about anywhere I chose. In theory, I could leave it on my work desk and observe my office from home, although that might just creep out my workmates more than a little.
While the Arlo app will treat all cameras you've registered as one family, I did rather predictably notice differences in the speed of reaction between the Arlo Go and the Arlo Pro 2 cameras on Wi-Fi. The Arlo Go was generally snappier at giving me app alerts for movement, but actually accessing recorded cloud files was usually faster on the Arlo Pro 2 cameras. Both were on Telstra networks, 4G and HFC respectively, and neither was slow to speak of, but there were differences there.Back to top
Arlo Go: Battery life
Like the Arlo Pro 2, the Arlo Go uses rechargeable 3660mAh lithium ion batteries, powered either through the supplied charger or an optional solar battery kit. Netgear's own estimates suggest that should be good for around a month's recording between full recharges.
Telstra supplied me with the solar kit for testing purposes, and rather like the recently reviewed Reolink Argus 2, it's a solution that can work very well if you've got a good north-facing exposure to place the solar panel.
It's feasible you could keep the Arlo Go running until it rusts (or at least until your mobile data plan expires) with the right connection. One slight catch here that the shape and orientation of the Arlo solar power kit's plug means that you can't have the flat base of the Arlo Go against a surface if you want to charge. It just won't fit unless you have the Arlo Go up on its metal stand.
Back to top
Arlo Go: Subscription costs
The Arlo Go works at Netgear's level in precisely the same way as other Arlo devices.
The basic free plan supports up to seven days of recordings with 1GB of cloud storage for up to five cameras. Unless you plan on building your own private prison, that's probably enough for most homes and even small businesses.
If you do have wider needs, the Premier plan runs $12.99 per month or $129 annually for 30 days/10GB of storage from up to 10 cameras. Finally, the Elite plan offers 60 days worth of recordings/100GB for up to 15 cameras and will cost you $18.99 per month or $189 annually.
However, that's not the only cost you've got to consider because the only way the Arlo Go talks to the outside world is via 4G LTE data. Buying an Arlo Go is rather implicitly signing up for use of that data over a long period. Netgear's own estimates suggest that usage around 850MB per month is likely, but if you're in a busy area it could quickly expand beyond that.
With no way to link an Arlo Go up to Wi-Fi, it's an ongoing cost you absolutely must factor into your value equations.Back to top
Arlo Go: Verdict
The Arlo Go is a great option as long as you're happy with both its price point and the fact that you'll have to pay for continuous mobile data all the time you use it.
However, that's quite a high cost, and it's worth considering your needs and options for this kind of camera before making that investment, especially given that any camera that uses your home fixed-line broadband is by definition going to offer cheaper access to the camera.Back to top
Arlo Go: Pricing and availability
A standalone Arlo Go camera will cost you $599 outright, without a mobile connection to power it. The Arlo Solar Panel costs $149 by itself and will work with both the Arlo Go and Arlo Pro 2 cameras.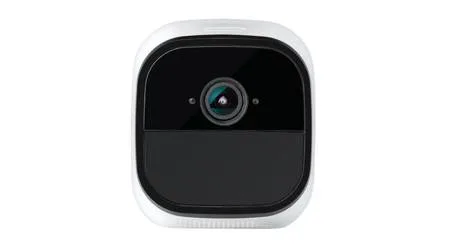 Buy the Arlo Go
from Amazon
If you need home security monitoring with true wireless freedom and long battery life, the Arlo Go 2 is the ideal solution.
View details
The Arlo Go system is also available on contract with Telstra over 24-month terms. There are four current pricing tiers, each with their own supplied data SIM and data limits as follows:
| Telstra Arlo Go Plans | Monthly cost | Included data | Excess data cost | Minimum 24-month cost |
| --- | --- | --- | --- | --- |
| Telstra Arlo Go S | $30 | 1GB | 1.46c/MB | $720 |
| Telstra Arlo Go M | $40 | 6GB (5GB+1GB bonus data) | 0.59c/MB | $960 |
| Telstra Arlo Go L | $50 | 15GB (10GB+5GB bonus data) | 0.44c/MB | $1,200 |
| Telstra Arlo Go XL | $70 | 25GB (20GB+5GB bonus data) | 0.34c/MB | $1,680 |
Back to top
Arlo Go: What the other reviewers say
| Site | Comment | Score |
| --- | --- | --- |
| TechRadar | "A completely wireless security camera with a lot to offer" | 4/5 |
| PCMag | " Netgear's Arlo Go outdoor security camera system is completely wireless, plays nice with other smart home devices, and offers stunning 1080p video with free cloud and local storage options for event-triggered video." | N/A |
| Tom's Guide | "Very good video quality, powerful and flexible software, generous free cloud storage and an LTE data connection make the Arlo Go an excellent, if pricey, choice for anyone seeking an outdoor security camera." | 9/10 |
| CNET | "It's a reasonable choice if you need an outdoor LTE camera and want one that can last for weeks on a single charge. " | 6.4/10 |
Back to top
Specifications
Product Name

Arlo Go
Resolution

720p
Video format

H.264
Audio

Speaker and microphone
Digital zoom

8x digital
Battery

36600mAh rechargeable
Size

90x69.5x77.9mm
Weight

335g
RRP

$599
Back to top
---
Latest technology headlines
Follow us for all the latest technology news and deals
---