Ark: Survival Evolved review: They're glitching in herds
After so long in early access, Ark: Survival Evolved still isn't up to snuff.
We're reader-supported and may be paid when you visit links to partner sites. We don't compare all products in the market, but we're working on it!
Ever since the Turok franchise went extinct in 2008, gaming has been crying out for a really good shooter that's of the "prehistory + guns" paradigm. Ark: Survival Evolved not only fits this bill, but weaves in open-world biomes, punishing survival elements and the chaos that always comes from competing online players who have a lot to gain and not much to lose. On paper, these elements should be all we need to witness a low-brow shooter soar to new heights. 

But before any such grandeur can happen, you'll probably need to find and equip some pants. Click into Ark for the first time and all of a sudden you're a semi-nude, freezing, starving castaway on the shores of Ark, a place that could just as well be called Monster Island (assuming it is not, in fact, a peninsula). The general idea is to hunt increasingly larger game and scavenge resources that you can lash together to craft useful tools, grow crops, research tech and build your own crap-shack to keep all of the aforementioned stuff out of the rain. So far, so much like real life.
That said, Ark narrowly avoids being an interactive capitalist nightmare by introducing tameable, breedable beasts. There are currently 70 different types of beasts roaming the wasteland, and recruiting one requires the ol' Pokemaster treatment: beating the snot out of the feral creature until it almost dies, then you may enslave and nurse it back to health (and a new life of indentured servitude). You can use your new hire to carry around your heavy armour or larger gear, and it should respond to your every command unquestioningly. Interestingly, how well your pet does any of these tasks is directly related to how well you rehabilitated it. Stockholm syndrome gets results, kids.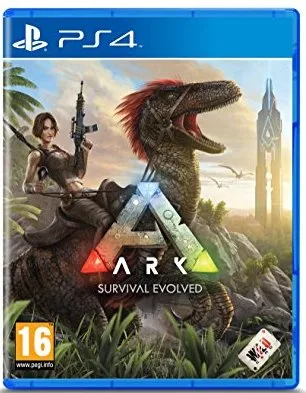 Survival Evolved for PS4
from ozgameshop.com
Get the ultimate dinosaur-themed adventure today! order now from OzGameShop
View details
Speaking of taking hostages, if you have a decent posse of like-minded sadists, you can round up and imprison other players who are fearful of meeting their own perma-deaths. Why would you go full Lord of the Flies? A few reasons, actually. You could force-feed them in a cage to keep them alive as human blood bags, like a bad day in Mad Max Fury Road. It's also always a good idea to keep some fresh meat around for dinosaur purposes. That rideable T-Rex of yours doesn't run on unleaded petrol, you know.
"Beastmastering" is more or less essential to your survival, not to mention extremely fun to use towards your own nefarious ends. While working in a nearby field, tending to my crops with both water and collected poop, I had a mob of Utahraptors run guard duty around my hovel (they killed three or so interlopers). Later still, when I had to run a distant errand to mine metals and chop down "extra exotic" trees, I flew there via first-class Pterodactyl. But not before I destroyed my neighbour's house with a small herd of triceratops. Just because I'm not here, doesn't mean I don't still run this town, Sexy_Flanders79.
Though joining player-made tribes, dinosaur husbandry and sabre-tooth wrangling devours hours like an Indominus Rex devours Jurassic Park-goers, Ark has some issues that cannot be ignored. For instance, don't let the Unreal Engine 4 logo in the initial loads get your hopes up: no matter if you choose the "normal" or "detail" rendering modes, this game will look and run like it's an evolutionary step behind. The console's visuals only come at you in 720p, but the engine still somehow struggles to output a smooth 30fps in high population/geometry areas. I was also plagued with a greatest hits of almost every visual bug imaginable – each of which regularly jolted me out of the fantasy.
Ordinarily, you'd expect and accept a few rough edges from a game made by a less-than-AAA developer collective. That said, when the project has had this much early-access time, and the glitches are affecting run-of-the-mill gunplay that results in perma-death....yeah, the ol' rage meter rises exponentially. Limp, sometimes laggy, combat (both terrestrial based and off of the back of a dino) is never a good thing when what you're playing is essentially Minecraft crossbred with Dark Souls, plus guns.
The experience also lacks any grand purpose, though the devs tease a mirage-like end-game that has yet to come into being. For now, the main fun is the emergent mayhem you and other players create for yourselves amid what is an addictive grind to get more and better stuff. For some people, earning the right to dominate your fellow man after hours of OCD menial labour is more than enough to sustain a game. For others, this represents another soulless full-time job. Personally, I sit comfortably in the middle of those two extremes.
All that being said, no matter which way you saddle it, Ark: Survival Evolved is a slightly arthritic, unattractive beast. Some great ideas and potential definitely exists here, but I feel, as far as dinosaur eggs go, this is only half-cooked. A lot more time in the incubator is required before anything decent can be allowed to emerge. Allow time for many, many patches.
We reviewed Ark: Survival Evolved review on Xbox One with a copy provided by the publisher.
ARK Survival Evolved
6.0 GOOD
What we liked...
Dino collecting – gotta catch 'em all!
Emergent, sadistic fun in PvP
Expansive crafting/ farming/breeding systems levelling up of stats is engrossing
What we didn't like...
Unpolished visuals
The odd bug that earns you an unfair perma-death
Lacks any end-game juice that's worth the squeezes
For more information on how finder scores games, check our review guidelines.