Apple TV+ review: Is it the Netflix killer?
As November begins, so does a new era for Apple as it steps into the online streaming TV space. Is it any good? Here's our Apple TV+ review.
Apple has put on its best white suit and arrived at the ball. As the on-demand, streaming TV market explodes with the likes of Disney+, HBO Max and Peacock joining Netflix, Stan, Kayo and Amazon Prime, Apple TV+ is ready to dance.
Leveraging Apple's worldwide infrastructure and content delivery platform gives Apple TV+ an immediate advantage. Appearing in 106 countries simultaneously with a service this size would send most tech companies to their knees. Even the mighty Disney can only manage a timid five countries at launch, staggered over the course of a week no less.
Also read: Apple TV+ vs Netflix
Apple also has a mind-blowing install base. In the US alone, 45% of all smartphone users have an iPhone, which equates to 110 million humans. Throw in 105 other countries, as well as Apple TV devices, iPads, iPod Touch owners and everyone with a Mac, and it's some army. Every one of them, assuming they've updated their operating system, already has the Apple TV app on their device right now.
In addition to all that, Apple is rich. Like crazy rich. And it has invested plenty of zeros into creating original content with some of the world's most popular faces. Plus, it has provided episode budgets so generous they'd give Game of Thrones envy.
Everything is in place for Apple TV+ to excel, but does it? Is Apple TV+ any good? Is Apple TV+ better than Disney+ or Netflix?
Apple TV+ review: Price
Let's start with the obvious question: how much is it? In Australia, Apple TV+ will set you back $7.99/month after the conclusion of the 7-day free trial. There is only the single price tier, which gets you the full premium service. That's 4K, Dolby Atmos, the ability to download content offline, six simultaneous streams and family sharing for up to six people. All included.
While Netflix has a standard plan for $9.99, that package is not comparable in features. Instead you have to look to the $19.99 premium Netflix plan to get anywhere close to what is included with Apple TV+. So that's quite a price difference.
Closer in price is Disney+, which will launch for $8.99 on 19 November in Australia.
But while Apple does undercut its clearest competitors in price, when you conduct your own Apple TV+ review, it's the content that should matter most.
Apple TV+ review: Content
Where Disney+ will launch into the market with 628 TV shows and movies (see the full list here), Apple TV+ has a much more svelte approach. The streaming TV service launches with just the nine offerings, equating to eight TV series and one movie. More will then be drip-fed to the service over the coming weeks and months.
We put together a complete list of Apple TV+ content that's announced and in production for the service. There are more than 50 shows and movies, not including second seasons, all being made exclusively for the service. (You will also find trailers and reviews for the launch content on that link above).
The future is bright in this regard. Not only is a lot of content coming, but it's all exclusive and new original content for the Apple TV+ service. Plus, it includes some of the biggest names in entertainment. Steven Spielberg, Oprah Winfrey, Alfonso Cuarón, M. Night Shyamalan and plenty more are creating Apple TV projects.
In the short term, there's no getting around the fact you'll easily consume all the available content in the first month. It's a diverse range of genres targeting the full scope of demographics, too, so not everything may be your flavour. And while initial reviews of the launch content are mixed, it's fair to say you will still get $7.99 worth of entertainment value each month.
Store
Discount

Kayo Sports

Stream Kayo Sports for 14 days FREE and no lock-in contract

Take Kayo Sports' Basic or Premium plan for a spin and stream new sports content daily plus 15,000+ hours of on-demand archives.

Last verified
Apple TV+ review: Accessibility
Like all things Apple, Apple TV+ masquerades as being super intuitive, but is anything but at first. The service is buried in the new Apple TV app, alongside tons of non-Apple TV+ content you need to purchase separately. The shows are shuffled in with other content available through the app, making it tough at first to know where to head and how to start.
Once you find the right place, two button taps and a passcode later, you're in your trial. Borrowing from the recent Apple Arcade interface, seeing what is available takes the standard horizontal EPG approach. Once in a show, it all works seamlessly. You can Airplay with the tap of a button, go picture-in-picture on larger devices, toggle subtitles, change language in real time (a neat trick), download and switch between black bars or not.
So, nothing innovative there, but the status quo in place.
In terms of device availability, the library of apple devices is obviously on board. It's nice to see Apple go beyond its own ecosystem, too. Amazon Fire TV, Roku and Samsung smart TVs (with LG and Sony TVs coming soon) are supported, as well as browsers (opening up PCs and Android devices).
However, with no native Android support and also no video game console support for PlayStation 4, Xbox One or Nintendo Switch, there are still some missing options here.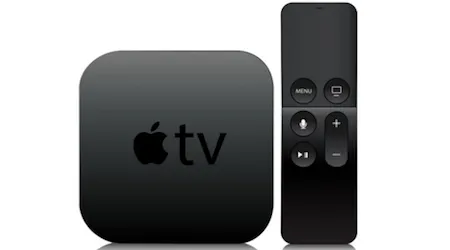 Buy Apple TV
from Apple Store
It might not look much different on the outside, but 2016's Apple TV is packed with awesome new features, like voice control, a touch-sensitive remote and gaming.
View details
Apple TV+ review: Verdict
Apple TV+ launches into a crowded market with a slim, but quality offering of new original content and a competitive price point. The full suite of modern online TV streaming features is in place and included in the one price tier, which we like. Plus, it's very generous with its family sharing and simultaneous streaming options.
Apple has also done its hundreds of millions (if not billions) of loyal fans a solid by including a full year's Apple TV+ subscription for free with the purchase of any new Apple device. Yes, we can see how that is self-serving, but a huge majority of these customers would have got the new hardware anyway.
This also opens the door for many to get in on the Apple TV box. We declared it the best streaming box money can buy in our review and you can pick one up for under $250. With almost $100 of free streaming TV now included, that becomes quite an attractive proposition.
So, if the price is right, the experience is good and there's plenty of quality content on the horizon, what's the catch? Only a question of whether you're already too invested in Netflix Originals or a massive Marvel/Star Wars fanboy/girl frothing for Disney+, to make the switch. Or simply have subscription overload.
However, if adding another $7.99 to your burgeoning monthly total subscription outlay doesn't faze you, then Apple TV+ is a promising new entry into the streaming TV marketplace, but it certainly doesn't kill Netflix.