Apple TV 4K Review: The best streaming box you can buy
Apple hits nearly every sweet spot with its upgraded Apple TV 4K.
We're reader-supported and may be paid when you visit links to partner sites. We don't compare all products in the market, but we're working on it!
Quick Verdict
Apple's upgraded 4K-capable Apple TV has a slick interface, quick response and more apps than any competing set top box or smart TV. This is the new standard for a set-top box that others now have to beat.
The Good
4K compatibility
Voice and text search through TV app works well
4K content costs no extra
The Bad
Some apps will require a game controller
Your existing 4K TV may already have the streaming apps you want
Not a huge leap over the 4th generation Apple TV if 4K HDR doesn't matter to you.
What is Apple TV 4K?
Announced at Apple's September 2017 Keynote event, Apple TV 4K is the latest iteration of Apple's popular set-top box. Like previous Apple TV devices, Apple TV 4K is capable of streaming video, audio and images from services like Netflix and Apple Music as well as from other iOS devices. Where Apple TV 4K differs from its predecessors is in its support for 4K content, with the ability to display videos and images in resolutions up to 2160p on compatible TVs over HDMI.
Apple TV 4K also boasts support for HDR (High Dynamic Range) lighting, implementing both the HDR10 and Dolby Vision standards via its new A10X Fusion processor - the same chip that currently powers the iPad Pro.
On top of streaming content from online services, Apple TV 4K can display photos and videos from your iCloud account, as well as stream media locally using AirPlay from your iPhone or iPad. When AirPlay 2 releases at an as-yet undisclosed date, Apple TV 4K will also be able to control AirPlay 2-compatible speakers for wireless audio playback around your house.
Alongside the Apple TV 4K, Apple also finally brought its TV app here to Australia. Distinct from the Apple TV platform, the TV app (which also runs on compatible iPhone and iPad devices) allows for quick, easy and searchable access to catch-up and on-demand streaming platforms.
For lovers of home automation, Apple TV 4K can act as the central hub for your smart home. With the Home app available on tvOS, Apple TV 4K can control any HomeKit-enabled smart device in your house. This allows you to ask Siri to change the temperature on your thermostat, turn your lights on or display the surveillance feed from your smart security cameras. If you leave your Apple TV 4K on and connected to your Wi-Fi, you can even remotely control your smart home devices while you're out and about from your iPhone.
As with earlier Apple TV models, Apple TV 4K requires a constant Internet connection to stream online content and make use of Siri. Without an internet connection, the only content it can access would be any shared content sitting on compatible devices such as Mac computers on the same local network.
Design
If you're familiar with the 4th generation Apple TV, you're going to have a tough time picking between it and the Apple TV 4K, because they're both squat black boxes that do their level best to be as unobtrusive as possible.
Unlike the rather large Telstra TV 2, the core idea here is that the Apple TV 4K will connect to your display panel and then shrink into the distance, which is almost the antithesis of existing Apple design, which usually wants to stand out. The actual box itself measures at 35x98x98mm and weighs in at 425 grams. You're never going to spend much time hefting it, but it is a little heavier in the hand than its construction might suggest.
The Apple TV 4K is minimalist, in other words, and the same is true of its supplied remote, which measures at 38x124x6.3mm with a carrying weight of 45 grams. Like its predecessor, there's a clickable touch section at the top that you'll probably struggle a little to use in the dark until you get used to it, and it's all too easy to accidentally flip it upside down, too.
Apple's remote app for iOS devices works neatly with the Apple TV 4K, and if you don't fancy talking commands via Siri for whatever reason, it's the smoothest way to manage quick text entry for everything from streaming service passwords to content searches.
Installation
Apple has spent considerable time building up all of its iOS-derived platforms as a seamless ecosystem, and while the Apple TV 4K runs on the forked tvOS platform, that's still very much evident when you set up the Apple TV 4K.
You can manually configure it if that's to your taste, but if you have a recent enough iPhone, you can simply bring the two into Bluetooth range and sit back while the Apple TV 4K does all the work for you. I tested with an iPhone 8 Plus and it was utterly seamless and very convenient indeed, although as always your experience may vary.
Physically speaking there's not too much challenge to getting the Apple TV 4K set up, although you may need to be careful to have HDCP-compliant HDMI cables to hand depending on your home theatre setup, as well as Ethernet if you're not planning to use the inbuilt Wi-Fi functionality.
As has been the case since the dawn of the Apple TV platform, there's no power switch to speak of, which makes setup simple but means that if you do encounter a crash or lockup situation, you've got to pull the power out entirely to reboot the Apple TV 4K.
Performance
The chief selling point of the new Apple TV 4K is rather implicit in the name, with support for 4K HDR content streaming as long as you're connected to a compatible display. 4K HDR can really bring out the detail in content, but to date, it's been a pricey proposition not just because of the cost of a 4K HDR television, but also the cost of the content.
However, Apple has used its not-inconsiderable marketing muscle to change that somewhat in terms of its own iTunes content. It has sold and rented content in both standard and high definition for years now, but if you've previously purchased HD content through iTunes, you'll qualify for the 4K version (where available) at no additional charge. Not all providers will make 4K content available through Apple TV apps, however, but that's something that will hopefully change with time.
Apple also touts the upgraded internals, particularly the A10X Fusion inside the new Apple TV 4K as offering new experiences for those who also like the apps side of the Apple TV. This is a little tougher to ascertain beyond possible faster loading times for most tvOS apps, although it is again a nice step that in most cases, if you already own the iOS version of an app, its tvOS equivalent is yours at no extra charge.
One caveat here is that a number of tvOS titles rather explicitly require an iOS compatible games controller to use properly. Some will work with the Siri remote, but it's certainly no pro games controller if precision is your thing.
Speaking of the Siri remote, it's now even more slick, thanks to the inclusion of the TV app which acts as a central hub for a wide variety of streaming services. Where the Telstra TV 2 sells itself on text searches, the Apple TV 4K can manage both text and voice searches for content across a wide variety of fields. Predictably, throw a few more obscure accents at them (or fake them badly, as I did for testing purposes) and you can throw it off a little, but for the most part, it works well.
Apple supports tvOS apps for most of the major streaming services, but not quite all of them.
Of note to Australian audiences, there's no support for Foxtel Now, or for that matter Amazon Prime Video. If you're a fan of Foxtel's streaming services, the Telstra TV 2 or Foxtel's upcoming puck device may be a better option.
Amazon Prime Video is rather more limited in direct streaming terms, with your easiest set-top box option likely to be a PlayStation 4 or Xbox One console, at least until Amazon launches down under. Then we may well see Amazon's own Fire set-top boxes thrown into the local streaming mix.
Verdict
The Apple TV 4K is easily the best Apple TV to date, and it's still largely the standard by which other streaming boxes are judged because it combines wide app availability with a very simple user interface.
However, that doesn't make it an automatic must-buy prospect because it very much depends on your needs and usage. If you've got an existing Apple TV, especially if it's the 4th generation box, then the improvements in the latest model largely revolve around 4K HDR support and a faster processor. If they're not important to you, hold off on this generation until your existing Apple TV stops working.
If you've got a 4K TV, the odds are also pretty decent that you've already got access to 4K-compatible apps for the major streaming services, in which case the argument for the Apple TV 4K is significantly weakened.
That 4K HDR support is the lynchpin of the new Apple TV 4K's offering, but there are other ways to access 4K content. Telstra's Telstra TV 2 isn't as slick or as rich in apps as the Apple TV 4K, but if you're pondering a Telstra broadband plan worth $99 per month or better, you could score one for absolutely nothing, bringing with it essential streaming capabilities and 4K support.
Fetch TV's Fetch Mini isn't 4K-capable, but it covers the streaming basics as well as light subscription TV services, and if you're particularly budget-constrained, Google's Chromecast Ultra can deliver you 4K at a fraction of the Apple TV 4K's asking price.
Apple TV 4K: What the other reviewers say
| Site | Comment | Score |
| --- | --- | --- |
| CNET | "Apple's 4K HDR streamer combines peak picture with a high-end feel nothing else can match, but it costs too much for most people." | 8.5/10 |
| The Verge | "The Apple TV 4K's unrealized potential just makes it obvious that the future of TV is still pretty far away." | 7.5/10 |
| AFR | "Apple TV 4K will keep you home at night, where you belong." | N/A |
| TechRadar | "If you're already in the Apple-sphere and want a streaming box, the Apple TV 4K makes the most sense." | 4/5 |
| The Australian | "The case for Apple TV 4K is more compelling if you have bought media through iTunes." | N/A |
| SMH | "Apple's new media player takes movie night to the next level." | 4/5 |
Pricing and availability
The Apple TV 4K sells in two configurations, with only the onboard storage differing. The 32GB version costs $249, while the 64GB version will set you back $279.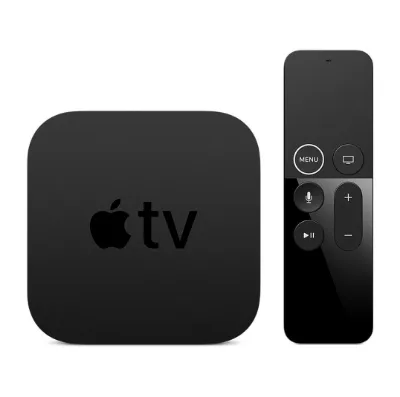 Buy an Apple TV 4K
from Apple Store
Apple's latest streaming box supports both 4K video and HDR lighting, plus a raft of smart home functions powered by Siri.
View details
Specifications
Size

98mm x 98mm x 35mm
Weight

425 grams
Storage

32GB/64GB
Video Out

HDMI
Wi-Fi

802.11ac with MIMO
Bluetooth

Bluetooth 5.0
Infrared

Yes
Ethernet

Gigabit Ethernet
USB

USB-C (for maintenance only)
---
Frequently asked questions
---
More guides on Finder
Stream the best and save