Apple One vs Amazon Prime: Which subscription deal offers better value?
How does Apple's new Apple One subscription service deal compare to Amazon Prime?
We're reader-supported and may be paid when you visit links to partner sites. We don't compare all products in the market, but we're working on it!
While Apple announced a slew of new iPads and Apple Watches at its "Time Flies" event overnight, it also unveiled a further subscription product to go alongside its existing Apple Music, iCloud, Apple News+ and Apple TV+ offerings.
Well, actually, it announced two, because the new Apple Watch models will work with Apple Fitness+ when it launches later this year. But the big headline product was Apple One, a bundle of Apple subscription products that Apple says will save you money compared to subscribing to each of its services in turn.
Apple has plenty of competitors in the individual subscriptions space – Spotify for Apple Music, Xbox Games Pass for Games and so on – but there's one big monolith that offers a bundled subscription service that it's taking on with Apple One, and that's Amazon with its Amazon Prime offering. So how do the two services compare – and is one better than the other?
Apple One vs Amazon Prime: Price
Amazon only has two pricing tiers for Amazon Prime, depending on whether you subscribe on a month-by-month basis or pay for the service annually. It costs $6.99 a month or $59 annually, which means you save $24.88 if you do sign up for a whole year.
Apple hasn't announced any annual pricing plans for Apple One, but it does offer three different pricing tiers depending on which Apple services you want access to and how much iCloud storage you require. Here's how the pricing tiers break down:
Individual: $19.95 a month: Includes Apple Music, Apple TV+, Apple Arcade and 50GB of iCloud storage
Family: $25.95 a month: Includes Apple Music, Apple TV+, Apple Arcade and 200GB of iCloud storage, shareable with up to 6 family members
Premier: $39.95 a month: Includes Apple Music, Apple TV+, Apple Arcade, Apple News+, Apple Fitness+ and 2TB of iCloud storage
Apple's pitch here is that while you can still subscribe to any of these individual services, doing so via an Apple One subscription will save you money if you're using most or all of them at this level.
Advantage: Amazon
On a straight money-paid basis, Amazon Prime is way cheaper than Apple One.
Apple One vs Amazon Prime: Music
Every tier of Apple One includes access to Apple Music, Apple's own music subscription service. Apple Music promises access to over 70 million songs in its catalogue, as well as an evolving Apple "Radio" strategy if you prefer others to make music curation choices for you. Apple Music includes offline music playback features and is compatible with both Apple's iPhones and Google's Android platforms, although if you like wearables, the offline music playback feature is only available for Apple Watch.
Amazon has a music service that promises access to "over 60 million songs" – but that's Amazon Music Unlimited, not Amazon Music, which is what you get with Amazon Prime. It's a more constrained service with access to "over 2 million songs", so quite a smaller catalogue. It's also limited to a single playback stream for a given Prime account.
Advantage: Apple
While the value of a music subscription service rests on it having artists you actually want to listen to, there's a pretty big gulf between 70 million tracks and 2 million.
Read our review of Apple Music and Amazon Music here and here, respectively.
Apple One vs Amazon Prime: Video
Amazon includes access to its Amazon Prime Video service with Amazon Prime subscriptions, while Apple includes Apple TV+ with every tier of Apple One. While both focus on streaming video offerings while sitting in the vast shadow of Netflix, they're actually somewhat different services with slightly different value propositions.
Amazon Prime Video library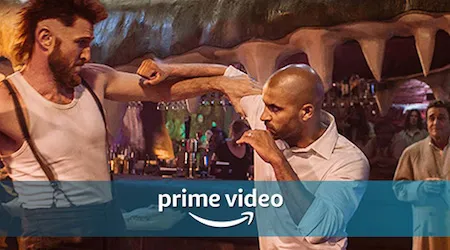 Prime Video's TV show and movie offering has increased significantly since it launched in Australia and we're updating our list of TV shows daily.
Read more…
Apple TV+ library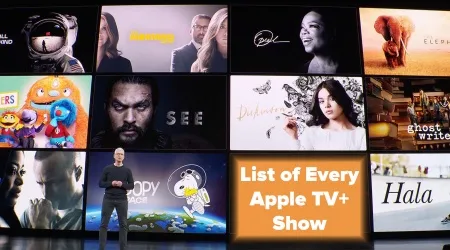 A morning show drama, a series about space and a big-budget dystopian join the list of Apple TV+ exclusives.
Read more…
Amazon Prime Video is much more of a direct Netflix competitor, with a wide range of third-party content sitting alongside its own Amazon Originals content. This includes a wide variety of truly excellent shows such as the award-winning The Marvellous Mrs. Maisel. When it first launched in Australia, Amazon Prime Video had a pretty weak content library, but it has improved massively over the years.
Apple TV+ on the other hand is only comprised of original content paid for by Apple, with much more of a curated feel to its content. Again, there's some taste consideration here, although there's undeniably less content and arguably not as much that has caught the eyes of both the general public and the critics alike. Although Mythic Quest: Raven's Banquet is excellent.
The other big comparative catch for Apple TV+ is that it's tied strongly into the Apple ecosystem, meaning you can most easily watch it on an Apple TV set-top box, iPad, iPhone or Mac. Amazon has apps for Amazon Prime across a considerably wider range of devices, including Chromecast support and indeed Apple TV itself.
Advantage: Amazon
Apple has gone for a more curated feel with Apple TV+ and there is some gold there, but Amazon's wider approach offers better value for more TV binge addicts.
Read our review of Apple TV+ and Amazon Prime Video here and here, respectively.
Apple One vs Amazon Prime: Gaming
There's a pretty big difference between Apple and Amazon's approach to gaming subscriptions. Apple's take is Apple Arcade, an iOS/iPadOS focused service with a range of curated games that started life as Apple Arcade exclusives, although over time we've seen a number of those deals expire with Apple Arcade titles heading to other platforms. Apple Arcade titles feature no in-app purchases and are promised to be highly curated and desirable titles from major game designers.
Amazon includes "Prime Gaming" with Amazon Prime, a service with a mix of free titles and in-game content, mostly focused on PC gamers, although it has offered up freebie mobile games in the past as part of an Amazon Prime subscription.
Advantage: Draw
Apple Arcade's games are largely mobile-focused and some of them are very good, while Amazon's offering is currently strongly PC-centric, with plenty of value if you game that way.
Read more about Apple Arcade and Prime Gaming here and here, respectively.
Apple One vs Amazon Prime: Cloud storage
Amazon includes a default 5GB of cloud storage with Amazon Prime accounts and it does offer more, but not within the standard Prime account. Instead you can pay $2.49 for 100GB of storage, $12.49 for 1TB or $24.99 for 2TB of data storage per month.
Apple One offers a tier of iCloud storage depending on how much you pay, with 50GB on the base level Apple One individual plan, rising to 2TB with the premier plan. There's a definite ease of use with a single bill in play here.
Advantage: Amazon
Apple offers more storage with a single subscription, but you'd only have to bump your monthly Prime sub up by $2.49 to get more than double the entry-level Apple storage per month for a much lower price.
Apple One vs Amazon Prime: Reading
Apple One includes access to Apple News+, but only on the pricier Apple One premier plan, not the entry-level tiers. That does give you access to a wide variety of print publications to read on your iPad, iPhone or Mac device at will, including current issues of many popular Australian and international magazines. If you're already a subscriber to major mags or papers there's definitely some value in Apple News+, but like much of Apple's output it's strongly tied to the Apple ecosystem for consumption purposes.
Amazon includes Prime Reading with a Prime subscription. While Amazon is (effectively) the world's biggest publisher of ebooks via its Kindle platform, Prime Reading only gives you a taster of what's on offer through Kindle, with around 1,000 titles available at any one time. Amazon's Kindle app is available for a very wide range of devices.
Advantage: Draw
Again, you're using your eyeballs to take in words, but they're very different products with varying appeal.
Apple One vs Amazon Prime: Fitness
Apple hasn't actually made Apple Fitness+ available just yet. It will launch later this year with a range of personalised fitness features and interactive fitness videos, mostly for Apple Watch owners to use in concert with Apple's shiny new wearables. Actually having a fitness service beats not having one, so this is an easy slam dunk for Apple.
Advantage: Apple
This was inevitable – Amazon isn't even competing in this space.
Apple One vs Amazon Prime: Shipping
The reality of Amazon Prime is that Amazon doesn't really care about subscription TV, music, reading or gaming services. They're all a gateway to get you to shop at Amazon and with that comes the key reason many folks subscribe to Amazon Prime in the first place. That's expedited free shipping, with Amazon promising two-day shipping for Prime-eligible products purchased through Amazon for most Australians. You really only have to buy a single item through Amazon each month for Amazon Prime to pay for itself.
Apple does offer free shipping for products you buy from its online store, but you don't need an Apple One subscription to take advantage of that.
Advantage: Amazon
Apple's not in the bulk shipping business, so something would be badly wrong if Amazon didn't win here.
Apple One vs Amazon Prime: Verdict
If you wanted to take a straight line winners-scoring view, Amazon bests Apple 4-2 by my calculations, but of course it's more complex than that.
Amazon Prime exists to sell Amazon shipping with the subscription services a nice bonus for most folks, not the reason they subscribe. Meanwhile, Apple sells itself on simplicity. If you're already paying for an Apple Arcade, Apple Music and Apple News+ subscription, the prospect of saving on those services has some definite appeal.
More guides on Finder
Stream the best and save