Apple iPhone XS: Buy outright or go on contract?
Is it cheaper to get the iPhone XS on a plan or outright?
We're reader-supported and may be paid when you visit links to partner sites. We don't compare all products in the market, but we're working on it!
You could save almost $600 over 24 months buying an iPhone XS (64GB) outright with a SIM-only plan rather than on a contract. We've done the maths choosing 10GB as a reasonable data limit:
Telstra's 4G M phone plan: $2856 (over 24 months with the iPhone XS 64GB)
iPhone XS 64GB outright: $1629
TPG Medium SIM-only 10GB plan: $629.82 (over 24 months)
Overall saving: $597.18!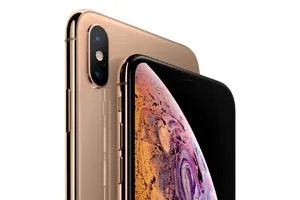 Buy the new iPhone XS 64GB outright for $1629
from The Good Guys
The iPhone XS advances Apple's flagship smartphone line with better water resistance, a faster processor and an enhanced dual-lens camera.
View details
Analysis
You can use our Mobile Plan Comparison tool to select the iPhone of your dreams and play around with the figures to suit your specific needs, but for the purposes of comparison, we're going to compare an iPhone XS 64GB on contract or prepaid at three different levels: The cheapest possible plan, mid-range plans and plans with the lot.
Want to compare just the plans from each provider?

There's an added quirk for Vodafone plans because of the way that Vodafone decouples the handset contract from the phone-plan contract. That allows Vodafone to list much lower "minimum" costs because the logical lowest price is the phone cost plus one month's coverage only. However, if you opt to go down that route, you have to pay out the handset immediately. I've converted Vodafone's pricing as if you stuck with the same contract through a 24-month period for comparison purposes.
Here's how the numbers stack up.
Back to top
Cheapest possible iPhone XS 64GB plan
Optus has the distinction of providing the lowest total cost iPhone XS 64GB plan, with an Optus $45 My Plan Plus paired with an iPhone XS 64GB coming in at $85 including handset repayments.
The minimum total cost of that plan over 24 months is $2,040. You could spend more if you blow out its data allocation regularly, and with only 4GB per month to use, that wouldn't be all that hard.
An iPhone XS 64GB outright will cost you $1,629, which means you're paying an effective $411 on top of the phone cost for your plan inclusions. Dividing $411 by 24 months (for 2 years' worth of phone usage) only gives you $17.12 per month to spend on your phone contract if you want to beat this plan with a prepaid SIM card.
That's still enough to do slightly better than Optus's 4GB deal, although for the longer-term plans, only just. There are a number of promotional high-data deals that look like they'd beat it handily, but they're only applicable for a few months or even for just the first recharge. Still, you could opt for plans from Kogan, Catch Connect and others. Here's every plan under $17 you could opt for right now to compare:
Back to top

Cheapest mid-range iPhone XS 64GB plan
Even at its promotional rate, 4GB per month isn't going to be enough for most users of a premium phone like the Apple iPhone XS, and that means unless you're very careful, you'll blow out your costs quickly with excess data charges.
That makes it more tempting to go for a plan with a solid data pack inclusion because while you pay a little more each month, you're less likely to incur excess data cost charges.
Optus again takes the value crown, although it is a close run race. For $100 per month, you can get an iPhone XS 64GB with 20GB of data – available until 9 October 2018 – on an Optus My Plan Plus contract.
Optus also offers lease plans for the iPhone XS. Lease plans aren't generally great value because you never end up owning your phone, but it is worth noting that Optus's $105 My Plan Flex has no handset repayments and comes with a hefty 200GB of data at the time of writing (17 September, 2018) thanks to its double data promotion, which again is only available if you sign up before 9 October 2018.
Keeping with the ownership-based My Plan Plus offering, that's an easy 24 month cost of $2,400, or $771 over the cost of a handset. Split that over 24 months, and you're spending $32.12 per month.
Currently, there's one plan, and one plan alone, that meets that criteria without having short-term "promotional" pricing in play, and that's Think Ultimate's SIM-only $30 plan. It offers the same 20GB of data as Optus (but on the Vodafone network) at $30/month, so you'd save $48 over the life of the plan.
Of course, you could opt for one of those cheaper-for-now prepaid plans and jump around carriers. It's a little more work, and you would have to settle somewhere, but it's also all but inevitable that across a two-year contract period, plan inclusions will get a lot better and plan pricing will drop.
Back to top

Best value "with the lot" iPhone XS plan
Comparing iPhone XS plans at the absolute top-end of the pool is a tricky proposition because of the existence of Telstra's premium-grade Ultimate Plan. For $199 per month, it will score you unlimited data, 24 months of Foxtel Now and 10GB of data to use while roaming internationally per month. It's an exceptional deal, and for what it's worth, if you are keen, you may as well opt for the 512GB iPhone XS Max because Telstra doesn't charge any handset fees for any of its phones on this plan. Amusingly, that does mean you could opt for an iPhone SE on this plan as Telstra's current "cheapest" postpaid phone, although you'd be mad to do so.
Still, how do you compare "infinite" data? The only way we can is on a costs basis. That 24-month unlimited contract will cost you a hefty $4,776 minimum over 2 years. Even allowing for the higher cost of a 512GB iPhone XS Max at $2,376, that still means you're paying $2,400 in phone contract charges, or $100 per month for the life of the contract.
Comparatively, Vodafone's most expensive contract – again, substituted over 24 months of the same contract – tips the scales at $4,288.80 with 120GB of full-speed data per month, and then unlimited data capped at 1.5Mbps, while Optus's top-tier contract deal would run you $4,080 with a flat 200GB of data.
Those are deals that you can't currently match with SIM-only deals, either on prepaid or SIM-only contract terms. Values are rising for those deals, and again the one-month prepaid competition right now can bring you a lot of data, but nowhere near those levels. Within two years we may see similar kinds of deals in the SIM-only space, but right now, if you want an iPhone with all the trimmings, a contract deal is easily the way to go. Here's how those top-cost Telstra, Optus and Vodafone plans compare:
Back to top
---
More guides on Finder
Get more from Finder