Apple iPhone X vs Apple iPhone 8 Plus vs Apple iPhone 8
Which of Apple's new premium phones should you buy?
We're reader-supported and may be paid when you visit links to partner sites. We don't compare all products in the market, but we're working on it!
Apple's announcement of a trio of new handsets wasn't exactly a surprise this morning, thanks to an
early leak of the final version of iOS 11
, but it did pose a quandary for Apple fans.
The iPhone 8 and iPhone 8 Plus will go on pre-sale from 5:01pm on 15 September 2017 in Australia, while the iPhone X won't actually commence pre-sales until 27 October 2017, with availability from 3 November. Will it be worth waiting for the iPhone X? How do the three new iPhones actually compare?
Specifications
| | | | |
| --- | --- | --- | --- |
| Product Name | Apple iPhone X | Apple iPhone 8 | Apple iPhone 8 Plus |
| Display size | 5.8 | 4.7 | 5.5 |
| Operating system | iOS 11 | iOS 11 | iOS 11 |
| Height (mm) | 143.6 | 138.4 | 158.4 |
| Width (mm) | 70.9 | 67.3 | 78.1 |
| Depth (mm) | 7.7 | 73 | 7.5 |
| Weight (g) | 174 | 148 | 202 |
| Battery size (mAh) | 2,716 | 1,821 | 2,675 |
| Front camera (1) megapixels | 7 | 7 | 7 |
| Rear camera (1) megapixels | 12 | 12 | 12 |
| Rear camera (2) megapixels | 12 | | 12 |
| Water Resistance | IP67 | IP67 | IP67 |
| Wi-Fi connectivity | 802.11 a/b/g/n/ac | 802.11 a/b/g/n/ac | 802.11 a/b/g/n/ac |
| Network Category Speed | Category 12 | Category 12 | Category 12 |
| | | | |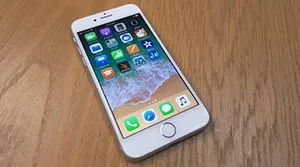 Get the new iPhone 8 from Apple
from Apple Store
With a new glass back design for wireless charging and impressive performance from the A11 Bionic chip, the iPhone 8 is the perfect choice for your next phone
View details
Processors
One of the trickier aspects when selecting the new iPhone models will be around processing power, because Apple is throwing the exact same new processor into all of them. The A11 BIONIC processor is a 6-core custom CPU built on a 10nm process that Apple claims is up to 70% more efficient than previous processors. That's a bold claim to make, but its inclusion in every iPhone line means that at a CPU level, there shouldn't be a difference between the entry-level iPhone 8 and the top-priced iPhone X.
However, that's not likely to be the whole story. Teardowns of the iPhone 7 and iPhone 7 Plus, both of which shared the same CPU, showed that Apple stacked the 7 Plus with more RAM than the regular model, and that's likely to happen again. This does have to be balanced against the higher processing demands of the larger and higher resolution displays on the iPhone 8 Plus and iPhone X, but still, in raw power terms we'd expect the iPhone X to remain king of the hill.
Cameras
While Apple naturally describes all three phones as having great cameras, there's quite a stark difference in camera specs and features between all three phones, and especially between the iPhone 8 and the 8 Plus and iPhone X.
Apple claims better low light performance on all of its cameras, but the iPhone 8 is stuck in single-camera territory where the iPhone 8 Plus and iPhone X both sport dual rear cameras for portrait and telephoto purposes. The iPhone X goes even further at the front, thanks to the integration of FaceID that lets you unlock your phone with your face, with a camera that's also suitable for selfie portraits if that's your desire. This does require further testing, however, and it's possible that even if you're heavily tilted towards the best iOS camera, the iPhone 8 Plus might be good enough..

Battery
Battery life has been a big problem for iPhones in the past, and here again, while Apple hasn't released specifications for the batteries inside the three new models, it doesn't look that great across any of them. The iPhone 8 is said to have the same expected battery life as the iPhone 7, and that was a phone with poor battery life for such a premium product. The story is the same for the iPhone 8 Plus, although at least the 7 Plus had decent battery life. Apple claims that the iPhone X gets 2 hours more than the iPhone 7, but that's a low hurdle to jump, and one that leaves open the distinct possibility that the iPhone 8 Plus might have more actual battery life than its higher-priced X sibling.

Early verdict
The value proposition of the new iPhones will very much depend on what you're upgrading from. If you're already using an iPhone 7 or 7 Plus, apart from wireless charging (which you can add with third party cases anyway) there are only smaller-scale upgrades for the 8 and 8 Plus handsets. If you're upgrading from an older iPhone, you're more likely to see significant application performance gains.
Pitching the three against each other is a harder task, especially as we won't even be able to properly test the iPhone X for more than a month after the iPhone 8 and 8 Plus go on sale. Apple has pushed into previously uncharted waters with the iPhone X, and while the iPhone 8 feels very much like the "lesser" iPhone this year, the iPhone 8 Plus might be the smarter buy.
More guides on Finder
Get more from Finder